The global bioplastics & biopolymers market was valued at USD 10.81 billion in 2021 and is expected to grow at a CAGR of 22.8% during the forecast period. Bioplastics can be biobased, biodegradable, or both. Biobased plastics are obtained partly from biomass such as corn, sugarcane, or cellulose. Biodegradable bioplastics possess the ability to readily break down into biomass through bacteria and enzymes. As compared to traditional plastics, these break down naturally at a higher pace, reducing the impact on the environment.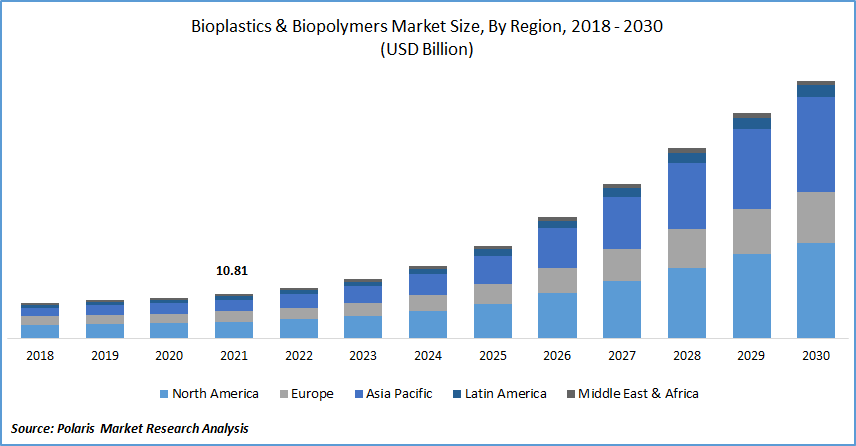 Know more about this report: Request for sample pages
Biopolymers are produced by living organisms and are naturally occurring polymers. Growing need to replace and reduce dependence on fossil fuels has increased the demand for biopolymers. Biopolymers offer biodegradability and are produced using renewable raw materials. Biopolymers have varied applications such as medicine and healthcare, packaging, and personal care products.
Some biopolymers are used in the healthcare sector for creation of artificial tissue on account of their biocompatibility and biodegradability. Some other applications of biopolymers include bone and dental implants, food packaging, orthopaedic devices, and other applications in agriculture, automotive, and electronic devices.
They are increasingly being used in packaging of goods. Initiatives taken by various organizations to integrate sustainable packaging solutions has been observed. There is increasing focus on recycling and biodegradation of plastic to reduce its impact on the planet. Bioplastics and biopolymers based packaging offers sustainability while providing required strength and durability.
The outbreak of COVID-19 pandemic has influenced the bioplastics & biopolymers market through disturbed supply chain and distribution networks, restricted manufacturing activities, and operational challenges. Lockdown restrictions across the world caused restricted movement of good and acquisition of raw materials. Workforce shortage and limited transportation services further hampered the market growth.
Reduced demand for the industry was observed from automotive, agriculture, and textile industries. However, there was significant rise in e-commerce during the pandemic on account of closure of retail stores and restricted movement of people, which led to increase in demand for bioplastics & biopolymers based packaging solutions. There was increased demand from the healthcare sector to address the rising cases of COVID-19.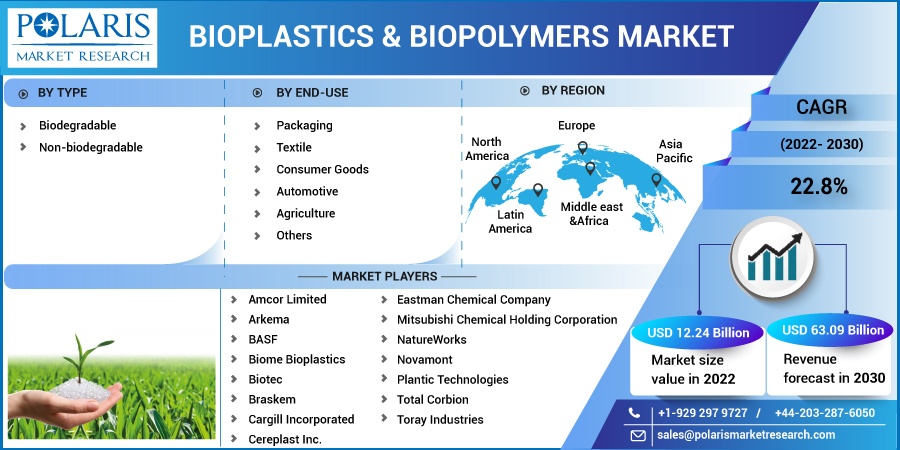 Know more about this report: Request for sample pages
Industry Dynamics
Growth Drivers
Rise in population, growing urbanization, and improving living standards of consumers supports the growth of the global bioplastics & biopolymers market. Greater application in healthcare, packaging, consumer goods, and automotive industries has been observed. Consumers across the world are increasingly being aware regarding the use of sustainable and environmentally friendly products.
Governments across the world are introducing initiatives and programs to manage the use of plastics. Regions such as Europe and North America have introduced regulations and targets to use bio-based and biodegradable plastic to reduce packaging waste and achieve circular economies.
Significant growth in e-commerce, especially during the pandemic, has increased the demand for the industry. Greater penetration of smart phones, rise in internet connectivity, and ease of online shopping offered by e-commerce platforms has contributed to the market growth.
Several established companies are switching to use of bioplastics & biopolymers to reduce their footprint and cater to the growing environmental regulations. Greater demand for the industry from developing countries, introduction of bioplastics & biopolymer-based products by leading market players, and investments by governments in energy optimization and environmental protection are factors expected to offer growth opportunities during the forecast period.
Report Segmentation
The market is primarily segmented based on type, end-use, and region.
By Type

By End-Use

By Region

Biodegradable
Non-biodegradable

Packaging
Textile
Consumer Goods
Automotive
Agriculture
Others

North America (U.S., Canada)
Europe (France, Germany, UK, Italy, Netherlands, Spain, Russia)
Asia Pacific (Japan, China, India, Malaysia, Indonesia. South Korea)
Latin America (Brazil, Mexico, Argentina)
Middle East & Africa (Saudi Arabia, UAE, Israel, South Africa)
Middle East & Africa (Saudi Arabia, UAE, Israel, South Africa)
Know more about this report: Request for sample pages
Biodegradable segment accounted for a significant share
The biodegradable segment accounted for a major share of the global market in 2021. This segment includes PLA, PHA, PBAT, and starch blends among others. The high demand for biodegradable plastics in contributed to its ease of recycling and reduced amount of waste production.
The application of biodegradable plastics has increased in consumer goods, packaging, medical equipment, construction, automotive, and textiles among others. Electronics such as circuit boards, headphones, gaming consoles, and keyboards are being produced using biodegradable plastics.
Some applications of biodegradable plastics in the healthcare sector include orthopaedic devices, wound management, surgical sutures, and drug delivery systems among others. Biodegradable plastics offer bio-dissolvability and biocompatibility, thereby increasing its demand from the healthcare and medical sector.
Packaging segment accounted for the largest market share
The packaging segment contributed significant revenue in 2021. Bioplastics & biopolymers-based packaging solutions are increasingly being used for efficient protection of goods for storage and distribution. These solutions offer superior strength and durability while protecting the products from breakage and contamination.
They also provide superior aesthetics, and is being used by brands for product branding and conveying product information to the customers. The demand for bioplastics & biopolymers based packaging has increased in food and beverage, pharmaceutical, and consumer goods sectors.
Increase in population, rise in purchasing power of consumers, and significant growth in e-commerce are factors boosting the growth of this segment. Initiatives are being taken by businesses around the world to reduce packaging waste and control their carbon footprint through environmentally friendly packaging solutions.
Europe generated significant revenue in 2021
Europe accounted for a major share of the global bioplastics & biopolymers market in 2021. Greater use of bioplastics and biopolymers across industries such as automotive, packaging, and consumer goods drives the market growth in the region. Rise in environmental concerns and introduction of stringent environmental regulations has increased consumer inclination toward bio-based and biodegradable products.
Initiatives ae being taken in the region to decrease packaging waste and ensure that all packaging used is recyclable and reusable by 2030. Investments in research and development of advanced materials and technological innovation would further contribute to the market growth during the forecast period.
The Asia Pacific region is expected to experience significant growth during the forecast period. Economic growth, urbanization, and industrial growth have increased the demand for the industry in the region. Rise in population, increasing consumer consciousness, and growing demand for sustainable packaging solutions, especially from the e-commerce sector, boosts the market growth. There has been increasing trend of using bioplastics & biopolymers in agriculture and textile sectors owing to stringent environmental regulations and greater demand for sustainable solutions.
Competitive Insight
Major players operating in the bioplastics & biopolymers market are Amcor Limited, Arkema, BASF, Biome Bioplastics, Biotec, Braskem, Cargill Incorporated, Cereplast Inc., Eastman Chemical Company, Mitsubishi Chemical Holding Corporation, NatureWorks, Novamont, Plantic Technologies, Total Corbion, and Toray Industries.
The prominent players operating in the global bioplastics and biopolymers market are investing in introduction of new products to strengthen market presence and widen customer base. Acquisitions, partnerships, and collaborations are being adopted by companies to enter new developing markets.
Recent Developments
In March 2022, NatureWorks signed a contract with ABB technology for automation of new bioplastics plant in Thailand. The advancements are aimed at expanding production capacity of polylactic acid (PLA) to cater to the growing industry demand for sustainable materials.
In September 2021, BASF collaborated with WPO Polymers for strengthening its biopolymer offerings in Spanish and Portuguese markets. Through this collaboration, WPO Polymers would distribute BASF's ecovio film product range.
These films are fused in certified organic waste bags and compostable shopping bags. The development is aimed at offering solutions to food companies and retailers to meet regulations associated with reduction of plastic bags and mandated use of compostable bags.
Bioplastics & Biopolymers Market Report Scope
| | |
| --- | --- |
| Report Attributes | Details |
| Market size value in 2022 | USD 12.24 billion |
| Revenue forecast in 2030 | USD 63.09 billion |
| CAGR | 22.8% from 2022 - 2030 |
| Base year | 2021 |
| Historical data | 2018 - 2020 |
| Forecast period | 2022 - 2030 |
| Quantitative units | Revenue in USD billion and CAGR from 2022 to 2030 |
| Segments covered | By Type, By End-Use, By Region |
| Regional scope | North America, Europe, Asia Pacific, Latin America; Middle East & Africa |
| Key companies | Amcor Limited, Arkema, BASF, Biome Bioplastics, Biotec, Braskem, Cargill Incorporated, Cereplast Inc., Eastman Chemical Company, Mitsubishi Chemical Holding Corporation, NatureWorks, Novamont, Plantic Technologies, Total Corbion, and Toray Industries |