The global birch water market was valued at USD 1.24 billion in 2022 and is expected to grow at a CAGR of 7.4% during the forecast period.
Birch liquid, such as that found in downy and silver birch trees, is used to make birch water. Birch sap and birch water are synonyms. It is a clear, sweet liquid with a smooth texture. This kind of water is typically created in the northern region as winter draws close. Birch water is produced in specific seasons. The roots of birch trees retain minerals in addition to nutrients; during the winter, a significant amount of nutrients are found there. The nutrients are released in the birch juice following the end of the winter season and the start of the spring season.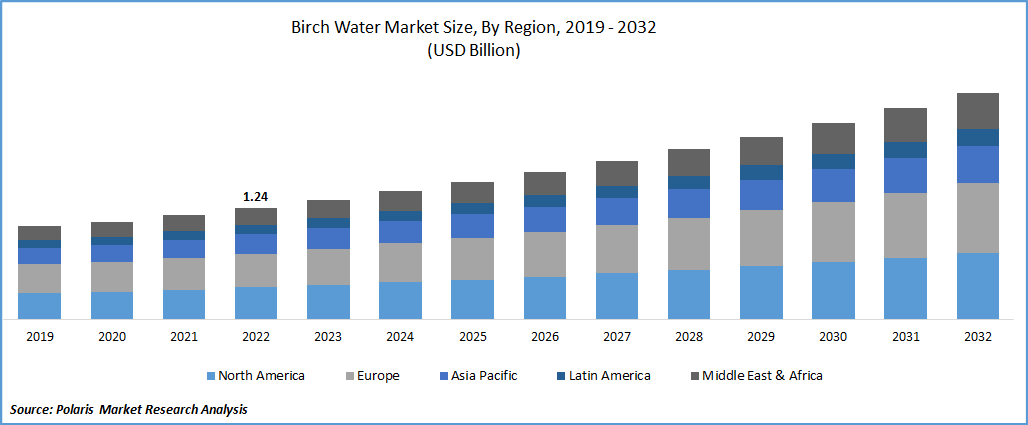 Know more about this report: Request for sample pages
Furthermore, the primary factors influencing the growth of organic birch water are the rising demand for natural and organic products and the advantages of purchasing organic food and non-food items for health reasons. According to the Organic Trade Association, in 2020–21, organic sales hit USD 63 billion, growing by USD 1.4 billion per year. In the United States, food sales, which comprised more than 90% of organic sales, reached USD 57.5 billion (an increase of around 2%), while non-food sales reached USD 6 billion (an increase of about 7%). Therefore, it is anticipated that the water market will develop over the coming years as consumer preference for organic food and drink items increases.
Moreover, the rising investment by the major players in expanding their supply and production units worldwide is boosting the market's growth. For instance, in June 2020, the manufacturer of birch water, TREO, announced that it had raised USD 5 million in a fundraising round to assist in expanding its distribution network in the Northeast. With juice concentrates, TREO creates a variety of organic fruit-flavored drinks. Also, in January 2018, TAPPED, a startup making birch water, grew its international reach by opening new distribution channels in Singapore. However, the flavor of birch water varies depending on the area and the type of plant, which will hinder market expansion shortly.
A variety of industries have seen negative affected of COVID-19. This can be attributed to the significant interruptions produced in each company's production and supply operations by the different lockdowns & other restrictions that were imposed by the governing bodies across the globe. The elements mentioned above are predicted to negatively impact the growth trajectory of the global market over the forecast year.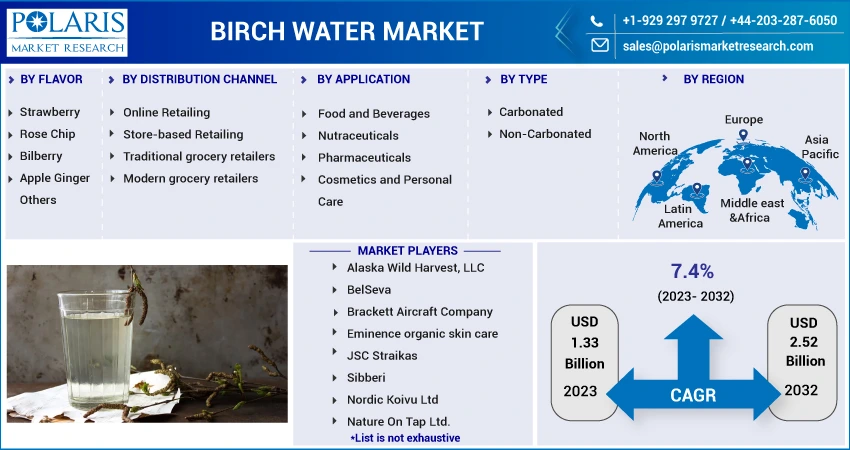 Know more about this report: Request for sample pages
Industry Dynamics
Growth Drivers
The birch water industry will increase due to widespread awareness of the product as a super beverage and its benefits for various skin problems. Due to its abundant natural supply of essential elements like manganese, zinc, iron, potassium, and magnesium, birch water has long been regarded as a "super drink." Over the past century, people in Canada, Eastern Europe, and China have utilized it as a medical component and health beverage. In addition, drinking birch water softens the skin's texture, protects it from ultraviolet radiation and reduces inflammation. It also helps prevent dental caries. The product also aids in the removal of acids and poisonous compounds from the human body system.
Additionally, beverages made with superfoods have particular mineral & vitamin compositions that support the body's development of a robust immune system for fighting disease. Regular birch water consumption helps to prevent cavities and has some positive effects on the skin. Birch water competes favorably with coconut milk because it can offer more health advantages while having a lower sugar level. In addition, the product's capacity to serve as both a hydrating and a detoxifying agent will further enhance commercial trends. In the upcoming years, it is projected that all of the factors above will influence the market's overall size.
Report Segmentation
The market is primarily segmented based on flavor, distribution channel, application, type, and region.
By Flavor

By Distribution Channel

By Application

By Type

By Region

Strawberry

Rose Chip

Bilberry

Apple Ginger

Others

Online Retailing

Store-based Retailing

Traditional grocery retailers

Modern grocery retailers

Food and Beverages

Nutraceuticals

Pharmaceuticals

Cosmetics and Personal Care

Carbonated

Non-Carbonated

North America (U.S., Canada)

Europe (France, Germany, UK, Italy, Netherlands, Spain, Russia)

Asia Pacific (Japan, China, India, Malaysia, Indonesia. South Korea)

Latin America (Brazil, Mexico, Argentina)

Middle East & Africa (Saudi Arabia, UAE, Israel, South Africa)
Know more about this report: Request for sample pages
The personal care and cosmetics segment is expected to witness the fastest growth
The personal care and cosmetics industries' expanding use of birch water is considerably driving the market's expansion. Due to its many benefits for the skin, birch water use is steadily increasing. Birch sap, when applied frequently, is said to lessen cellulite and accessory markings, according to a Femina article.
Additionally, it reduces acne, tightens skin, and protects against UV rays and pollution. Birch water is frequently found in lotions and other cosmetics because of its moisturizing and antioxidant properties, aiding collagen formation and iron absorption. Individuals' hair may become more robust due to birch water's vitamin C. The cosmetic sector will use it more frequently due to all these advantages, which will help the market expand.
Further, the pharmaceutical segment holds the largest share and is expected to grow rapidly due to its various benefits. Birch water contains qualities that make it helpful in treating several illnesses, including gout, arthritis, nephrolithiasis, and rheumatism. Additionally, birch water can clarify skin and thicken hair to lessen hair loss. Birch water is also useful for treating minor kidney stones. During the projected period, the ability of birch water to successfully treat ailments is anticipated to fuel market expansion.
The organic segment industry accounted for the highest market share in 2022
Demand for organic goods has increased among people all around the world. Due to the increasing acceptance of chemical-free and healthful food and beverage items, the segment is growing rapidly. Growing consumer awareness of the advantages of organic products, rising disposable income, and increased urbanization are a few factors contributing to this demand increase. The National Library of Medicine of the U.S. government states that there is suggestive evidence that eating organic food may lower the risk of allergic disease, being overweight, and being obese, but constantly trying is likely because organic food consumers typically lead healthier lifestyles overall. Due to the increasing advantages of birch water, consumers are choosing organic products, which will increase the demand for natural plant-based water.
Store-based Retailing segment industry accounted for the largest market share in 2022
Store-based retailing distribution is becoming more and more popular as a result of the accessibility of a wide variety of consumer items, food, and beverages under one roof. Birch water sales through store-based retailing channels are further boosted by the availability of plenty of parking spaces and reasonable operating hours. Additionally, the popularity of store-based retailing in both established and developing countries has been greatly aided by the growth of urbanization, the working-class population, and competitive price trends. These retail establishments provide a selection of brands within a given product category, giving customers greater possibilities to purchase the brands of their choice. As a result, each of these elements works together to fuel the expansion of the global market.
The demand in Europe is expected to witness significant growth
Europe is expected to contribute considerable contributions to global market growth. In addition, the abundance of birch trees in the area due to the climatic conditions that are good for birch tree survival will further fuel the market boom in Europe. It is also growing in the region owing to a growing understanding of its health advantages, birch water consumption there is growing significantly. The primary forces behind the rising interest in birch water are the increasing popularity of healthy and robust drinks, the desired reduction in sugar and energy intake, and new flavor introductions.
The industry's growth in North America will be aided by the region's widespread use of the substance in cosmetics and super drinks. Consumers' shifting dietary habits herald the beginning of a new era in which nutrition will take precedence over all other factors. The cosmetic and personal care industries' desire for birch water is considerably accelerating market expansion. In Eastern Europe, China, and Canada, birch water has a long history of being prized as a valuable component.
Cosmetics producers use birch water to include in their skin and hair nourishment formulas. Birch water is primarily utilized in cosmetics like cleaning hair, whitening skin, and reviving hair growth. Additionally, the pharmaceutical business is seeing a rise in the demand for birch water due to the increased concentration of titanium and minerals in birch water, which help to regulate blood sugar and bone formation through calcium absorption. Therefore, the need is bolstering in the region.
Competitive Insight
Some of the major players operating in the global market include Alaska Wild Harvest, LLC., BelSeva, Brackett Aircraft Company, Eminence organic skin care, JSC Straikas, Sibberi, Nordic Koivu Ltd, Nature On Tap Ltd., Procter & Gamble, Sublime life, Sibberi Ltd., Sealand Natural Resources Inc., Sapp, Inc., TreeVitalise, Techman-Head Group, The Birch Factory, Treo Brands LLC, and Vitalife Ltd.
Recent Developments
In November 2022, Jason Derulo purchased a sizable ownership share in TREO, the only organic line of beverages manufactured with birch water in the country.

In January 2019, with the debut of its brand of fresh birch water, Yönalé provided consumers with a healthy, plant-based beverage that was intended to strengthen the immune system. Yönalé Birch Water, which is sustainably derived from the woods of the Finnish archipelago, is also USDA-certified organic, non-GMO and suitable for keto and paleo diets. The plant-based beverage, which comes in 11.2-ounce Tetra Paks, has 3 grams of sugar.
Birch Water Market Report Scope
| | |
| --- | --- |
| Report Attributes | Details |
| Market size value in 2023 | USD 1.33 billion |
| Revenue forecast in 2032 | USD 2.52 billion |
| CAGR | 7.4% from 2023 - 2032 |
| Base year | 2022 |
| Historical data | 2019 - 2021 |
| Forecast period | 2023 - 2032 |
| Quantitative units | Revenue in USD billion and CAGR from 2023 to 2032 |
| Segments Covered | By Type, By Nature, By Distribution Channel, By Application, By Flavor, By Region |
| Regional scope | North America, Europe, Asia Pacific, Latin America; Middle East & Africa |
| Key Companies | Alaska Wild Harvest, LLC., BelSeva, Brackett Aircraft Company, Eminence organic skin care, JSC Straikas, Sibberi, Nordic Koivu Ltd, Nature On Tap Ltd., Procter & Gamble, Sublime life, Sibberi Ltd., Sealand Natural Resources Inc., Sapp, Inc., TreeVitalise, Techman-Head Group, The Birch Factory, Treo Brands LLC, and Vitalife Ltd |