The global black phosphorus market was valued at USD 13.13 million in 2022 and is expected to grow at a CAGR of 43.0% during the forecast period. The global demand for black phosphorus is likely to witness rapid growth over the anticipated period due to its considerable attributes as high carrier mobility that make it an option for transistors and other electronic devices. It can also be a valuable electrode material and electro-catalyst in energy storage and electro-catalytic applications. Considerable advancements have recently been achieved in electrochemistry, augmenting the market growth at a rapid pace.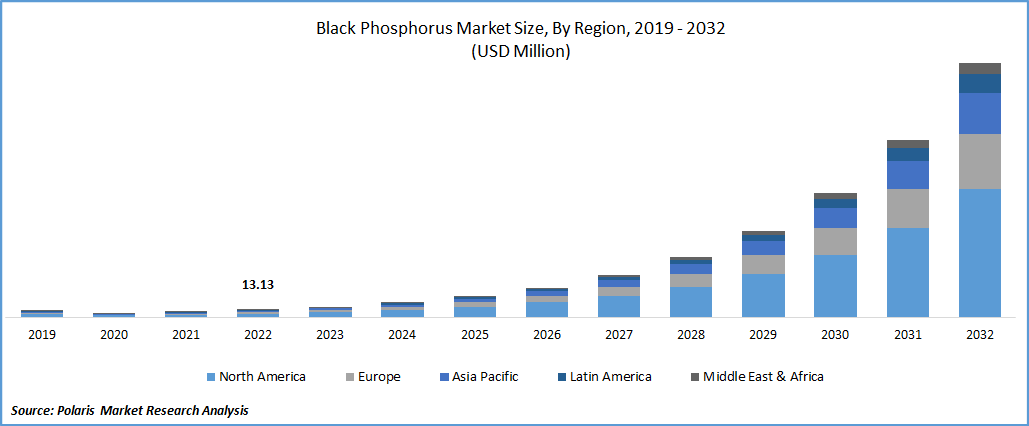 Know more about this report: Request for sample pages
Moreover, black phosphorus is important for producing various consumer and industrial products. Optoelectronics, for instance, creates infrared-range devices like LEDs, solar cells, and photodiodes. Black phosphorus has a customizable bandgap and high carrier mobility, which are desirable features for these devices. Additionally, it has a direct bandgap, making it an efficient material for light emission and absorption, making it a promising option for optoelectronics device manufacturers, propelling the black phosphorus market growth.
For instance, in May 2022, scientists at NUS discovered a high carrier mobility 2-dimensional semiconductor made up of black phosphorus. This material exhibits an electronic self-passivation phenomenon when its vacancy defects are rearranged, potentially increasing its analogs and mobility. It plays a major role in producing energy-efficient, high-speed, and ultra-thin optoelectronic devices.
The growth of black phosphorus has been significantly impacted by the outbreak of the COVID-19 pandemic, leading to a significant drop in global demand. Multiple factors have contributed to this decline, including limited component and equipment availability, trade barriers, reduced staffing at manufacturing facilities due to government regulations, supply chain disruptions, and manufacturing shutdowns. This has resulted in reduced demand and decreased market growth in some regions. On the other hand, the increased use of electronic devices for remote work and online learning has led to a surge in demand for electronic components, including those made with black phosphorus, and driving the market growth rapidly.
Industry Dynamics
Growth Drivers
As more people are becoming aware of the need for sustainable development and pollution reduction, the demand for electric vehicles and the batteries that power them has increased. Black phosphorus has unique properties that make it ideal for battery production, including its stable structure and high lithium-ion storage capacity resulting from covalent carbon-phosphorus bonds. This quality makes black phosphorus essential for battery production across multiple industries. As the demand for electric vehicles continues to rise, the demand for batteries will grow significantly, leading to a rapid increase in the need for black phosphorus.
Furthermore, various consumer applications use short-range infrared connectivity devices such as AC remotes, set-top boxes, TV remotes, notebook PCs, smartphones, and other gadgets, all of which rely on the use of black phosphorus to manufacture the infrared spectrum. Black phosphorus offers several significant characteristics, such as broadband photodetection in the visible and infrared range, owing to its high carrier mobility and customizable bandgap. For instance, smartphones use a network sensor to provide seamless online streaming, while Bluetooth sensors enable speakers to provide louder volume. The increasing use of optoelectronic components is driving the demand for black phosphorus.
Report Segmentation
The market is primarily segmented based on type, application, and region.
By Form

By Application

By Region

Electronic Devices

Energy Storage

Sensor

North America (U.S., Canada)

Europe (France, Germany, UK, Italy, Netherlands, Spain, Russia)

Asia Pacific (Japan, China, India, Malaysia, Indonesia. South Korea)

Latin America (Brazil, Mexico, Argentina)

Middle East & Africa (Saudi Arabia, UAE, Israel, South Africa)
Know more about this report: Request for sample pages
Crystal black phosphorus account witnessed the fastest growth over the study period
In 2022, the crystal black phosphorus segment registered the highest growth rate over the study period. The flexibility of black phosphorus allows for the crystal structure to be changed as needed with pressure and makes it easy to use in manufacturing. Most black phosphorus is produced using the wet process, which is used to manufacture fertilizers. There are two available structures for black phosphorus: the crystal form and the powder form.
Furthermore, black phosphorus's powder form shows significant growth as black phosphorus is widely used in producing various materials, such as nano-plates, black phosphorus quantum dots, and thin films. As a thermodynamically stable semiconductor material, the powder form of black phosphorus has several important attributes, such as its layered structure. Moreover, the use of black phosphorus quantum dots technology has many potential environmental benefits, as it can be applied in various areas, including cancer therapy, nonlinear optical absorbers, fluorescence sensing, bio-imaging, and photovoltaics.
The electronic device segment

held the largest share in the black phosphorus market
In recent decades the electronic device segment held the largest share in the black phosphorus market due to the market demand for optoelectronic components rising vigorously owing to the rise in substantial use of infrared components such as infrared photodiodes, LEDs, and phototransistors, as one of the significant characteristics of black phosphorus is it's a layered semiconductor by which the demand of black phosphorus is likely to rise due to its potential in electronic and optical devices. Black phosphorus is contemplated as an outstanding choice for next-gen electronics in terms of value and volume, both with benefits including high mobility, in-plain anisotropy, etc.
Moreover, the electronic device segment holds the largest share of the black phosphorus market due to its ability to facilitate battery energy storage and accommodate variable renewable energy sources. Technological advancements have made black phosphorus an essential element in electronic device development. The growing use of black phosphorus in the energy storage sector is driving demand, encouraging governments to adopt energy storage systems. Black phosphorus is well-suited for the energy storage industry, and its unique properties make it a preferred choice for manufacturers, resulting in projected rapid market growth.
The sensors segment accounts to witness the highest demand over the anticipated period
The sensors segment has witnessed the highest demand over the anticipated period due to the emission of toxic, unhealthy, and non-eco-friendly gases like carbon dioxide, carbon monoxide, hydrogen sulfide, hydrocarbons, and ammonia that are released as by-products during the manufacturing of chemicals, mining of oils, and other industrial processes. Gas sensors play a crucial role in monitoring and detecting the combustible and harmful gases released into the air by these critical industries. Additionally, excessive emissions can adversely affect human health. Moreover, some of the essential industries' emissions are explosive, containing gases such as butane, methane, and butane, which can lead to the risk of fire disasters.
North America is anticipated to witness the largest market share during the forecast period
In 2022, the North American region had the largest share of the global market. The combined increase in the use of black phosphorus by manufacturers and end-users has raised the demand for black phosphorus in North America, driving expansion and innovation. The demand for black phosphorus in the optoelectronic components market is also increasing due to the rising demand for image sensors in the smartphone and consumer electronics markets, as well as the growing acquisition of laser diodes and LEDs in the automotive industry.
Moreover, the projected significant expansion in Asia can be mainly attributed to the increasing demand for electronic devices and renewable energy technologies in the region. The unique characteristics of black phosphorus, such as high carrier mobility and tunable bandgap, make it an advantageous material for various applications and are expected to contribute to the ongoing development of such technologies
Competitive Insight
Some of the major competitors operating in the global market include American Elements, Nanochemazone, 2D Semiconductors, Merck, ACS Material, Ossila Ltd., Stanford Advanced Materials, HQ Graphene, Manchester Nanomaterials, & Hunan Azeal Materials.
Recent Developments
In May 2022 New Phosphix technology is announced by Clean TeQ water. This technology uses a mixture of its incessant ionic filtration (CIF) and precipitation of chemicals to designate out the reusable phosphate from water from the disposed of one.
Black Phosphorus Market Report Scope
| | |
| --- | --- |
| Report Attributes | Details |
| Market size value in 2023 | USD 18.75 million |
| Revenue forecast in 2032 | USD 469.61 million |
| CAGR | 43.0% from 2023– 2032 |
| Base year | 2022 |
| Historical data | 2019– 2021 |
| Forecast period | 2023– 2032 |
| Quantitative units | Revenue in USD million and CAGR from 2023 to 2032 |
| Segments covered | By Form, By Application, By Region |
| Regional scope | North America, Europe, Asia Pacific, Latin America; Middle East & Africa |
| Key companies | American Elements LLC (US), Nanochemazone (Canada), 2D Semiconductors (US); Merck (Germany), ACS Material LLC (US), Ossila Ltd. (UK), Stanford Advanced Materials (US), HQ Graphene (Netherlands), Manchester Nanomaterials (UK) among others. Hunan Azeal Materials Co. Ltd. (China), |