The global blood culture test market was valued at USD 5,494.53 million in 2022 and is expected to grow at a CAGR of 12.4% during the forecast period.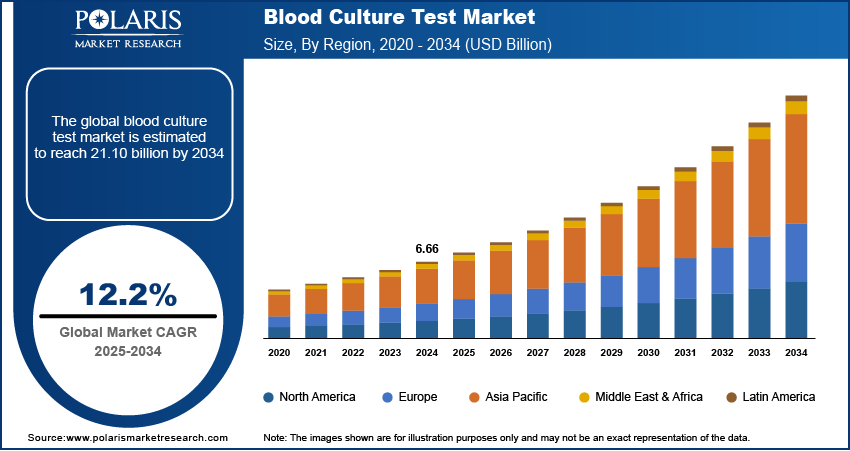 To Understand More About this Research: Request a Free Sample Report
Market expansion is significantly influenced by the escalating approval rates granted by regulatory authorities for cutting-edge products dedicated to diagnosing bloodstream infections (BSI). Concurrently, the rising prevalence of bacterial infections within the bloodstream further propels the blood culture test market growth trajectory. A study released by the National Institutes of Health (NIH) in 2023 revealed that sepsis affects approximately 1.7 million individuals annually in the U.S. Correspondingly, data from the World Health Organization highlights an estimated 250,000 instances of BSI occurrences each year within the U.S. Notably, catheter-associated BSIs impact roughly 80,000 patients confined to the intensive care unit.
Moreover, the recent outbreak of the COVID-19 pandemic heightened the demand for blood culture tests to meticulously analyze specimens. As the global incidence of COVID-19 infections surged, governmental entities actively participated in procuring blood culture tests. These coordinated efforts significantly influenced market growth during the pandemic period, thereby reinforcing its positive trajectory.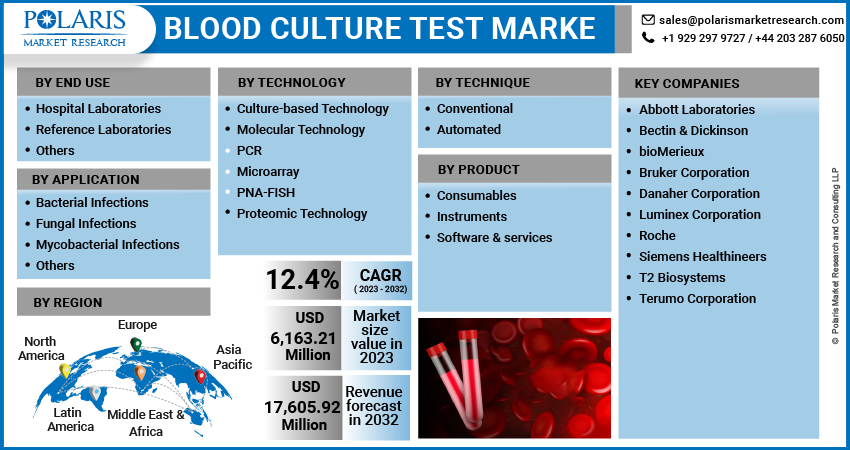 For Specific Research Requirements, Request for a Customized Report
Industry Dynamics
Growth Drivers
Increasing healthcare associated infections
Healthcare-associated infections are a significant concern in hospital settings. Blood culture tests play a crucial role in identifying and managing these infections, thereby improving patient safety.
The growth of the market was significantly propelled by the introduction of novel products and strategic collaborations among key market participants. A notable instance of this was observed in February 2022, when BD joined forces with ReturnSafe, a comprehensive software application designed for managing COVID-19 employee health, well-being, and adherence. This collaboration facilitated the integration of BD Verito At-Home COVID-19 Test kits into the platform. This combined solution, incorporating the BD Veritor at-home COVID-19 Test alongside ReturnSafe, streamlines and cost-effectively manages the health status of an enterprise's entire workforce.
In April 2022, Thermo Fisher Scientific unveiled its latest hub for research and development and engineering expertise, known as the India Engineering Center, situated in Hyderabad. The expansion of the market may face hurdles due to governmental regulations governing the creation and production of diagnostic solutions, encompassing blood culture tests.
Report Segmentation
The market is primarily segmented based on product, technique, technology, application, end use, and regions.
By Product

By Technique

By Application

By Technology

By End Use

By Region

Consumables

Instruments

Software & services

Bacterial Infections

Fungal Infections

Mycobacterial Infections

Others

Culture-based Technology

Molecular Technology

Proteomic Technology

Hospital Laboratories

Reference Laboratories

Others

North America (U.S., Canada)

Europe (France, Germany, UK, Italy, Netherlands, Spain, Russia)

Asia Pacific (Japan, China, India, Malaysia, Indonesia. South Korea)

Latin America (Brazil, Mexico, Argentina)

Middle East & Africa (Saudi Arabia, UAE, Israel, South Africa)
To Understand the Scope of this Report: Speak to Analyst
By Product Analysis
Consumables segment held the largest share in 2022
The commercial segment held the largest revenue share. The dominance of this segment can be attributed to several significant factors. These include the escalating usage of blood culture tests, the growing recognition of the inherent benefits associated with the procedure, and the rising prevalence of infectious diseases. These elements collectively contribute to the considerable market share achieved by this segment. A notable example of this is evidenced by Kurin, in February 2022, unveiling its proprietary push-button needle system designed to enhance safety measures. These technological strides are expected to foster a conducive environment for the growth of the consumables segment.
The instruments segment will grow at a substantial pace. Diagnostics enterprises are directing their efforts toward the creation of advanced offerings tailored to meet the evolving demands of their clientele. In line with this, in May 2022, Babson Diagnostics & BD partnered to transform the blood collection process. This initiative empowers patients to collect blood samples within the comfort of their homes, a shift that is anticipated to resonate positively within the market.
By Technique Analysis
Conventional is expected to hold the significant revenue share during forecast period
The conventional segment holds a significant share of the market. This prominence is attributed to its widespread utilization across various medical settings, encompassing hospitals, independent clinical laboratories, and pathology laboratories. Furthermore, the escalating engagement in research and development endeavors aimed at enhancing the efficacy of blood culture tests is projected to serve as a catalyst for driving the expansion of the market.
The automated segment is expected to grow at the fastest pace. Prominent players are primarily directing their attention toward the introduction of cutting-edge instruments and consumables. These innovations are geared towards offering exceedingly efficient and dependable tests to their clientele, thereby contributing to the segment's accelerated expansion.
By Technology Analysis
Culture based segment is expected to hold the largest share during forecast period
The culture-based segment holds a significant share of the market. Such presence can be attributed to the technology's advanced capabilities in pathogen detection. Moreover, the rising incidence of infectious diseases and the augmented research and development investments within developing nations are poised to invigorate the growth of this segment.
The molecular technology segment is expected to grow at the fastest pace. The increasing market demand for sophisticated diagnostic technologies, encompassing microarray, Peptide Nucleic Acid-Fluorescent In Situ Hybridization (PNA-FISH), and Polymerase Chain Reaction (PCR), is set to propel the market's growth trajectory. This trend is attributed to the notable advantages associated with PNA-FISH technology, including heightened accuracy, shortened test durations, and heightened specificity in testing procedures.
By End Use Analysis
Hospitals segment is expected to hold the largest share during forecast period
The hospital segment is holding a significant share of the market. This prevalence is attributable to the escalating occurrences of Hospital-acquired Infections (HAIs). Notably, the World Health Organization (WHO) highlights that the frequency of infections acquired within Intensive Care Units (ICUs), encompassing conditions like Urinary Tract Infections (UTIs) and surgical-site wound infections, is approximately two to threefold higher in developing nations compared to their developed counterparts. The impact is particularly evident in Canada, where approximately 8,000 patients meet unfortunate fates each year due to the repercussions of HAIs.
Reference labs are expected to grow at the fastest pace. This growth can be attributed to the escalating awareness surrounding healthcare matters, coupled with concerted endeavors by both governmental and non-governmental entities to curb and manage infectious diseases. An illustrative instance of this phenomenon is the collaboration between the CDC and the South African government, where joint efforts encompassed the formulation of national HIV clinical and research guidelines, reinforcement of HIV and TB programs, and the facilitation of epidemiology training.
By Regional Analysis
North America held the largest revenue share in 2022
North America is expected to dominate the market. This dominant position can be attributed to the region's dense healthcare industry landscape, featuring an array of prominent companies such as BD Thermo Fisher. Additionally, the escalating frequency of product launches within this territory is poised to further catalyze the growth of the regional market. For instance, in January 2021, Bruker Corp. secured FDA approval for its MBT Sepsityper Kit, a diagnostic tool capable of detecting more than 400 microorganisms in positive blood cultures.
APAC will grow at the fastest pace. The region's growth is due to the incidence of infectious diseases and the ongoing advancement of healthcare infrastructure. Diagnostic firms are strategically directing their focus toward Asian nations, notably China and India, for geographical expansion. The region has a huge patient pool, a developing pathology labs network, a rising number of healthcare practitioners, and rising cases of infectious diseases, coupled with the rising disposable income to spend on diagnostic services.
Competitive Insight
The blood culture test market is fragmented and is anticipated to witness competition due to several players' presence. Major key players in the market are constantly upgrading their technologies to stay ahead of the competition and to ensure efficiency, integrity, and safety. These players focus on partnership, product upgrades, and collaboration to gain a competitive edge over their peers and capture a significant market share.
Some of the major players operating in the global market include:
Abbott Laboratories

Bectin & Dickinson

bioMerieux

Bruker Corporation

Danaher Corporation

Luminex Corporation

Roche

Siemens Healthineers

T2 Biosystems

Terumo Corporation
Recent Developments
In March 2023, T2 Biosystems, unveiled its intention to enhance its current T2Candida panel by incorporating Candida Auris detection technology. The company has already secured approvals from the FDA and CE for its T2Candida panel.

In December 2022, a collaborative research effort between the Great Ormond Street Institute of Child Health (GOSH) and the Wyss Institute for Biologically has reported positive outcomes from their innovative methods for detecting pathogens linked to pediatric sepsis.

In May 2022, BD introduced a fully automated & high-throughput molecular diagnostics platform for communicable diseases in the U.S.

In October 2022, BD & Magnolia Medical Technologies have formed a strategic partnership aimed at utilizing advanced technologies to assist hospitals in the U.S. in minimizing blood culture contaminations.

In Sepetember 2022, OpGen has revealed a strategic partnership with FIND, focusing on the swift diagnosis of antimicrobial resistance (AMR) through the utilization of blood cultures.
Blood Culture Test Market Report Scope
| | |
| --- | --- |
| Report Attributes | Details |
| Market size value in 2023 | USD 6,163.21 million |
| Revenue Forecast in 2032 | USD 17,605.92 million |
| CAGR | 12.4% from 2023 - 2032 |
| Base year | 2022 |
| Historical data | 2019 - 2021 |
| Forecast period | 2023 - 2032 |
| Quantitative units | Revenue in USD million/billion and CAGR from 2023 to 2032 |
| Segments Covered | By Product, By Technique, By Technology, By Application, By End Use, By Region |
| Regional scope | North America, Europe, Asia Pacific, Latin America; Middle East & Africa |
| Customization | Report customization as per your requirements with respect to countries, region and segmentation. |