The global breast lesion localization methods market size was estimated at USD 570.35 Million in 2017 and is anticipated to gain significant traction over coming years.
Breast cancer is a disease categorized by an uncontrolled and unorganized proliferation of breast cells that forms a tumor, which may be non-malignant or malignant in nature. The irregular changes in the breast tissue owing to ailments or damages is referred as breast lesion. The malignant lesion is cancerous whereas benign lesion is non-cancerous. Breast lumps are a very common complaint amongst women of all ages. Such cells usually form tumors that can often be observed on an x-ray or when felt a lump. The breast lump can cause the change in the shape of breast and breast pain can also occur. Breast cancer occurs most commonly amongst women aged 40 years and above alongside with a very small percentage of men affected by the same. A novel method of radio-occult lesion localization is currently used for identification of non-palpable suspicious breast lesion, which is one of the modern procedure that is likely to gain major traction and in turn enhance the growth of the global breast lesion localization methods market during the forecast period. Breast screening lineups are favoring early recognition of breast cancer, which is further supporting their proper cure with novel techniques. According to Department of Oncology 2007, approximately 25% of the cancers were non-palpable that required precise treatment including radio-guided occult lesion localization.
The global market growth for breast lesion localization methods is driven by factors such as rising global occurrence of people suffering breast cancer and favorable reimbursement policies in developed economies. According to the World Health Organization (WHO), in 2012, breast cancer was the second-most prevalent cancer in the world and most frequent cancer among women, with an estimated around 1.7 Million new cancer cases diagnosed in that year. Moreover, according to the statistics of the Breastcancer.org 2017, in the U.S. approximately 250,000 cases of invasive breast cancer are expected to be diagnosed along with over 60,000 cases of non-invasive breast cancer. This, in turn, generates a significant environment for global breast lesion localization methods market during the forecast period. In addition, advancement in technology including electromagnetic and magnetic tracer owing to technological advancement also driving the growth of this market. The control on traditional localization methods recognized by the physician has also augmented the demand for breast lesion localization methods market. Furthermore, growing awareness of amongst the people regarding the breast cancer and increasing in improved quality treatment is another factor bolster the demand for this market.
However, ambiguity in product approval by FDA, the risk associated with the breast surgery and painful consequences are factors anticipated to hinder the growth of this market.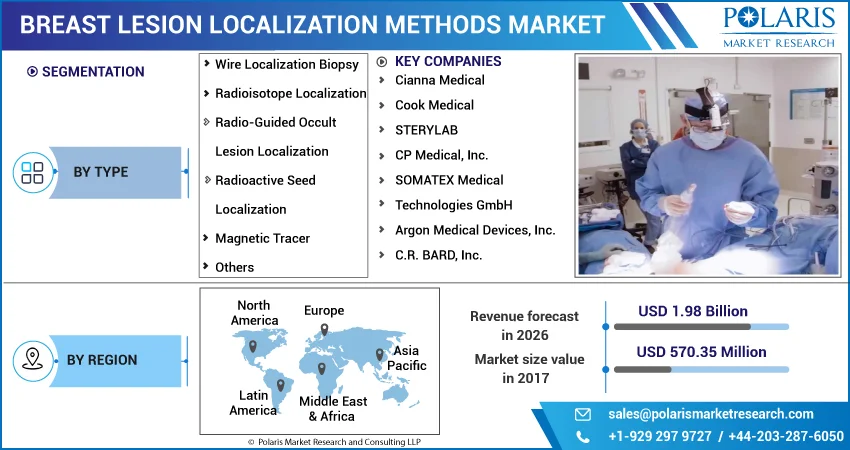 Segment Analysis
The Global Breast Lesion Localization Methods Market size is segmented on the basis of type and geography.
On the basis of type, the global market is segmented into Wire Localization biopsy, Radioisotope Localization Magnetic Tracer, and Others. The radioisotope localization segment is further categorized into Radio-guided occult lesion localization and Radioactive seed localization. Wire localization, also known as needle localization or wire-guided biopsy, is anticipated to dominate the market due to its early improvement and higher implementation among end users such as hospitals and oncology treatment centers. Magnetic tracers are anticipated to be the fastest growing segment over the forecast period due to their imprsoved efficiency for the introduction of novel mechanisms to cure cancer. For instance, the combination of the instrument, Sentimag probe and the magnetic tracer, Sienna+ helps to form precise & nontoxic method. Furthermore, economical, better-quality surgical design and improved workflow management support the development of this segment.
Regional Analysis
In terms of geography, North America is estimated to be the highest market sharing region in 2017. Availability of key manufacturers in the U.S, improved healthcare structure, and high adoption rate of these localization methods are some of the factors accountable for its largest share in breast session location methods market. Moreover, favorable government support and an increasing number of breast cancer treatment surgeries being performed are some of the drivers anticipated to fuel the profitable market growth in this region. However, Asia Pacific is estimated to be the dominating region during the upcoming decade. The major market share is highly due to the increasing per head income, high unmet medical needs of appropriate patient care, increasing awareness regarding early cancer diagnosis, and accessibility of operative cure in emerging economies, such as India and China.
Competitive Landscape
Major firms are focusing on small firms with a working methodology of securing the end goal to manage position in the market and are associated with mergers and acquisitions, key joint efforts, and novel item advancement to pick up profit share in the business. Some major key players in global Breast Lesion Localization Methods Market includes Cianna Medical, Cook Medical, STERYLAB, CP Medical, Inc., SOMATEX Medical Technologies GmbH, Argon Medical Devices, Inc., and C.R. BARD, Inc. among others.