The global butane market size was estimated to be USD 66 billion in 2017 and is forecast to grow at a CAGR of 7.3% from 2018 to 2026. Butane is one of the most significant natural gas liquids and is used for different purposes in residential, commercial, and industrial applications. Its global market is driven by the massive demand of liquified petroleum gas (LPG) and in petrochemical production.
Butane as LPG is used in residential and commercial applications for cooking and heating purposes. The global butane industry is governed by the oil and natural gas companies from both the private and public sectors. Increased use of LPG in rural areas of advanced developing countries such as India on account of eliminating dependency on forest wood and incomplete combustion caused by the same have further increased the demand for butane.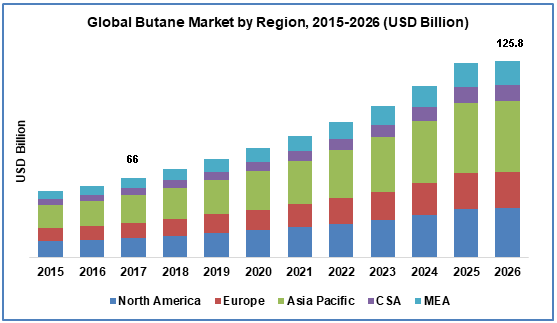 Know more about this report: request for sample pages
Petrochemical production is another crucial application for butane. The growth of petrochemicals is highly dependent on the increased consumption of end-use commodity products such as plastics. The finished products have immense demand owing to increasing worldwide population & urbanization, increasing per capita income of consumers, advancements in material science along with rapidly advancing market players. Butane in comparison to the other natural gas liquid (propane) has witnessed lesser continuous market length as propane became widespread due to US shale revolution. However, the shale revolution has also incentivized investment in fractionation, export infrastructure, and local petrochemical facilities for butane as well but slower than propane.
The supply and demand changes for butane are driven entirely by the regional supply and demand across the world. For instance, the export growth from the U.S. will affect different regions of the world both directly and indirectly. The direct effects include imports into Asia and Europe, whereas the indirect effects include the longer-term impact of U.S. export growth on petrochemical regional investments. Normal butane is mainly applied as a blend stock of gasoline and as a feedstock for isomerization for production of isobutane as a feedstock for petrochemicals to produce butadiene as a precursor of synthetic rubber. High purity isobutane has been rapidly gaining popularity as is being used as a refrigerant that has helped replacing halomethanes that causes depletion of ozone layer.
Production of normal butane has been trending higher 2014. However, net product production varies seasonally within the refineries owing to seasonal differences for demand of gasoline and regional differentiation in vapor pressures. Demand for isobutanes have also been increasing exponentially in the recent past few years, due to rising production in natural gas processing facilities. But, the refineries consumption higher amounts of it than they even produce. It is mainly mixed with propane that are transported via dedicated pipelines of LPG for its use in commercial and residential buildings for cooking, heating, and even refrigeration. It is also used in batches of purity products in petroleum product pipelines.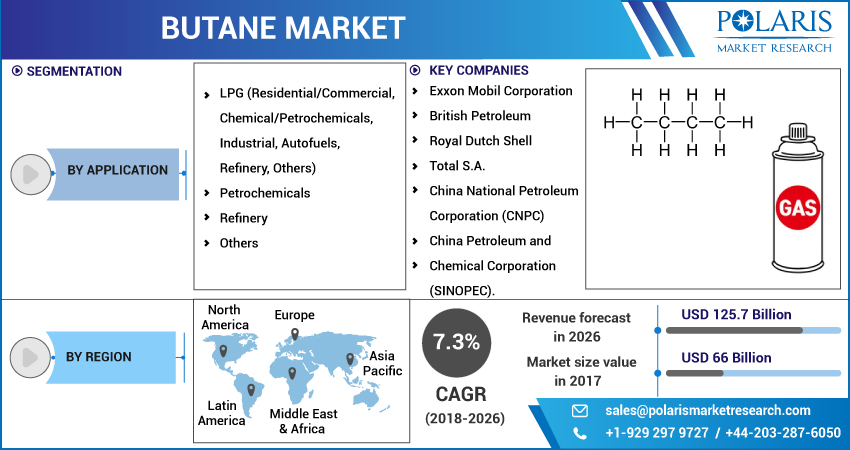 Know more about this report: request for sample pages
Segment Analysis
Liquified petroleum gas (LPG) is the largest application segment for the butane market. Increasing consumption of LPG as fuel for heating and cooking purposes in commercial and residential applications has immensely contributed to the growth of butane market. Refineries also utilize butane in different blends to modify the octane rating.
Petrochemical is also a lucrative application for butane market and is anticipated to be the fastest growing segment for the market. Butane is also used in the production of other chemicals such as ethylene, propylene oxide, malic anhydride, and methyl tertiary-butyl ether (MTBE). The refiner applications for butane hold over 11% of the total market share.
Butane Market Report Scope
By Application

By Region

LPG (Residential/Commercial, Chemical/Petrochemicals, Industrial, Autofuels, Refinery, Others)
Petrochemicals
Refinery
Others

North America (U.S., Canada)
Europe (Germany, UK, France, Poland, Spain, Italy, Belgium)
Asia Pacific (China, India, Japan, Malaysia, Indonesia, Australia)
Latin America (Mexico, Brazil, Argentina)
Middle East & Africa (Saudi Arabia, UAE, Nigeria)
Know more about this report: request for sample pages
Regional Analysis
Asia Pacific is the largest regional market for butane with China as the major contributing nation. Supportive government policies and subsidies in countries such as India have significantly contributed to the growth of LPG which in turn has resulted in increased demand of butane. Moreover, growth of end-use industries such as automobile and petrochemical downstream sector have led to increased consumption of butane in Asia Pacific.
North America is anticipated to be the second largest region for the butane market with the U.S. as a major contributing nation. The rapid advancement in the shale revolution in the country have positively impacted the butane market. North America is anticipated to contribute to the sustainable supply of natural gas liquids in the longer term. Many companies in the U.S. including Targa Resources Partners, Phillips 66, Sunoco Logistics, Enterprise Products Partners, etc. have recently built several new hydrocarbon gas liquids facilities for exports, primarily along the gulf coast in order to exploit the opportunities of rising supply of butane in the area.
Competitive Analysis
The global butane market constitutes international and national market players which are majorly governing the oil & gas sector. It comprises of both public and private players globally. Butane industry is moderately consolidated with companies competing in terms of refinery output, expansion, and distribution. Some of the significant market players in the butane industry include Exxon Mobil Corporation, British Petroleum, Royal Dutch Shell, Total S.A., China National Petroleum Corporation (CNPC), and China Petroleum and Chemical Corporation (SINOPEC).