The global cancer immunotherapy market was valued at USD 61.08 billion in 2019 and is expected to exhibit a CAGR of 9.3% over the forecast period. Cancer Immunotherapy has brought an unprecedented change to the global market for cancer therapy. The therapy that deploys the body's immune system can be described as cancer immunotherapy by entering and boosting the immune system's inherent forces to combat cancer. Over the previous few years, cancer immunotherapies in the global oncology market have produced new waves of optimism, revealing the high untapped potential for innovators. Researchers are now finding new objectives and processes to overcome the loopholes of standard therapies after years of jostling over how to use the body's immune system against cancer.
Cancer immunotherapies have marked a paradigm shift in cancer management relative to current standard therapies on the back of characteristics such as comparatively long-lived impacts, exquisite specificity, and enhanced survival rates. This addressed the strong unmet need for targeted therapies with elevated cancer type specificity and minimal or no side effects.
Over the next decade, immunotherapies are expected to replace conventional cancer therapies and garner a significant share in the global cancer market. The key factors driving the global cancer immunotherapies market are minimal or no side effects offered by immunotherapies, rising incidences of cancer, long-term effects, enhanced survival periods, and strong emerging pipeline of cancer immunotherapies.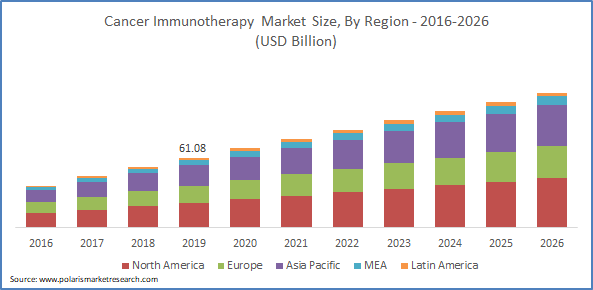 Know more about this report: request for sample pages
The other driving factors in the market include a sedentary lifestyle, lower likelihood of cancer recurrence, accelerated regulatory approvals, and increased immunotherapy investment in R&D. Factors such as high price, restricted range of signs of cancer, and elevated difficulties of innovation are likely to restrict the market. For example, investor awareness of the range of indications is currently limited to Melanoma, renal cancer, and non-small cell lung cancer (NCSLC) in recent years.
The cancer immunotherapy is used for various types of cancer such as prostate cancer, blood cancer, Melanoma, lung cancer, breast cancer, colorectal cancer, and several other chronic illnesses. Among these is comparatively greater demand for immunotherapy in the section of breast cancer. There is also a significant rise in the demand level for immunotherapy in lung cancer. The increasing smoker population base and the alarming rise in urban air pollution are the primary factors driving the growth of the market.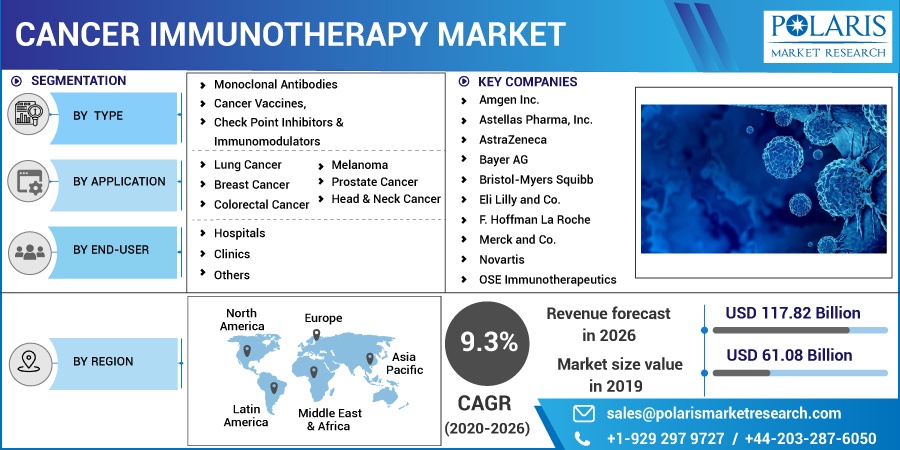 Know more about this report: request for sample pages
Cancer Immunotherapy Market Report Scope
The market is primarily segmented on the basis of type, application, end-user, and geographic region.
By Type

By Application

By End-user

By Region

Monoclonal Antibodies
Cancer Vaccines,
Check Point Inhibitors & Immunomodulators

Lung Cancer
Breast Cancer
Colorectal Cancer
Melanoma
Prostate Cancer
Head & Neck Cancer

North America (U.S., Canada)
Europe (Germany, UK, France, Italy, Spain)
Asia Pacific (China, South Korea, Japan, India)
Latin America (Brazil, Mexico, Colombia)
Middle East & Africa (Saudi Arabia, South Africa, Israel, UAE)
Know more about this report: request for sample pages
Type Outlook
On the basis of therapy type, the global cancer immunotherapy market was dominated by the cancer vaccines segment. Due to ongoing research studies across the globe, various advances are taking place in the field of cancer vaccines. The majority of cancer vaccines can be categorized into two types include preventive vaccines and therapy vaccines. The vaccine designed to avoid cancer from growing in healthy people is preventive cancer vaccine or prophylactic vaccine. These vaccines operate by stopping infectious agents that cause cancer or add to it. Similar to traditional vaccines, these vaccines assist to avoid infectious diseases such as polio and measles by defending the body from infection. Most preventive vaccines induce antibodies to be produced that bind to particularly targeted microbes and block their capacity to cause infection.
Application Outlook
Based on application the global market is further classified into Lung Cancer, Breast Cancer, Colorectal Cancer, Melanoma, Prostate Cancer, Head & Neck Cancer. The Lung Cancer segment is anticipated to grow at a strong CAGR during the forecast period, owing to the growing prevalence of lung cancer across the globe. According to the American Cancer Society there were around 2.1 million lung cancer cases and 1.8 million deaths globally in 2018. The large patient pool is urging demand for sophisticated therapy alternatives, which improves the development of the market for Cancer Immunotherapy. The immunotherapies such as therapeutic drugs, monoclonal antibodies, checkpoint inhibitors, and other cell therapies, have benefited some people with developed lung cancer in the form of long-lasting remission and continuous survival.
End-user Outlook
Hospitals, clinics, and others are end-users included in the Cancer Immunotherapy industry. The hospitals segment comprises private hospitals and government hospitals. In 2019, the segment of hospitals is anticipated to represent the biggest share of the worldwide market for Cancer Immunotherapy. Increased expenditure on health care has led to increased use of immunotherapy drugs in hospitals and clinics. The growing number of multispecialty hospitals across the globe is showing the efforts of various countries to provide quality healthcare services for the patients. As a result, it is expected to increase the demand for advanced solutions and therapies such as cancer immunotherapy for early treatment of cancer.
Regional Outlook
North America held the largest share in the global cancer immunotherapy market size in 2019. The regional market is supported by the existence of superior medical and health care facilities. Over the years to come, ongoing research activities to develop innovative cancer therapies are likely to help these markets, leading in their continued dominance. Asia Pacific is also anticipated to report promising development in the near future with plenty of untapped possibilities such as growing healthcare expenditure in emerging economies such as India, China, and others. Europe is expected to see fast development in the forecast period as a result of the fast implementation of sophisticated cancer therapies for efficient therapy
Competitive Landscape
The market for Cancer Immunotherapy is extremely competitive and is made up of a few significant players. Significant market share in the market is held by companies such as Amgen Inc., Astellas Pharma, Inc., AstraZeneca, Bayer AG, Bristol-Myers Squibb, Eli Lilly and Co., F. Hoffman La Roche, Merck and Co., Novartis, OSE Immunotherapeutics, among others.