The global caprolactam market size was valued at USD 19.5 billion in 2018 and is estimated to grow at a CAGR of 4.7% from 2019 to 2026. It is the source for production of nylon products. It is prolifically used in the manufacture of nylon fibers and resins owing to excellent characteristics such as elasticity, abrasion resistance, high strength, low moisture retention and chemical and oil resistance. This has helped the market to gain traction during the forecast period.
The developing textile industry, especially in Asia Pacific, combined with growing automotive segment, is relied upon to further increase the demand of this market. Due to the abundance of oil refineries in countries such as China and the U.S. the production of raw material is concentrated in this region. Caprolactam is utilized in different end-use verticals such as textiles, carpets, automotive and others.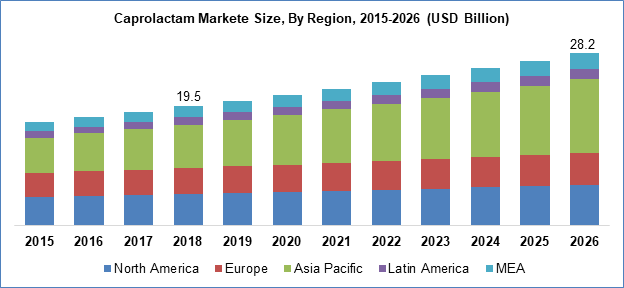 Know more about this report: request for sample pages
End-Use Analysis
Caprolactam has many erstwhile market drivers related to growing demand from end-use industries. Among these end-users, the timeless growth of automotive and textile industry are the major driving forces for growth of global market. At the other end, the product finds prominent use in production of nylon 6 fiber which has witnessed incessant demand in apparel, swimwear, sportswear and fashion wear. Raw materials cyclohexane, ammonia and phenol are the materials used in manufacture of caprolactam. A high demand for plastics in the construction, automotive and electrical &electronics verticals is anticipated to be the key driver for industry over forecast years.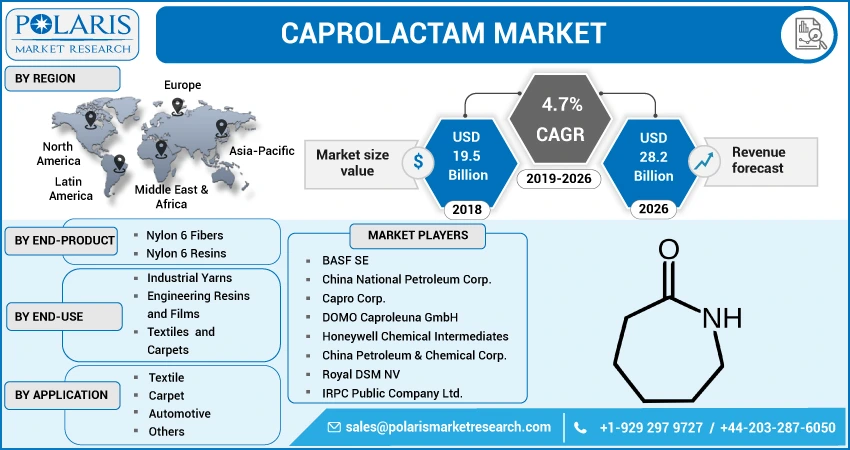 Know more about this report: request for sample pages
Caprolactam Market Scope
By End-Product

By Application

By End-Use

By Region

Nylon 6 Fibers
Nylon 6 Resins
Others

Industrial Yarns
Engineering Resins and Films
Textiles and
Carpets
Others

Textile
Carpet
Automotive
Others

North America (U.S., Canada)
Europe (UK, Germany,
France)
Asia Pacific (India, Japan, China)
Latin America (Mexico, Brazil)
MEA
Know more about this report: request for sample pages
Application Analysis
Textile industry is on a growth spree and can be counted on as a potentially high demand generator in households as consumption of clothing constitutes a high growth area in developing nations. This is so especially when luxury goods segment is on the rise after having plateaued out, with induction of new players such as Amazon's prime wardrobe. They have contributed growth to textile industry and related raw material markets such as caprolactam. Raw materials such as cyclohexane, ammonia and phenol are concentrated in U.S. and China owing to presence of large refineries in these countries. Rising disposable incomes along with penetration of players due to product launches in China and India is expected to promote textile industry growth.
Technological improvements to reduce traces of ammonium sulphate in caprolactam which are hazardous to the environment have a positive impact on growth of product. Caprolactam is widely used as a monomer for the production of polymers and as an intermediate for the synthesis of chemical substances. Constant R&D efforts have resulted in technological breakthroughs for cost-effective manufacturing which has been responsible for impacting growth in the past.
Automotive industry is another eminent vertical for this market. It is utilized for production of nylon 6 fibers that are used for engine covers, tire cord manufacture and gears and bearings due to qualities of superior fatigue resistance, tensile strength and durability. Textile and Automotive industries are the two most popular and flourishing end-use industries for Caprolactam market.
Nylon 6 fibers are a prominent application segment for caprolactam market and comprise half of market share. The second largest application is nylon 6 resins with one-fourth of market share. Nylon 6 resins are put to use in manufacture of engineered resins for producing thermoplastic compounded products, OEM parts production and electronics components. Caprolactam is used in the manufacture of nylon 6 fibers which is again put to use in production of textile fibers, industrial fibers and carpets.
High integration of leading industry players is observed along the value chain because of need for raw materials ie: nylon 6 and resins in various end-use applications. On the basis of end-use industries, the global Caprolactam market is categorized into textile, automotive, electrical and electronics, films and coatings, flexible packaging and coextruded products.
Regional Analysis
Asia Pacific is the largest and fast regional market for the Caprolactam industry. China, Japan, South East Asia and South Korea are contributing countries towards growth of market. China is the largest consumer of caproalctum by volume when in 2016; it dwarfed all other nations in demand for the product. Taiwan is the third largest nation in Caprolactam consumption after China and Western Europe. However, growth is expected to go downhill over the forecast period that may have an adverse impact on overall growth. China has excess capacity for caprolactam that is expected to bring down the global asking rate for Caprolactam. However, the prices of caprolactam witnessed a spurt in early 2017 owing to shutting down of plants in North America and Europe. Prices are expected to display a rise over forecast period owing to highly volatile raw material prices.
Western Europe and North America constitute mature markets for Caprolactam but excessive contribution from capacity plants in China has made many countries backtrack by shutting down the capacities in their respective regions. This gradual alienation from U.S. and Europe and a gradual shift towards Asia Pacific countries has come about because of precisely fast developments in electronics, plastic and automobile manufacturing in Asian countries. Strong textile manufacturing bases in Germany, Italy, France and UK is expected to augment growth over forecast period.
Competitive Analysis
The global caprolactam market comprises of numerous multinational companies. The industry is highly competitive coupled with the high degree of integration across the raw material, manufacturing, and distribution stage. Some of the major players include BASF SE, China National Petroleum Corp., Capro Corp., DOMO Caproleuna GmbH, Honeywell Chemical Intermediates, China Petroleum & Chemical Corp., Royal DSM NV, and IRPC Public Company Ltd.