The global car camera cleaning systems market was valued at USD 508.84 million in 2022 and is expected to grow at a CAGR of 24.5% during the forecast period.
The rapidly changing consumer preferences of consumers all over the world towards advanced safety products and the growing need for more reliable and innovative safety features in cars that increase the overall efficiency of cars coupled with the rising adoption of ADAS features that are specifically designed to prevent accidents and car's safety, are among the leading factors driving the market growth.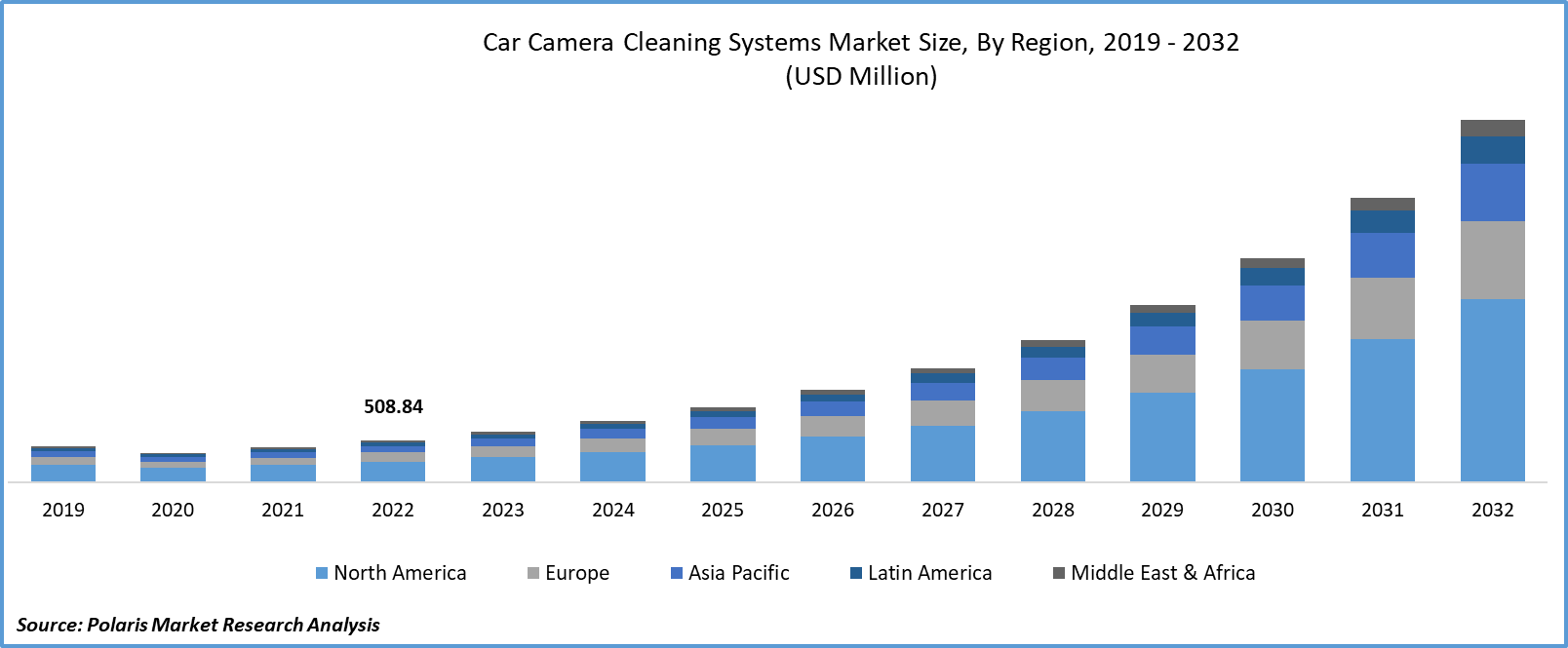 To Understand More About this Research: Request a Free Sample Report
Besides this, the growing focus of regulatory bodies towards mandating the inclusion of advanced features in cars to improve their road safety significantly boosts the demand for cleaning systems of cameras to provide the best visibility and cleanliness of camera lenses, resulting in a positive impact on the global car camera cleaning systems market growth.
For instance, in January 2023, Amazon.com Inc., Ring Division, unveiled its first ever card dashboard camera named Ring Car Cam, which can easily record both inside and outside of the vehicle. It also includes a sensor to detect motion within the vehicle as well as external disturbances.
Moreover, car camera cleaning systems are now being equipped with various smart algorithms that could effectively detect when the cameras are obstructed or dirty along with this, these algorithms can also trigger cleaning cycles automatically while ensuring that the cameras maintain optimal visibility without requiring driver intervention, that is likely to have a positive impact on the market over the years.
However, the higher cost associated with the installation of cleaning systems into cameras and adherence to new standards required for the integration of additional systems like camera cleaning that could lead to reduced demand and incorporation of these systems into cars and act as major restraints for the global market growth.
Industry Dynamics
Growth Drivers
Rising demand for advanced vehicle features propels the demand of the market
The significant increase in focus on road safety and the continuously growing proliferation of advanced vehicle safety features and innovative driver assistance technologies that led to a surge in the adoption and implementation of camera cleaning systems, which ensures that cameras maintaining optimal visibility and contributing to enhanced vehicle safety and assistance capabilities, are the primary factors driving the growth of the global market.
Furthermore, there has been a drastic surge in a number of advancements in camera technology, such as high-definition cameras and multi-camera setups, that require sophisticated cleaning systems and rapid development of innovative nozzle designs, smart sensors, and automated cleaning processes, which, in turn, has been propelling the demand and growth of market in the recent years.
Report Segmentation
The market is primarily segmented based on vehicle type, application, sales channels, and region.
By Vehicle Type

By Application

By Sales Channels

By Region

Passenger Cars

Commercial Vehicles

Night Vision Camera

Front/Rear Camera

Paring Camera

Interjection Camera

Cameras in Mirror

North America (U.S., Canada)

Europe (France, Germany, UK, Italy, Netherlands, Spain, Russia)

Asia Pacific (Japan, China, India, Malaysia, Indonesia. South Korea)

Latin America (Brazil, Mexico, Argentina)

Middle East & Africa (Saudi Arabia, UAE, Israel, South Africa)
To Understand the Scope of this Report: Speak to Analyst
By Vehicle Type Analysis
Passenger cars segment accounted for the largest market share in 2022
The passenger cars segment accounted for more share of the global market. The growth of the segment market can be largely attributed to the increasing prevalence of the integration of advanced driver assistance systems and many other safety features in modern passenger vehicles, along with the surge in a number of consumers placing higher importance on safety features while purchasing vehicles.
The commercial vehicles segment is likely to register the highest growth rate over the next coming years on account of the continuous expansion of logistics and transportation industries across both developed and developing economies, leading to increased road congestion and the number of commercial vehicles on the road. Besides this, with the exponential rise in e-commerce and logistic services globally, the demand for vehicles like trucks, delivery vans, and buses has drastically increased. As these vehicles often rely on camera systems for parking assistance, blind-spot detection, and overall safety, resulting in a higher need and demand for camera cleaning systems.
By Application Analysis
Night vision camera segment held the significant market share in 2022
The night vision camera segment held a significant market share in terms of revenue in 2022, which is mainly driven by their widespread use in all types of vehicles due to their ability to improve overall visibility in low-light and night-time conditions and rapidly surging integration of these camera systems in luxury and premium vehicles as a part of advanced safety and comfort packages. Additionally, as safety regulations around the world becoming more stringent and growing number of consumers demanding higher safety ratings, automakers are increasing their focus to incorporate innovative technologies like night vision cameras to improve their vehicle's safety scores.
The front/rear camera segment will grow at rapid pace, mainly due to significant increase in the number of vehicles equipped with rear/front cameras and rapid development of rear/front cameras with new materials, sensors, and enhanced cleaning mechanism.
By Sales Channel Analysis
OEM segment is expected to witness highest growth during the estimated period
The OEM segment led the industry market with substantial share, owing to exponential growth of autonomous vehicles and electric vehicles, which has led to higher proliferation for cameras and sensors on vehicles for the navigation, self-driving capabilities, and obstacle detections coupled with the surge in number of governments worldwide implementing on stricter safety standards for automobiles that mandates the use of ADAS in vehicles.
By Regional Analysis
North America region dominated the global market in 2022
The North America region dominated the global market in terms of revenue. The regional market growth can be largely accelerated to region's increased adoption rate of vehicles equipped with advanced safety systems and expansion of electric vehicles market with the launch of new models of electric cars that include advanced safety and driver assistance systems along with the rising focus on leading manufacturers on innovating solutions to keep camera lenses clean.
For instance, according to a report published in 2022, the total sales of electric vehicles in California, United States, accounted for nearly 16% of light-duty vehicles, and the EV sales have surged by over 9% in nine other states that have adopted California's zero-emission vehicle standard.
The Asia Pacific region will grow rapidly, on account of rapid rate of urbanization and road congestion in many parts of countries like India and China, which has resulted in increased safety of road safety along with the growing prevalence for aftermarket for automotive accessories and maintenance services.
Competitive Insight
The car camera cleaning system market is fragmented and is anticipated to witness competition due to several players' presence. Major service providers in the market are constantly upgrading their technologies to stay ahead of the competition and to ensure efficiency, integrity, and safety. These players focus on partnership, product upgrades, and collaboration to gain a competitive edge over their peers and capture a significant market share.
Some of the major players operating in the global market include
Ficosa International SA

Shenzhen Mingshang Industrial Co. Ltd.

Waymo

Continental AG

Magna Electronics Inc.

MS Foster & Associates Inc.

Seeva Technologies

Valeo SA

Denso Corporation

Panasonic Corporation

Kautex Textron GmbH & Co. KG

Dorman Products Inc.

Trico Products Corporation

Sonceboz SA

Gentex Corporation

Calsonic Kansei Corporation
Recent Developments
In January 2023, ZF, introduced its new Smart Camera 6, their next generation of camera mainly designed for the advanced automated driving systems. It further offers environmental monitoring with the help of image processing module systems and features a 120-degree vision.

In October 2021, WeRidem introduced new WeRide Sensor Suite 4. This suite is equipped with an advanced sensor cleaning system, that can automatically detect the dirt & stains present on the sensors to effectively trigger the trigger system.
Car Camera Cleaning Systems Market Report Scope
| | |
| --- | --- |
| Report Attributes | Details |
| Market size value in 2023 | USD 614.07 million |
| Revenue forecast in 2032 | USD 4,401.80 million |
| CAGR | 24.5% from 2023 – 2032 |
| Base year | 2022 |
| Historical data | 2019 – 2021 |
| Forecast period | 2023 – 2032 |
| Quantitative units | Revenue in USD million and CAGR from 2023 to 2032 |
| Segments covered | By Vehicle Type, By Application, By Sales Channels, By Region |
| Regional scope | North America, Europe, Asia Pacific, Latin America; Middle East & Africa |
| Customization | Report customization as per your requirements with respect to countries, region and segmentation. |