The global car-t cell therapy market was valued at USD 3,010.24 million in 2022 and is expected to grow at a CAGR of 43.2% during the forecast period. The CAR-T cell therapy market is a rapidly growing within the biotechnology and healthcare industry. CAR-T cell therapy is a groundbreaking approach that harnesses the immune system's power to fight cancer. It involves modifying a patient's own T cells, a type of white blood cell, to express chimeric antigen receptors (CARs) on their surface. These CARs enable the T cells to recognize and target specific antigens in cancer cells.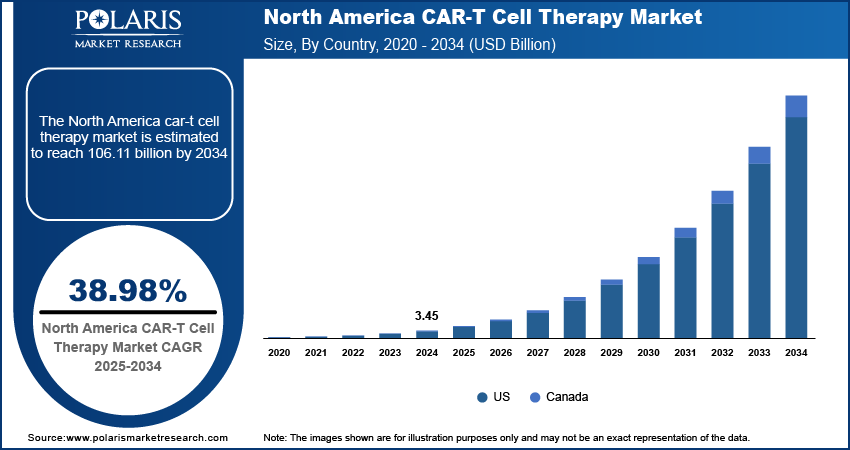 To Understand More About this Research: Request a Free Sample Report
CAR-T therapy involves modifying a patient's T cells, a type of immune cell, in the laboratory to target and attack cancer cells. The process begins by extracting T cells from the patient's blood. Subsequently, the T cells are genetically altered in the lab to express a receptor that specifically binds to proteins found on the patient's cancer cells.
A unique type of receptor (CAR-T) is a chimeric antigen receptor. Large numbers of CAR-T cells are produced in the lab before being administered to the patient. CAR-T therapy treats specific blood malignancies and is also being researched for other cancers. CAR T therapy is also known as Chimeric antigen receptor T-cell therapy. T cells are used in CAR T therapy since they are generally responsible for destroying malignant and virus-infected cells. Cancer cells are known to hide from the immune system, but scientists have been able to improve T cells' ability to locate and kill cancer cells using CAR-T therapy.
The COVID-19 lockdown resulted in supply chain disruptions and interrupted company operations, leaving many life science and biopharma businesses waiting for new raw material for CAR T unit manufacture. During COVID-19, an outbreak lockdown was imposed in many regions, which disrupted the supply chain and discontinued business operations leaving many life science and biopharma businesses waiting for new batches of raw material for CAR T cell manufacture.
Industry Dynamics
Growth Drivers
The CAR-T cell therapy market has recently witnessed a surge in investments from major organizations. CAR-T (Chimeric Antigen Receptor T-cell) therapy is an innovative approach to cancer treatment that involves modifying a patient's own immune cells to target and destroy cancer cells.
Large pharmaceutical companies, biotechnology firms, and academic institutions have recognized CAR-T cell therapy's potential and made substantial investments in this field. These investments aim to accelerate research and development, expand manufacturing capabilities, and bring CAR-T therapies to a wider patient population.
The investments have primarily focused on advancing clinical trials, optimizing manufacturing processes, and improving CAR-T therapies' scalability and commercial viability. Major organizations are also investing in collaborations and partnerships with smaller biotech companies to leverage their expertise and innovative technologies in CAR-T development.
Furthermore, there has been an increase in venture capital funding for CAR-T cell therapy startups, providing financial support for early-stage research and development efforts. This influx of investments reflects the growing confidence in the potential of CAR-T cell therapy to revolutionize cancer treatment and improve patient outcomes.
As a result of these investments, there has been significant progress in the market, with several therapies receiving regulatory approvals and entering the market. The increased investments are expected to propel the development and commercialization of CAR-T therapies, paving the way for more effective and personalized cancer treatments.
Report Segmentation
The market is primarily segmented based on target antigen, indication, and region.
By Target Antigen

By Indication

By Region

CD19/CD22

BCMA (B-Cell Maturation Antigen)

Others (MUC16, L1CAM, ROR1, EGFRvIII, PSCA, NKR-2, IL13Ra2, LewisY)

DLBCL

ALL

CLL

MM

FL

Mastozytosis

Myeloid Fibrosis

MLL

Thymic Cancer

Glioblastoma

AML

Others

North America (U.S., Canada)

Europe (France, Germany, UK, Italy, Netherlands, Spain, Russia)

Asia Pacific (Japan, China, India, Malaysia, Indonesia, South Korea)

Latin America (Brazil, Mexico, Argentina)

Middle East & Africa (Saudi Arabia, UAE, Israel, South Africa)
To Understand the Scope of this Report: Speak to Analyst
CD19/CD22 held the largest market share in 2022
CD19/CD22 holds the largest market share in CAR-T cell therapy. CD19-targeted CAR-T therapies have demonstrated impressive clinical outcomes in treating certain types of leukemia and lymphoma. Regulatory authorities have approved them and shown significant efficacy in inducing patient remission.
However, the market dynamics are evolving, and the introduction of BCMA-targeted CAR-T therapies for multiple myeloma has garnered considerable attention. BCMA is highly expressed on the surface of myeloma cells, making it an attractive target for CAR-T cell therapy. Early clinical trials have shown promising results, with BCMA-targeted CAR-T therapies exhibiting high response rates and durable remissions in patients with relapsed or refractory multiple myeloma.
While CD19/CD22 holds the largest market share due to its successful track record, the emergence of BCMA-targeted CAR-T therapies signifies a potential shift in the landscape. As more research and development efforts focus on BCMA-targeted therapies, their market share is expected to grow, offering new treatment options for patients with multiple myeloma.
Diffuse Large B-Cell Lymphoma (DLBCL) holds the highest market share in 2022
DLBCL (Diffuse Large B-cell Lymphoma) is a significant indication in the CAR-T cell therapy market and holds a substantial market share. DLBCL is a type of cancer that affects the lymphatic system and is characterized by rapidly growing tumors of B-cell origin. It is one of the most common types of non-Hodgkin lymphoma.
CAR-T cell therapy has shown promising results in the treatment of DLBCL. By genetically modifying a patient's own T cells to express CARs that target specific proteins in cancer cells, CAR-T therapy enhances the immune system's ability to recognize and eliminate cancer cells.
With CAR-T therapy's success and increasing adoption in DLBCL, the market for CAR-T treatment is expected to grow significantly during the forecast period. The potential of CAR-T therapy in providing durable remissions and improved outcomes for DLBCL patients has fueled its market expansion. Ongoing research and development efforts aim to optimize CAR-T cell therapies, enhance their safety profile, and explore combination therapies to improve treatment outcomes for DLBCL further and expand their application to other cancer types.
North America dominated the global market in 2022
North America is expected to dominate the global CAR-T cell therapy market due to the increasing cancer cases and growing emergence of the biotechnological sector. North America is witnessing an increasing number of cancer cases, increasing the market demand for cancer therapies in the region. The presence of key players in the region such as Amgen Inc., Bellicum Pharmaceuticals, Inc., Bluebird Bio, and Caribou Biosciences, Inc., which focus on expanding their global presence, is fuelling the CAR-T cell therapy market.
The CAR-T treatment industry will develop rapidly due to shifting patterns in the European market and the growing usage of appropriate technologies. With the Kymriah and Yescarta, the first medicines supported through EMA's PRIority MEdicines (PRIME) scheme received positive opinions from the Committee for Medicinal Products for Human Use (CHMP), due to which the CAR-T market is expected to boost.
Kymriah is indicated for treating relapsed or refractory B-cell ALL in pediatric and young adult patients (up to 25 years of age) and adult patients with relapsed or refractory DLBCL after two or more lines of systemic treatment.
After two or more lines of systemic treatment, Yescarta is indicated for treating adult patients with relapsed or refractory DLBCL and primary mediastinal large B-cell lymphoma (PMBCL).
Competitive Insight
Some of the major players operating in the global market include Amgen Inc. (US), Bellicum Pharmaceuticals, Inc. (US), Bluebird Bio (US), Caribou Biosciences, Inc. (US), Celgene Corporation, Cellectis, Celyad, Gilead Sciences, Inc., Intellia Therapeutics, Johnson & Johnson, Merck KGaA, Nanjing Legend Biotechnology Co., Ltd., Noile-Immune Biotech, Novartis International AG, Pfizer Inc., Sangamo Therapeutics, Inc., Servier Laboratories.
Recent Developments
In September 2020, Seattle Genetics, Inc. partnered with Merck for two strategic oncology studies, aiming to develop treatments for various cancers. The collaboration includes using Merck's KEYTRUDA in the adjuvant treatment of melanoma patients with lymph node involvement after surgery.

In December 2020, Atara Biotherapeutics, Inc. partnered with Bayer AG to develop mesothelin-targeted CAR T-Cell therapies for solid tumors. This collaboration focused on advancing ATA2271 for treating malignant pleural mesothelioma and non-small-cell lung cancer, positioning Atara as a leading allogeneic CAR-T cell therapy manufacturer.
CAR-T Cell Therapy Market Report Scope
| | |
| --- | --- |
| Report Attributes | Details |
| Market size value in 2023 | USD 4,674.30 million |
| Revenue forecast in 2032 | USD 118,680.68 million |
| CAGR | 43.2% from 2023 – 2032 |
| Base year | 2022 |
| Historical data | 2019 – 2021 |
| Forecast period | 2023 – 2032 |
| Quantitative units | Revenue in USD million and CAGR from 2023 to 2032 |
| Segments Covered | By Target Antigen, By Indication, By Region |
| Regional scope | North America, Europe, Asia Pacific, Latin America; Middle East & Africa |
| Key Companies | Amgen Inc. (US), Bellicum Pharmaceuticals, Inc. (US), Bluebird Bio (US), Caribou Biosciences, Inc. (US), Celgene Corporation, Cellectis, Celyad, Gilead Sciences, Inc., Intellia Therapeutics, Johnson & Johnson, Merck KGaA, Nanjing Legend Biotechnology Co., Ltd., Noile-Immune Biotech, Novartis International AG, Pfizer Inc., Sangamo Therapeutics, Inc., Servier Laboratories. |