The global carbon black market was valued at USD 20,157.33 million in 2022 and is expected to grow at a CAGR of 4.6% during the forecast period.
Increased infrastructure spending, the rise in the global population, and the vehicle scrappage policy implementation drive carbon black demand. Rising demand for lightweight and fuel-efficient vehicles drives automotive plastics, increasing the carbon black demand over the forecast period.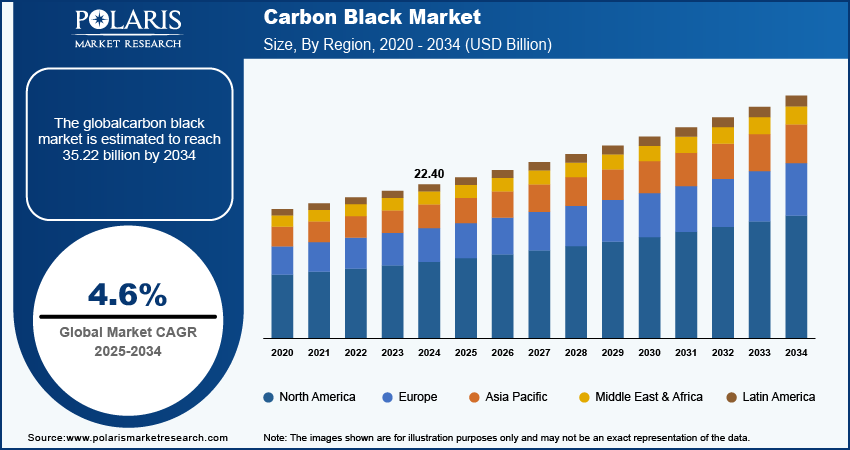 To Understand More About this Research: Request a Free Sample Report
Carbon black is broadly utilized in tire manufacturing by combining it with rubber as both padding and a firming component. Due to specific performance requirements, various tire components use diverse forms of this material. Growing automotive sales and advanced tire manufacturing technologies have accelerated industry growth. Increased high-performance coatings consumption in aerospace and defense is a key driving factor.
Carbon black is an inorganic compound produced by the incomplete explosion of heavy petroleum products. It is used to manufacture many industrial products such as tires, rubber, inks, and plastics. It is an adsorbing agent. There are a few subtypes of carbon black, such as furnace black, lamp black, acetylene black, channel black, and thermal black. Heavy petroleum products are useful sources to produce this material. For example, coal tar, FCC tar, ethylene cracking tar, etc.
There are many important applications of carbon black. For example, it is important as a reinforcing material. It is useful as a reinforcing filler for tires and other rubber products. Additionally, it is useful as a color pigment in ink, paint, plastics, etc. The carbon black is mainly used as a food coloring agent.
However, the volatility in the prices of raw materials and strict environmental regulations hinder the market's growth. The governments of various countries have imposed several stringent regulations. For instance, the International Agency for Research on Cancer (IARC) presented concerns regarding the hazardous effects of the carbon black product on humans. Hence, these factors may restrict product adoption over the study period.
High economic growth, rapid industrialization, and urbanization in the emerging regions of Asia Pacific have boosted the regional demand for carbon black. The increasing foreign investments and favorable regulatory policies are boosting the market growth.
Growth Drivers
Adoption of carbon black in the rubber industry
The rubber industry is experiencing an extraordinary surge in growth, and this remarkable expansion can be attributed to the increasing demands from diverse sectors such as automotive, electronics, consumer goods, and construction. The versatility of rubber-based products in manufacturing processes is a primary driver behind this flourishing demand. Rubber is pivotal in producing essential items, including wires & cables, tires, hoses, air springs, windows & doors, belts, and gaskets, making it an indispensable cornerstone of modern society.
One of the key factors bolstering rubber's physical properties and performance is the integration of carbon black. Carbon black is a critical filler material in most rubber compounds, playing a crucial role in reinforcing and enhancing the volume and vulcanization of rubber, both in tires and non-tire rubber products. In the tire industry, carbon black is ubiquitous, integrated into various tire components such as inner liners, sidewalls, and carcasses, as it significantly contributes to heat dissipation from the tread and belt areas. This feature extends the lifespan of rubber-based products, a vital attribute in today's market.
Moreover, carbon black is instrumental in conferring strength and wear resistance to rubber products. Acting as a protective shield, it guards rubber tires against the damaging effects of UV light and oxidation. This translates to tires equipped with carbon black-reinforced rubber being more durable, reliable, and long-lasting. These qualities align perfectly with the ever-increasing consumer demands for high performance and longevity in their vehicles.
The expanding tire and rubber industries drive significant growth in the carbon black market. As industries continue to evolve and innovate, carbon black's indispensable role in enhancing the properties of rubber products will ensure its enduring importance and sustained demand across various sectors. This synergy between rubber and carbon black underscores their combined significance in shaping the products that drive our modern world.
Report Segmentation
The market is primarily segmented based on type, application, grade, and region.
By Type

By Application

By Grade

By Region

Furnace Black

Channel Black

Thermal Black

Acetylene Black

Others

Tire

Non-Tire Rubber

Inks & Coatings

Plastics

Cement

Steel

Buildings

Batteries

Others

Standard Grade

Specialty Grade

North America (U.S., Canada)

Europe (France, Germany, UK, Italy, Netherlands, Spain, Russia)

Asia Pacific (Japan, China, India, Malaysia, Indonesia. South Korea)

Latin America (Brazil, Mexico, Argentina)

Middle East & Africa (Saudi Arabia, UAE, Israel, South Africa)
To Understand the Scope of this Report: Speak to Analyst
By Type Analysis
Furance black dominated the global market in 2022.
Furnace black emerged as a dominant segment accounting for 55.2% of the overall revenue share in 2022. Furnace black is a finely divided form of carbon produced through the incomplete combustion of hydrocarbons. It is a versatile and widely used material with various industrial applications.
Furnace black is employed as a reinforcing filler in rubber products, enhancing their strength, durability, and wear resistance. It also transmits desirable properties like UV resistance and electrical conductivity, making it crucial in the production of tires, conveyor belts, hoses, and automotive components. Furtherly, furnace black finds use as a pigment and black coloring agent in inks, paints, and plastics, offering deep, stable black hues. It also contributes to the conductivity of plastics in applications like electronics and automotive parts.
Furthermore, furnace black serves as a critical ingredient in the production of electrodes for batteries and as a catalyst support in chemical processes. Its extensive versatility and utility underscore its significance in numerous industries, making it a valuable material for modern manufacturing and technology.
In the manufacturing process of furnace black, raw materials such as petroleum or coal (feedstock oil) are blown into high-temperature gases and partially combusted. This results in the production of furnace black, which can be mass-produced due to its high yield. This method offers wide control over properties such as particle size or structure, making it ideal for various applications, including rubber reinforcement and coloring. It is currently the most used method for manufacturing carbon black.
By Application Analysis
Tire segment accounted for the largest market share in 2022
Tire segment accounted for 66.7% of overall revenue share in 2022. One of the primary applications of carbon black in tires is reinforcement. Its incorporation reinforces the rubber matrix, strengthening the tire and enabling it to withstand the immense forces encountered during driving. Carbon black also improves the tire's resistance to wear and tear, thereby extending its lifespan. Moreover, it enhances the tire's grip on the road, especially in wet or slippery conditions, ensuring safer driving experiences. This improved traction is attributed to carbon black's ability to increase the tire's abrasion resistance and reduce its rolling resistance, ultimately enhancing fuel efficiency. Additionally, carbon black contributes to the tire's overall appearance, giving it a characteristic black color while also protecting it from harmful UV radiation. These properties combined make carbon black an indispensable ingredient in the tire manufacturing process, underscoring its vital role in ensuring both safety and performance on the road.
The tire industry has been steadily growing, with the advancements in technology that allow for the creation of high-quality tires. The increasing use of automation and big data analysis has further fueled this growth. Many manufacturers are now using a single-stage, automated process to produce cost-effective, top-notch tires. They are also implementing monitoring tools to improve productivity and reduce the risk of accidents. For instance, Continental's tire division and Siemens have signed a strategic supplier agreement to automate tire factories worldwide.
Furthermore, there has been a global increase in the production and sales of passenger and commercial vehicles, which is expected to lead to a rise in tire consumption in the upcoming year. According to the International Organization of Vehicle Association, more than 97 million new passenger and commercial vehicles were manufactured in 2022, representing a cumulative increase of over 2.36% compared to the previous year. This also drives the market of carbon black.
Regional Insights
Asia Pacific region dominated the global market in 2022
Asia Pacific led the global market with a revenue share of 45.5% in 2022 followed by Europe. and is expected to maintain its dominance over the anticipated period. The Asia Pacific region is experiencing robust economic growth, rapid industrialization, and urbanization to increased carbon black demand. Favorable regulatory policies and rising foreign investments are fueling market expansion. The region is evolving into a manufacturing hub, with major manufacturers relocating to countries like India, China, and Vietnam due to lower labor costs and government support. The surge in automotive production is expected to drive carbon black demand. Also, partnerships can bolster market positions, making companies more attractive to customers, suppliers, and investors.
The automotive industry in Europe heavily relies on tires, making it a significant driver of carbon black demand. According to the European Tire & Rubber Manufacturers Association (ETRMA), the replacement tire market has shown a positive growth rate in 2021. The consumer segments, including passenger cars, SUVs, and light commercial vehicles, have reported 14% growth, while the truck and motor & scooter segments have reported 12% and 14% growth, respectively.
With Europe being accountable for approximately 20% of the global production of new tires, the need for high-quality carbon black as a reinforcing agent is substantial. Carbon black enhances tire performance by improving traction, wear resistance, and overall durability, aligning with the automotive industry's focus on producing safer and longer-lasting tires to meet stringent regulatory standards and consumer expectations.
Key Market Players & Competitive Insights
The carbon black market is fragmented and is anticipated to witness competition due to several players' presence. Major service providers in the market are constantly upgrading their technologies to stay ahead of the competition and to ensure efficiency, integrity, and safety. These players focus on partnership, product upgrades, and collaboration to gain a competitive edge over their peers and capture a significant market share.
Some of the major players operating in the global market include:
Atlas Organic Pvt Ltd

Birla Carbon

Cabot Corporation

Continental Carbon Company

Himadri Speciality Chemical Limited

International CSRC Investment Holdings Co., Ltd.

Longxing Chemical Stock Co., Ltd.

Mitsubishi Chemical Corporation

OCI Company Ltd

Omsk Carbon Group

Orion S. A

PCBL Limited
Recent Developments
In March 2023, Cabot Corporation launched EVOLVE Sustainable Solutions, focusing on eco-friendly reinforcing carbons with ISCC PLUS certification.

In June 2023, Orion S.A. partnered with ChemSpec for exclusive distribution of its rubber and premium rubber carbon black products in the U.S. and Canada.
Carbon Black Market Report Scope
| | |
| --- | --- |
| Report Attributes | Details |
| Market size value in 2023 | USD 21,031.24 million |
| Revenue forecast in 2032 | USD 31,427.19 million |
| CAGR | 4.6% from 2022 – 2030 |
| Base year | 2022 |
| Historical data | 2019 – 2021 |
| Forecast period | 2023 – 2032 |
| Quantitative units | Revenue in USD million, Volume in Kiloton and CAGR from 2023 to 2032 |
| Segments covered | By Type, By Application, By Grade, By Region |
| Regional scope | North America, Europe, Asia Pacific, Latin America; Middle East & Africa |
| Customization | Report customization as per your requirements with respect to countries, region and segmentation. |