The global cat litter products market was valued at USD 11.20 billion in 2022 and is expected to grow at a CAGR of 4.7% during the forecast period.
Pet industry is experiencing growth due to a surge in pet-related spending and an increase in the number of cat owners worldwide. The COVID-19 pandemic has played a role in this growth, as it has led to an increased demand for personal and pet hygiene products. During the pandemic, there was a heightened focus on keeping homes clean and sanitary, leading to a rise in the demand for products that cater to both personal and pet hygiene. This trend has positively impacted the market, contributing to its growth.

To Understand More About this Research: Request a Free Sample Report
Furthermore, the COVID-19 pandemic led to delays in order deliveries, particularly in states with stay-at-home advisories and mandatory closures of non-essential businesses. Pet food & cat litter industry also faced supply chain disruptions on a global scale. Rise in cat owners worldwide is expected to have a positive impact on the market growth. These owners choose to keep their cats indoors due to factors such as human hostility and un-favorable weather conditions. These factors are anticipated to drive the demand for such products throughout the study period.
Cat litter products have a significant impact on the health and well-being of both cats and the people in their households, which serves as a driving force for the market. The purchasing decision for cat litter products is influenced by the preferences of both the cat owner and the cat itself. Cats are known to be discerning when it comes to the type of litter they prefer. For instance, many cats tend to dislike crystal-form litter, while some may prefer silica gel litter but have an aversion to scented options. This creates an opportunity for manufacturers of cat litter products to introduce innovative and novel offerings that cater to the diverse preferences of cats and their owners.
Cat litter has gained widespread popularity, particularly among multi-cat owners. However, the market faces a potential restraint due to the high price associated with cat litter products. Some pet owners may be hesitant to invest in expensive products for their pets, which can limit the market's ability to introduce premium offerings. This, in turn, can hinder the overall growth of the market.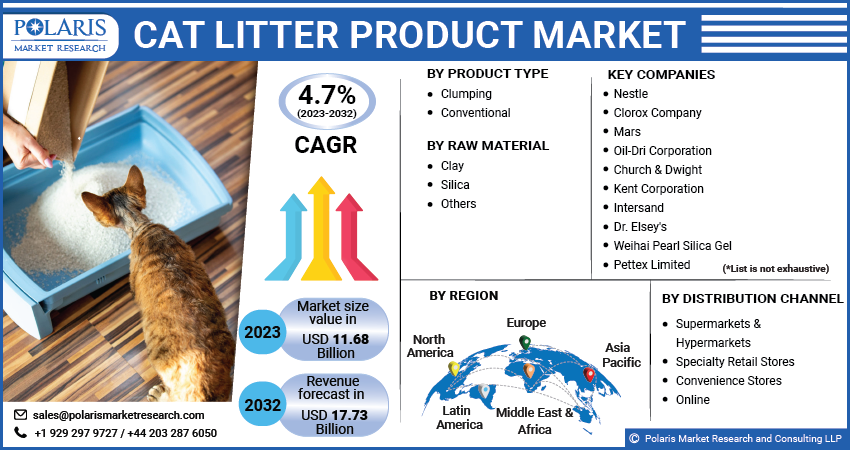 For Specific Research Requirements, Speak With a Resaerch Analyst
Industry Dynamics
Growth Drivers
The rise in pet spending, associated with an increase in cat owners worldwide, is expected to impact the growth positively.
Market is witnessing growth attributed to the launch of innovative products, including paper-based & scented cat litter options. These products often require owners to collect & dispose of litter in plastic bags, which are in-convenient. However, paper-based product, made from materials like toilet paper, can be easily disposed off. Moreover, scented product is gaining popularity in the industry, benefiting from the scented products. As convenience becomes a priority for pet owners, the online retail channel has experienced a significant surge in cat litter sales.
Consumers' purchasing decisions in the cat litter products market are primarily influenced by factors such as price, material, and functionality. The rising demand for litter boxes also plays a role in shaping consumers' buying choices. When it comes to price, the average cost for an average household typically ranges between the USD 25-30, considering the need for repetitive purchases. The specific cost may vary based on the product type, including options like clumping, or non-clumping.
Report Segmentation
The market is primarily segmented based on product type, raw material, distribution channel, and region.
By Product Type

By Raw Material

By Distribution Channel

By Region

Supermarkets & Hypermarkets

Specialty Retail Stores

Convenience Stores

Online

North America (U.S., Canada)

Europe (France, Germany, UK, Italy, Netherlands, Spain, Russia)

Asia Pacific (Japan, China, India, Malaysia, Indonesia. South Korea)

Latin America (Brazil, Mexico, Argentina)

Middle East & Africa (Saudi Arabia, UAE, Israel, South Africa)
To Understand the Scope of this Report: Speak to Analyst
By Product Type Analysis
Clumping segment accounted for the largest market share in 2022
Clumping held the largest share. Clumping litter has garnered increasing attention from consumers due to its convenient feature of easily removing cat urine and feces without having to empty the entire litter box. The growing popularity of clumping cat litter can be attributed to its functionality and numerous benefits, which are expected to attract consumers and drive product sales in the coming years. Among the range of clumping cat litter options available, hard-clumping varieties are particularly favored by cat owners.
Conventional segment is likely to grow at fastest growth rate. The demand for traditional products is being fueled by consumers' growing preference for effectively eliminating the odor coming from cat urine & feces. Additionally, the increasing inclination towards affordable litter options that can be used repeatedly is driving the sales of conventional product. As per the PetSafe, the average price of conventional clay product, which needs to be replaced weekly, is approximately USD 0.5. In comparison, the average price of clumping litter ranges from USD 0.75 -1.30.
By Raw Material Analysis
Clay segment held the significant market revenue share
Silica segment witnessed highest growth rate. These cat litters are composed of silica gel crystals, which are commonly utilized as moisture-preserving agents in packaged foods, medications, and other moisture-sensitive products. Silica is known for its moisture-absorbing properties, dust-free nature, and ability to control odors, which contributes to its increasing demand as a key ingredient in cat litter products.
Clay segment garnered the largest revenue. This can be attributed to the widespread use of clay as a primary material in the manufacturing of cat litter products. The popularity of clay is driven by its high absorbency and ability to form solid clumps, which contributes to the expansion of this segment. Additionally, clay-based products are favored due to their affordability compared to other materials, making them a popular choice among middle-income households and homes with multiple cats. Moreover, these products are dust-free and odorless, reducing the risk of respiratory issues and enhancing their appeal to consumers.
By Distribution Channel Analysis
Retail stores segment held the significant market revenue share in 2022
Retail stores segment witnessed highest growth rate. Pet owners predominantly favor purchasing products for their pets from these establishments due to the cost-effectiveness compared to prescription-based alternatives. Buying pet products from offline stores provides the advantage of direct interaction with sales representatives who can offer guidance and suggestions based on individual needs. Notably, the Norwegian Pet Trade Association reported a consistent increase in annual sales from the retail sales in specialized stores in Norway from period of 2009 to 2020.
Regional Analysis
North America region dominated the global market in 2022
The North America region dominated the global market. This dominance can be attributed to the increasing trend of pet adoption, which gained significant momentum in the region, particularly during the pandemic when people spent more time at home.
According to the American Pet Products Association (APPA), the percentage of households owning pets increased from 67% in 2019 to 70% in 2020. As pet owners prioritize their pets' health, hygiene, and overall well-being, the market is expected to continue its upward growth trajectory

.
Furthermore, the growing purchasing power of consumers in the U.S. is contributing to increased sales as they allocate more spending towards their pets' health, hygiene, and well-being.
Asia Pacific is projected to grow at the fastest rate. This growth can be primarily attributed to the rising number of nuclear households and an increase in disposable income within the region. Additionally, the growing trend of pet ownership in the region, coupled with an increased expenditure on healthcare, food, and litter products for pets, is expected to positively influence the market's growth in the coming years.
The increasing influence of social media platforms like Instagram has particularly amplified this trend in the more Westernized regions of the mentioned countries. The cat litter products industry in China, valued at USD 560 million, is experiencing substantial growth driven by the rising rate of pet adoption in the country. A notable example is highlighted in the 2021 White Paper on China's Pet Consumption Trends, which reveals an almost 50% increase in pets in Chinese cities since 2015, underscoring the immense potential of the market.
Competitive Insight
The market is fragmented and is anticipated to witness competition due to several players' presence. Major manufacturer in the market are constantly upgrading their technologies to stay ahead of the competition and to ensure efficiency, integrity, and safety. These players focus on partnership, product upgrades, and collaboration to gain a competitive edge over their peers and capture a significant market share.
Some of the major players operating in the global market include:
Church & Dwight

Clorox Company

Dr. Elsey's

Eco-Shell

Intersand

Kent Corporation

Mars

Nestle

Oil-Dri Corporation

Omlet Limited

Pettex Limited

Sinchem Silica Gel

Weihai Pearl Silica Gel
Recent Developments
In December 2022, Church & Dwight has recently revealed its plans to expand its Ohio plant located in the United States. The primary objective of this expansion is to enhance the manufacturing capacity specifically for cat litter products. To achieve this, the company has made a significant investment in machinery, equipment, and new processing capabilities, as well as improvements to the rail infrastructure.
Cat Litter Product Market Report Scope
| | |
| --- | --- |
| Report Attributes | Details |
| Market size value in 2023 | USD 11.68 billion |
| Revenue forecast in 2032 | USD 17.73 billion |
| CAGR | 4.7% from 2023 – 2032 |
| Base year | 2022 |
| Historical data | 2019 – 2021 |
| Forecast period | 2023 – 2032 |
| Quantitative units | Revenue in USD billion and CAGR from 2023 to 2032 |
| Segments covered | By Product Type, By Raw Material. By Distribution Channel, By Region |
| Regional scope | North America, Europe, Asia Pacific, Latin America; Middle East & Africa |
| Key companies | Nestle, Clorox Company, Mars, Oil-Dri Corporation, Church & Dwight, Kent Corporation, Intersand, Dr. Elsey's, Weihai Pearl Silica Gel, Pettex Limited, Eco-Shell, Sinchem Silica Gel, and Omlet Limited. |