The global catharanthine market was valued at USD 775.08 million in 2022 and is expected to grow at a CAGR of 4.2% during the forecast period. Catharanthus roseus, a potent plant known for its numerous pharmacological reactions produces catharanthine, an alkaloid that has been isolated from it. The primary chemical can be utilized as a raw material to create vinblastine & vincristine, also regarded as 2 anti-tumor medications. Vindoline & catharanthine are the other two precursors that combine to create vinblastine. Vinblastine is a chemotherapy drug that is frequently combined with other drugs to treat various cancers.
Know more about this report: Request for sample pages
Hodgkin's lymphoma, cell lung cancer, leukemia, melanoma, & testicular cancer are among the diseases covered by this. While catharanthine tartrate serves as the building block for the synthesis of antitumor drugs, catharanthine sulfate is an alkaloid precursor of the vinblastine type that has antitumor activity. In the medical and pharmaceutical fields, catharanthine has numerous uses. Consequently, a market expansion is anticipated.
Catharanthine is still in its infancy on the catharanthine market because it is less well-known. It, therefore, has a lot of potential moving forward. Because catharanthine is a relatively recent product, the global market for it is small. The growth of cancer registries around the globe has sparked a search for cutting-edge medications that are poisonous to cancer cells but harmless to healthy cells. The anticancer medications previously employed were relatively hazardous to normal cells in the body area where cancer had formed in addition to the tumor cells. Currently, both terrestrial flora and marine ecosystems are being used in the search for new anticancer medications.
Further, new anticancer medications are required as the prevalence of various cancer types rises. Plants with a long history of usage in traditional medicine have found utility as sources of compounds with high biological activity. Natural chemicals with antitumor effects include those derived from plants and aquatic creatures as well as alkaloids, triterpenoids, diterpenoquinone, purine-based chemicals, lactonic sesquiterpene, polypeptide, cyclic depsipeptide, proteins, macrocyclic polyethers, etc. Approximately 1 tonne of Catharanthus roseus leaves is needed to produce 50 grams of crude vincristine sulfate. However, the amount of vinblastine found in Catharanthus roseus is 1000 times larger than that of vincristine, and it costs only a third as much.
The pharmaceutical industry suffered a lot as a result of the COVID-19 pandemic. There was a decline in the production of catharanthine and the drugs made from it as a result of the closure of the majority of raw material manufacturing facilities. Cross-border import and export restrictions and a nationwide lockdown disrupted the supply chain. Due to OEMs being forced to operate at zero as a result of raw material disruptions, lagging cash flows, & dearth of skilled laborers, catharanthine demand and consumption will decline in 2019 - 2020.
However, because of the burden of cancer incidence and mortality, which is rapidly increasing in the world, catharanthine demand will increase and the market will recover with only a minor economic disruption during the forecast period.
Industry Dynamics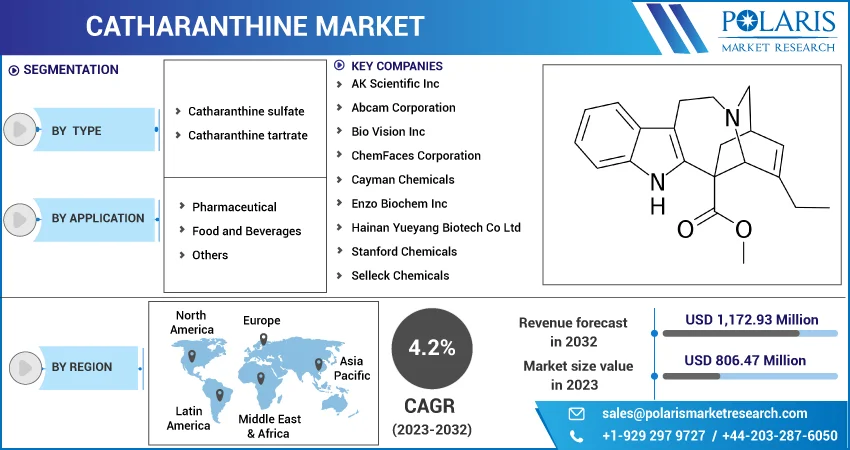 Know more about this report: Request for sample pages
Growth Drivers
The biggest causes of the rising total number of cancer cases and the shifting burden of cancer and other chronic diseases in economically developing nations are population growth and aging. The projected population growth will be significantly greater in low- and medium-resource countries than in high-resource countries, even in older age groups, and these numbers will rise to 8.6 billion in 2030 and 9.8 billion by 2050.
Although there have been improvements in cancer prevention and treatment, the number of cancer diagnoses appears to be rising. Because catharanthine is a cancer treatment, the market will grow over the anticipated time frame. As market participants become more aware of the advantages of the substance, the catharanthine market is anticipated to grow quickly throughout the forecast period.
Report Segmentation
The market is primarily segmented based on type, application, and region.
By Type

By Application

By Region

Catharanthine sulfate

Catharanthine tartrate

Pharmaceutical

Food and Beverages

Others

North America (U.S., Canada)

Europe (France, Germany, UK, Italy, Netherlands, Spain, Russia)

Asia Pacific (Japan, China, India, Malaysia, Indonesia, South Korea)

Latin America (Brazil, Mexico, Argentina)

Middle East & Africa (Saudi Arabia, UAE, Israel, South Africa)
Know more about this report: Request for sample pages
The Catharanthine sulfate

accounted for the largest market share in 2022
A vinblastine-type alkaloid precursor with antitumor activity is catharanthine sulfate. It inhibits AChR (Acetylcholine Receptor) by desensitizing and blocking ion channels. Vinblastine and vincristine are synthesized from catharanthine tartrate. Vinblastine and other vinca alkaloids work specifically to inhibit the cell cycle in tumors.
The medication specifically binds to tubulin and prevents it from polymerizing into microtubules, which stops cell division in metaphase. Cell death is presumably the result of improper chromosomal segregation during mitosis. Vincristine is used to treat both solid tumors and hematologic malignancies. It is a natural alkaloid that prevents the formation of microtubules, which causes cell death. The catharanthine market is anticipated to expand during the forecast period as a result of the crucial roles that Catharine sulfate and catharanthine tartrate play in it.
The Pharmaceutical segment industry accounted for the highest market share in 2021
According to the International Agency for Research on Cancer, there were approximately 10.0 million cancer deaths and 19.3 million new cancer cases worldwide in 2020. As per the estimations, around 1 in 5 people will develop cancer at some stage in their lives, and 1 in 8 men and 1 in 11 women will pass away from cancer in the world. According to these new projections, more than 50 million people are still alive five years after receiving a cancer diagnosis. As a result, the demand for catharanthine in the pharmaceutical segment is expected to increase during the forecast period due to the alarming number of cancer cases and deaths worldwide.
One-fifth of all pharmaceutical sales worldwide are made in the E7 nations, which include Brazil, China, India, Indonesia, Mexico, Russia, and Turkey. In the five years to 2020, brand spending in developed markets will rise by $298 billion, primarily due to new products and price increases in the United States. Moreover, the pharmaceuticals market of India is projected to be worth US$ 65 billion, by 2024 and by 2030, US$ 120–130 billion, acccording to Make in India. The Catharanthine Market is anticipated to expand during the forecast period as a result of significant investment in the pharmaceutical industry.
Food and Beverages are expected to hold the significant revenue share
Catharanthine can block sweet taste receptors on the tongue, reducing the body's ability to absorb sugar and resulting in lower blood sugar levels. This supports maintaining weight loss by regulating insulin release and reducing appetite without the negative side effects of conventional diet drugs. As a result, catharanthine is frequently used as a natural sweetener in functional foods and beverages, dietary supplements, protein shakes, etc.
The demand in North America is expected to witness significant growth
The Catharanthine Market is dominated by North America due to its growing contribution and highest share of the global pharmaceutical industry. Typically, this is because of the prominence of the US pharmaceutical industry. Breast cancer is the most common cancer in men and women between the ages of 18 and 49 in the United States, and colorectal cancer and lung cancer are among the cancers with the fastest rate of increase in younger populations. The growing number of cancer cases in this region spurt the regional growth of the market.
Additionally, the market is also anticipated to grow at the fastest rate in the Asia Pacific. This is primarily a result of the expanding pharmaceutical sector in developing nations like China and India. India is the largest pharmaceutical market in the world, with China coming in second. In the coming years, the Chinese pharmaceutical market will spend between US$160 and US$190 billion. Also, rising cancer cases due to the huge population base are responsible for the market growth in this region.
Competitive Insight
Some of the major players operating in the global market include AK Scientific, Abcam Corporation, Bio Vision, ChemFaces Corporation, Cayman Chemicals, Enzo Biochem, Hainan Yueyang Biotech, Stanford Chemicals, and Selleck Chemicals
Recent Developments
In June 2021, A new polymer-based mRNA delivery system that outperforms lipid nanoparticle (LNP) systems, which Evonik also manufactures, is expected to be developed as a result of a three-year research partnership between Stanford University and the multinational specialty chemicals company. The agreement gives the company permission to market and licenses the technology.
Catharanthine Market Market Report Scope
| | |
| --- | --- |
| Report Attributes | Details |
| Market size value in 2023 | USD 806.47 million |
| Revenue forecast in 2032 | USD 1,172.93 million |
| CAGR | 4.2% from 2023 – 2032 |
| Base year | 2022 |
| Historical data | 2019 – 2021 |
| Forecast period | 2023 - 2032 |
| Quantitative units | Revenue in USD million and CAGR from 2023 to 2032 |
| Segments Covered | By Type, By Application, By Region |
| Regional scope | North America, Europe, Asia Pacific, Latin America; Middle East & Africa |
| Key Companies | AK Scientific Inc, Abcam Corporation, Bio Vision Inc, ChemFaces Corporation, Cayman Chemicals, Enzo Biochem Inc, Hainan Yueyang Biotech Co Ltd, Stanford Chemicals, and Selleck Chemicals |