The global CBD nutraceuticals market size was valued at USD 5.16 billion in 2020 and is expected to grow at a CAGR of 18.2% during the forecast period. The global cannabidiol nutraceuticals market is fueled by the economic growth in countries such as China, Japan, and India, rising disposable income, and changing lifestyles of consumers.
Increasing incidences of health disorders have resulted in increased awareness regarding healthy eating habits. Health and fitness consciousness have also increased due to improving lifestyle and changing food habits. Consumers are more aware regarding their nutritional intake, benefits of physical exercises, and consumption of CBD nutraceuticals.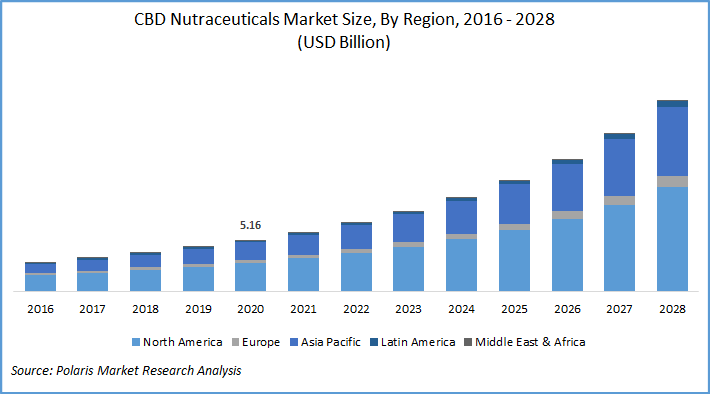 Know more about this report: request for sample pages
The sedentary lifestyle of consumers has also accelerated the consumption of CBD nutraceuticals for additional health benefits. The legalization of the U.S. Farm Bill in late 2018 for the commercialization of hemp-derived products has presented several market opportunities. Technological advancements in food science and established R&D institutes further support the market growth.
CBD nutraceuticals include supplements in the form of capsules, tinctures, tablets, and powders among others. A wide range of health benefits such as anxiety and fear relief, anti-addiction, pain relief, and anti-psychotic effects are associated with CBD nutraceuticals. These products also offer enhanced heart health and neuroprotective properties. CBD nutraceuticals are also sometimes used to alleviate cancer-related symptoms and pain.
Some other benefits of CBD nutraceuticals include regulation of blood pressure and heart rate, liver protection, and skin improvement. CBD nutraceuticals also assist in dealing with obesity. There has been a significant growth in obesity registered across the globe. Obese people have greater chances of acquiring diseases such as diabetes and cardiovascular disorders. Increasing concerns regarding healthy living have encouraged the use of CBD nutraceuticals among consumers.
Industry Dynamics
Growth Drivers
New product launches and acquisitions by leading players in the market coupled with technological advancements have increased the demand for CBD Nutraceuticals across the globe. In April 2019, Aphria Inc. introduced CBD-based nutraceutical through its subsidiary Aphria Deutschland GmbH for distribution in the German Market. The launch of the CannRelief brand comprises products derived from hemp. This launch strengthens the company's market placement in the German medical cannabis market and expands its offerings to cater to increasing customer demands.
The demand for CBD nutraceuticals has increased from the Asia-Pacific region. There has been an increase in health awareness over the past few years in Australia, China, and Japan. Companies are significantly investing in the development of brands in this region owing to the growing number of consumers, supportive regulations, and increasing awareness regarding the benefits of cannabidiol nutraceuticals.
In April 2019, MGC Pharmaceuticals collaborated with YuShop Global for expanding its presence in the Chinese health market. Through this collaboration, MGC Pharmaceuticals plans to distribute its range of cannabis-based nutraceutical products within China.
YuShop Global is responsible for offering sales, marketing, and logistics services for MGC Pharmaceuticals' range of products including BCAA CBD capsules, cannabidiol hemp protein powder, cannabidiol water-soluble solution, and cannabidiol herbal V-Pen. This partnership offers a platform for MGC Pharmaceuticals to strengthen its geographic presence and cater to the growing demands of the Chinese health and wellness industry.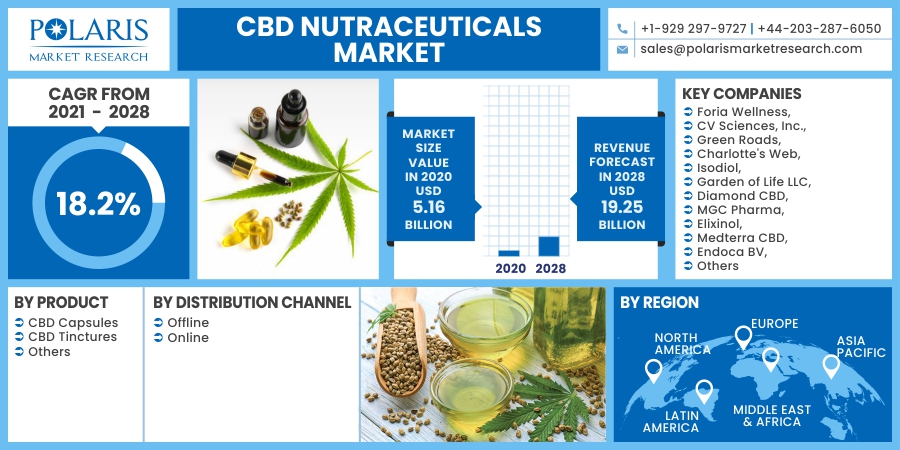 Know more about this report: request for sample pages
CBD Nutraceuticals Market Report Scope
The market is primarily segmented on the basis of product, distribution channel, and region.
By Product

By Distribution Channel

By Region

CBD Capsules
CBD Tinctures
Others

North America (U.S., Canada)
Europe (Germany, UK, France, Italy, Spain, Netherlands, Austria)
Asia Pacific (China, India, Japan, South Korea, Malaysia, Indonesia)
Latin America (Brazil, Mexico, Argentina)
MEA (Saudi Arabia, South Africa, Israel, UAE)
Know more about this report: request for sample pages
Product Outlook
On the basis of product, the market is segmented into CBD Capsules, CBD Tinctures, and others. There has been a high demand for cannabidiol tinctures owing to their increasing use in the treatment of insomnia, cancer cell growth, seizures, anxiety, depression, and chronic pain. It is also used for hyperglycemia, muscle spasms, psychosis, and bone degeneration, among others. The major factors driving the growth of this segment include growing incidences of obesity, increasing occurrence of lifestyle diseases, rising awareness regarding health benefits of cannabidiol tinctures, and increasing disposable income.
Distribution Channel Outlook
The distribution channel segment has been divided into the offline sales channel and online sales channel. The offline sales channel accounted for a major share of the global cannabidiol nutraceuticals market. This segment includes supermarkets, specialty retail stores, and pharmacies. Specialty stores comprise health and beauty stores, which primarily focus on the sale of organic food, health-related food, nutritional supplements, and weight loss supplements. These stores also provide enhanced services and expert guidance to customers. Health and beauty stores are important distribution channels for the sale of cannabidiol nutraceuticals.
Geographic Overview
North America dominated the global CBD nutraceuticals market in 2020. Increasing awareness regarding diet and nutritious eating habits, supportive government regulations, and growing geriatric population are some factors attributed to the growth in this region.
The presence of leading market players in the region, high disposable income, and changing lifestyles coupled with increasing cases of lifestyle-associated diseases have increased the demand for cannabidiol nutraceuticals. Increasing incidences of health disorders have resulted in increased awareness regarding healthy eating habits, supporting the market growth.
Competitive Landscape
The leading players in the CBD nutraceuticals market include Foria Wellness, CV Sciences, Inc., Green Roads, Charlotte's Web, Isodiol, Garden of Life LLC, Diamond CBD, MGC Pharma, Elixinol, Medterra CBD, Endoca BV, Medical Marijuana, Inc., Aphria Inc., and Irwin Naturals.