The global CBD Oil Market was valued at USD 5.4 billion in 2019 and is expected to grow at a CAGR of 20.6% during the forecast period. The factors responsible for the growth of cannabis oil across the globe is its use in the treatment age related ailments such as migraine, rise in social hubs promoting its use, rising use of medical cannabis in drugs, legalization in many countries, and its positive growth prospects in food and beverage industry.
Legalized cannabis is used in baked goods, confectionery, tinctures and others to cater to the growing demand for cannabis edibles & beverages. Dixie Elixirs, a Colorado-based company, is one of the first companies to enter the food and beverage market with legalized cannabis edible products. It sells cannabis-infused products such as juices, chocolate bars, truffles, mints, and many more. Over the years the companies come up with innovative products to capture the market.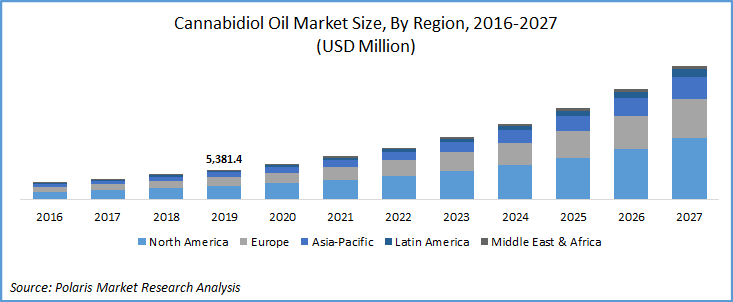 Know more about this report: Request for Sample Pages
Industry Dynamics
Growth Drivers
Pharmaceutical companies are concerned with the legalization of medical cannabis in different regions. It poses a significant economic threat to all the major pharmaceutical companies to understand the shift in use of medical cannabis apart from the conventional methods of medicines. The pharmaceutical companies need to understand the behavioral change in consumers over the benefits of medical cannabis consumption. It signifies a greater inclination of patients towards CBD use, directing the pharmaceutical companies to shift to different methods of drug manufacturing using CBD.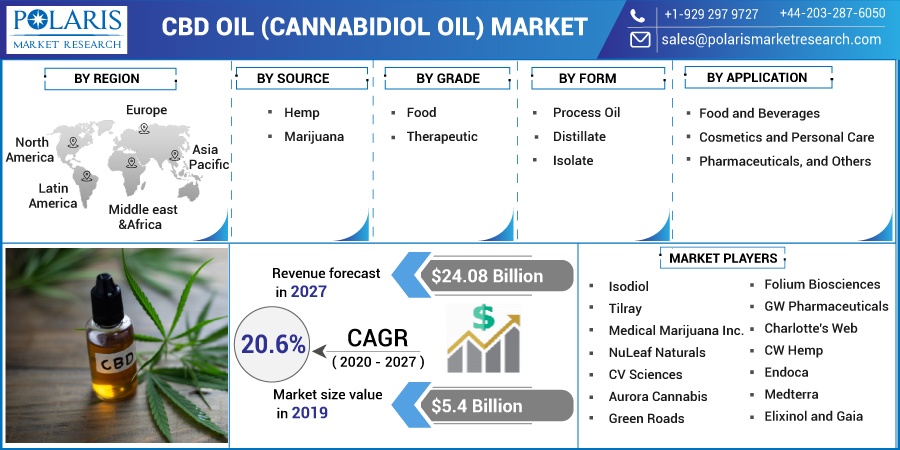 Know more about this report: Request for Sample Pages
A 2015 Canadian study led by the Centre for Addictions Research of British Columbia found interesting results in the 473 cannabis surveyed people, more than 80.3 per cent gave up prescription drugs while favoring cannabis. In the U.S. there is a large number of population reported to have switched to CBD from regular pharmaceuticals as the legalization of Cannabis will come as a great use with medical Cannabis industry gaining every bit of it, reaching to every remote area where market regularization is predicted.
Cannabidiol Oil Market Report Scope
The market is primarily segmented on the basis of source, by form, by grade, by application, and geographic region.
By Source

By Grade

By Form

By Application

By Region

Process Oil
Distillate
Isolate

Food and Beverages
Cosmetics and Personal Care
Pharmaceuticals, and Others

North America (U.S., Canada)
Europe (Germany, UK, France, Italy, Netherlands, Croatia, Poland, Czech Republic, Switzerland)
Asia Pacific (China, India, Japan, South Korea, Australia, New Zealand)
Latin America (Brazil, Argentina, Colombia, Mexico, Chile)
MEA (South Africa, Israel)
Know more about this report: Request for Sample Pages
Insight by Source
Based upon the source, the global market is categorized into hemp and marijuana derived. In 2019, the marijuana derived segment expected to dominate in the market. The segment's high share is due to its high demand in refined cannabis-based products and growing legalization in several countries, considering its medical advantages. These products are also available easily in government sponsored dispensaries and stores. The typical products made out of this include tincture, capsules, oils, lip balms, concentrates, and lotions. It also includes edibles such as candies, ice creams, coffees, and gums.
Insight by Application
On the basis of product, the global market is categorized into Food and Beverages, Cosmetics and Personal Care, Pharmaceuticals, and Others. In 2019, medical application segment is expected to be largest among all the segments and is projected to be fastest growing, over the study period. The rising cases of severe medical conditions among geriatrics such as schizophrenia, multiple sclerosis, Alzheimer's disease, and sleep related disorders are the major factors responsible for its growth.
The segment is also anticipated to exhibit robust growth rate over the study time period. The bio-pharmaceutical companies and collaborating with cannabis producers to manufacture cannabis infused drugs to treat certain medical conditions. Companies like Charlotte's Web; Isodiol International Inc.; and CannaHealth are already making soft gel capsules and tinctures.
Geographic Overview
Geographically, North America is the largest revenue contributor in the Cannabidiol Oil Market. The North American region, in particular the US, is experiencing adverse COVID outcomes. While the United States has not federally legalized cannabis for medical or recreational use, 33 U.S. states have enacted laws legalizing cannabis in some form for medical use, and 10 states have legalized cannabis for adult use.
An additional 14 states allow the use of CBD a non-psychoactive cannabinoid with strong therapeutic value on very limited basis. Despite federal illegality, cannabis use in the U.S. is so widespread at the municipal level that it is increasingly becoming a low priority for law enforcement and the courts. As result, not only do Americans hold very progressive views on cannabis legalization 62 per cent believe it should be nationally legal the country has also led the world in cannabis innovation, with the creation of new genetics, cultivation techniques, derivative products, and ingestion methods.
The U.S. diplomacy always lied on its international allies based on its "war on drugs". The U.S. made international initiatives with the UN and the concerned international bodies, to effectively prohibit cannabis legalization globally through international treaties. Such policies, and the way how Canada and other counties are interpreting them, are driving global debate about cannabis reform.
Many countries across the Latin American region are launching legal medical cannabis through highly regulated industries. Eight countries have legalized the medical use: Argentina, Brazil, Chile, Colombia, Mexico, Paraguay, Peru, and Uruguay. The region's only country to have legalized recreational use is Uruguay, though Mexico is expected to legalize an adult-use program this year.
Uruguay's adult-use reform was enacted in 2014, and the country has since also established a regulated medical cannabis program. The stated goals of adult-use legalization were to reduce violence associated with drug trafficking and to promote public health. The respective country's government strongly controls the cultivation, processing, and dispensing of both medical and recreational cannabis.
Competitive Insight
Key players operating in the global market include Isodiol, Canopy Growth Corporation, Tilray, Medical Marijuana Inc., NuLeaf Naturals, CV Sciences, Aurora Cannabis, Green Roads, Folium Biosciences, GW Pharmaceuticals, Charlotte's Web, CW Hemp, Endoca, Medterra, Elixinol and Gaia Herbs, LLC.