The global cedarwood oil market was valued at USD 343.56 million in 2022 and is expected to grow at a CAGR of 6.4% during the forecast period. The rapidly increasing awareness regarding the benefits associated the product usage among consumers worldwide, including reducing the stress level, soothing the body, and healing several problems related to human skin and hair, among others, along with the rising utilization of the oil in aromatherapy to promote calmness of the mind, has been the major factors driving the global market growth. In addition, the increasing prevalence of a sedentary lifestyle, change in food consumption patterns and habits, and high consumption of alcohol and drugs lead to increased depression and anxiety disorder incidences across the globe, fueling the adoption and demand of cedarwood oil at an exponential rate.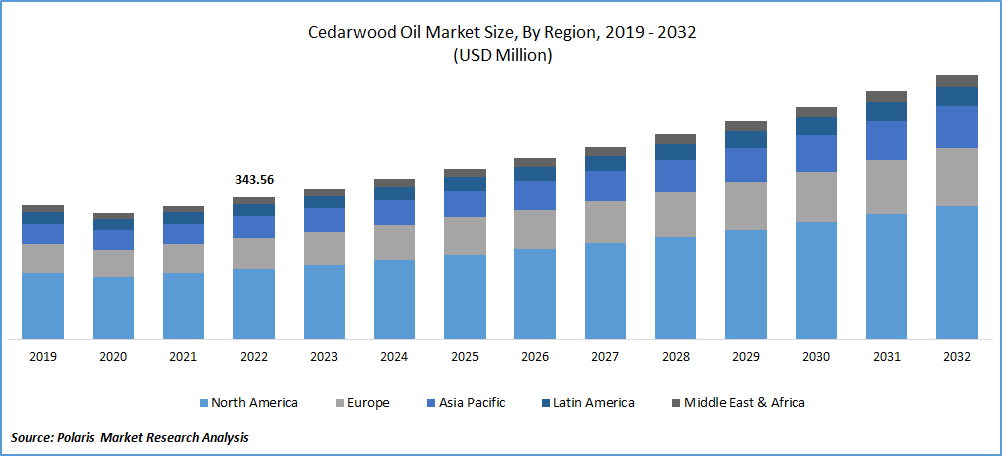 To Understand More About this Research: Request a Free Sample Report
For instance, according to the World Health Organization, around 280 million people worldwide suffer from depression, which accounts for approx. 3.8% of the world's total population and over 700,000 people die by suicide every year. Depression is 50% more common among women compared to the men population, and over 10% of pregnant women experience it.
Moreover, the rapid emergence of health and wellness trends worldwide, coupled with the increasing awareness regarding the numerous benefits of essential oils due to their therapeutic properties, is gaining traction over the years. Apart from this, the rising prevalence of product usage in various industrial applications, such as wood preservation, fragrance manufacturing, and as an ingredient in cleaning products, has created revenue growth opportunities for the players.
The outbreak of the COVID-19 pandemic has significantly impacted the growth of the cedarwood oil market. The rapid spread of the deadly coronavirus across the globe has forced countries to take necessary actions like lockdown and trade restrictions, which led to the temporary closure of manufacturing facilities and a drastic change in consumer purchasing behavior from luxury to necessity that has resulted in a downfall in the demand and sales of cedarwood oil-based products during the pandemic.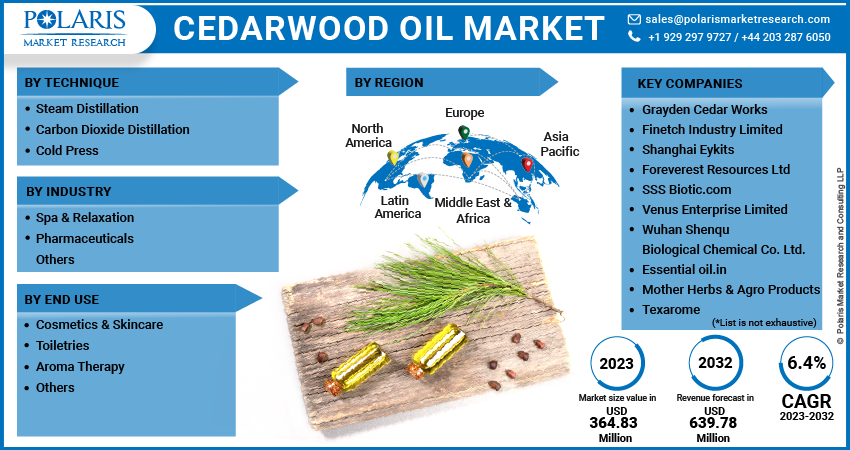 For Specific Research Requirements, Request for a customized Report
Industry Dynamics
Growth Drivers
The growing product's applicability across a wide range of applications, including medical, pharmaceutical, cosmetics, and personal care, among others, mainly because of its aesthetic and health advantages coupled with the emerging use in numerous types of insect repellent products due to its high bioactivity against several arthropods, are among the primary factors driving the demand and growth of the market and will push the market forward over the coming years.
Furthermore, there has been a significant rise in the focus among key market players toward the exploration and innovation in terms of new applications and blends of cedarwood oil, along with the rising number of manufacturers and researchers who are constantly exploring new ways to use cedarwood oil, either as a standalone product or in combination with other essential oils, which adds versatility to the cedarwood oil products and expands its potential applications across several sectors, thereby creating new growth opportunities for the market.
Report Segmentation
The market is primarily segmented based on technique, end-use, industry, and region.
By Technique

By End Use

By Industry

By Region

Steam Distillation

Carbon Dioxide Distillation

Cold Press

Cosmetics & Skincare

Toiletries

Aroma Therapy

Others

Spa & Relaxation

Pharmaceuticals

Others

North America (U.S., Canada)

Europe (France, Germany, UK, Italy, Netherlands, Spain, Russia)

Asia Pacific (Japan, China, India, Malaysia, Indonesia, South Korea)

Latin America (Brazil, Mexico, Argentina)

Middle East & Africa (Saudi Arabia, UAE, Israel, South Africa)
To Understand the Scope of this Report: Speak to Analyst
Steam distillation segment accounted for the largest market share in 2022
The steam distillation segment accounted for the largest market share in 2022 and is likely to retain its market position throughout the anticipated period, which is mainly driven by the growing adoption of this technique due to its ability to produce cedarwood oil at very large scale and also helps to extract the oil in maximum quantity from the raw material. Moreover, the growing use of several essential oils for therapeutic and wellness purposes results in high demand for steam-distilled varieties due to their purity and fragrance, making them a preferred choice among enthusiasts and aromatherapists.
The carbon dioxide distillation segment is anticipated to grow at the fastest growth rate over the coming years on account of increasing demand for natural and organic products across a wide range of industries and the growing prevalence of carbon dioxide-distilled cedarwood as an effective alternative to synthetic additives and fragrances.
Cosmetic and skincare segment held the significant market share in 2022
The cosmetic and skincare segment held a significant market share in terms of revenue in 2022, which is highly attributable to increasing product utilization in the cosmetic industry for manufacturing several products, including shampoo, face cleansers, conditioners, and deodorants, along with the growing focus of major cosmetic and skin care products manufacturers towards incorporating cedarwood oil into their product offerings and introducing new products with better fragrance and characteristics.
Additionally, cedarwood oil also possesses various anti-inflammatory and antimicrobial properties, which make the product suitable for addressing multiple skincare concerns, including acne, eczema, and psoriasis, along with its ability to reduce inflammation and fight bacteria that has led to increased adoption as an attractive ingredient in skincare formulations, thereby propelling the growth of the segment market.
Pharmaceuticals segment is expected to witness highest growth during forecast period
The pharmaceuticals segment is projected to grow at the highest rate during the anticipated period, mainly accelerated by significantly increasing penetration across the pharmaceutical industry towards the natural and organic ingredients in recent years and widespread use of the product in aromatherapy mainly due to its calming and soothing properties.
Ongoing research and development activities in the pharmaceutical industry that have led to the discovery of new applications for cedarwood oil and an increasing number of studies that are being conducted to explore its potential in areas like cancer treatment, antimicrobial agents, and anti-inflammatory drugs are likely to drive the demand for cedarwood oil in pharmaceutical research and development in the forecast period.
North America region dominated the global market in 2022
The North American region dominated the global market with considerable market share in 2022 and is anticipated to maintain its dominance throughout the forecast period. The regional market growth can be largely attributed to the region's emergence as the leading producer of cedarwood oil and growing consumer awareness towards the availability and benefits of these human skin oils. In addition, the growing existence of clear regulations and guidelines provides a stable and favorable environment for manufacturers and consumers, contributing to the growth of the market in the region at a rapid pace.
The Asia Pacific recorded steady growth over the study period, owing to increasing usage of products in traditional medicine systems and rapid expansion of the pharmaceutical industry, mainly in countries like China and India, due to increased healthcare expenditure and a surge in the population. Besides this, the presence of some of the world's largest cosmetic markets across the APAC region, including Japan, China, and South Korea, has also influenced the demand for cedarwood due to its skin and hair care benefits.
Competitive Insight
Some of the major players operating in the global market include Grayden Cedar Works, Finetch Industry, Shanghai Eykits, ORCHID Chemical Supplies, Henan Allgreen Chemical, Foreverest Resources, SSS Biotic.com, Venus Enterprise, Essential oil.in, Mother Herbs & Agro Products, Texarome, Cedarwood Oil Company, and Young Living Essential Oils.
Recent Developments
In August 2021, Better Plant Sciences, a leading manufacturer and developer of sustainable and plant-based products, announced the launch of its new range of essential oils, essential oil blends, and essential oil spritzers. The new range of products will be launched as part of the Jusu Wellness Home collection and will be available across Canada from getjusu.com.

In July 2021, Ground Wellbeing introduced its new collection of wellbeing essential oils, mainly developed to help comfort, uplift, and enhance sleep. It can be easily incorporated into any spa or home wellness ritual, as it is blended with cedarwood, rosewood, geranium, lavender, and orange.
Cedarwood Oil Market Report Scope
| | |
| --- | --- |
| Report Attributes | Details |
| Market size value in 2023 | USD 364.83 million |
| Revenue forecast in 2032 | USD 639.78 million |
| CAGR | 6.4% from 2023 – 2032 |
| Base year | 2022 |
| Historical data | 2019 – 2021 |
| Forecast period | 2023 – 2032 |
| Quantitative units | Revenue in USD million and CAGR from 2023 to 2032 |
| Segments covered | By Technique, By End Use, By Industry, By Region |
| Regional scope | North America, Europe, Asia Pacific, Latin America; Middle East & Africa |
| Key companies | Grayden Cedar Works, Henan Allgreen Chemical Co. Ltd., Finetch Industry Limited, Shanghai Eykits, ORCHID Chemical Supplies Ltd., Foreverest Resources Ltd., SSS Biotic.com, Venus Enterprise Limited, Wuhan Shenqu Biological Chemical Co. Ltd., Essential oil.in, Mother Herbs & Agro Products, Texarome, Cedarwood Oil Company, and Young Living Essential Oils LLC. |