The global cell harvesting systems market was valued at USD 4,685.8 million in 2019 and is expected to exhibit a CAGR of 13.9% from 2020 to 2026. Increasing investments in regenerative medicine and cell-based research, growing biotechnology and biopharmaceutical sectors, and increasing the incidence of chronic and infectious diseases are the main factors for cell harvesting market growth. The increasing rate of transplantation and increasing demand for stem cell banking are also some of the variables that are accountable for increasing harvesting requirements globally. The new sources of stem cells, such as adipose tissue, umbilical cord, and embryonic stem cells, have enormous potential for cancer treatment and regenerative product development that drives studies connected with these sources.
Chronic diseases are anticipated to rise by 57 percent by 2020, according to the World Health Organization (WHO). Increased demand for healthcare systems has become a significant problem owing to chronic illnesses. The Center for Disease Control and Prevention (CDC) says that chronic illnesses were the major cause of death and disability in the United States in 2019 and that there was at least one chronic disease among 133 million Americans, i.e. approx. 45% of the population. Moreover, rising age-related and lifestyle-related chronic illnesses increase healthcare demand and expenditure. Due to urbanization, sedentary lifestyles, shifting diets, increasing rates of obesity, and extensive accessibility of tobacco products, cancer and heart disease are becoming the primary causes of death in emerging economies. The significant factor for market growth is the potential use of stem cells in the treatment of multiple chronic diseases. Increasing the incidence of chronic and infectious diseases is anticipated to stimulate the development of the industry.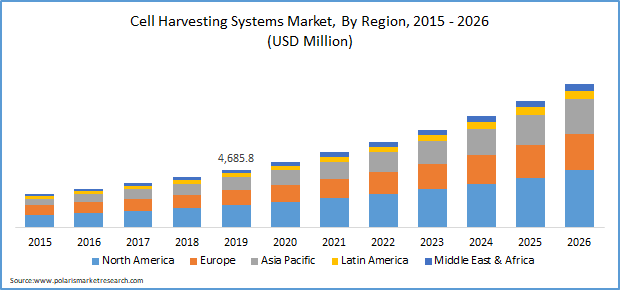 Know more about this report: request for sample pages
Cell harvesting systems market is experiencing rapid development due to increased processes for bone marrow transplantation due to elevated blood cancer and anemia prevalence. In addition, enhancing spending on healthcare, survival after therapy, increasing investment in logistics facilities, expanding cardiac bone marrow transplant registry along with neuronal illnesses, and increasing healthcare expenditure per capita.
Cell harvesting is a method of gathering stem cells with healthy functioning ones to regenerate, transplant or repair the damaged organ. In the biopharmaceutical manufacturing industry, cell harvesting is regarded a significant step that can directly influence the quality of the product and associated downstream procedures. The harvesting of stem cells enables to treat illnesses such as cancers, blood disorders, illnesses of immune deficiency and multiple accidents. This treatment is also useful for victims of burning, which helps them to grease fresh skin cells as a substitute for those damaged. Many businesses focus on myocardial tissue regeneration through cell graft injection consisting of patients ' adult stem cells for the production of regenerating drugs.
Cell harvesting mechanism enables with fewer punctures to reduce the invasiveness of bone marrow aspiration from the iliac bone. It also helps to reduce process time and T-cell contamination. However, a significant barrier to the cell harvesting industry is high cost of cumbersome therapy, immunological rejection, absence of reimbursement measures, and identification of stem cells in adult tissues, feasible cell density, and complications during cell harvesting and insufficient amount of transplant HSC cells.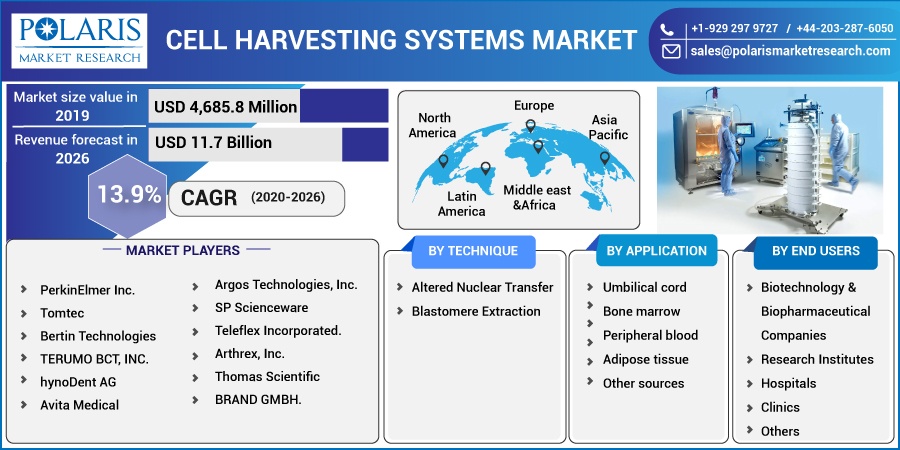 Know more about this report: request for sample pages
Cell Harvesting Systems Market Report Scope
The market is primarily segmented on the basis of type, application, end user and geographic region.
By Technique

By Application

By End Users

By Region Type

Altered Nuclear Transfer
Blastomere Extraction

Umbilical cord
Bone marrow
Peripheral blood
Adipose tissue
Other sources

Biotechnology & Biopharmaceutical Companies
Research Institutes
Hospitals
Clinics
Others

North America (U.S., Canada)
Europe (Germany, UK, France, Italy, Spain)
Asia Pacific (China, South Korea, Japan, India)
Latin America (Brazil, Mexico, Colombia)
MEA (Saudi Arabia, South Africa, Israel, UAE)
Know more about this report: request for sample pages
Application Overview
Stem cell research is anticipated to be the fastest growing application segment during the forecast period. Research on human stem cells has huge potential to contribute to understanding basic human biology. Studying stem cells helps researchers better comprehend how the body functions and how the disease grows and impacts the body. Research on stem cell helps scientists comprehend distinct illnesses and circumstances better and find fresh treatments. Human stem cell research should be incorporated into the mainstream of biomedical research, including cell degenerative process study, disease modeling, toxicological and pharmaceutical screening platform development, and regenerative therapy. According to information released by the National Health Institute, around 60,000 patients are treated globally annually with bone marrow transplantation (BMT). The stem cells derived from the bone marrow may advance the study of stem cell biology, stem cell therapy, and regenerative medicine. Therefore, the market is anticipated to experience elevated development over the forecast period due to the above-mentioned factors.
Regional Outlook
It is estimated that North America holds a substantial share in the cell harvesting systems industry and is anticipated to demonstrate a similar trend over the forecast period without significant changes. Due to increased study spending and public projects, the U.S. industry dominates the cell harvesting industry. The only stem cell-based products currently approved by the FDA for use in the U.S. are blood-forming stem cells obtained from cord blood. These, as well as stem cells from the bone marrow, are frequently used to treat patients with cancer and blood and immune system illnesses in transplant processes. In addition, healthcare expenditure in the United States is rising. These factors are the key components that increase the market's development and make it stable in the U.S. However, in the U.S., a 2019 study discovered hundreds of hospitals in the U.S. selling unapproved stem cell medicines that are likely to hamper market development in the U.S., which is likely to hamper market development.
Competitive Landscape
The key players operating in the cell harvesting systems market include PerkinElmer Inc. Tomtec, Bertin Technologies, TERUMO BCT, INC., hynoDent AG, Avita Medical, Argos Technologies, Inc., SP Scienceware, Teleflex Incorporated., Arthrex, Inc., Thomas Scientific, BRAND GMBH. Growing investment in stem cell-based studies by public authorities and an increase in the aging population can be ascribed to the growing demand for these therapies in these nations. This in turn is providing the major players in the cell harvesting market to capitalize on the opportunities provided in the global market.