The global cigarette vending machine market was estimated at USD 1,174.77 million in 2021 and is projected to grow at a CAGR of 5.2% during the forecast period.
The rising disposable income and urbanization have driven the progress of the global market. Moreover, the heavy cost of installation restricts the growth of the global market. The growing popularity of cigarette vending machines in both emerging and developed countries favors the adoption of vending machines. The market demand is high due to its simple operation and payment method. Governments in several regions have prohibited cigarette vending machines in various settings, including schools and universities, reducing demand for these devices.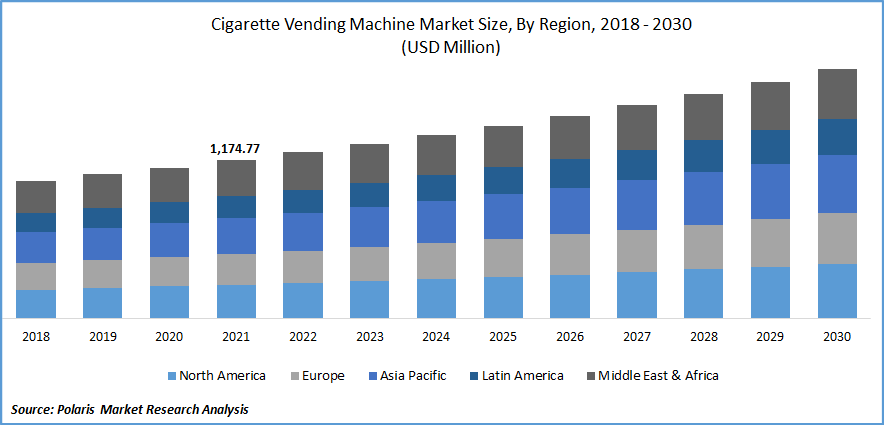 Know more about this report: Request for sample pages
Cigarette vending machines are vending machines that sell smoking products such as cigarettes and cigars. Cigarette vending machine demand has increased in recent years, and with the introduction of cashless payment systems, innovative technology solutions are gaining traction on a global scale.
Cigarette vending machines are moveable; they may be relocated to new locations and continue to provide services as usual. Since there is no cashier, they give the customers the freedom to buy items whenever they like since they are available to customers around-the-clock throughout the year. A vending machine can sell various cigarettes due to the variety of cigarettes it can handle.
A cigarette vending machine is a computerized machine that sells cigarettes or non-tobacco smoking products for money. Cigarette vending machines are typically found in retail stores, restaurants, clubs, bars, railway stations, and amusement arcades open to people over 18. These machines are taking over traditional cigarette vending machines in popularity.
Due to their ease of payment and use, people prefer to purchase cigarettes from cigarette vending machines. During the forecast period, the global market is expected to grow. Most of these machines are located in establishments that provide customers with designated smoking areas, such as hotels and nightclubs. They accept cash as payment for cigarettes and cigars.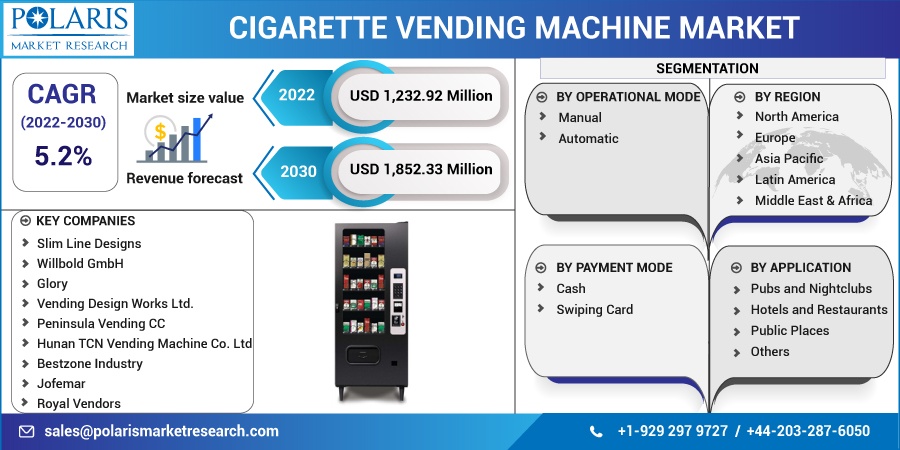 Know more about this report: Request for sample pages
Industry Dynamics
Growth Drivers
The growing number of people obsessed with smoking is a significant factor driving the market's expansion. Considerable investments in bars and nightclubs, as well as the ease of access, are driving demand for cigarette vending machines. The introduction of cigarette vending machines and their abundant features that assist retailers in better understanding consumer behavior have fueled the market growth.
Cigarette vending machines are a matter of obligations and restrictions in many countries due to strict government regulations regarding smoking cigarettes. Additionally, many cigarette vending machines are easily found, which makes them easily accessible cigarettes to smokers. Hence, the market is anticipated to grow further due to evolving lifestyles and technological developments.
Fixing cigarette vending machines in hotels, cafes, and airfields is expected to drive growth in the global market. Customers are drawn to cigarette vending machines because of their quick service and diverse product offerings, propelling the market globally. Furthermore, cigarette vending machines provide cashless payment options, such as smartphone payment systems, which help to drive market growth.
According to the World Health Organisation, in 2020, 22.3% of the global population had used tobacco, including 36.7% of all men and 7.8% of all women. The world has almost 1.3 billion tobacco users living in low & middle-income countries, which bear the burden of tobacco-borne illness, and subsequent decline in the quality of life.
Report Segmentation
The market is primarily segmented based on operational mode, payment mode, application, and region.
By Operational Mode

By Payment Mode

By Application

By Region

Pubs and Nightclubs
Hotels and Restaurants
Public Places
Others

North America (U.S., Canada)
Europe (France, Germany, UK, Italy, Netherlands, Spain, Russia)
Asia Pacific (Japan, China, India, Malaysia, Indonesia. South Korea)
Latin America (Brazil, Mexico, Argentina)
Middle East & Africa (Saudi Arabia, U.A.E., Israel, South Africa)
Know more about this report: Request for sample pages
The Swiping Card segment is expected to witness the fastest growth.
In 2021, the swiping card is anticipated to increase throughout the projected period. Due to the trend of using digital cash, the swiping card section is expected to grow at the speediest rate during the forecast period. Furthermore, swiping cards, cigarettes, and vending machines are simple to use and save customers time. Making the actual purchase is much faster because these cigarette vending machines only require a card swipe or a wave of your phone. Instead of rummaging through your pockets and handbags for that spare change, identification software ensures you only need to spend a few seconds at the machine. This machine also uses smart & advanced technologies, driving the segment's growth.
Pubs and Nightclubs accounted for the largest market share in 2021
The pubs and nightclubs division held the largest share in 2021, accounting for roughly one-third of the global market. This is because customers can purchase cigarettes without leaving the premises. However, due to increased demand for luxury dining and tourism, the hotels and restaurants segment is expected to demonstrate the highest CAGR during the predicted period. We have many cigarette options when meeting clients in pubs or restaurants.
The automatic segment is expected to witness the fastest growth
In 2021, The automatic cigarette vending machine dominated the market 2020 and was expected to maintain its dominance throughout the forecast period. The automatic cigarette vending machine market is expected to grow at the fastest CAGR. With the adoption of cutting-edge technologies, both consumers and investors benefit from the convenience of cigarette vending machines. Without looking for a store to buy from or waiting for personnel to process their payment, customers would be able to purchase cigarettes instantly and on the go, leading the global market during the forecast period.
The demand in North America is expected to witness significant growth
During the forecast period, North America holds the global market share. Rising disposable income, a growing population, an increase in recreational activities, and a growing trend of midweek parties are driving market growth in the North American region. Smart cigarette vending machines are equipped with cutting-edge technology, such as a digital advertising and content management system, an operations management system, a transaction management system, software and platform management, inventory management, and customer analytics. Vending machines are replacing traditional vending machines due to these innovative advancements.
Retailers benefit greatly from vending machines because they aid in data collection, data transfer, and data analysis, allowing retailers to improve the quality of their products. The increased demand for self-service technologies at retail outlets to automate sales development, high-tech advancements, and innovations in a variety of application areas such as supermarkets, retail stores, shopping malls, and ongoing projects will drive the market in North America.
However, this product is not widely available in some major Asian and Latin American markets. This is attributed to poor macroeconomic variables such as low internet penetration and ineffective marketing by market players. As a result, the expansion of the global market is hampered by the scarcity of such technologies and products.
Competitive Insight
Key players include Willbold GmbH, Glory, Vending Design, Peninsula Vending, Hunan TCN Vending Machine, Bestzone Industry, Royal Vendors, G.M. Global Solutions, Jofemar, HARTING Technology, Jofemar, and others.
Recent Developments
In March 2020, Wurlitzer manufactures tobacco vending machines with the highly effective Ageviewers age validation system. There are over 10,000 outdated tobacco vending machines in the Netherlands. Each year, hundreds of thousands of packs of cigarettes are sold from these machines to people under the legal smoking age.
Cigarette Vending Machine Market Report Scope
| | |
| --- | --- |
| Report Attributes | Details |
| Market size value in 2022 | USD 1,232.92 million |
| Revenue forecast in 2030 | USD 1,852.33 million |
| CAGR | 5.2% from 2022 – 2030 |
| Base year | 2021 |
| Historical data | 2018 – 2020 |
| Forecast period | 2022 – 2030 |
| Quantitative units | Revenue in USD million and CAGR from 2022 to 2030 |
| Segments Covered | By Operational Mode, By Payment Mode, By Application, and By Region |
| Regional scope | North America, Europe, Asia Pacific, Latin America; Middle East & Africa |
| Key Companies | Slim Line Designs, Willbold GmbH, Glory, Vending Design Works Ltd., Peninsula Vending CC, Hunan TCN Vending Machine Co. Ltd, Bestzone Industry, Jofemar, Royal Vendors, G.M. Global Solutions, HARTING Technology Group, and others. |