The global citronella oil market was valued at USD 115.05 million in 2022 and is expected to grow at a CAGR of 5.4% during the forecast period. Citronella essential oil is made from citronella grass. Citronella is a term of French roots that means "lemon balm." It is widely used as a source of chemicals for perfumery and in aromatherapy, especially to treat arthritis pain. It is used in home cleansers, soaps, and detergents and has various antibacterial characteristics. Additionally, it is often utilized in fragrances and personal care goods.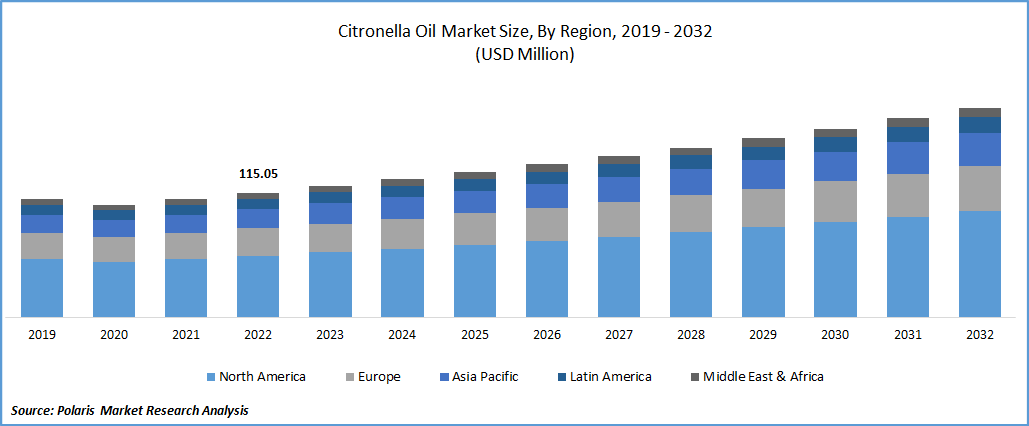 Know more about this report: Request for sample pages
Ceylon and Java are the two types of citronella that the essential oil extracted via the distillation process of their fresh leaves. Although the two types of citronella oil share a similar basic chemical structure, the proportions of the ingredients differ. Camphene, limonene, geraniol, citronellal, citronellol, limonene, and geranyl acetate are the primary chemical components of citronella java oil, obtained from the andropogon nardus plant.
Moreover, citronella grass is the primary source of citronella oil. Sunshine and high moisture content are essential for grass cultivation. A variety of Cymbopogon species can also yield the oil. One of the most crucial essential oils for the industry is citronella oil. This is due to the main benefits of citronella oil, including its use as a flavor enhancer and a scent in the cosmetic and perfume industries. More than 80 different components, some of which are concentrated highly, make up citronella oil, which can repel things. Geraniol, limonene, and citronellal are a few of the significant ingredients with favorable repulsive properties.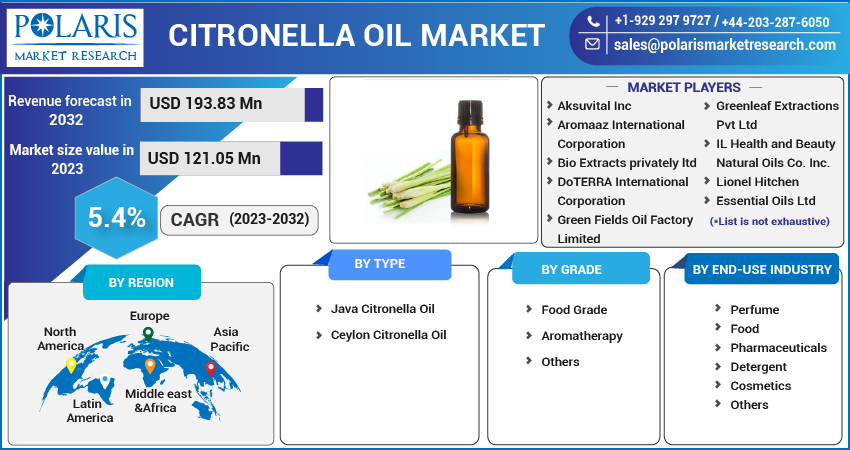 For Specific Research Requirements, Request for a Customized Report
Industry Dynamics
Growth Drivers
Citronellal, the main ingredient in this oil, has potent anti-inflammatory, analgesic, and pain-relieving qualities. As a result, it is frequently used to relieve pain and inflammation in cases of arthritis and joint discomfort. According to World Health Organization (WHO), arteries disease affects about 6.5 million persons aged 40 and over in the US. It is also used to treat severe cramps, muscle spasms, sore muscles, and neuralgia since it is a natural vasodilator and has a warming effect. Millions of people in the US have chronic pain due to arthritis each year. Fifteen million persons with arthritis report having significant joint pain due to their disease, affecting about one in four of them. The discomfort frequently appears after prolonged common usages, such as prolonged grabbing or firm gripping.
Shortness of breath, mucus secretion, infection of the throat or sinuses, and bronchitis symptoms are just a few of the respiratory discomforts that can be relieved by using citronella oil. To provide this relief while also improving circulation, lowering tension, and reducing anxiety, diffuse a mixture of 2 drops of each of the essential oils of citronella, lavender, and minty. With use, pain may worsen, and with rest, it may subside. Numerous people with arthritis lament how their joint discomfort worsens in the rain. Pain makes formerly simple tasks, like opening a container or starting the automobile, difficult. Individuals might adjust how they use their hands to reduce pain in the arthritic joint.
Report Segmentation
The market is primarily segmented based on type, grade, end-use industry, and region.
By Type

By Grade

By End-Use Industry

By Region

Java Citronella Oil

Ceylon Citronella Oil

Food Grade

Aromatherapy

Others

Perfume

Food

Pharmaceuticals

Detergent

Cosmetics

Others

North America (U.S., Canada)

Europe (France, Germany, UK, Italy, Netherlands, Spain, Russia)

Asia Pacific (Japan, China, India, Malaysia, Indonesia. South Korea)

Latin America (Brazil, Mexico, Argentina)

Middle East & Africa (Saudi Arabia, UAE, Israel, South Africa)
Know more about this report: Request for sample pages
Perfume segment is expected to witness the fastest growth
Perfumes have also developed into a sizable cosmetics and personal care market in recent years. The expanding trend in personal care has led to the emergence of fragrances as an essential good that contributes to pride and confidence. Performing perfumes is now a widely accepted business in the personal care and cosmetics sector. Perfumes are essential oils or fragrances that emit a pleasant aroma to the wearer.
Natural perfumes include fragrant flowers, spices, bark, leaves, roots, fruits, resins, gums, and seeds of many aromatic plants, including sandalwood, rose, and cinnamon well as musk, ambergris, castoreum, civet, hyraceum, and honeycomb. Additionally, some synthetic materials like water and alcohol are provided for the small parts. To promote relaxation and influence a person's mood, emotions, and thoughts, perfumes are utilized as stimulants.
Aromatherapy segment industry accounted for the highest market share in 2022
Consumers now have different perspectives on health and fitness. The demand for and sales of essential oils used in aromatherapy are primarily driven by the expanding importance of overall health. To treat and cure various medical issues, essential oils are used topically or breathed to treat multiple health conditions. The market quickly expands into various fields, including bath, household, personal care, and cosmetics. Moreover, consumers are taking matters of health into their own hands and turning to these oils for their emotional and physical well-being, given the lack of awareness and infrastructure about preventive healthcare in our nation.
Flying insects like mosquitos are known to be repelled by citronella essential oil, which is also known to inhibit or prevent the growth and spread of hazardous airborne microorganisms. By calming the body and mind and encouraging levity, it alleviates and elevates unpleasant emotions like sadness, worry, and tension.
The demand in North America is expected to witness significant growth
The US market dominated the North American market for essential oils. It is the largest country in imports and exports of essential oils worldwide. The US has a very high level of citronella oil product use. The popularity of products made with only natural components is rising as people become more aware of sustainable living, wellness, and healthy living. Customers are willing to pay more for products advertised as natural and organic. To meet consumer demand and take advantage of the trend, food and beverage producers and other sectors like cosmetics are beginning to use essential oils in their formulations. Due to their innate nature, essential oils support manufacturers' claims that their goods are all-natural and free of synthetic ingredients.
The Asia Pacific is predicted to grow at the highest CAGR during the forecast period. This results from the ideal farming climate, cheap labor, and plenty of natural resources. Additionally, it is anticipated that a movement in Chinese and Indian consumers' tastes for nutritious food and drink and other food goods will offer lucrative growth opportunities for foreign industry participants in the Asia-Pacific market. The demand for citronella oils in China is anticipated to increase due to the enormous demand for Chinese fragrances and the presence of a sizable consumer base in the skincare market.
Competitive Insight
Some of the major players operating in the global citronella oil market include Aksuvital Inc, Aromaaz International Corporation, Bio Extracts, DoTERRA International Corporation, Green Fields Oil Factory Limited, Greenleaf Extractions, Lionel Hitchen Essential Oils Ltd, Natures Natural India Corporation, Plant Therapy Essential Oils, Synthite Industries Ltd., Ltd., Shaanxi Guanjie Technology Co., and Young Living Essential Oils LC
Recent Developments
In May 2021, Sensient Technologies acquired the assets of Flavor Solutions, Inc., to expand their market of food, beverage and nutraceutical.
Citronella Oil Market Market Report Scope
| | |
| --- | --- |
| Report Attributes | Details |
| Market size value in 2023 | USD 121.05 million |
| Revenue forecast in 2032 | USD 193.83 million |
| CAGR | 5.4% from 2023– 2032 |
| Base year | 2022 |
| Historical data | 2019 – 2021 |
| Forecast period | 2023 – 2032 |
| Quantitative units | Revenue in USD million and CAGR from 2023 to 2032 |
| Segments Covered | By Type, By Grade, By End-Use Industry, By Region |
| Regional scope | North America, Europe, Asia Pacific, Latin America; Middle East & Africa |
| Key Companies | Aksuvital Inc, Aromaaz International Corporation, Bio Extracts privately limited, DoTERRA International Corporation, Green Fields Oil Factory Limited, Greenleaf Extractions Pvt Ltd, IL Health and Beauty Natural Oils Co. Inc., Lionel Hitchen Essential Oils Ltd, Natures Natural India Corporation, Plant Therapy Essential Oils, Synthite Industries Ltd., Ltd., Shaanxi Guanjie Technology Co., and Young Living Essential Oils LC |