The worldwide coating additives market is estimated to grow at a CAGR of 4.8% between 2018 and 2026. Increasing demand of coating additives from several end use industries is the major factor driving its market. Coatings are versatile and complex materials, which offer higher challenges to formulators than most of the other products. The coating industry has changed significantly in the past decade and is expected to continue to keep changing in the future too owing to its high competitive nature. The fundamental composition of coatings, the methods of its composition and environmental factors have been driving significant innovation in this industry. The regulatory demands, driven by health and environmental concerns, are to eliminate completely or reduce volatile organic compounds (VOCs) and any other solvents that are considered hazardous air pollutants (HAPs).
The coatings formulation especially the liquid ones must simultaneously satisfy limitations of VOC and the HAP restrictions. The manufacturers have been able to achieve so by shifting to low-solvent, high solids coatings in addition to the water-borne products. However, several research projects have been still undergoing that are concentrating on non-aqueous, water-borne systems. Customers are willing to pay for the non-aqueous formulations that are capable of meeting the pending and existing HAP and VOC regulations that also offer higher performance. Switching to low VOC content and environmentally-friendly products has been the new trend. For the industry participants it involves more than just replacing the organic solvents with the VOC free coating ingredients including water.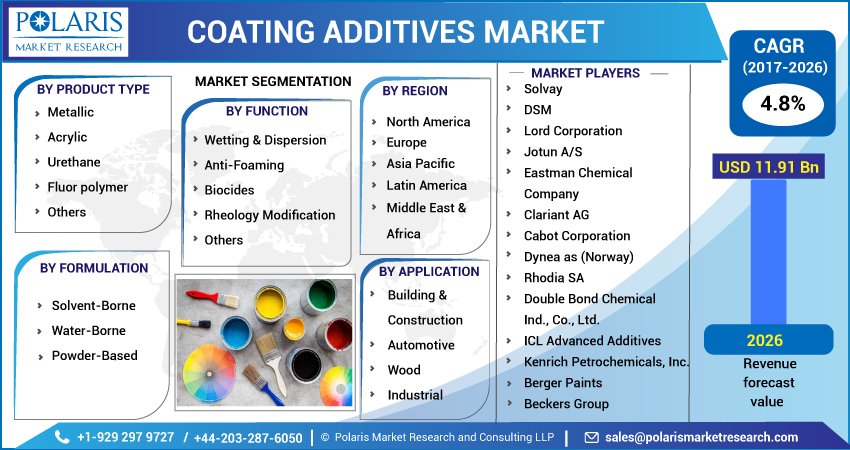 Segment Analysis
The global coating additives market is segment based on product type, formulation, functionality, application and region. Based on the types of product, the industry is further segmented into metallic, acrylic, urethane, fluor polymer & others. The formulation segment is further segmented into solvent-borne, water-borne and powder-based. The functionality segment is bifurcated into wetting & dispersion, anti-foaming, biocides, rheology modification and others. Application of coating additives has been further segmented into building & construction, automotive, wood, industrial and others.
Water born coating additives was the largest formulation segment in 2017 in the overall coating additives market report. These products provide excellent adhesion, possess higher resistance to abrasion and heat, low flammability and toxicity owing to lower contents of VOC, reduce air emissions, the pot life of these waterborne coating products is relatively high and unused also the coatings can be conserved in sealed containers for future use etc. These are some of the few advantages of water borne coating additives and hence with these high-quality functionalities this product segment has been able to create higher demand compared to the other types.
Rheology modifiers are expected to be the fastest growing functionality type over the forecast period in the coating additives market. The major significance of these products is that it increases the viscosity and has significant impact on the characteristics of the applications. Rheology modifiers prevent in settling down of fillers during transportation and settling of paint applications.
Regional Analysis
Asia Pacific coating additives market is expected to account for the maximum demand for these products in the next eight years. With increasing production of vehicles in the region especially in China, Japan, India, Korea and even Australia, demand for these products are anticipated to grow even higher. Rising infrastructure development and the region's growing economy has played a major role in generating significant demand for these products. North America was also a potential market in terms of production of these products. Consumption of these coating additives has also been increasing on a yearly basis.
Competitive Analysis
Some of the leading industry participants in this category of coating production globally includes Solvay, DSM, Lord Corporation, Jotun A/S, Eastman Chemical Company, Clariant AG, Cabot Corporation, Dynea as (Norway), Rhodia SA, Double Bond Chemical Ind., Co., Ltd. , ICL Advanced Additives, Kenrich Petrochemicals, Inc., Berger Paints, Beckers Group, Arkema SA, Sherwin-Williams Company, AkzoNobel, Valspar Corporation, KCC Paint, Bayer AG, Nippon Paint, Kansai Paint, PPG Industries, BASF and Axalta Coating Systems.