The global coffee roaster market was valued at USD 1,256.83 million in 2022 and is expected to grow at a CAGR of 6.4% during the forecast period. The market growth of coffee is further fueled by the growing presence of coffee shop chains and the prevailing trend of café culture, where consumers enjoy visiting coffee shops. This trend is expected to continue driving the market in the upcoming years. In addition to the increasing consumption, the production of coffee has also witnessed growth. According to the International Coffee Organization, global coffee production increased 6.3% from 2019 to 2020. Moreover, the development of retail sectors, particularly in the residential segment, is anticipated to contribute to the growth of coffee roasters in the market.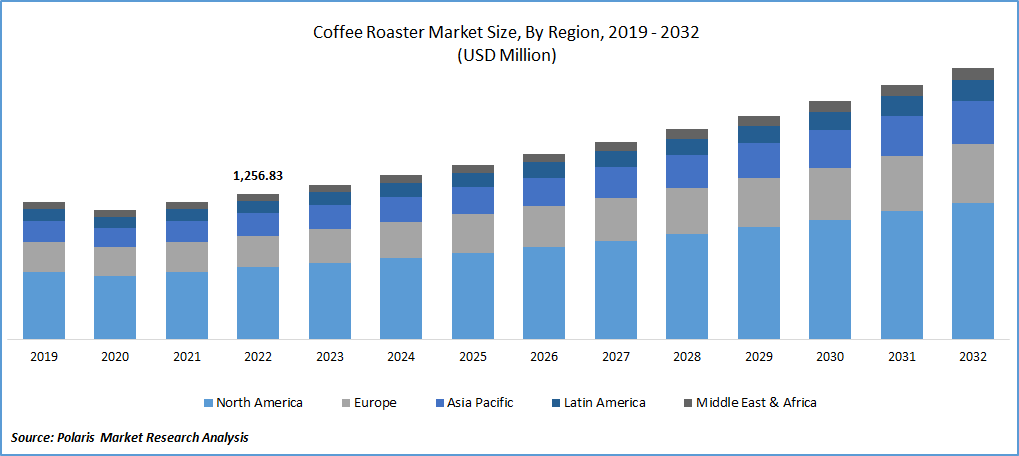 To Understand More About this Research: Request a Free Sample Report
The intense heat generated by coffee roasters creates challenging working conditions for commercial coffee shops, leading them to avoid keeping roasters on their premises. This factor may pose a challenge to the growth of the coffee roasters market in the forecast period. However, there are opportunities for manufacturers to invest in developing compact-sized roasters equipped with advanced technology. These innovations can address space and heat-related concerns and offer more suitable options for commercial coffee shops.
Industry Dynamics
Growth Drivers
The global coffee market is experiencing significant growth, primarily driven by the rising demand and consumer preference for coffee consumption worldwide. The region has emerged as a key contributor to the increasing consumption of coffee. The growing demand for fresh coffee is also expected to stimulate market growth further. According to the International Coffee Council, consumers in East & South Asia are increasingly shifting their preference toward consuming fresh coffee.
Roasting green coffee beans has a significant impact on their solubility, aroma, and flavor. The roasting process enhances coffee's solubility, leading to better extraction and the desired taste profile. Consumers' increasing interest in high-quality coffee has been a driving force behind the popularity of roasted coffee. Coffee roasters have made it easier for consumers to brew and experiment with coffee through various innovative methods. The availability of brewing and coffee machines has further facilitated the brewing process, making it accessible to both domestic and commercial users. As a result, these factors are expected to contribute to the market's growth worldwide.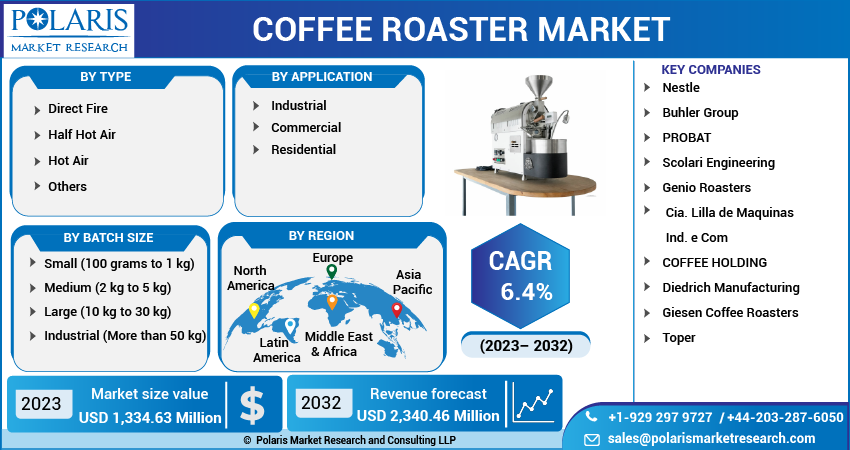 For Specific Research Requirements, Request for a Customized Report
Report Segmentation
The market is primarily segmented based on by type, batch size, application, and region.
By Type

By Batch Size

By Application

By Region

Direct Fire

Half Hot Air

Hot Air

Others

Small (100 grams to 1 kg)

Medium (2 kg to 5 kg)

Large (10 kg to 30 kg)

Industrial (More than 50 kg)

Industrial

Commercial

Residential

North America (U.S., Canada)

Europe (France, Germany, UK, Italy, Netherlands, Spain, Russia)

Asia Pacific (Japan, China, India, Malaysia, Indonesia. South Korea)

Latin America (Brazil, Mexico, Argentina)

Middle East & Africa (Saudi Arabia, UAE, Israel, South Africa)
To Understand the Scope of this Report: Speak to Analyst
Hot air segment accounted for the largest market share in 2022
The hot air segment accounted for the largest market share in 2022. Hot air coffee roasters have gained popularity due to their smokeless operation and efficient, even roasting of coffee beans. These roasters utilize a hot air circulation system, ensuring optimal roasting conditions. Hot-air coffee roasters' automatic constant temperature system enables precise temperature control during the roasting process. Residential hot-air coffee roasters offer various features, including manual adjustment of roasting time and the dual function of roasting and cooling coffee beans. These advantages have contributed to the widespread use and higher market share of hot-air coffee roasters within the segment.
Half hot air segment is anticipated to be the fastest growing segment. These roasters offer the advantage of shorter roasting times as they fully utilize the internal heat circulation, resulting in efficient coffee bean roasting. Half hot air roasters find applications in both residential and commercial settings. The segment's growth is driven by the increasing consumption of coffee, particularly in commercial offices, where the demand for freshly roasted coffee is rising. Additionally, home coffee roasting is growing, which further contributes to the segment's growth.
Industrial segment garnered largest share in 2022
In 2022, the industrial segment had the largest market share for coffee roasters. These roasters are specifically designed for large-scale coffee production facilities, catering to popular coffee brands and commercial suppliers. They are capable of efficiently and consistently handling massive quantities of coffee beans. Equipped with advanced technologies such as programmable roast profiles, precise temperature control, and sophisticated data analysis systems, they are often customized to meet specific production requirements, ensuring high-speed and high-volume processing while maintaining coffee quality.
Over the coming years, small-sized coffee roasters are expected to experience high growth rates. These roasters offer unique features like temperature logging, which allows users to record roast parameters and analyze different coffee bean characteristics. They play a crucial role for coffee buyers, importers, and quality control professionals in assessing the quality and potential of various coffee beans, allowing them to make informed purchasing decisions. Additionally, digital roasters with integrated apps are gaining popularity, further driving growth in this segment.
North America region dominated the global market in 2022
North America region dominated the global market with considerable market share. The region's market is primarily driven by the high consumption of roasted coffee and its growing popularity among consumers. Notably, the United States is a significant contributor to this consumption trend, with U.S. consumers alone accounting for approximately 45% of the estimated 1.4 billion cups of coffee consumed globally daily. This translates to more than 400 million cups of coffee in the United States daily. Furthermore, coffee chains like Starbucks offer a wide range of roasted coffee options tailored to individual customer preferences, further fueling the market growth in the region.
The Asia Pacific region will likely emerge as the fastest-growing region with a healthy CAGR during the forecast period. This growth can be attributed to the increasing consumption of coffee among consumers in the region. According to the International Coffee Organization, coffee consumption in Asia has witnessed a 1.5% increase over the past five years as of 2022. The region, particularly countries like China and Japan, demonstrates a significant demand for roasted coffee, contributing to the overall market growth.
Competitive Insight
Some of the major players operating in the global market include Nestle, Buhler Group, PROBAT, Scolari Engineering, Genio Roasters, Cia. Lilla de Maquinas Ind. e Com, COFFEE HOLDING, Diedrich Manufacturing, Giesen Coffee Roasters, and Toper.
Recent Developments
In January 2023, PROBAT AG recently introduced the P12e electric coffee roaster to expand its P series roasters. This innovative roaster utilizes electrical hot air technology to enhance the roasting process. With a capacity to roast 40kg/h, the P12e ensures consistent and reproducible results, providing coffee roasters with efficient and reliable roasting capabilities.

In March 2022, Scolari Engineering unveiled the e-Roaster, an advanced industrial coffee roasting system designed to minimize environmental impact. This innovative roaster is designed to reduce gas consumption by 25% and effectively mitigate carbon emissions in roasteries. The e-Roaster incorporates a heat recovery system that enables the captured heat to be redirected for use in other applications, such as HVAC or refrigeration units.

In January 2022, Diedrich Manufacturing introduced the Diedrich DR-3, a cutting-edge roaster machine that is a successor to the previous IR-1 and IR-2.5 models. With a versatile capacity range of 1-3kg, the DR-3 is specifically engineered to encompass all the essential functionalities of its predecessors. This new roaster machine offers improved features and performance, ensuring the highest quality and efficiency in coffee roasting operations.
Coffee Roaster Market Report Scope
| | |
| --- | --- |
| Report Attributes | Details |
| Market size value in 2023 | USD 1,334.63 million |
| Revenue forecast in 2032 | USD 2,340.46 million |
| CAGR | 6.4% from 2023 – 2032 |
| Base year | 2022 |
| Historical data | 2019 – 2021 |
| Forecast period | 2023 – 2032 |
| Quantitative units | Revenue in USD million/billion and CAGR from 2023 to 2032 |
| Segments covered | By Type, By Batch Size, By Application, By Region |
| Regional scope | North America, Europe, Asia Pacific, Latin America; Middle East & Africa |
| Key companies | Nestle, Buhler Group, PROBAT, Scolari Engineering, Genio Roasters, Cia. Lilla de Maquinas Ind. e Com, COFFEE HOLDING, Diedrich Manufacturing, Giesen Coffee Roasters, and Toper. |