The global combined heat and power market was valued at USD 26.39 billion in 2021 and is expected to grow at a CAGR of 5.9% during the forecast period. The method of generating heat and electricity or power simultaneously is referred to as combined heat and power generation or cogeneration. A technology known as a combined heat and power system (CHP) uses a variety of fuels and technologies to create both electrical and thermal energy efficiently. This system recovers lost energy by using the combined heat, which is otherwise wasted, to power plants or buildings that are connected to the energy plant through a stream pipe network. This wasted combined heat is applied to facility loads in the process of combined heating, steam, hot water, or chilled water.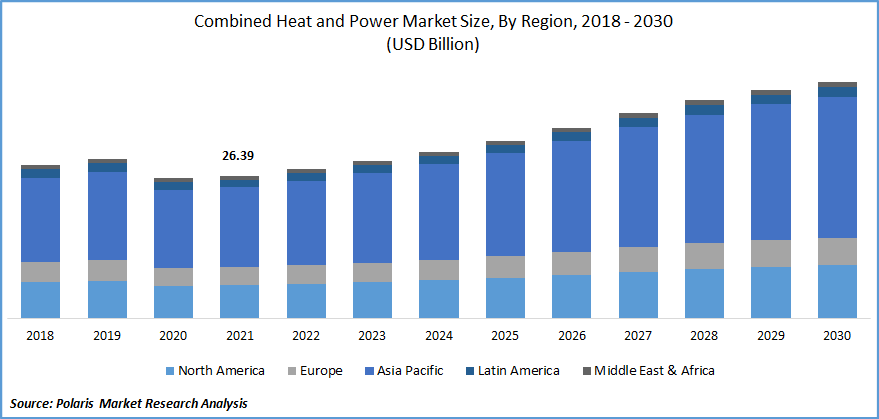 Know more about this report: Request for sample pages
Cost savings in manufacturing processes are one advantage of cogeneration technologies over conventional procedures. This is because redundant energy usage is decreased. Utilizing waste resources allows for energy savings and lower prices, propelling this market. Rising energy costs and restrictions constrain the combined temperature and energy generating sector.
CHP technology can be deployed quickly and cost-effectively but with few geographic limitations. CHP can use a variety of fuels, both fossil and renewable-based. It has been used in industrial, large commercial, and institutional applications. CHP provides efficient power and process to some of the most vital industries, largest employers, urban centers, and campuses in developed countries.
COVID-19 slowed the growth of the combined heat and power market as countries were forced to halt their operations. Governments issued strict guidelines, which adversely affected the combined heat and power market due to the suspension of end-user activities. Additionally, delays in production and supply chain disruptions posed a challenge to the combined heat and power market since they were still not operating at their full capacity.
Know more about this report: Request for sample pages
Industry Dynamics
Growth Drivers
Government programs and incentives, particularly in OECD countries such as the U.S., UK, Germany, Japan, and others, are expected to drive the growth of the CHP industry. The need for energy efficiency and energy generation coupled with an inclination toward sustainable energy and energy conservation efforts, government regulations to control emissions, and investments in renewable energy are driving many countries towards adopting CHP systems.
Moreover, the increasing dependency on energy reliability and extensive development in the energy sector have encouraged the adoption of the combined heat and power systems, which in turn drive the market's growth.
Additionally, a movement toward replacing conventional energy systems due to lower operating costs and dependable utility supply is anticipated to enhance the market growth. One of the key reasons fueling the expansion of the worldwide combined heat and power market is the rising global energy market demand.
Report Segmentation
The market is primarily segmented based on fuel, technology, end-use, and region.
By Fuel

By Technology

By End-Use

By Region

Coal
Natural Gas
Biomass
Nuclear
Others

Gas Turbine
Fuel Cell
Reciprocating Engine
Combined Cycle
Steam Turbine
Others

Commercial
Industrial
Residential
Utilities
Others

North America (U.S., Canada)
Europe (France, Germany, UK, Italy, Netherlands, Spain, Russia)
Asia Pacific (Japan, China, India, Malaysia, Indonesia. South Korea)
Latin America (Brazil, Mexico, Argentina)
Middle East & Africa (Saudi Arabia, UAE, Israel, South Africa)
Know more about this report: Request for sample pages
Natural gas segment accounted for a major market share
Natural gas-based CHP systems accounted for a significant market share in 2021. Natural gas properties such as easy transportation and installation and less carbon footprint have fuelled the market demand for natural gas-based combined heat and power systems.
Natural gas is abundantly available at low costs, making it ideal for use in the combined heat and power systems. Natural gas is also a clean energy source for reducing carbon emissions. Due to the emergence of these natural gas-based combined heat and power systems, the growth rate for the coal-based combined heat and power systems is likely to reduce. The increased market demand can be met by assets previously approved or under development before the pandemic, mainly in Russia and the Middle East. New investments in American shale gas production are also anticipated to increase supply in order to support the LNG export capacity that is presently being developed.
Fuel cell segment will witness the fastest growth
The fuel cell segment is anticipated to be the fastest-growing segment of the CHP market during the projected timeframe. Based on technology, the combined heat power market is segmented into gas turbine, fuel cell, reciprocating engine, combined cycle, steam turbine, and others. A fuel cell is an emerging technology for energy generation where chemical energy in a fuel is instantly transformed into electrical power without a combustion method. The by-products of the fuel cell are water, electricity, and combined heat, making it a cleaner technology than other prime movers for power generation.
The type of the fuel cell and its operating temperature determines its quality. Due to low volume custom production methods, capital costs incurred in fuel cell production remain high. They offer low emissions, less noise, and market subsidies. Fuel cells are of two types micro-CHP and larger CHP.
Utility segment is the fastest-growing segment in the market
Based on end-use, the global market is classified into commercial, industrial, residential, utilities, and others. Utilities use CHPs, as they offer a low-cost electric and thermal energy supply. Utility power can be exported to nearby energy networks or used to supply electricity to nearby facilities. These CHP facilities have higher ratings for efficiency.
Utilizing the savings from the high operating efficiency of these systems, utilities employ CHP systems to commercialize the combined heat produced as a by-product of electricity production. Additionally, they use the thermal energy generated to run district combined heating or cooling systems that use steam, hot water, or chilled water as a source. Utilities did not want much favor the CHP installations. However, now, they have realized the benefits of large-scale centralized CHP systems that provide commercial and technical benefits to utilities and their consumers.
Asia Pacific accounted for the largest revenue share in 2021
Asia Pacific accounted for a significant share in 2021. The countries covered in the region are Japan, China, South Korea, India, Australia, and others. Rapid industrialization and urbanization and increasing market demand for clean fuel energy will boost the market's development in the region leading to the building of new CHP systems in the emerging economies.
The Asia Pacific region is the largest energy consumer, with China and India leading the growth due to infrastructural expansions, power generation projects, and technological innovations. The combined heat and power market has massive potential in these countries due to the rapid economic growth and recent transition from coal-based generation to gas-fired power generation. Also, investments in large new gas-fired cogeneration plants and large coal-fired plants, along with rising demand for electricity, are expected to drive growth in the region.
The region's governments support combined heat and power installations through various policies and research and development initiatives. Also, stringent norms to reduce carbon emissions and decentralized power generation will lead to market growth.
Competitive Insight
Major players in the combined heat and power market are 2G Energy Services, Aegis Energy Services Inc., Bosch, Centrica, CENTRAX Gas Turbines, Clarke Energy Inc., Cummins Inc., Doosan Fuel Cell America Inc., Elite Energy Systems, General Electric, Kawasaki, Siemens, Veolia, Viessmann Werke, and Wartsila. These players are expanding their presence across various geographies and entering new markets in developing regions to expand their customer base and strengthen their presence in the market. The companies are also introducing new innovative products to cater to the growing consumer market demands.
Recent Developments
In July 2021, Capstone Green Energy signed a 10-year service contract for 1.2 MWs of micro-turbines in New York City. The skyscraper's 1.2 MW energy efficiency plant consists of two Capstone C600S microturbines with Capstone's Integrated Heat Recovery Modules.
In March 2021, The European Marine Energy Centre (EMEC) and Highlands and Islands Airports Limited (HIAL) partnered to decarbonize combined heat and power at Kirkwall Airport through green hydrogen technology.
In February 2021, Siemens signed an agreement with the Guangdong Energy Group to provide F-class gas turbine island equipment for the China Zhaoqing Dinghu Combined Heat and Power (CHP) generation project.
In February 2021, Wärtsilä signed an agreement with Kraftwerke Mainz-Wiesbaden to deliver a 100 MW CHP plant to supply excess combined heat generated during power generation into the Mainz district heating network of almost 40,000 modern single-family homes.
Combined Heat and Power Market Report Scope
| | |
| --- | --- |
| Report Attributes | Details |
| Market size value in 2021 | USD 26.39 billion |
| Revenue forecast in 2030 | USD 43.80 billion |
| CAGR | 5.9% from 2022 - 2030 |
| Base year | 2021 |
| Historical data | 2018 - 2020 |
| Forecast period | 2022 - 2030 |
| Quantitative units | Revenue in USD billion and CAGR from 2022 to 2030 |
| Segments covered | By Fuel, By Technology, By End-use, By Region |
| Regional scope | North America, Europe, Asia Pacific, Latin America; Middle East & Africa |
| Key companies | 2G Energy Services, Aegis Energy Services Inc., Bosch, Centrica, CENTRAX Gas Turbines, Clarke Energy Inc., Cummins Inc., Doosan Fuel Cell America Inc., Elite Energy Systems, General Electric, Kawasaki, Siemens, Veolia, Viessmann Werke, and Wartsila |