The global commercial seaweed market was valued at USD 17.85 billion in 2021 and is expected to grow at a CAGR of 10.5% during the forecast period. Increased consumption of seaweed supplements, which are high in vitamins and minerals, is a key factor driving the growth of the global commercial seaweeds market. Furthermore, rising consumer knowledge regarding seaweed's health benefits, including its anti-microbial, anti-inflammatory, and anti-cancer qualities, is propelling the commercial seaweeds industry forward. Furthermore, due to the nutritional value of seaweed, the growing use of the product in the agricultural, pharmaceutical, cosmetic, and food & beverage industries is propelling the growth of the commercial seaweeds market.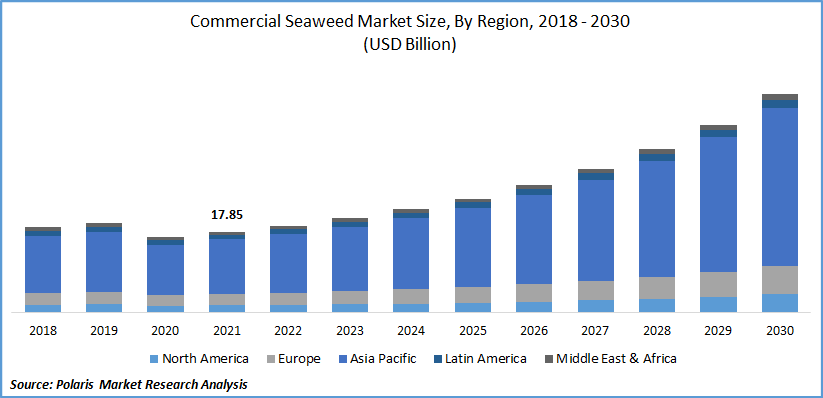 Know more about this report: request for sample pages
Seaweed has numerous health benefits. They are known to increase thyroid function since it is rich in tyrosine and iodine. It is rich in calcium, sodium, magnesium, zinc, folate, Vitamin A, C, E, and K. Obesity is a major health problem across the globe. It is associated with the development of many chronic disorders. Commercial seaweed contains low calories and is high in fibers; hence used in weight management by people to prevent the risk of developing CVDs and diabetes.
CVDs are the leading cause of death worldwide, and it affects 423 million people, globally, whereas diabetes affects 463 million all across the globe, and the number is expected to rise to 642 million people, by 2040. Fucoxanthin, a constituent of seaweed, controls blood sugar levels and hence lowers the risk of diabetes.
Since diabetes is also known to regulate high cholesterol levels in the body, it effectively reduces the risk of developing CVDs. All these factors are expected to contribute to the global commercial seaweeds market's growth significantly. The emergence of COVID-19 is expected to slow down the growth of the global market of commercial seaweeds due to the disruption of the supply chain of seaweed which is used as a raw material in the manufacturing food and beverage industry for both humans and animals.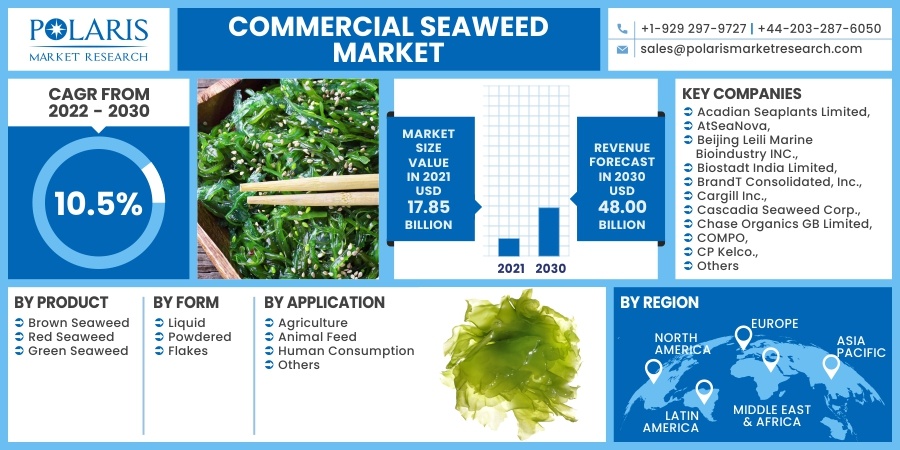 Know more about this report: request for sample pages
Industry Dynamics
Growth Drivers
The increasing use of commercial seaweed for health benefits and the growing concern about various chronic disorders such as diabetes and CVDs among people is the major driving force behind the growth of the global market of commercial seaweeds during the forecast period. Further, the emerging applications of seaweed as animal feed and in the agricultural sector are expected to further propel the market growth of commercial seaweeds over the years.
Seaweeds have found applications in the cosmetic industry since they are great antioxidants, as it contains Fucoxanthin, which has 13.5 times more antioxidant activity as compared to vitamin E, and it is also believed that it protects cell membranes. The increasing application of seaweeds in new areas augments the growth of this market of commercial seaweeds in the coming years.
Many new developments have been taking place in the global market of commercial seaweeds in recent years. For instance, according to the Indonesia Seaweed Industry Association (ASTRULI), the country is the largest producer of hydrocolloid gels extracted from seaweed, and its new "Indonesia Seaweed" brand is expected to provide greater exposure to strengthen its position in the global commercial seaweeds industry.
Report Segmentation
The market is primarily segmented on the basis of product, form, application, and region.
By Product

By Form

By Application

By Region

Brown Seaweed
Red Seaweed
Green Seaweed

Agriculture
Animal Feed
Human Consumption
Others

North America (U.S., Canada)
Europe (Austria, France, Germany, Italy, Netherlands, Spain, UK)
Asia Pacific (China, India, Indonesia, Japan, Malaysia, South Korea)
Latin America (Argentina, Brazil, Mexico)
Middle East & Africa (Israel, Saudi Arabia, South Africa, UAE)
Know more about this report: request for sample pages
Insight by Form
The liquid seaweed segment dominated the market of commercial seaweeds and generated the highest revenue in 2021, owing to its ease of application and increasing industrial demand. Seaweed extracts are sold as bio-stimulants and liquid fertilizers as they contain several growth regulators like betaines, auxins, gibberellins, cytokinins, and other micronutrients.
Moreover, the increasing use of liquid seaweed extract in the agricultural sector to improve productivity as well as other benefits such as improving soil water retention capacity, plant development, and the ability to withstand plant pathogens and atmospheric stress, such as drought and cold, is propelling the growth of the commercial seaweeds segment. The powder seaweed segment is expected to have steady growth during the forecast period due to increased knowledge regarding the product's health benefits that have led to its usage in various industries, including pharmaceuticals, agriculture, food and beverages, and others.
Insight by Application
The human consumption segment dominated the market of commercial seaweeds and generated the highest revenue in 2021. The segment is expected to grow at a high growth rate during the projected timeframe. The growing awareness of healthy eating habits, an increasing population, and surge in disposable income has led to the commercial seaweeds segment's growth.
Animal seaweed also occupied the largest share in the global market of commercial seaweeds due to the growing focus on improving animal productivity. Commercially processed sea vegetables in the form of animal feed have been shown to benefit livestock health, which is expected to fuel commercial seaweeds segment growth.
Geographic Overview
The Asia Pacific is expected to be the fastest-growing region for the global market due to increased market demand and abundant seaweed production in the region. Countries such as China, South Korea, Japan, and Indonesia are some of the biggest seaweed producers. There is a massive market demand for seaweed in this region as animal feed and for other pharmaceutical purposes. In addition, increased use of commercial seaweeds, especially in nutraceuticals, food, medicines, personal care products, gels, and adhesives, are propelling the market growth in the region.
Competitive Insight
The major players in the market of commercial seaweeds are investing heavily in research and development to introduce seaweeds for different emerging applications such as in cosmetics. Companies are entering into collaborations, acquisitions, and new product launches to increase their foothold in the market.
Some of the major market players operating in the market of commercial seaweeds include Acadian Seaplants Limited, AtSeaNova, Beijing Leili Marine Bioindustry INC., Biostadt India Limited, BrandT Consolidated, Inc., Cargill Inc., Cascadia Seaweed Corp., Chase Organics GB Limited, COMPO, CP Kelco., Leili Group, DuPont, Gelymar SA, Indigrow Ltd., Kelp Industries PTY, Ltd., KwangcheonKim, Nantong Xinlang Seaweed & Foods Co., Ltd., Organic Irish Seaweed - Emerald Isle, Pacific Harvest, Roullier Group, Seasol International Pty. Ltd., Travena Organic Solutions Ltd., and West Coast Marine Bio-Processing Corp.
Commercial Seaweeds Market Report Scope
| | |
| --- | --- |
| Report Attributes | Details |
| Market size value in 2021 | USD 17.85 billion |
| Revenue forecast in 2030 | USD 48.00 billion |
| CAGR | 10.5% from 2022 - 2030 |
| Base year | 2021 |
| Historical data | 2018 - 2020 |
| Forecast period | 2022 - 2030 |
| Quantitative units | Revenue in USD million/billion and CAGR from 2022 to 2030 |
| Segments covered | By Product, By Form, By Application, By Region |
| Regional scope | North America, Europe, Asia Pacific, Latin America, Middle East & Africa |
| Key companies | Acadian Seaplants Limited, AtSeaNova, Beijing Leili Marine Bioindustry INC., Biostadt India Limited, BrandT Consolidated, Inc., Cargill Inc., Cascadia Seaweed Corp., Chase Organics GB Limited, COMPO, CP Kelco., Leili Group, DuPont, Gelymar SA, Indigrow Ltd., Kelp Industries PTY, Ltd., KwangcheonKim, Nantong Xinlang Seaweed & Foods Co., Ltd., Organic Irish Seaweed - Emerald Isle, Pacific Harvest, Roullier Group, Seasol International Pty. Ltd., Travena Organic Solutions Ltd., West Coast Marine Bio-Processing Corp. |