The global continuous glucose monitoring device market was valued at USD 7,190.49 million in 2022 and is expected to grow at a CAGR of 21.8% during the forecast period.
The continuous glucose monitoring (CGM) device market is witnessing significant growth due to the increasing number of diabetes cases and technological advancements. Individuals with diabetes widely use these devices to regulate their condition. Unlike standard self-monitoring devices, CGM devices provide real-time data on blood glucose levels, offering insights into glucose variation patterns.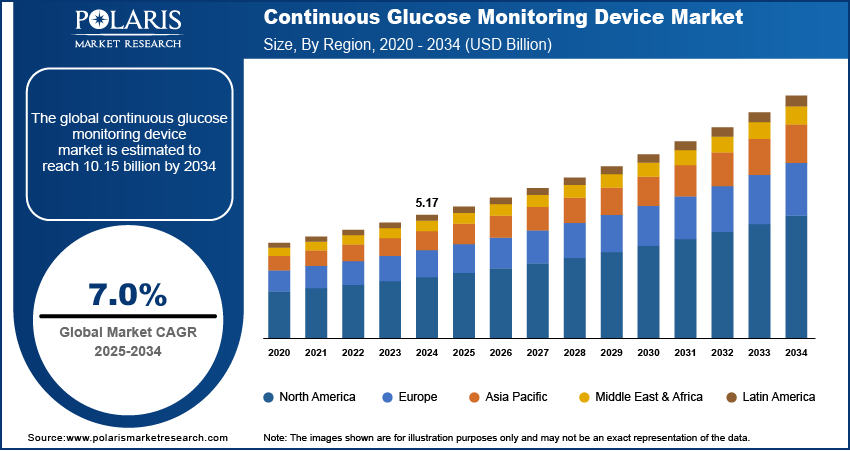 To Understand More About this Research: Request a Free Sample Report
The COVID-19 pandemic has further accelerated the adoption of digital health solutions and telemedicine in diabetes management. This has increased the demand for CGM devices that transmit data electronically to healthcare professionals. The convenience and ability to conduct frequent checkups remotely drive the market's growth.
CGM devices have proven to be valuable tools in diabetes management, enabling individuals to make informed decisions about medication, diet, and lifestyle choices. The continuous and real-time monitoring of glucose levels helps improve glycemic control and overall health outcomes.
Technological advancements in CGM devices have improved accuracy, wearability, and connectivity. Manufacturers are investing in research and development to introduce advanced devices with longer wear duration, smaller form factors, and enhanced connectivity features. These innovations are expected to drive market growth further.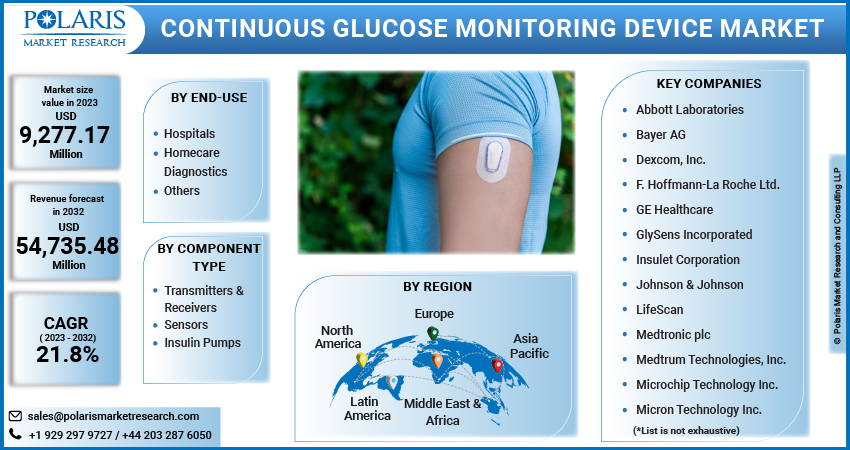 For Specific Research Requirements, Request for a Customized Report
Industry Dynamics
Growth Drivers
Technological advancements are a key driver of growth in the continuous glucose monitoring device market. These advancements have led to the development of more accurate and user-friendly CGM devices, improving the overall experience for individuals with diabetes. Miniaturization and sensor innovations have resulted in smaller, more comfortable devices, increasing patient compliance.
The integration of wireless connectivity and smartphone applications has further enhanced the functionality and accessibility of CGM devices, allowing users to easily access their glucose data, receive alerts, and share information with healthcare professionals. These advancements have contributed to better glycemic control and improved health outcomes for individuals with diabetes.
Additionally, the increasing prevalence of diabetes globally drives the demand for CGM devices. With a rising diabetic population, there is a growing need for continuous glucose monitoring to manage the condition effectively. CGM devices provide real-time data on glucose levels, enabling individuals to make informed decisions about medication, diet, and lifestyle, leading to improved diabetes management.
Report Segmentation
The market is primarily segmented based on component type, end-use, and region.
By Component Type

By End-Use

By Region

Transmitters & Receivers

Sensors

Insulin Pumps

Hospitals

Homecare Diagnostics

Others

North America (U.S., Canada)

Europe (France, Germany, UK, Italy, Netherlands, Spain, Russia)

Asia Pacific (Japan, China, India, Malaysia, Indonesia, South Korea)

Latin America (Brazil, Mexico, Argentina)

Middle East & Africa (Saudi Arabia, UAE, Israel, South Africa)
To Understand the Scope of this Report: Speak to Analyst
The sensor segment is anticipated to witness significant growth during the forecast period
The sensor segment is anticipated to witness significant growth during the forecast period, driven by technological advancements that enable more accurate monitoring and the relatively short lifespan of sensors. Moreover, the increased bulk purchase of sensors, attributed to their limited lifespan, is expected to drive demand for this segment further.
Transmitters act as intermediaries between sensors and receivers. They wirelessly transmit data through radio waves to the receiver. While some transmitters can be recharged, others require replacement every few months. On the other hand, receivers receive the transmitted data and display the continuous glucose level readings, allowing users to monitor and understand changes in their glucose levels.
The homecare diagnostics segment is projected to dominate over the forecasted period.
Homecare diagnostics has emerged as the largest segment and is projected to sustain its dominance throughout the forecast period. This can be attributed to increasing awareness, convenience, ease of use, and rising disposable income. The COVID-19 pandemic has also driven the demand for homecare diagnostic devices as individuals seek to avoid virus transmission in hospitals.
The hospital segment is expected to experience significant growth in the forecast period. This growth is primarily driven by increasing government investments in healthcare infrastructure in emerging and developed nations worldwide. Moreover, the growing geriatric population, particularly in countries like Japan and China, is expected to fuel the demand for hospital-based diagnostic devices further.
North America will dominate the global market over the projected period.
During the forecast period, North America will dominate the global continuous glucose monitoring device market. The region has many diabetic patients, with approximately 34.2 million people (10.5% of the population) having diabetes in the United States alone. Factors such as an unhealthy diet, increasing obesity rates, and government initiatives are expected to positively impact the demand for continuous glucose monitoring devices in the region.
In addition, the approval of Dexcom, Inc. and Abbott Laboratories by the U.S. Food and Drug Administration (FDA) to utilize continuous glucose monitoring in COVID-19 patients in U.S. hospitals has further increased the demand for these devices.
The Asia Pacific region is expected to grow significantly in the continuous glucose monitoring device market. The region is experiencing a rising number of diabetes cases, driving the adoption of continuous monitoring devices. Additionally, emerging economies, increasing healthcare expenditure, and the penetration of leading regional companies are expected to contribute to this trend.
Competitive Insight
Some of the major players operating in the global market include A. Menarini Diagnostics, Echo Therapeutics, Inc., Abbott Laboratories, Bayer AG, Dexcom, Inc., F. Hoffmann-La Roche Ltd., GE Healthcare, GlySens Incorporated, Insulet Corporation, Johnson & Johnson, LifeScan, Medtronic plc, Medtrum Technologies, Inc., Microchip Technology Inc., Micron Technology Inc., Nemaura Medical, Inc., Novo Nordisk, NXP Semiconductors, Qualcomm, Roche Diagnostics, Senseonics Holdings, Inc., STMicroelectronics, and Tandem Diabetes Care.
Recent Developments
In June 2020, Menarini Diagnostics introduced GlucoMen Day CGM, a novel digital patch that measures blood glucose and displays findings remotely on smartphones for fourteen continuous days.

In December 2021, the U.S. Centers for Medicare & Medicaid Services (CMS) expanded Medicare coverage to include all CGMs, including those integrated with Medtronic insulin pumps, effective February 2022.
Continuous Glucose Monitoring Device Market Report Scope
| | |
| --- | --- |
| Report Attributes | Details |
| Market size value in 2023 | USD 9,277.17 million |
| Revenue forecast in 2032 | USD 54,735.48 million |
| CAGR | 21.8% from 2023 – 2032 |
| Base year | 2022 |
| Historical data | 2019 – 2021 |
| Forecast period | 2023 – 2032 |
| Quantitative units | Revenue in USD million, Volume in million units and CAGR from 2023 to 2032 |
| Segments Covered | By Component Type, By End-Use, By Region |
| Regional scope | North America, Europe, Asia Pacific, Latin America; Middle East & Africa |
| Key Companies | A. Menarini Diagnostics, Echo Therapeutics, Inc., Abbott Laboratories, Bayer AG, Dexcom, Inc., F. Hoffmann-La Roche Ltd., GE Healthcare, GlySens Incorporated, Insulet Corporation, Johnson & Johnson, LifeScan, Medtronic plc, Medtrum Technologies, Inc., Microchip Technology Inc., Micron Technology Inc., Nemaura Medical, Inc., Novo Nordisk, NXP Semiconductors, Qualcomm, Roche Diagnostics, Senseonics Holdings, Inc., STMicroelectronics, and Tandem Diabetes Care. |