The global contract cleaning services market was valued at USD 352 billion in 2022 and is expected to grow at a CAGR of 5.5% during the forecast period. Need for maintaining hygiene and cleanliness in workplaces, public areas, and other business facilities has been brought to attention by the global pandemic. As a result, there is now a greater need for cleaning services, particularly in hospitals, hotels, and restaurants. Since the healthcare sector must adhere to stringent rules and guidelines for cleanliness and hygiene, there is a need for specialized cleaning services and supplies. Additionally, as more people move to cities, there is an increasing demand for cleaning services in commercial and public spaces.

To Understand More About this Research: Request a Free Sample Report
For instance, in September 2022, Durst Ventures, a major player in residential and commercial real estate, announced a significant investment in Skyline Robotics. The Durst Organization intends to use Ozmo to raise the level of service offered to its tenants and inhabitants, and the Durst investment will further Skyline's development and deployment of Ozmo. Window cleaning using Ozmo may be done up to three times quicker than with humans, without endangering the employees. Furthermore, Ozmo does not take the place of human window washers because it is controlled by people.
As the hospitality and tourism industry grows, there is an increasing demand for cleaning services in hotels, resorts, and other tourism-related businesses. Increasingly, businesses are seeking out cleaning services that use environmentally friendly products and methods. This trend is particularly prevalent in regions with strong environmental regulations and sustainability initiatives which is responsible for the rising demand for professional cleaning services. Furthermore, in wake of the pandemic, contract cleaning has also gained more importance in the education sector. Schools and universities have a responsibility to maintain a safe and healthy environment for students, faculty, and staff. Contract cleaning services can help ensure that classrooms, laboratories, and common areas are regularly cleaned and disinfected to prevent the spread of infectious diseases which is augmenting the market growth.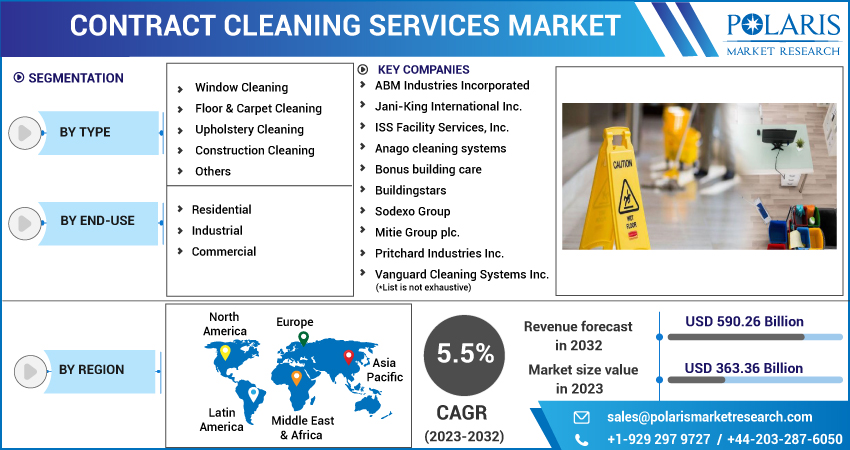 For Specific Research Requirements, Request For Customized Report
Industry Dynamics
Growth Driver
Cleaning services are in greater demand as a result of the expansion of business and industrial sectors including manufacturing, retail, and hospitality. To save money, increase productivity, and concentrate on their primary business activities, many firms are outsourcing their cleaning needs to specialist enterprises which is augmenting contract cleaning services market growth. Cleaning services are currently used by many businesses since they provide several advantages, such as complete workplace cleaning and affordable costs. A facility that is clean and well-maintained makes a good first impression on customers, clients, and visitors and may enhance a business's overall brand image. These factors contribute to increasing demand for contract cleaning services.
Report Segmentation
The market is segmented based on type, end-use and region.
By Type

By End-use

By Region

Window Cleaning

Floor & Carpet Cleaning

Upholstery Cleaning

Construction Cleaning

Others

Residential

Industrial

Commercial

North America (U.S., Canada)

Europe (France, Germany, UK, Italy, Netherlands, Spain, Russia)

Asia Pacific (Japan, China, India, Malaysia, Indonesia. South Korea)

Latin America (Brazil, Mexico, Argentina)

Middle East & Africa (Saudi Arabia, UAE, Israel, South Africa
To Understand the Scope of this Report : Speak to Analyst
Tobacco and vaping segment held the dominant position in 2022
In 2022, floor and carpet cleaning segment accounted for the largest market share. Most carpets in homes, independent homes, apartments, multi-story buildings, workplaces, retail centres, and public buildings gather stains, dust, filth, and other items over time and carpet cleaning is very time-consuming and tedious work due to which people employ professional cleaning service which is supporting the market growth. In addition, regular cleaning and maintenance of floors and carpets can extend their lifespan and reduce the need for costly replacements which is leading to surge in market demand for contract cleaning services.
In March 2023, the All-In-One Bionic Hard Floor Cleaner F100 was released by Hizero. Hizero F100 effortlessly, quickly, and conveniently sweeps and mops hard floors. It uses water as its primary cleaning agent to remove dust, pet hair, or spilt liquids. It also includes a water flow system that automatically separates all waste, including unclean liquids in one tank, sediments in a trash tray, and hair collected by its brush roller, keeping its polymer roller clean.
The upholstery segment is expected to grow at a substantial CAGR during the forecast period. Dust, pollen, food crumbs, and stains seep deep into the upholstery leading to bacteria which can pose health risks if left uncleaned. To remove these contaminants professional upholstery cleaning services are required which is boosting market growth. Furthermore, upholstery cleaning is important for preserving the appearance and lifespan of furniture. This is particularly important for businesses that rely on well-maintained furniture to create a positive impression on customers and clients. This factor is positively affecting market expansion.
Rehabilitation Centers segment is expected to grow at a high CAGR during the forecast period
The commercial segment held the largest market share in 2022. Many businesses and organizations are opting to outsource their cleaning and maintenance needs, in order to focus on their core competencies. This trend has resulted in a growing demand for contract cleaning services in the commercial segment. For instance, in March 2023, ServiceMaster Clean chose Aspire to supply the commercial cleaning business management system with the technology it needs to support the company's continuing expansion. ServiceMaster Clean with the help of Aspire's comprehensive, user-friendly operating platform aims to enhance operations and business intelligence in order to maximize the development potential of each of its franchises.
Industrial segment is expected to grow at a high CAGR during the forecast period. Industrial environments, such as manufacturing plants and warehouses, require high levels of safety and hygiene to comply with regulatory standards. Contract cleaning services are essential in maintaining a safe and hygienic environment for workers and visitors which is bolstering market growth. Additionally, contract cleaning services can help industrial businesses save costs by reducing the need for in-house cleaning staff and equipment, as well as by minimizing downtime due to cleaning activities which in resulting in increased demand for this service.
North America region accounted for the largest market share in 2022
North America region held the largest market share in the global market in 2022. New technologies, including robotics, automated cleaning equipment, and intelligent sensors are being incorporated into the contract cleaning services sector in this region. Through increased productivity, lower prices, and higher quality cleaning services, these technologies are assisting in these goals. Market expansion is caused by these elements. In order to focus on their core capabilities, many companies and organizations in the region choose to outsource their cleaning and maintenance requirements. Contract cleaning services are in more demand as a result of this trend which is supporting market growth. In January 2023, ServiceMaster Chesapeake (SMC) was sold by Generational Equity to a private investor. SMC provides a range of business cleaning services. includes janitorial services, green & COVID cleaning, & disinfection services.
Asia Pacific region is expected to grow at the fastest CAGR over the forecast period owing to the increasing demand for cleaning services from commercial and industrial sectors. The rising focus on maintaining cleanliness and hygiene in workplaces and public spaces, especially in the wake of the pandemic, is expected to drive the market growth. Additionally, in countries such as China, India, Japan, and Australia due to the increasing number of commercial and industrial establishments and rapid urbanization the contract cleaning services are rising in demand. Additionally, the hospitality industry is a major consumer of contract cleaning services in the Asia Pacific region. As tourism in the region grows, the demand for cleaning services in hotels, resorts, and other hospitality establishments also increases which is boosting market growth.
Competitive Insight
Some of the major players operating in the global market include ABM Industries, Jani-King International, ISS Facility Services, Anago cleaning systems, Bonus building care, Buildingstars, Sodexo Group, Mitie Group, Pritchard Industries, Vanguard Cleaning, Cleannet USA, Coverall, Stanley Steemer International, Cleaning Services & ServiceMaster Company.
Recent Developments
In March 2023, 4M Building Solutions announced that it purchased Capital Services. Commercial office complexes, hospitals, and governmental institutions are among the company's clientele, and it specializes in construction cleaning. This deal will boost 4M's presence in Ohio.

In September 2022, in a Series C fundraising round, Avidbots raised $70 million USD to increase the number of floor-scrubbing robots in its fleet. The business intends to utilize its Series C funding to expand its fleet with the aim of growing its market share in countries like the United States and abroad.
Contract Cleaning Services Market Report Scope
| | |
| --- | --- |
| Report Attributes | Details |
| Market size value in 2023 | USD 363.36 billion |
| Revenue forecast in 20320 | USD 590.26 billion |
| CAGR | 5.5% from 2032 - 2032 |
| Base year | 2022 |
| Historical data | 2019 - 2021 |
| Forecast period | 2023 - 2032 |
| Quantitative units | Revenue in USD billion and CAGR from 2023 to 2032 |
| Segments covered | By Type, By End-use, By Region |
| Regional scope | North America, Europe, Asia Pacific, Latin America; Middle East & Africa |
| Key companies | ABM Industries Incorporated, Jani-King International Inc., ISS Facility Services, Inc., Anago cleaning systems, Bonus building care, Buildingstars, Sodexo Group, Mitie Group plc., Pritchard Industries Inc., Vanguard Cleaning Systems Inc., Cleannet USA, Coverall, Stanley Steemer International Inc., Cleaning Services Group, Inc and The ServiceMaster Company, LLC |