The global contrast media market was valued at USD 2.80 billion in 2020 and is expected to grow at a CAGR of 8.6% during 2021 - 2028. The rise in prevalence of long-term complex long-term diseases with high comorbidities led to an increase in imaging tests. It includes ultrasounds, CT scans, X-rays, and other advanced imaging technologies. The basic role of these tests is to identify the need for surgeries in interventional surgical procedures and pre-operative scans before surgeries also boosted the use of contrast media in imaging tests.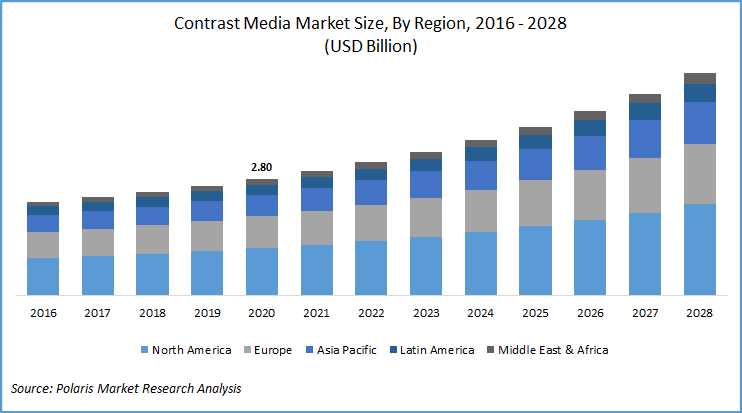 Know more about this report: Request for sample pages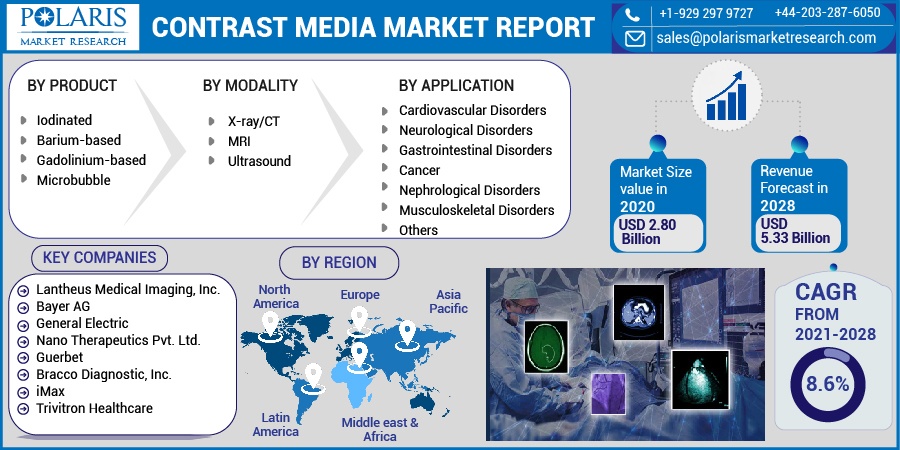 Know more about this report: Request for sample pages
Contrast Media Market Report Scope
The market is primarily segmented on the basis of product, modality, application, and geographic region.
By Product

By Modality

By Application

By Region

Iodinated
Barium-based
Gadolinium-based
Microbubble

Cardiovascular Disorders
Neurological Disorders
Gastrointestinal Disorders
Cancer
Nephrological Disorders
Musculoskeletal Disorders
Others

North America (U.S., Canada)
Europe (France, Germany, UK, Italy, Spain, Netherlands, Austria)
Asia Pacific (Japan, China, India, Malaysia, Indonesia. South Korea)
Latin America (Brazil, Mexico, Argentina)
Middle East & Africa (Saudi Arabia, UAE, Israel, South Africa)
Know more about this report: request for sample pages
Insight by Product
The iodinated media market segment of contrast media industry accounted for the largest market revenue share, in 2020. This high share is attributed to the fact that these kinds of contrast media have excellent radio-opacity and lower toxicity, as compared to other media agents. Mostly, there are iodinated media that are used for radiological examination.
The microbubble market segment is expected to witness a lucrative growth rate over the assessment period. This is attributed to its rising market demand due to its smaller size and can reflect ultrasound waves to a high degree of echogenicity. Moreover, this contrast-enhanced ultrasound is a cheaper alternative to visualize blood flow without the use of any lethal rays. These types of contrast media are mostly useful in patients suffering from kidney disorders.
Insight by Modality
In 2020, the X-ray/CT market segment of contrast media accounted for the largest share. This high share is due to its wide acceptance and cost-efficiency. X-ray-based contrast media primarily comprises iodinated and barium-based contrast agents which are used in diagnostic procedures for numerous long-term chronic diseases and is comparatively less expensive.
MRI market segment of contrast media industry is projected to witness a lucrative market growth rate over the assessment period. During MRI, contrast media reduces relaxation time for the cells within the tissues to modify contrast to produce an image. Gadolinium is the most frequently used contrast media in MRI.
Gadolinium has a 3+ oxidation state, having 7 unpaired electrons, causing the water around to relax quickly, thereby enhancing the quality of the image. This kind of media is extensively used for contrast clearance in between normal and malignant tissues and is administered mostly orally. As a result, the contrast media industry is expected to witness significant market growth.
Geographic Overview
In 2020, North America market for contrast media accounted for a dominant share of the global market. Regional factors contributing to this growth include well-established hospital facilities with equipped diagnostic equipment, patient's awareness regarding an early diagnosis for cancer, rare diseases, and hereditary disorders.
The rising market demand for the diagnostic procedures as it is necessary first step to decide whether to undergo surgery or any kind of medication/treatment. The aforementioned factors are expected to prosper the market growth for contrast media.
Competitive Insight
The prominent players operating in the market for contrast media are Lantheus Medical Imaging, Inc., Bayer AG, General Electric, Nano Therapeutics Pvt. Ltd., Guerbet, Bracco Diagnostic, Inc., iMax, and Trivitron Healthcare. Companies in the market are introducing new contrast agents to diversify their portfolio of offerings. Recently, Bracco Diagnostics, introduced "Gadoteridol" to image neck and head lesions using MRIs. Similarly, previously GE Healthcare introduced "Clariscan" in European region.