The global cork stopper market was valued at USD 2.15 billion in 2022 and is expected to grow at a CAGR of 8.1% during the forecast period. The global demand for cork stoppers is expected to rise during the forecast period due to several factors, including the increasing demand for wine and improved production worldwide. This trend has created significant growth opportunities for cork stoppers manufacturers/players, as premium wineries and cooking oil manufacturers look for sustainable packaging solutions. The growing preference for premium aged and toasted wines is also anticipated to stimulate the sales of cork stoppers globally. Furthermore, rising incomes in key economies have led to higher expenditure and changing consumption patterns, resulting in an increased demand for premium wines and spirits. This trend is expected to drive the demand for cork stoppers in these regions.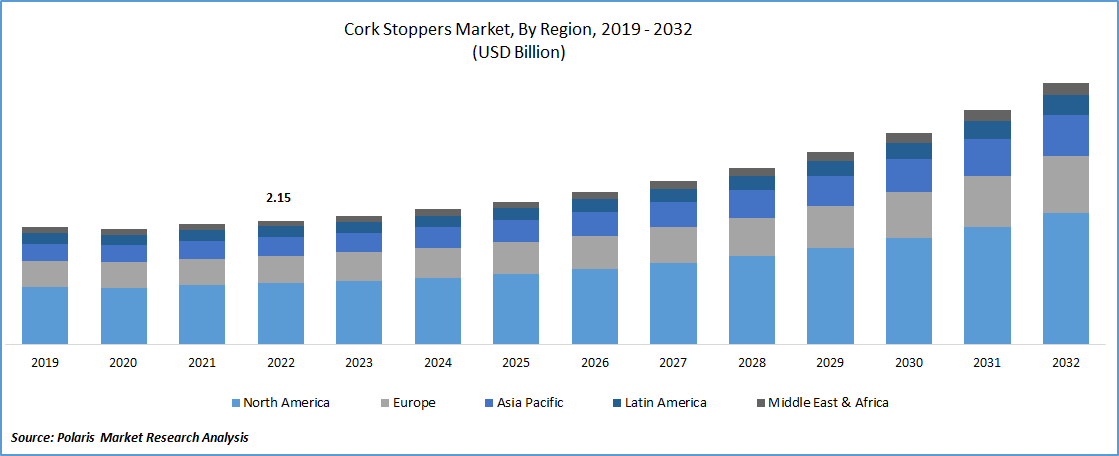 To Understand More About this Research: Request a Free Sample Report
A cork stopper market is a type of closure used to seal bottles, particularly those containing wine and other beverages. Cork stoppers are popular because they are natural, renewable, and biodegradable, and they offer several benefits such as the ability to seal the bottle tightly, allowing the wine or beverage to age properly by allowing a small amount of oxygen to enter the bottle, and they do not taint the contents with any unpleasant odors or flavors.
In April 2022, Labrenta, an Italian closure manufacturer, executed its international supply chain expansion strategy by purchasing Anacorks, a Portuguese company that specializes in the production of cork stoppers for spirits. This acquisition enables Labrenta to have production facilities in Brazil, Mexico, and Italy, as well as a commercial facility in the United States and reinforces its presence in the global market.
The COVID-19 pandemic has had a significant impact on the market, as it has on many other industries. The pandemic has caused disruptions in the supply chain, resulting in delays and shortages of raw materials, transportation, and labor. For instance, in its 2020 Annual Report, Amorim, one of the world's largest cork stopper manufacturers, reported that its sales had been impacted by the pandemic, particularly in the wine and spirits industry. It has also led to changes in consumer behavior, with more people staying at home and consuming wine and other beverages, leading to increased demand for cork stoppers.
On the supply side, the pandemic has affected cork harvesting and production, with some cork forests experiencing reduced productivity due to weather conditions and labor shortages. The pandemic has also led to shipping delays and increased transportation costs, making it more difficult to move cork products around the world. Despite these challenges, the market has remained resilient, as cork remains a popular and sustainable option for wine and beverage producers. Some companies have even seen increased demand for their cork products, as consumers seek out environmentally friendly and natural alternatives to synthetic closures.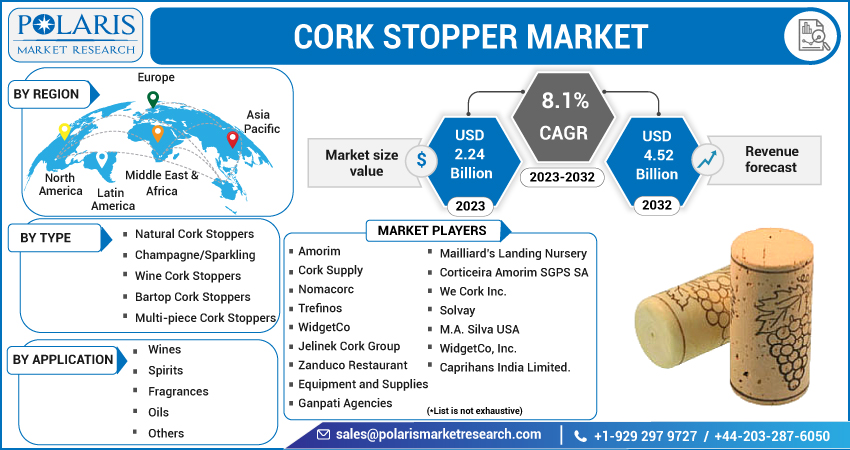 For Specific Research Requirements, Speak With the Research Analyst
Industry Dynamics
Growth Drivers
The consumption of wine has been on the rise globally, particularly in the US, where it has increased from 971 million total wine gallons in 2019 to 1.1 billion total wine gallons in 2021 (wineinstitute.org). This has led to a surge in demand for cork stoppers, as the wine business is the largest consumer of corks. To maintain strong client relationships, cork stopper manufacturers have been launching innovative product designs of corks for a variety of wine bottles. Innovation has been a key driver of growth in the cork-stopper market. Manufacturers have been investing in research and development to improve the quality of cork stoppers and increase their efficiency in sealing bottles.
Report Segmentation
The market is primarily segmented based on type, application, and region.
By Type

By Application

By Region

Natural Cork Stoppers

Champagne/Sparkling Wine Cork Stoppers

Bartop Cork Stoppers

Multi-piece Cork Stoppers

Others

Wines

Spirits

Fragrances

Oils

Others

North America (U.S., Canada)

Europe (France, Germany, UK, Italy, Netherlands, Spain, Russia)

Asia Pacific (Japan, China, India, Malaysia, Indonesia. South Korea)

Latin America (Brazil, Mexico, Argentina)

Middle East & Africa (Saudi Arabia, UAE, Israel, South Africa)
To Understand the Scope of this Report: Speak to Analyst
Natural Cork stoppers segment is expected to witness largest growth during forecast period
The natural cork segment has been dominant in the market, and it is expected to maintain its position in forecast period, due to its ability to provide the ideal aging process for wine. The natural cork's porous nature allows a controlled amount of oxygen to enter the bottle, which helps in the maturation process of the wine. Natural cork also has a unique character that adds to the wine's flavor, making it a preferred choice for many wine producers.
However, the synthetic cork segment has witnessed significant growth in recent years due to the advantages it offers over natural cork. Synthetic corks are produced using advanced technologies, which ensure that they are free from cork taint, a common problem in wine storage that can spoil the wine's taste and aroma. Moreover, synthetic corks have a consistent oxygen transfer rate, which allows winemakers to control the aging process more precisely. They also offer a tight seal, which prevents the wine from spoiling due to exposure to air or bacteria.
Many companies in the wine industry are recognizing the advantages of synthetic corks, and some have started using them instead of natural cork. For example, Treasury Wine Estates, an Australian wine producer, has switched to using synthetic corks for some of its brands due to the lower risk of cork taint and consistent oxygen transfer rate offered by synthetic corks. Vinventions, the parent company of Nomacorc, is also a major player in the synthetic cork market and has developed innovative products that cater to the specific needs of winemakers.
Wines segment accounted for the major market share in 2022
Wines segment holds the largest share of the market, with a major share in 2022. The global wine industry has been expanding steadily, driven by changing consumer preferences and increasing demand from emerging markets. This growth is expected to continue, and it will have a direct impact on the demand for cork stoppers. As more wine producers enter the market and existing producers expand their operations, the demand for cork stoppers is expected to rise. Moreover, there is a growing preference for premium wines, which require high-quality packaging to maintain their taste and aroma. Natural cork stoppers are preferred by many winemakers due to their ability to provide the ideal aging process for wine, and this trend is expected to continue.
The demand in North America is anticipated to witness significant growth during forecast period
North America is the dominant region in the market with a major revenue in 2022. This is due to the high consumption of premium-aged wines and spirits in these regions. Western European countries like Italy, France, and Spain, which account for over 30% of the world's wine production, offer significant opportunities for the cork-stoppers market to expand. Moreover, there has been a growing trend towards sustainability in the wine industry, which has led to an increased demand for natural cork stoppers, which are biodegradable, recyclable, and compostable.
Additionally, the United States has seen a rise in craft distilleries and microbreweries, which also use cork stoppers for their products. This has further boosted the demand for cork stoppers in the region. Companies in the region, such as Cork Supply USA and Portocork America, have been expanding their product lines to cater to the diverse needs of the market, including custom-made cork stoppers for small-batch producers.
The Asia Pacific region is expected to be the most profitable market for cork stoppers, with countries like Australia and China having established markets for aged wines and a high potential for cork stopper sales. Similarly, Latin America and the Middle East & African region are likely to see an increase in demand for cork stoppers due to growing end-use industries.
Competitive Insight
Some of the major players operating in the global market include Amorim, Cork Supply, Nomacorc, Trefinos, WidgetCo, Jelinek Cork Group, Zanduco Restaurant Equipment and Supplies, Ganpati Agencies, Mailliard's Landing Nursery, Corticeira Amorim SGPS, We Cork Inc., Solvay, M.A. Silva USA, WidgetCo, Inc., Caprihans India Limited.
Recent Developments
In July 2022, to strengthen its presence in the wine and spirits sector, Cork Supply acquired French Bouchons Abel & Portuguese Legnokaps for EUR 8 million. This strategic business decision enables Cork Supply to expand its presence in the French still, as well as improve its foothold in other important European countries.

In May 2022, Estal, a company in the beverage industry, launched Corkcoal, a unique stopper made of cork and activated charcoal. This innovative stopper reduces industrial processes and carbon footprint while enhancing organoleptic benefits. Corkcoal shows great potential in the beverage industry.
Cork Stopper Market Report Scope
| | |
| --- | --- |
| Report Attributes | Details |
| Market size value in 2023 | USD 2.24 billion |
| Revenue forecast in 2032 | USD 4.52 billion |
| CAGR | 8.1% from 2023 - 2032 |
| Base year | 2022 |
| Historical data | 2019 - 2021 |
| Forecast period | 2023 - 2032 |
| Quantitative units | Revenue in USD billion and CAGR from 2023 to 2032 |
| Segments covered | By Types, By Application, By Region |
| Regional scope | North America, Europe, Asia Pacific, Latin America; Middle East & Africa |
| Key companies | Amorim, Cork Supply, Nomacorc, Trefinos, WidgetCo, Jelinek Cork Group, Zanduco Restaurant Equipment and Supplies, Ganpati Agencies, Mailliard's Landing Nursery, Corticeira Amorim SGPS SA, We Cork Inc., Solvay, M.A. Silva USA, WidgetCo, Inc., Caprihans India Limited. |