The global crawler tractor market was valued at USD 2,527.1 million in 2018 and is expected to exhibit a CAGR of 5.6% during the forecast period. Increasing demand for modern equipment in multiple markets including agriculture, mining, forestry and construction drives the global market for crawler tractors. Companies working in this industry are conducting rigorous studies to develop and enhance current crawler tractors capabilities and applications. Continuous technology innovation and product launch enables businesses to gain a competitive edge in the sector and increase their revenue. In addition, increasing maintenance and installation operations for infrastructure rebuilding combined with road construction operations drive the need for these devices across multiple areas. Therefore, it is anticipated that an increasing amount of infrastructure projects and fast urbanization will have a beneficial effect on the market for crawler tractors.
In addition, agricultural industry advances have developed demand for contemporary machinery to improve productivity. This is also regarded to be one of the main variables that contribute to crawler tractor market development. However, high costs connected with crawler tractors are likely to restrict market growth during the forecast period, lack of skilled labor to use these large and bulky machines.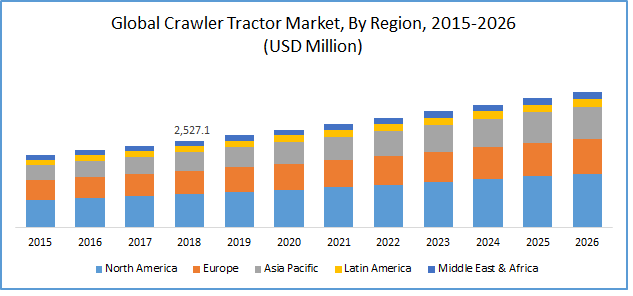 Know more about this report: Request for Sample Pages
For earth movement, ground clearance and demolition, these machines have asserted themselves over the centuries. For far more heavy-duty job than conventional tractors, these machines usually use heavy-duty tracks instead of pneumatic tires, enabling them to distribute their weight far more uniformly across the ground and enabling them to go areas where rubber tires would fail. While running slower than the average tractor, they will be much more stable on uneven floor and are much less probable to sink into soft surfaces owing to the much larger surface area. Bulldozer tracks allow great maneuverability for these enormous machines and enable them to spin on their own axis. To get the work done, the machine depends on its weight and strength and is seen re-shaping and clearing the floor.
The major advantage of these machines of being able to spread its weight over a much larger region than a wheeled tractor. The soil is not compacted by a crawler tractor as much as a wheeled tractor. This is monumental in agriculture where the soil is compacted. This has led to its extensive usage in the agriculture industry, one of the major industry vertical driving the growth of the global market.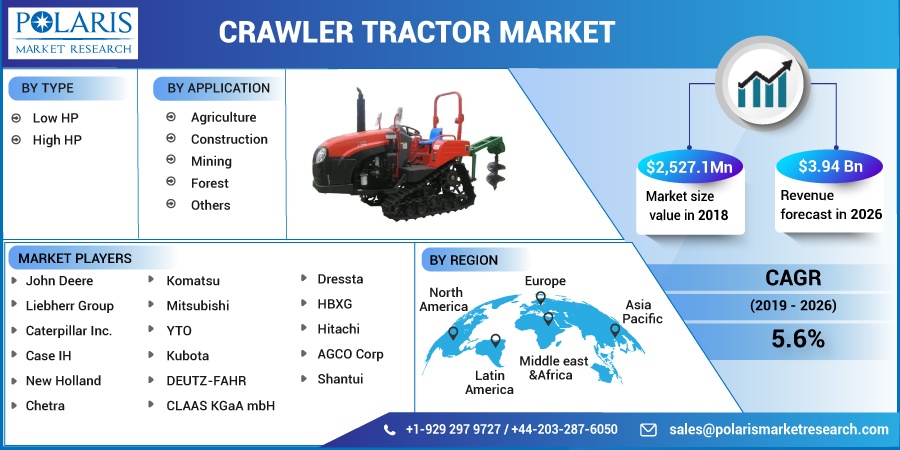 Know more about this report: Request for Sample Pages
Crawler Tractor Market Report Scope
By Type

By Application

By Region Type

Agriculture
Construction
Mining
Forest
Others

North America (U.S., Canada)
Europe (UK, Germany, France, Italy, Russia)
Asia Pacific (India, Japan, China, South Korea)
Latin America (Brazil, Mexico, Colombia)
MEA (Saudi Arabia, South Africa, Israel, UAE)
Know more about this report: Request for Sample Pages
Type Outlook
By type, the market is divided into high-power and low-power tractors. The segment of high horsepower dominated the market by maintaining maximum global market share. Horsepower defines the tractor's ability, and elevated horsepower is the most widely adopted machine kinds to produce desirable outcomes. They involve high ability and longer operating radius based on the work of crawler tractors, which is accomplished by high HP machines, thus being used at a greater rate. The high HP unit sales of these machines are growing based on manufacturers inputs and thus contribute to the greater market size. It is estimated that this segment would develop over the forecast period at a greater CAGR and dominate the market.
Application Outlook
The global crawler tractor market is further segmented on the basis of application and was dominated by construction industry. These tracked tractor has an essential metal blade which is used during building construction to drive a substantial amount of sand, soil, debris, etc. Crawler tractors are generally enormous and robust tracked devices. The tracks provide outstanding ground grip and patchy terrain mobility. They are equipped with a torque divider intended to convert engine energy into increased drag capacity. The bulldozers are able to easily tow heavy tanks and are also used to remove debris, barriers, clear highways, bushes, and trees because of these features. Most crawler tractors are used for heavy earth movement and design. The basic tracking chassis is fitted with a blade or crane attachment. In agriculture too, many tracked cars are used. They are responsible for effective construction projects in areas where a rolling car could not have crossed. This has led to its dominant application in the construction industry.
Regional Outlook
The crawler tractors market was dominated by North American region. The region accounted for the highest market share of the global market in 2018. The significant factor attributed to this large market size is increasing the implementation of sophisticated techniques to make human work easy. Although this region dominates the market, it is expected to have a steady growth in this region. It is anticipated that Europe and the Asia-Pacific region will see a fast development in the industry. Growing infrastructure operations, increasing mining activities in these countries is pushing the market growth. Furthermore, as most Asian nations are driven by agriculture, the growing need for sophisticated machinery in this region's agricultural industry is also increasing demand for these machines, thus promoting market growth for crawler tractors.
Competitive Landscape
The primary industry players include John Deere, Liebherr Group, Caterpillar Inc., Case IH, New Holland, Chetra, Dressta, HBXG, Hitachi, Komatsu, Mitsubishi, YTO, Kubota, DEUTZ-FAHR, CLAAS KGaA mbH, AGCO Corp, Shantui among others. Countries with growth prospects in construction, mining, and agriculture are providing local and multinational companies growth possibilities. Due to this many companies are expanding their footprints in the high growth markets and making their presence in these regions thus achieving a competitive edge.