The global cryo-electron microscopy market was valued at USD 1.16 billion in 2022 and is expected to grow at a CAGR of 11.4% during the forecast period. The cryo-electron microscopy market has experienced significant growth in recent years, driven by the increasing demand for high-resolution imaging of biological molecules. The market is expected to grow rapidly, with increasing research investment and new imaging technologies development.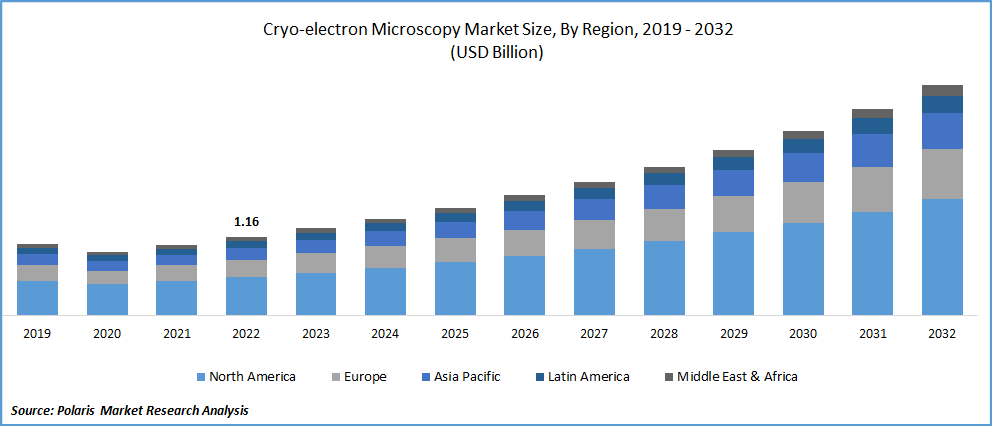 Know more about this report: Request for sample pages
Cryo-electron microscopy is a technique used in structural biology to visualize biological molecules, such as proteins and viruses, at high resolution. The process involves freezing the sample in a thin layer of vitreous ice and then imaging it with an electron microscope. Cryo-electron microscopy has revolutionized the field of structural biology, allowing researchers to obtain detailed 3D structures of complex biological molecules.
The technique has revolutionized the field of structural biology and has become an essential tool for drug discovery, disease research, and protein engineering. Cryo-electron microscopy is particularly useful for studying large and complex molecules, such as proteins and viruses, that cannot be easily analyzed using other imaging techniques.
COVID-19 has disrupted research activities across the globe, leading to delays in research projects and reduced funding for some areas of research. This has had a negative impact on the market, with some research institutions and biotechnology companies cutting back on investments in advanced imaging technologies.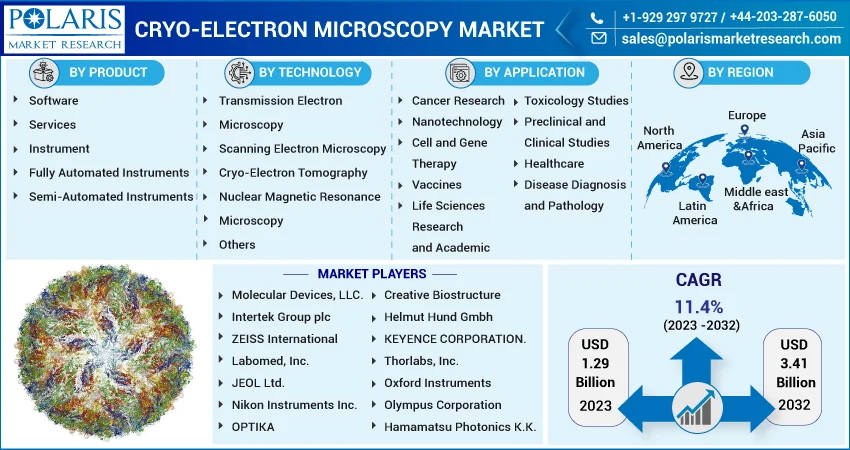 Know more about this report: Request for sample pages
Industry Dynamics
Growth Drivers
Cryo-electron microscopy is becoming increasingly popular due to its high resolution and ability to image large and complex molecules. As a result, there is a growing demand for Cryo-electron microscopy in drug discovery, protein engineering, and disease research. Also, developing new and advanced Cryo-electron microscopy imaging technologies drives market growth as researchers seek more precise and accurate imaging of biological molecules. These advancements include improved electron detectors, software algorithms for image analysis, and sample preparation methods.
In addition, Governments, academic institutions, and biotechnology companies invest in life sciences research, including Cryo-electron microscopy research to develop new treatments and therapies for various diseases. This is driving demand for Cryo-electron microscopy technology and contributing to market growth.
For instance, In September 2021, the University of California, San Francisco (UCSF) opened a new Cryo-EM facility with six new microscopes, making it the largest Cryo-EM facility in the world. The facility will support structural biology, biophysics, and drug discovery research.
However, the increasing prevalence of chronic diseases, such as cancer, Alzheimer's, and cardiovascular diseases, drives demand for advanced imaging technologies like Cryo-electron microscopy. This is because Cryo-electron microscopy can be used to study the structure of disease-causing proteins, leading to a better understanding of the molecular basis of these diseases. This factor drives the growth of the cryo-electron microscopy market.
Report Segmentation
The market is primarily segmented based on product, technology, application, and region.
By Product

By Technology

By Application

By Region

Software

Services

Instrument

Fully Automated Instruments

Semi-Automated Instruments

Transmission Electron Microscopy

Scanning Electron Microscopy

Cryo-Electron Tomography

Nuclear Magnetic Resonance Microscopy

Others

Cancer Research

Nanotechnology

Cell and Gene Therapy

Vaccines

Life Sciences Research and Academic

Toxicology Studies

Preclinical and Clinical Studies

Healthcare

Disease Diagnosis and Pathology

Others

North America (U.S., Canada)

Europe (France, Germany, UK, Italy, Netherlands, Spain, Russia)

Asia Pacific (Japan, China, India, Malaysia, Indonesia, South Korea)

Latin America (Brazil, Mexico, Argentina)

Middle East & Africa (Saudi Arabia, UAE, Israel, South Africa)
Know more about this report: Request for sample pages
The instrument segment accounted for the highest market share in 2022
Instrument segments play a critical role in the Cryo-electron microscopy imaging process and offer benefits and limitations. The choice of instrument depends on the specific application and the desired resolution and throughput. The market for instrument segments is expected to grow as the demand for Cryo-electron microscopy imaging continues to increase in the biotechnology, pharmaceutical, and academic research sectors.
The scanning Electron Microscopy segment holds a significant market share.
The scanning electron microscopy segment holds a significant market share owing to it being preferred for particle size analysis due to its resolution of 10 nm, that is, 100 Å. An SEM scans a focused stream of electrons over a surface to create an image. The electrons in the beam interact with the sample, thereby producing various signals that can be used to obtain information about the surface's topography and composition.
The increasing demand for high-resolution imaging of biological molecules and structures will likely drive growth in the SEMs segment.
North America anticipated dominating the global market over the forecast period.
The market in North America is witnessing significant growth due to various factors, such as rising technological advancements in microscopy, increasing R&D investments, and introduction of new products. As a result, the North American region is expected to dominate the market.
Major players operating in the market in North America are constantly launching new products and expanding their product portfolio to cater to the increasing demand.
Furthermore, growing investments in R&D by the government and private organizations are contributing to the growth of the market in North America. The region is also witnessing microscopy technology advancements, further fueling the market growth. Overall, these factors are expected to continue driving the development of the market in North America in the coming years.
Competitive Insight
Some of the major players operating in the global cryo-electron microscopy market include Molecular Devices, LLC., Intertek Group plc, ZEISS International, Labomed, Inc., JEOL Ltd., Nikon Instruments Inc., OPTIKA, Thermo Fisher Scientific Inc., Creative Biostructure, Helmut Hund Gmbh, KEYENCE CORPORATION., Thorlabs, Inc., Oxford Instruments, Olympus Corporation, Hamamatsu Photonics K.K., Gatan, Inc., Caliber Imaging & Diagnostics, NanoFocus AG, Lasertec Corporation, Leica Microsystems, HORIBA, Ltd.
Recent Developments
In June of 2022, Hitachi High-Tech Corporation introduced the AFM100; this new microscope offers significantly improved sensitivity when measuring physical properties, enabling atomic and molecular scale measurements.

In February 2022, Thermo Fisher Scientific acquired Eikon Therapeutics, a startup focused on developing Cryo-EM technology for drug discovery and structural biology research. This acquisition will strengthen Thermo Fisher's position in the Cryo-EM market.

In December 2021, the European Molecular Biology Laboratory (EMBL) opened a new Cryo-EM facility in Hamburg, Germany. The facility is equipped with state-of-the-art Cryo-EM instruments and will provide researchers with access to advanced imaging technology for biological research.
Cryo-electron Microscopy Market Report Scope
| | |
| --- | --- |
| Report Attributes | Details |
| Market size value in 2023 | USD 1.29 billion |
| Revenue forecast in 2032 | USD 3.41 billion |
| CAGR | 11.4% from 2023 – 2032 |
| Base year | 2022 |
| Historical data | 2019 – 2021 |
| Forecast period | 2023 – 2032 |
| Quantitative units | Revenue in USD billion and CAGR from 2023 to 2032 |
| Segments Covered | By Product, By Technology, By Application, By Region |
| Regional scope | North America, Europe, Asia Pacific, Latin America; Middle East & Africa |
| Key Companies | Molecular Devices, LLC., Intertek Group plc, ZEISS International, Labomed, Inc., JEOL Ltd., Nikon Instruments Inc., OPTIKA, Thermo Fisher Scientific Inc., Creative Biostructure, Helmut Hund Gmbh, KEYENCE CORPORATION., Thorlabs, Inc., Oxford Instruments, Olympus Corporation, Hamamatsu Photonics K.K., Gatan, Inc., Caliber Imaging & Diagnostics, NanoFocus AG, Lasertec Corporation, Leica Microsystems, HORIBA, Ltd |