The global crypto wallet market was valued at USD 6.97 billion in 2021 and is expected to grow at a CAGR of 24.31% during the forecast period.
Crypto wallets exist in various formats, such as hardware and smartphone wallets. Crypto assets are kept on the blockchain system and may only be accessed using crypto wallets utilizing private keys. Because these security tokens serve as evidence of ownership, they must be safeguarded. The enhanced security provided by crypto vaults is projected to drive demand, consequently driving the future market growth.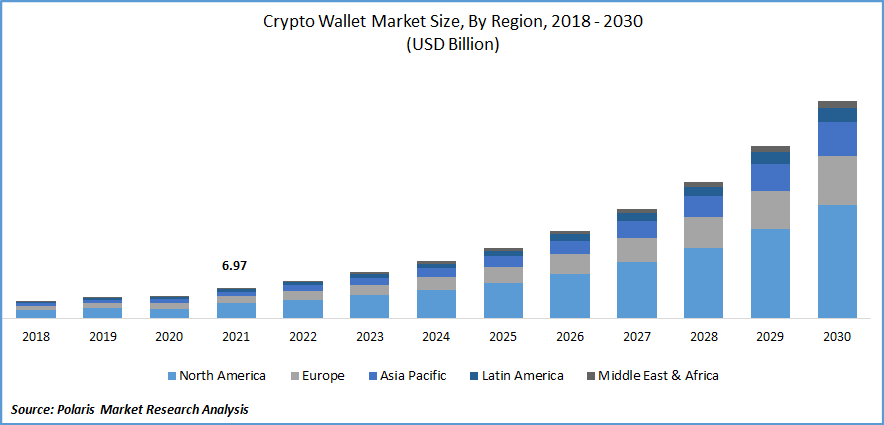 Know more about this report: Request for sample pages
Cryptocurrency wallets presently account for almost 25% of total bitcoin sales. One of the primary advantages of cryptocurrency wallets is that they can securely store users' private keys or passwords that ensure the security and accessibility of their cryptocurrencies, allowing them to transfer and collect virtual currencies such as Ethereum and Bitcoin.
The increased use of cryptocurrency can be ascribed to the rise in crypto wallet usage. The number of crypto wallet users worldwide reached 84.02 million in 2022, up from 76.32 million in 2021. The number of cryptocurrency purchasers is more than before. Companies increasingly offer digital payment options across all channels as more crypto purchasers emerge. Furthermore, rising banking rivalry, growing distrust in banks and financial institutions, and rising money laundering activities are driving the expanding adoption of cryptocurrencies. The growing popularity of crypto money is boosting the popularity of private crypto wallets.
Despite the economic crisis during the COVID, the value of Bitcoin has increased over the last month. Bitcoin is currently worth more than USD 6,000. This rise is unavoidable since China, the largest country handling bitcoin transactions, has hindered workflow due to a severe epidemic in Wuhan, China. Many problems endangered the crypto sector prior to the coronavirus, yet nothing changed the crypto world's expansion. Among the others are hacking, political issues, frauds, economic slump, and government regulations. Although consumers cannot believe that crypto assets would immediately solve the current global crisis, they may serve as viable tools to alleviate the economic turbulence.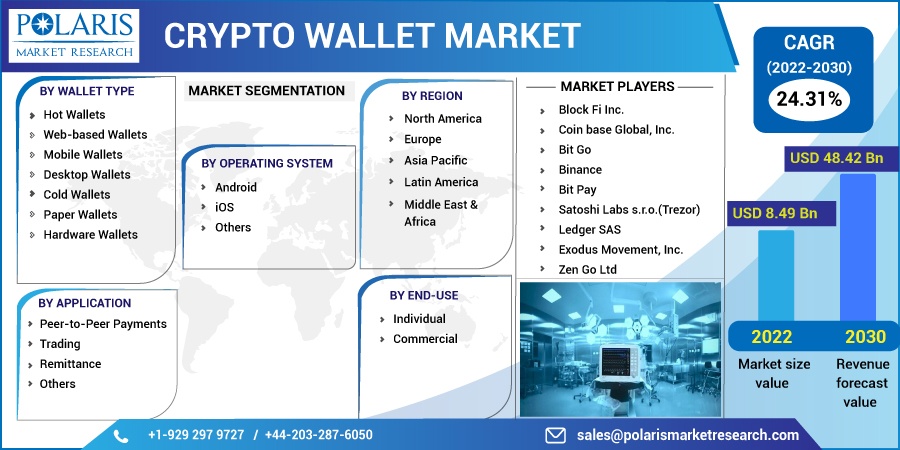 Know more about this report: Request for sample pages
Industry Dynamics
Growth Drivers
Increasing bitcoin use and merchant acceptance of crypto payments might be key distinctions in the increasingly competitive digital payment landscape. As a result of shop adoption, cryptocurrency wallets are progressively gaining customer familiarity. By incorporating crypto wallets, industries' paths will alter since they provide benefits such as current payment methods. By removing monetary restrictions and increasing the value of member data, these wallets enable virtual collaborations with shops. Given consumers' enthusiasm to adopt current technology, merchants may achieve success and get a physical grasp on cryptocurrency.
Crypto wallets with multiple accounts and privacy capabilities would be an exceptionally safe sign-in option. Users must additionally submit an encrypted login ID to guarantee total security. A digital wallet, in addition to the data encryption necessary to digitally validate transactions, maintains a record of the blockchain address where a given item is housed.
Report Segmentation
The market is primarily segmented based on wallet type, operating system application, end-use, and region.
By Wallet Type

By Operating System

By Application

By End-Use

By Region

Hot Wallets

Web-based Wallets
Mobile Wallets
Desktop Wallets

Cold Wallets

Paper Wallets
Hardware Wallets

Peer-to-Peer Payments
Trading
Remittance
Others

North America (U.S., Canada)
Europe (France, Germany, UK, Italy, Netherlands, Spain, Russia)
Asia Pacific (Japan, China, India, Malaysia, Indonesia, South Korea)
Latin America (Brazil, Mexico, Argentina)
Middle East & Africa (Saudi Arabia, UAE, Israel, South Africa)
Know more about this report: Request for sample pages
The hot wallet is the fastest and largest segment in 2021
The hot wallets category led the market in 2021, accounting for more than 50% of total sales. Hot wallets are more user-friendly since they are linked to the internet. Hot wallets are a collection of crypto wallets that include desktop, mobile, and web-based wallets. These wallets are simple to use and can be downloaded to desktop workstations, cell phones, and other devices. They are used to transfer and receive crypto cash and to show users how many tokens are available. Hot wallet use is being driven by greater smartphone and internet penetration, as well as increased knowledge of cryptocurrency. Hot wallets' ease of use and efficiency fuel their popularity among cryptocurrency users.
The cold wallets category is predicted to increase significantly throughout the forecast period. Cold wallets are offline wallets that include paper wallets and hardware wallets. Cold wallets are regarded as a safer or more secure choice for keeping cryptocurrency since they are not connected to the internet.
Android system dominated the market in 2021
In 2021, the android sector led the market, accounting for more than 40% of total sales. Crypto wallets are often built to function on both Android and iOS platforms. Android wallets are often open-source accounts that are easy for consumers to download and access. The increased usage of cryptocurrencies, combined with rising smartphone penetration, is likely to propel the market forward. By 2022, Android phones will account for 70% of all smartphones globally. During the projected period, the increased usage of Android devices is likely to boost the growth of the Android operating system sector.
The iOS category is predicted to increase significantly throughout the projection period. iOS is regarded as a more secure solution than Android systems. Data has just become the most precious commodity. As a result, worries about data privacy have grown over time. Concerns about data security have encouraged the development of solutions that keep users' data safe and restrict the personal information supplied to operating system owners. As of 2022, an estimated 1 billion people globally use iPhones. This is a 5.48% gain over the previous year. Since 2017, the number of active iPhone users has climbed by 22.85%, with the number of iPhones in use increasing by 186 million. The private keys kept on the crypto wallet are more secure on iOS.
Furthermore, iOS crypto wallets provide a secure and dependable method of keeping crypto money. The iOS operating systems' security, accessibility, and ease of use will likely boost the segment's development throughout the projection period.
The remittance application is expected to witness the highest growth
The remittance category is predicted to expand the most throughout the projection period. Consumers across the world are using cryptocurrency to transmit money internationally. Users choose cryptocurrency for remittances because they may be able to avoid some of the hefty fees paid by regular banks and money transfer providers.
Most crucially, several markets have lately seen the introduction of remittance-specific crypto products based mostly on Stablecoins. Because they are linked to a fiat currency, Stablecoins are great for remittances. This removes most of the price volatility while also allowing users to benefit from the speed and cheaper expenses of cryptocurrency.
The demand in North America is expected to witness significant growth
Geographically, North America is predicted to account for the greatest share of the global market due to the region's strong presence of key participants and their new advancements. There are around 22 million users, with 30 to 40% residing in the United States. The crypto wallet industry in the United States is expected to account for more than 70% of the market share in North America by 2030. Another important aspect that will drive growth in the United States is the arrival of new enterprises into the sector of cryptocurrencies.
Europe is the fastest-growing area in the worldwide crypto wallet industry, thanks to increased government backing in the region. For example, the European Union planned to develop a digital wallet in 2021 that would allow its people to make payments across all member states with little friction. It also allows for the storage of digital ID information. The wallet would save passwords, allowing the local government websites with a single digital identity.
Competitive Insight
Some of the major players operating in the global market include Block Fi, Coin base, Bit Go, Binance, Bit Pay, Satoshi Labs, Ledger SAS, Exodus Movement, Zen Go, Crypto.com, and Blockchain.com.
Recent Developments
In 2022, Bit main, a prominent Chinese business, unveiled the first fully functioning water-cooling data centre in North America. The event was hosted, and prominent data mining businesses were invited to utilize hydro cooling technology in their operations.
In 2022, Bitstamp, a Luxembourg-based crypto exchange business, presented the first crypto plus report, a genuine global barometer of cryptocurrency trust and acceptance worldwide.
In 2022, EarlyBird, the platform that makes it easy for parents, relatives, and friends to invest in their children's future, has launched EarlyBird Crypto.
Crypto Wallet Market Report Scope
| | |
| --- | --- |
| Report Attributes | Details |
| Market size value in 2022 | USD 8.49 billion |
| Revenue forecast in 2030 | USD 48.42 billion |
| CAGR | 24.31% from 2022 - 2030 |
| Base year | 2021 |
| Historical data | 2018 - 2020 |
| Forecast period | 2022 - 2030 |
| Quantitative units | Revenue in USD billion and CAGR from 2022 to 2030 |
| Segments covered | By Wallet Type, Operating System, Application, End-Use, By Region |
| Regional scope | North America, Europe, Asia Pacific, Latin America; Middle East & Africa |
| Key companies | Block Fi Inc., Coin base Global, Inc., Bit Go, Binance, Bit Pay, Satoshi Labs s.r.o.(Trezor), Ledger SAS, Exodus Movement, Inc., Zen Go Ltd |