The global curcumin market was valued at USD 66.21 million in 2021 and is expected to grow at a CAGR of 10.0% during the forecast period. The product's natural qualities, such as its anti-cancer, anti-oxidant, and anti-inflammatory characteristics, can be accelerated with this growth. It is becoming more and more popular to use ayurvedic medicine formulations, and this trend is expected to have a big impact on the curcumin market over the coming years.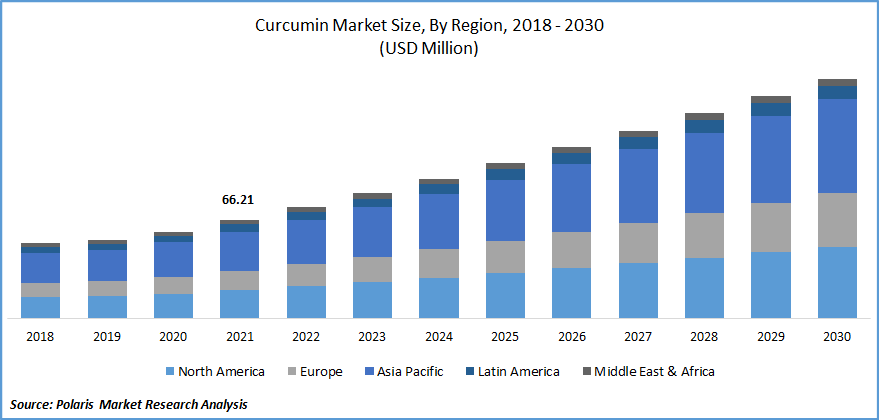 Know more about this report: Request for sample pages
Turmeric, also known as curcumin, is frequently used in cosmetics. Turmeric is a crucial component of many Ayurvedic medications in India. It is used to repair and prevent dry skin, treat eczema and acne, and slow down the aging process. An active component called curcumin is frequently derived from ginger and turmeric.
Due to its therapeutic characteristics, turmeric is frequently used in South East Asian nations' food and pharmaceutical items. When combined with turmeric, natural cleansers like milk can be used as effective natural cosmetics. These cosmetics are meant to achieve flawless skin, stop the development of wrinkles, and lessen their appearance.
Growing public awareness of natural food ingredients will drive curcumin market expansion throughout the forecast period. Due to the health advantages of organic products, consumers are willing to spend higher rates to buy them.
Customers who want to take advantage of all of turmeric's health benefits are in great market demand for organic turmeric. However, consumers believe that natural colors pose less of a health risk than petroleum(coal-tar)-derived synthetics. As a result, producers include them in their goods to gain an advantage.
The COVID-19 pandemic had some impact on the curcumin market. The consumption of curcumin is likely to swiftly reach its pre-COVID level, and the market is estimated to see an exponential growth rate throughout the projection period, in line with the increasing traction for curcumin as a therapy for viral infections around the world.
Due to its antiviral qualities, it is one of the natural substances that has been the subject of much investigation. It also demonstrates a broad spectrum of therapeutic effects, including antibacterial, cardioprotective, anti-inflammatory, and neurological properties.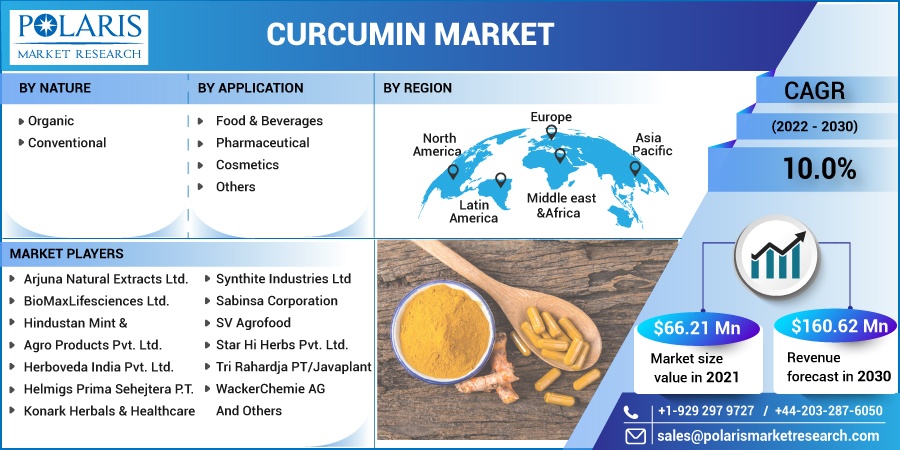 Know more about this report: Request for sample pages
Industry Dynamics
Growth Drivers
People around the world have made health and well-being one of their top priorities. The market demand for organic goods with immune-boosting qualities has dramatically expanded in recent years. Many natural extracts have recently acquired popularity after being found to be effective against a variety of diseases.
Since ancient times, turmeric has been used in numerous medical and cosmetic formulations by many nations, including India, and the product is still in market demand today. Worldwide clinical investigations carried out by research organizations have demonstrated that curcumin possesses antioxidant and anti-inflammatory characteristics, making it appropriate for use in the creation of dietary supplements and cosmetic formulations. As a result, the market demand has greatly increased.
Consumers are increasingly aware of the harmful effects of consuming animal products and the environmental ramifications that follow on a global scale. As a result, customers' nutritional tastes are changing, moving toward vegetarianism and food products made with herbs like turmeric. As a plant-based food, turmeric extracts are ideally suited for creating creative food compositions. This is one of the key elements that is anticipated to further accelerate the growth rate of this market on a global scale.
Report Segmentation
The market is primarily segmented based on application, nature, and region.
By Nature

By Application

By Region

Food & Beverages
Pharmaceutical
Cosmetics
Others

North America (U.S., Canada)
Europe (France, Germany, UK, Italy, Netherlands, Spain, Russia)
Asia Pacific (Japan, China, India, Malaysia, Indonesia. South Korea)
Latin America (Brazil, Mexico, Argentina)
Middle East & Africa (Saudi Arabia, UAE, Israel, South Africa)
Know more about this report: Request for sample pages
Cosmetics Industry segment is expected to witness the fastest growth
The cosmetics application category is anticipated to develop significantly. The product's anti-oxidant, anti-inflammatory, and anti-aging qualities can be largely blamed for its suitability for cosmetic applications. After being exposed to UV radiation, the body produces free radical species, which then interact with fatty acids, protein, and DNA to further irritate the epidermis.
Those free radicals harm the skin as well, resulting in apparent signs of photoaging, such as hyperpigmentation, wrinkles, and a loss of skin firmness. Products with curcumin in them can lessen these effects. As a result, big brands in the beauty and personal care sectors are progressively adding it as an additive. Growing consumer interest in organic products and increasing consumer understanding of the benefits of those products will support curcumin market expansion over the forecast period.
Conventional segment industry accounted for the highest market share in 2021
As conventional goods are readily available and inexpensive when compared to organic goods, conventional farming is the predominant method used in these nations. As a result, the traditional sector will continue to hold a significant amount of the curcumin industry.
Around 80% of the world's production of turmeric is produced in India, which is followed in production by other countries like China, Myanmar, Nigeria, and Bangladesh. Farmers in these nations prefer to use agricultural goods that are readily and inexpensively available because their annual incomes are comparably lower than those of farmers in Europe and North America.
Pharmaceutical segment is expected to hold the significant revenue share
Curcumin has been used as a spice, preservation, fabric color, and in conventional medicine for thousands of years. It is one of the three primary coloring substances taken from the roots of the Asian-grown Curcuma longa plant.
Indian cuisine has employed turmeric for a very long time. Western nations have slowly increased their market demand for the food and beverage business over the past few years as a result of increased knowledge of natural herbs and spices. Curcumin is highly sought after in the Ayurvedic medicine, cosmetics, food ingredient, and natural additives industries because of its antioxidant, or anti-cancer effects.
The demand in North America is expected to witness significant growth
Numerous high-end cosmetics companies are based in North America, and these businesses are moving more and more toward using organic ingredients in their products, which opens up new curcumin market potential.
As customers are becoming more aware of the product's therapeutic characteristics and health advantages, demand for the product has increased in the U.S. over the past several years. The substance is also widely utilized in tissue engineering, and because it is non-toxic, businesses are progressively investing in research to expand its use in the pharmaceutical industry.
Turmeric has been a key component of many different Indian dishes. Although it hasn't been used much later in the food and beverage business, recent research and analysis have increased demand for it as a flavor enhancer and coloring ingredient. Additionally, the market for traditional medicines is continuously growing as consumer knowledge of them rises. During the forecast period, this aspect is anticipated to boost curcumin usage, which will help the market develop.
Asia Pacific is anticipated to have the second-fastest CAGR. This is mostly because fewer people in the area are aware of curcumin's health advantages. Lower consumer awareness, however, presents a fantastic chance for brand owners to inform the public and provide items that meet local needs. The expansion of the regional market is also anticipated to be fueled by the increased market demand for ayurvedic and herbal personal care products that include curcumin.
Turmeric is frequently imported into Europe and converted to curcumin, which is mostly utilized in the cosmetic business. Due to the presence of major cosmetic businesses' manufacturing facilities in Europe, which serves as a worldwide hub for the industry, demand for cosmetics is always rising. The fast growth of the food and beverage sector in Europe offers turmeric processors the chance to introduce cutting-edge goods into the market.
Competitive Insight
Some of the major players operating in the global market include Arjuna Natural Extracts, BioMaxLifesciences Ltd., Hindustan Mint, Herboveda, Helmigs Prima, Konark Herbals, Rosun Natural Products., Synthite Industries, Sabinsa Corp, SV Agrofood, Star Hi Herbs Limited, Tri Rahardja, and WackerChemie AG.
Recent Developments
In July 2021, Vieroots Wellness Solutions has announced the launch of a novel product including Curcumin 95 and Medium-chain triglycerides (MCT) Oil. A potent yet safe combination of MCT Oil and 95% pure curcumin has been created to attack the underlying causes of lifestyle disorders such as obesity, diabetes, hypertensive, cardiovascular diseases, malignancies, etc.
In September 2021, OmniActive Health Technologies has introduced Curcuwin Ultra+, the newest supplement to its line of branded, highly nutritious curcumin. In addition to providing effectiveness at a low dose, synthesis flexibility, and outstanding organoleptic characteristics enabling for integration into challenging applications such as supplements and beverages, Curcuwin Ultra+ is a natural alternative to assist joint and overall health benefits for on-the-go lifestyle habits.
Curcumin Market Report Scope
| | |
| --- | --- |
| Report Attributes | Details |
| Market size value in 2021 | USD 66.21 million |
| Revenue forecast in 2030 | USD 160.62 million |
| CAGR | 10.0% from 2022 - 2030 |
| Base year | 2021 |
| Historical data | 2018 - 2020 |
| Forecast period | 2022 - 2030 |
| Quantitative units | Revenue in USD million and CAGR from 2022 to 2030 |
| Segments covered | By Organic, By Application, By Region |
| Regional scope | North America, Europe, Asia Pacific, Latin America; Middle East & Africa |
| Key companies | Arjuna Natural Extracts Ltd., BioMaxLifesciences Ltd., Hindustan Mint & Agro Products Pvt. Ltd., Herboveda India Pvt. Ltd., Helmigs Prima Sehejtera P.T., Konark Herbals & Healthcare, Rosun Natural Products Pvt. Ltd., Synthite Industries Ltd, Sabinsa Corporation, SV Agrofood, Star Hi Herbs Pvt. Ltd., Tri Rahardja PT/Javaplant, and WackerChemie AG |