The global dairy enzymes market was valued at USD 595.9 million in 2019 and is expected to grow at a CAGR of 7.25% during the forecast period. The market growth is attributed towards the expanding consumption of milk products, shift of consumers towards plant based dairy alternatives, and increasing demand for lactose-free and low-lactose containing milk products. Also, several major environmental benefits related to the use of enzymes in dairy industry also contributes to the market growth.
Some of the key benefits associated with dairy enzymes includes, reduction in whey bitterness, enhanced freshness and superior flavor and texture formation. These primary benefits of dairy enzymes encourage the milk products manufacturers to proactively boost the production and deployment of dairy enzymes in a variety of milk-based food products such as cheese, yoghurt, etc.
During COVID-19 pandemic, many small-scale manufacturers of dairy enzymes has been very badly impacted as reliance on out-of-home channels are difficult for the people owing to lockdown in many countries. However, there has seen a significant shift in consumer behavior which has opened up a new opportunity for mid-scale and large-scale manufacturers to widen their product sales over the course of the third-quarter of 2020.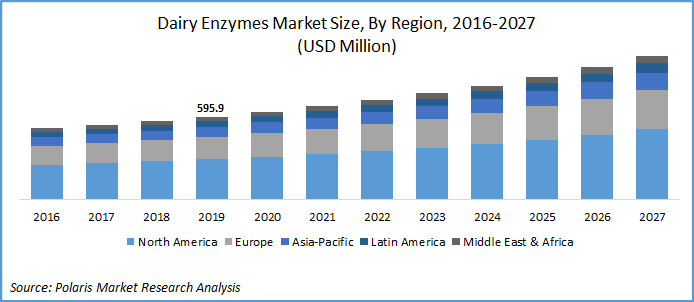 Know more about this report: request for sample pages
Industry Dynamics
Growth Drivers
The rise in overall consumption of milk-based products globally has boosted the market growth. This is mainly due to the increase in awareness among the people related to the major benefits of consuming the milk products such as strong bones, improvement in memory recall capacity, etc. The launch of novel varieties of milk products being used by the consumers that have several requirements is also expected to contribute to market growth. Actually, the increasing health awareness among the people worldwide has led to the greater consumption of high protein containing milk products such as cheese and cottage cheese (paneer). This has led to the greater use of key protein rich products including, natural whey protein.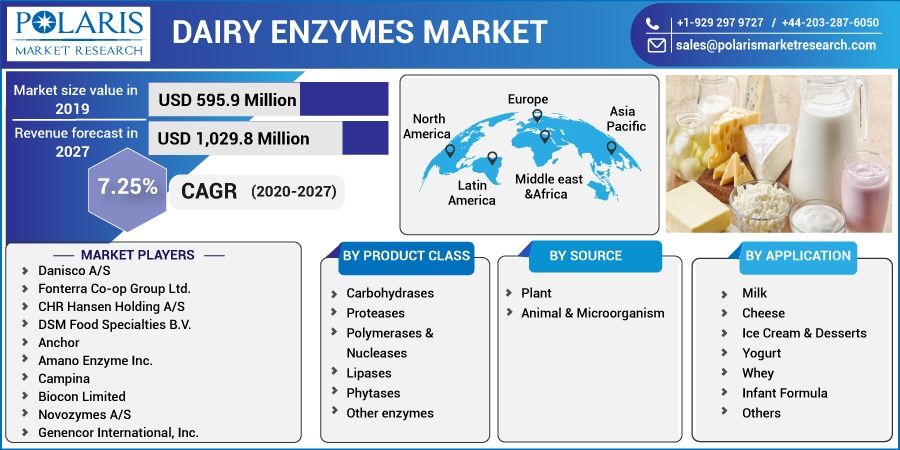 Know more about this report: request for sample pages
Further, the growing prevalence of milk allergy and lactose intolerance also drives the adoption of milk-based milk products among global population. The dairy enzymes are being deployed to create low lactose-based products. Such a development helps people having mild to low lactose intolerance easily consume and enjoy the milk products. Since, the incidence of intolerance for lactose is increasing among the people globally, therefore people are proactively adopting such low to mild lactose based milk products.
Challenges
Rise in prevalence of food allergies to various milk products in people, especially milk and stringent regulations to usage of enzyme in various food products is expected to hamper the growth of the market.
Dairy Enzymes Market Report Scope
The market is primarily segmented on the basis of product class, source, application and and geographic region.
By Product Class

By Source

By Application

By Region

Carbohydrases
Proteases
Polymerases & Nucleases
Lipases
Phytases
Other enzymes

Plant
Animal & Microorganism

Milk
Cheese
Ice Cream & Desserts
Yogurt
Whey
Infant Formula
Others

North America (U.S., Canada)
Europe (France, Germany, UK, Italy, Spain, Netherlands, Austria)
Asia Pacific (Japan, China, India, South Korea, Indonesia, Australia)
Latin America (Brazil, Mexico, Argentina)
MEA (Saudi Arabia, UAE, Israel, South Africa)
Know more about this report: request for sample pages
Insight by Product Class
Based upon product class, the market is categorized into Carbohydrases, Proteases, Polymerases & Nucleases, Lipases, Phytases and Other enzymes. Carbohydrases is expected to hold the highest share in global industry in 2019, owing to various benefits of its ingredients such as amylase that offers simpler optimization & modification processes, high cost effectiveness, and minimal time consumption that supports its industry dominance.
Proteases perform various degradative and synthetic functions and are found in animals, microbes, and plants. Bacillus Species is the most commonly exploited microbe for generation of proteases. Protease is considered to be an alternative option to the chemicals that do not do any damage to the environment. Further, the scientists and biotechnology researchers are proactively identifying microbial proteases since these are capable of tolerating harsh environments, substrate specificity, stability in optimum pH, and techniques for preventing autoproteolytic activity.
Insight by Source
The animal & microorganism segment is expected to hold a majority share of the global market in 2019. Animal & microorganism is the highly common source of dairy enzymes that is being preferred by the manufacturers primarily due to the simplicity of the extraction process. Moreover, extensive research to be performed on the microorganisms is simpler to perform and highly cost-effective when compared with the plant-sourced dairy enzymes. In addition, the plant-sourced dairy enzymes are being utilized by a majority of the cheese producers because it expedites the overall curdling process. These plant-based enzymes are extracted from melons, safflowers, fig leaves, or wild artichokes.
Insight by Application
Cheese application segment is expected to be the fastest growing segment in the global dairy enzymes market in 2019. People in the North American region comprising of the United States and Canada have high preference for cheese in milk products rather than any other milk-based item primarily due to several key benefits of cheese such as high protein content, substantial cheese production and availability. Additionally, Cheese is also the primary dairy product being consumed across the European region. High preference for cheese over other milk products is again the key reason for substantial consumption of cheese in Europe.
Geographic Overview
Geographically, North America is the largest revenue contributor and holds the major market share. The growth in North American market is primarily attributed to high level of awareness among the people related to the healthy diet and regarding dietary supplements as well. Moreover, there's also notable demand for the dairy enzymes among the people demanding for highly-specific food products.
In addition, the presence of key industry players in the U.S., robust awareness regarding dietary supplements, and substantial demand for the dairy enzymes from animal feed industry is also expected to propel the North American market growth. Also, the strong distribution channel is further augmenting the market growth in the North American region. For instance, according to the Institute of Food Technologists (IFT), April 2020 report, in 2019, approximately 77% of the adults in the U.S. used dietary supplements, which is considered to be an all-time high. Also, the supplement sales in the U.S. is estimated to have reached nearly $49.3 billion in 2019, up 6.2% compared to last year. Hence, substantial awareness regarding dietary supplements is expected to encourage the adoption of milk supplements across the North American region thereby contributing to the regional market growth.
Europe comprising of key countries such as the United Kingdom, Germany, France, Italy, Denmark and Netherlands is expected to contribute second highest market share just after North America in 2019. The abolition of milk quotas across the European Union is estimated to be one of the major factors driving the European market growth and, there's huge consumption of cheese in the developed countries across Europe that in turn propels the market. Furthermore, there's rising consumer inclination towards adopting low to medium lactose milk products which is also expected to contribute to the industry growth in Europe.
Competitive Insight
Key players operating in the market are primarily focusing on product innovation, development and strategic acquisitions in order to strengthen their capabilities for research and development of new products. These key strategies enable the companies to strengthen their position while also boosting their geographical presence.
Some of the key players operating in the dairy enzymes market comprises of Danisco A/S, Fonterra Co-op Group Ltd., CHR Hansen Holding A/S, DSM Food Specialties B.V., Anchor, Amano Enzyme Inc., Campina, Biocon Limited, Novozymes A/S and Genencor International, Inc.