The global data fabric market was valued at USD 1.12 billion in 2021 and is expected to grow at a CAGR of 26.4% during the forecast period. Data fabric is a combined data management platform that seamlessly integrates real-time and historical information effectively. It is a software-enabled method for connecting significant storage funds with information management.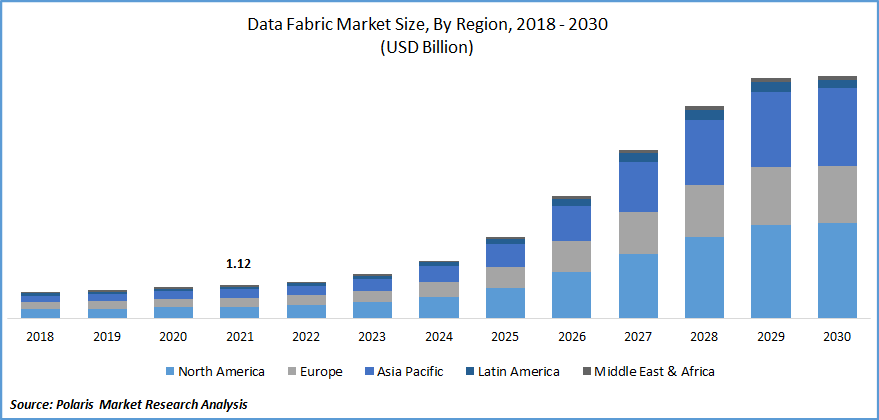 Know more about this report: Request for sample pages
The rapid advances in structured and unstructured company information across a variety of industries are expected to be a key driver of the data fabric market during the forecast period. The implementation of data fabric solutions in different industries such as retail and e-commerce, telecommunications and banking, medical services, and BFSI, as well as the increasing demands for real-time running data analysis, are primarily driving the market. Customers' lack of concern is likely to dominate the data fabric market in the coming years.
Further, the implementation of software-based technologies is expected to expand the data fabric market's potential over the projected timeframe. Big Data Fabrics are expected to simplify and remote the analysis techniques, yielding valuable insights from the massive volume of data.
In March 2022, Vyasa, the largest supplier of massively scalable deep learning A.I. analytics software for health care services, biosciences, and enterprise applications, released Cortex. Cortex, an insightful information management tool, serves as the data fabric's "blueprint," enabling users to construct, manage, and require access to information sources connected to Vyasa Layar data fabrics.
Data generation has surged due to the rise of internet platforms and the digital revolution. The companies retain the information and expertise obtained from diverse distant sources. Therefore, providing quick access to the data over vast terrains creates some challenges for providers of data management. Businesses are more likely to adopt data fabric because of the dispersion and variety of their business data assets, which raises the complexity of data management and data integration.
The COVID-19 pandemic has had a negative impact on industries around the world. BFSI, retail, industrial production, health - care, and skills training are all facing significant challenges as a result of disruptions in the supply chain, processing facilities, limited in-house staff potential, and delayed customer support. As a result, there is a significant shift in working solutions and digitalization remotely in the face of pandemic crises. Businesses have been driven by the COVID-19 epidemic to look for advanced solutions to recover and to focus on the urgent market demand for access to enough data in emergencies.
Corporate leaders struggle to make decisions that are fully informed due to disparate data stores. Ernst & Young (EY) created the Business Resiliency Data Fabric, an advanced data architecture strategy that enables access to data wherever it resides. While fostering quick technological progress, data fabric also increases data entropy.
Doctors have begun to provide telehealth, aided by elastomeric regulation. These strategies have emerged as the quantity, and types of business data have increased, as has the necessity for internet connectivity, enhanced business, and growing preference for real-time streaming analytics, all of which have contributed to the development of the data fabric market.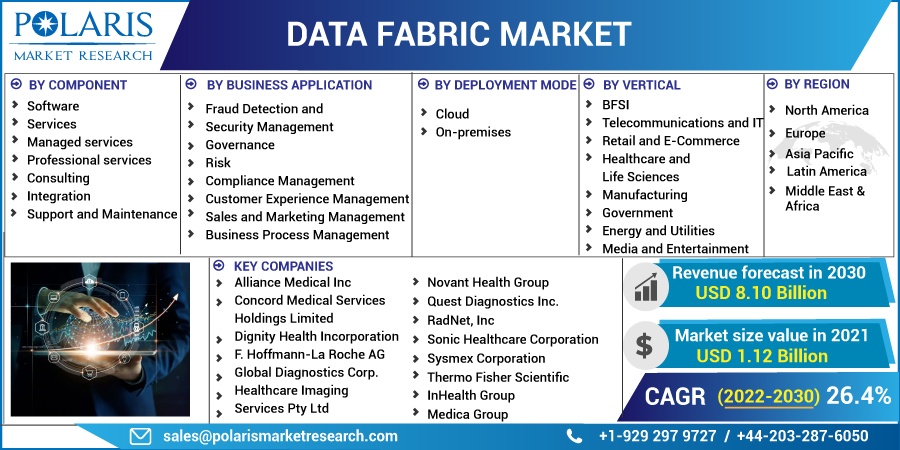 Know more about this report: Request for sample pages
Industry Dynamics
Growth Drivers
Rising market demand for data access and organizational agility is anticipated to fuel market revenue growth. Organizations are utilizing big data solutions that organize data and provide quick access to it. Due to the functionality of big data platforms, which are quickly creating new opportunities for organizations, the market demand for data accessibility will have moved from the installation of big data solutions to fast data accessibility designs, including data fabric.
Due to its comprehensive approach to handling data in a secure, efficient, and future-proof manner, data fabric is becoming more and more popular. High organizational agility and data accessibility are made possible as a result, which is accelerating data fabric market revenue growth.
Report Segmentation
The market is primarily segmented based on component, business application, deployment mode, vertical, and region.
By Component

By Business Application

By Deployment Mode

By Vertical

By Region

Software
Services

Managed services
Professional services

Consulting
Integration
Support and Maintenance

Fraud Detection and Security Management
Governance
Risk
Compliance Management
Customer Experience Management
Sales and Marketing Management
Business Process Management
Other Applications

Supply Chain Management
Asset Management
Workforce Management

BFSI
Telecommunications and IT
Retail and E-Commerce
Healthcare and Life Sciences
Manufacturing
Government
Energy and Utilities
Media and Entertainment
Other Verticals

North America (U.S., Canada)
Europe (France, Germany, UK, Italy, Netherlands, Spain, Russia)
Asia Pacific (Japan, China, India, Malaysia, Indonesi, South Korea)
Latin America (Brazil, Mexico, Argentina)
Middle East & Africa (Saudi Arabia, UAE, Israel, South Africa)
Know more about this report: Request for sample pages
Fraud Detection and Security segment is expected to witness the fastest market growth
One of the driving factors of a cybersecurity ecosystem is a business data fabric that is strong. Data fabric improves corporate process efficiency while enhancing data protection with appropriate defensive measures. Big Data solutions can examine claims and transactions in real-time while also spotting unusual user behavior and large-scale patterns across several transactions.
Data governance attempts to guarantee that individuals are compliant with data privacy regulations and have a clear understanding of the data that is present, where it lives, and what it may be used for. In August 2022, Zilliz revealed significant contributions to the Milvus 2.1 release. Milvus is among the most advanced vector database systems in the world, capable of handling massive amounts, including data from multiple sources, of facilitating the advancement of next-generation information fabric.
BFSI sector is expected to hold the significant revenue share
The BFSI segment had the highest market share. The exchange of user information with an understanding to enhance the customer experience, spur innovation, and boost efficiency is encouraged by many state statutes. Open banking's solution, data fabric, makes it simpler for businesses to manage data. Data is securely maintained, kept, and accessible in a consistent manner.
By using data fabric technologies for ongoing innovation and improvements, banks can use machine learning (ML) and artificial intelligence (AI) to create new business models and improve the customer experience. This technology can be used by businesses to comply with open banking standards and regulations. The need for traditional core banking systems to support open banking APIs will be reduced.
Such reasons are predicted to accelerate the adoption of data fabric technology among businesses operating in the BFSI sector. These technologies have the power to completely change the way business is conducted. The enormous collections of structured and unstructured data can be analyzed successfully by big data platforms. One of the largest sectors investing heavily in big data and analytics technology is the BFSI sector.
The demand in North America is expected to witness significant growth
Due to the large number of companies offering data management solutions in the U.S., North America holds a disproportionately big part of the global market for data fabrics. The area is regarded as one of the forerunners in the adoption of cutting-edge technologies. The main market drivers in the United States are the rise in unstructured data collection and the country's dominance of data centers.
Due to the use of cloud and IoT, forthcoming mobile business intelligence, and domain-specific solutions, market demand is rising in the Middle East and African markets. Similar to this, the South American market is expanding as a result of businesses of all sizes quickly adopting analytical solutions, a strong focus on automation and fraud protection across industries, and rising market demand for Software-as-a-Service (SaaS).
Big data technologies are developing incredibly quickly in Europe, opening up opportunities for the adoption of data management systems. Daily amounts of data are being produced by social and economic activities as a result of the expanding usage of electronic devices and networks, improvements in information and communication technology, and the digitization of production processes. Among the major nations in Europe are the United Kingdom, Germany, France, Russia, the Nordic nations, and Italy.
During the forecast timeframe, Asia Pacific is anticipated to have the quickest growth rate. Some of the elements that can encourage the adoption of the solution in the Asia Pacific include an increase in data centers and a quickening shift toward digitization. In terms of the adoption of data centers, China is the second-largest nation in the world, behind the United States.
According to the report, the big data sector in China is expected to continue to show stable growth in the years to come. Furthermore, the region's increasing implementation of technology boosts market growth. India, Australia, and South Korea are among the major Apac region that is technologically advanced and offers excellent investment and revenue possibilities. This is the primary motivator for APAC to implement Data fabric software.
Competitive Insight
Some of the major players operating in the global market include CluedIn Inc., Cinchy Solution Inc., Dell Technologies Corp., Denodo Technologies, HP Enterprise, Hewlett Packard Enterprise Company, HEXstream, IBM Corporation, Informatica Corporation, Idera Incorporation, NetApp, Nexla, Oracle Corporation, TIBCO Software, Teradata Corporation, and VMware, Inc.
Recent Developments
In July 2021, Teradata revealed a Teradata QueryGrid upgrade. With additional cloud-native features, it expanded Vantage's hybrid multi-cloud capacity and gave Teradata clients access to data and analysis across heterogeneous devices and public cloud providers. With new cloud-native features, it enables clients to access data and analytics spanning heterogeneous devices and public cloud providers.
In December 2021, SAP released a new version of SAP Data Intelligence. The update has features including deployment and delivery, metadata and governance, pipeline modeling, connectivity and integration, and intelligent processing. The SAP Data Intelligence platform is available in an on-premises edition.
In October 2021, To provide a hybrid multi-cloud data management tool, NetApp Inc. launched ONTAP data management software. It provides high-performance storage and facilitates public cloud integration.
Data Fabric Market Report Scope
| | |
| --- | --- |
| Report Attributes | Details |
| Market size value in 2022 | USD 1.24 billion |
| Revenue forecast in 2030 | USD 8.10 billion |
| CAGR | 26.4% from 2022 - 2030 |
| Base year | 2021 |
| Historical data | 2018 - 2020 |
| Forecast period | 2022 - 2030 |
| Quantitative units | Revenue in USD billion and CAGR from 2022 to 2030 |
| Segments Covered | By Component, By Business Application, By Deployment Mode, By Vertical, By Region |
| Regional scope | North America, Europe, Asia Pacific, Latin America; Middle East & Africa |
| Key Companies | CluedIn Inc., Cinchy Solution Inc., Dell Technologies Corp., Denodo Technologies, HP Enterprise, Hewlett Packard Enterprise Company, HEXstream, IBM Corporation, Informatica Corporation, Idera Incorporation, NetApp, Nexla, Oracle Corporation, TIBCO Software, Teradata Corporation, and VMware, Inc. |