The global dendritic cell cancer vaccine market was valued at USD 596.65 million in 2022 and is expected to grow at a CAGR of 11.9% during the forecast period.
The market is projected to grow at a proliferative rate due to factors such as increased clinical trial activity for cancer vaccines, rising demand for mRNA-based vaccines, & research on cancer biomarkers. The increased need for effective and tailored therapies is driving the market forward. An increase in the number of cancer patients, higher government support for the development of cancer vaccines, and advances in vaccination technology are propelling market expansion.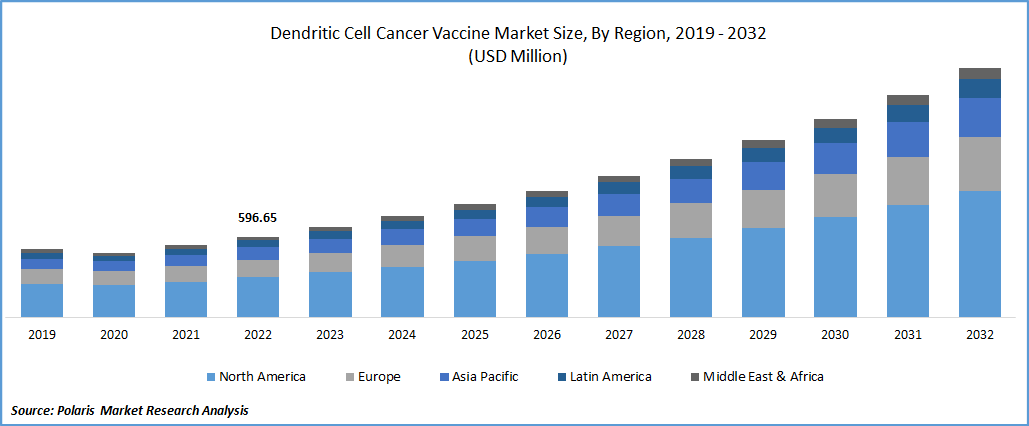 Know more about this report: Request for sample pages
According to an exploration issued, in December 2020, by the International Agency for Research on Cancer, 1 in 5 people worldwide will get cancer in their continuance, and 1 in 8 men and 1 in 11 women will die from cancer. According to the same source, there would be 10.3 Mn losses and 19.3 Mn new cases of the illness in 2020. One of the most significant issues in the face of this growing burden is the prevention of cancer. Vaccines, as biological response modifiers, are critical for immune system maintenance.
Dendritic cell vaccines are the most effective antigen-presenting cells for the efficient proliferation of T-cells among all currently existing immunotherapy techniques. The treatment's specificity has expanded its range of uses, and it is also gaining worldwide popularity. Therefore, numerous firms are working together to launch a new product. For example, in March 2022, BioNTech inked a partnership agreement with Medigene under which Medigene got USD 29 million as upfront research money for the co-development of immunotherapies targeting different forms of carcinoma. Furthermore, BioNTech will successfully purchase a preclinical asset using Medigene's discovery platform.
Immunotherapy with dendritic cells has considerable potential for treating minimum residual disease (MRD), and numerous trials have given excellent outcomes with no symptoms of tumor growth recurrence. For example, in May 2022, AML-VACCiN consortium researchers clinically produced DCP-001, a dendritic cell vaccine, to vaccinate patients with acute myeloid leukemia in order to eliminate MRD and effectively lower the chance of relapse. After solid findings from trial phases I and II, the vaccine candidate is recognized as an orphan medicinal product in the EU.
Current conventional therapies include radiation therapy, chemotherapy, and surgery. These techniques, on the other hand, may pose risks and have negative consequences. Varied forms of cancer have different origins and processes, offering unique hurdles for researchers attempting to develop a wide variety of treatment regimens. These cells are inherently adaptable. As a result, they may be personalized to the disease being studied; for example, a vaccine can be designed depending on the kind of tumor and antibodies associated with it. This vaccine may be expressed to target a variety of cancers, making it helpful for a wide range of applications.
Numerous clinical studies are being conducted to probe dendritic cell cancer vaccines, which have the eventuality to profit a large number of individualities; presently, developing innovative cancer vaccines requires a harmonious force of dendritic cells. Dendritic cell cancer vaccinations that have been genetically finagled are more important instruments for directing intractable cancer curatives similar to brain cancer treatments.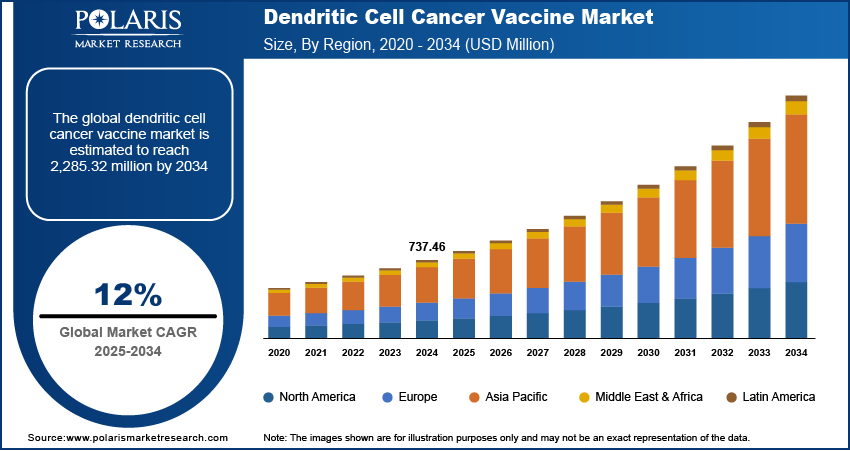 Know more about this report: Request for sample pages
Industry Dynamics
Growth Drivers
The market is growing due to an increase in cancer occurrence and advancements in technology, such as cancer medicine inventions. A rise in cancer awareness and accessible therapies in the market, as well as an increase in healthcare spending, are likely to give chances for market expansion. Currently, creating novel cancer vaccines need a steady supply of dendritic cells. Dendritic cell cancer vaccines that have been genetically modified are more potent tools for directing difficult cancer therapies like brain cancer therapy. The increased global frequency of cancer will propel the commercial success of novel dendritic cell vaccines. Furthermore, in Japan in 2018, over 1 million new cancer cases are expected, driving the country's dendritic cell cancer vaccine market.
Researchers, physicians, and market players are expected to benefit from increased new research centers, an understanding of the biological mechanisms of the human immune system and cancer, and the development of enhanced procedures. Furthermore, the growing frequency of cancer cases, higher income for healthcare sectors, and increased knowledge of dendritic cell cancer vaccine immunotherapy are all contributing to market expansion. With its intriguing and new spectrum of methodologies, dendritic cell vaccine immunotherapy has transformed the industry.
Report Segmentation
The market is primarily segmented based on products, end-use and region.
By Product

By End-Use

By Region

CreaVax
Sipuleucel-T
Others

North America (U.S., Canada)
Europe (France, Germany, UK, Italy, Netherlands, Spain, Russia)
Asia Pacific (Japan, China, India, Malaysia, Indonesia. South Korea)
Latin America (Brazil, Mexico, Argentina)
Middle East & Africa (Saudi Arabia, UAE, Israel, South Africa)
Know more about this report: Request for sample pages
Sipuleucel-T emerged as the largest product segment in 2022
In 2022, the Sipuleucel-T sector retained the highest market share in 2022. Sipuleucel-potential T's to successfully boost an individual's immunity against tumor cells is increasing its market demand. The vaccine was licensed by the US Food and Drug Administration in 2010 for the treatment of castrate-resistant prostate cancer. Many studies have found that utilizing Sipuleucel-T increases immunity, has few negative effects, and increases a survivor's longevity. Dendreon Pharmaceuticals, for example, announced the release of a study in October 2020 that assessed the real-world survival outcomes in men with metastatic castrate-resistant prostate malignancy treated with Sipuleucel-T and other associated oral medicines.
CreaVax is created by sensitizing peripheral blood mononuclear cells with disease-specific antigens and then differentiating them into dendritic cells from a patient's peripheral blood mononuclear cells. Following the autologous dendritic cancer cell injection, the equipped these cells go to the regional lymph nodes to change their immune responses such as the development of cancer-specific cytotoxic T lymphocytes to eliminate tumor cells.
During the predicted period, the CreaVax is expected to increase dramatically. It is an autologous cancer vaccine that is made from the patient's peripheral blood mononuclear cells (PBMC) and sensitized with tumor lysate & KLH before growing into dendritic cells. Creavax is a renal cell carcinoma therapeutic vaccine developed by the Creagene. CreaVax is now being studied in a Phase III clinical study for its potential use in the treatment of hepatocellular cancer.
The adults segment dominated the market in 2022
In 2022, due to the increased prevalence of malignancies worldwide, the adult vaccinations category retained the largest market share. Furthermore, numerous researchers throughout the world are conducting considerable study to generate viable vaccine candidates in order to accomplish possible treatment techniques. For example, in March 2022, Northwest Biotherapeutics, started production of its 1st cancer vaccine at its production facility in UK, using medicinal products for treating glioblastoma cases.
During the projection period, the pediatric vaccination sector is expected to develop considerably. Dendritic cell cancer vaccines are utilized to enhance an individual's immune system from a young age in order to reduce the possibility of tumour genesis and progression.
North America led the industry growth in 2022.
In 2022, North America will lead the global market. The region's dendritic cell cancer vaccine market is expanding due to an exceptional increase in cancer cases and substantial research studies financed by university research institutes and pharmaceutical behemoths. For example, researchers at the Memorial Sloan Kettering Cancer Center in the United States have been studying mRNA vaccine technology and will discuss results from a phase-1 trial at the American Society of Clinical Oncology's annual conference. It is well known that mRNA vaccines drive dendritic cells to produce neo-antigen proteins against cancerous cells.
Europe is expected to have considerable market expansion in the future years. This is due to rising demand for cancer vaccines, rising cancer incidence, and increased support for research projects from the cancer societies, all of which contribute to the market's growth.
Competitive Insights
Key players include, 3M Company, Activartis, Argos Therapeutics, Batavia Bioservices, DanDrit Biotech Corporation, DCPrime, Elios Therapeutics, GlaxoSmithKline, ImmunoCellular Therapeutics, and Sanpower Corporation.
Recent Developments
In March 2015, Rockefeller University & Sloan Kettering Centre, for example, completed a phase 2 research on the autologous dendritic vaccines (DC/PC3). It is used as immunotherapy treatment in treating prostate cancer patients. Concerned vaccine was developed using the patient's own derived cells.
In June 2018, Northwest Bio-therapeutics received FDA clearance for its dendritic cell-based vaccine, "DCVax-L", used to treat glioblastoma cancers. Its clinical investigation demonstrated that several patients survived for more than a year and a half after receiving the immunization.
Dendritic Cell Cancer Vaccine Market Report Scope
| | |
| --- | --- |
| Report Attributes | Details |
| Market size value in 2023 | USD 667.29 million |
| Revenue forecast in 2032 | USD 1,841.54 million |
| CAGR | 11.9 % from 2023 - 2032 |
| Base year | 2022 |
| Historical data | 2019 - 2021 |
| Forecast period | 2023 - 2032 |
| Quantitative units | Revenue in USD million and CAGR from 2023 to 2032 |
| Segments covered | By Product, By End-Use, By Region |
| Regional scope | North America, Europe, Asia Pacific, Latin America; Middle East & Africa |
| Key companies | 3M Company, Activartis, Argos Therapeutics, Batavia Bioservices, , DanDrit Biotech Corporation, DCPrime, Elios Therapeutics, GlaxoSmithKline, ImmunoCellular Therapeutics, Sanpower Corporation |