The global dental articulators' market was valued at USD 126.04 million in 2021 and is expected to grow at a CAGR of 6.4% during the forecast period. The market for dental articulators is growing because of an aging population and appropriate reimbursement regulations. For instance, according to the FDI World Dental Federation, the global population is aging, with estimates predicting that by 2050, 25% of the world's population - 2 billion individuals – will be over 60 years old. A fifth of them, 400 million, will be above 80. According to epidemiological research, poor oral health affects older adults more than younger people, with unfavorable effects on their overall health. Gum disease, tooth loss, sore throat, and oral cancer limit their chewing function and nutritional intake, as well as their capacity to connect socially, resulting in a significant reduction in quality of life, if not death.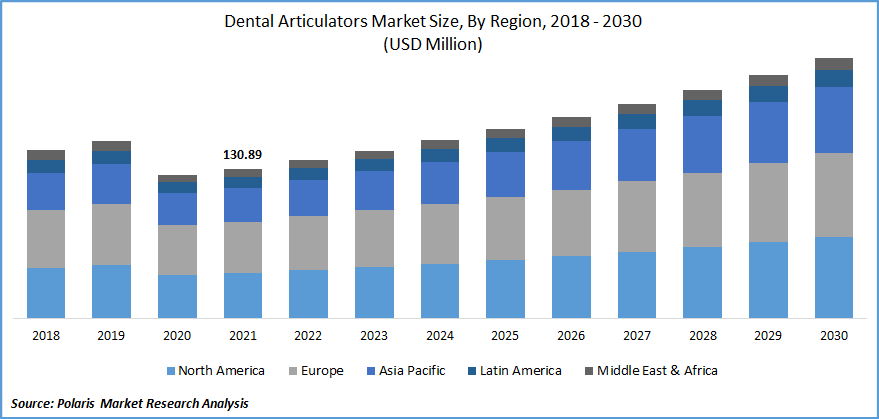 Know more about this report: request for sample pages
In addition, according to the Government of India, the state government of Haryana has implemented the policy regarding reimbursement of 31 dental procedures. Besides, the Division of Dental Services of the Mississippi State Department of Health is in charge of assessing, developing policies and programs, and assuring the prevention and management of oral disorders. Through public health clinics, schools, and authorized health practitioners, they reach out to children, individuals, couples, and communities. Thus, the various private and public programs for these treatments and reimbursement policies and the geriatric population have boosted the market growth during the forecast period.
Furthermore, one of the key variables expected to boost the dental articulators market is the availability of trained endodontists who can help reduce issues such as coronavirus transmission during these treatments. The COVID-19 epidemic had a negative impact on the articulator business. However, the high cost of instruments, a lack of experienced employees, and worries about complexity are the key roadblocks to the market's expansion.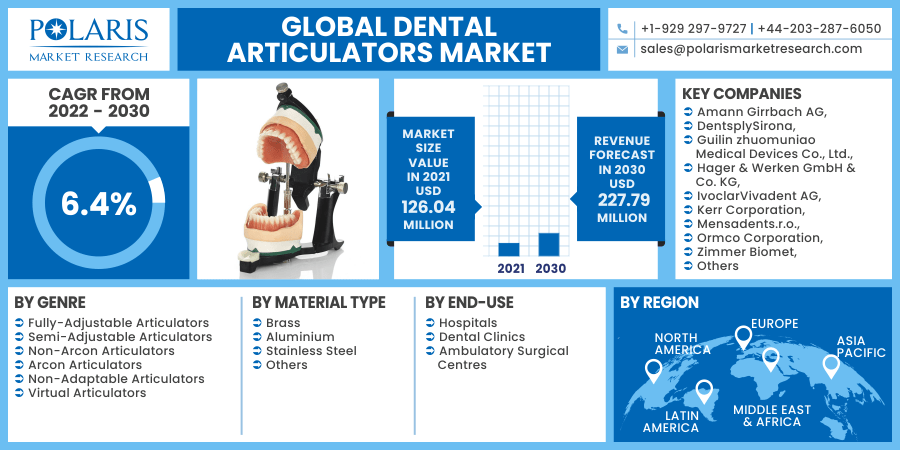 Know more about this report: request for sample pages
Industry Dynamics
Growth Drivers
The dental articulators market has observed extensive developments in the last few decades supported by various factors such as the rising prevalence and incidences of teeth disorders and the demand for the product across the globe. For instance, according to the Center for Disease Control and Prevention, the percentage of children aged 5 to 19 years with untreated dental caries in the United States is 13.2 % (2015-2018), and untreated cavities affect 25.9% of persons aged 20 to 44. (2015-2018). Also, 64.9 % aged 18 and above had a dental appointment in 2019.
Besides, as per the World Health Organization (WHO), cavities, periodontist (gum) illness, oral cancer, oral infectious illnesses, injury from accidents, and inherited abnormalities are the most common oral diseases. Cavities affect 20–90% of 6-year-old children in Europe. Dental caries affects an average of 0.5–3.5 teeth by 12, and approximately 100% of adults have had the illness. In Europe, severe periodontal (gum) disease affects 5–20 % of middle-aged (35–44 year) persons and up to 40% of the elderly (65–74 years).
Severe periodontal disease is the leading cause of tooth loss. Around 30% of Europeans aged 65–74 have no natural teeth, limiting their ability to function and improve their quality of life. Oral cancer is more common in men, the elderly, and persons with poor education and income. Dental trauma may impact up to 40 percent of school-going children in European countries due to dangerous playgrounds. Birth abnormalities like cleft palate affect about one in every 500–700 babies. This rate differs significantly between ethnic groups and geographical places.
Furthermore, in the future, the dental articulators market expansion will be supported by increased awareness of the numerous benefits of orthodontic treatments and product improvements that ensure higher efficiency and performance. Due to the accuracy of orthodontic treatment, fixed prosthodontic restorations, and accurate manufacturing of the biting surfaces of removable prosthodontic equipment, demand for the market is expected to increase throughout the forecast period. Thus, the growing incidences of dental disorders and availability of products have led to an increase in the demand for them, boosting the market growth during the forecast period.
Report Segmentation
The market is primarily segmented based on product type, material type, end-use, and region.
By Genre

By Material Type

By End-Use

By Region

Fully-Adjustable Articulators
Semi-Adjustable Articulators
Non-Arcon Articulators
Arcon Articulators
Non-Adaptable Articulators
Virtual Articulators

Brass
Aluminium
Stainless Steel
Others

Hospitals
Dental Clinics
Ambulatory Surgical Centres

North America (U.S., Canada)
Europe (France, Germany, UK, Italy, Spain, Netherlands, Austria)
Asia Pacific (Japan, China, India, Malaysia, Indonesia, South Korea)
Latin America (Brazil, Mexico, Argentina)
Middle East & Africa (Saudi Arabia, UAE, Israel, South Africa)
Know more about this report: request for sample pages
Insight by Material Type
Based on the material type segment, the aluminum segment is expected to be the most significant revenue contributor in the global dental articulators market, in 2021, and is expected to retain its dominance in the foreseen period. Aluminum's benefits improve its use as a material for these articulators. The material is corrosion-resistant and has good electrical and thermal conductivity. Aluminum is a strong, ductile, soft, and lightweight metal. The material's property is predicted to help the segment's growth. Over the projection period, the stainless-steel segment is expected to increase significantly. Stainless steel has greater strength and can withstand extreme temperatures. Stainless steel is resistant to corrosion, water staining, and rust. The metal is lightweight and extremely robust. These factors are expected to boost the market in the coming years.
Geographic Overview
In terms of geography, Europe had the largest revenue share in 2021. The vast patient pool, which leads to strong demand for dental procedures and better healthcare facilities in nations like Germany and the United Kingdom, is credited with the market's expansion. According to the State of Oral Health Platform in Europe, more than half of its population has periodontitis in the country. Over ten percent have severe disease, with a prevalence rate of up to 70-85 percent of the population aged more than 60.
Additionally, rising oral health awareness among all age groups in the region is expected to promote market growth. Followed by Europe, the North American region has the second-highest share in the market. This dominance is attributed to the growing technological advancements and medical coverage for dental procedures. The region is also growing due to the presence of major players and their activities for the advancements of products.
Moreover, APAC is projected to register the highest CAGR in the global market in 2021. This increases as the healthcare infrastructure in emerging economies improve and a huge client base emerges. For instance, according to the World Bank, in 2018, around 3.544% of the Gross Domestic Product was healthcare expenditure in India. Also, the growth can be attributable to major players' investments in developing countries like China and India to strengthen healthcare infrastructure. Furthermore, the rising incidence of oral health diseases is expected to drive market expansion.
Competitive Insight
Some of the major players operating in the global market include Amann Girrbach AG, DentsplySirona, Guilin zhuomuniao Medical Devices Co., Ltd., Hager & Werken GmbH & Co. KG, IvoclarVivadent AG, Kerr Corporation, Mensadents.r.o., Ormco Corporation, Song Young International Company, Zimmer Biomet, Dentatus AB, Bio-Art Equipamentos, Prodont-Holliger, Schuler-Dental GmbH & Co. KG, Aixin Medical Equipment Co. Ltd among others.
Dental Articulators Market Report Scope
| | |
| --- | --- |
| Report Attributes | Details |
| Market size value in 2021 | USD 126.04 million |
| Revenue forecast in 2030 | USD 227.79 million |
| CAGR | 6.4% from 2022 - 2030 |
| Base year | 2021 |
| Historical data | 2017 - 2020 |
| Forecast period | 2022 - 2030 |
| Quantitative units | Revenue in USD million and CAGR from 2022 to 2030 |
| Segments covered | By Product Type, By Material Type, By End-Use, By Region |
| Regional scope | North America, Europe, Asia Pacific, Latin America, Middle East & Africa |
| Key Companies | Amann Girrbach AG, DentsplySirona, Guilin zhuomuniao Medical Devices Co., Ltd., Hager & Werken GmbH & Co. KG, IvoclarVivadent AG, Kerr Corporation, Mensadents.r.o., Ormco Corporation, Song Young International Company, Zimmer Biomet, Dentatus AB, Bio-Art Equipamentos, Prodont-Holliger, Schuler-Dental GmbH & Co. KG, Aixin Medical Equipment Co. Ltd. |