The size of the world market for dental burs was assessed at USD 584 million in 2022, and it is anticipated to grow at a CAGR of 4.80% from 2023 to 2032. The market is expanding as a result of factors like the growing number of elderly people with oral diseases, changing medical tourism for dental care, and the introduction of numerous government initiatives to promote public dental health and increase access to dental care. The COVID-19 pandemic caused a major decline in the market. Due to the fact that dental procedures were not medically necessary and carried a high risk of infection, the pandemic reduced their use, which led to the closing of dental offices.

For Specific Research Requirements: Request for Customized Report
However, dental procedures like root canals, implants, etc. started to resume after the second quarter of 2020, which might accelerate the dental burs market growth. Rotary dental tools called dental burs are indispensable in many different types of dental treatments. These tools are frequently used for interproximal reduction, which involves precisely cutting the tooth, shaping, and polishing it. They are also frequently used to prepare cavities for fillings, shape bone, and remove old fillings. Dental burs are typically made of stainless steel, diamond grit or particles, and tungsten carbide, and they connect to a handpiece with a driving motor. The advantages and qualities of each material vary, and dentists select a material based on the necessary treatment.
According to the FDI World Dental Federation, out of the 291 oral conditions included in the Global Burden of Disease Study, untreated tooth decay (dental caries) affects more than half (44%) of the world's population. This makes it the oral disease with the highest prevalence. In 2019, a third of Americans under the age of 65 who were adults reported that they had not opted for a dental examination or cleansing in the previous 12 months. Additionally, according to the news, an increase in income closely correlates to visiting a dentist, which may encourage the adoption of dental care procedures nationwide.
This market is expanding as a result of the steady rise in dental conditions like periodontal disease, oral cancers, and environmental accidents leading to Oro dental trauma. The clinician's choice of a bur is entirely based on personal taste, the type of treatment, and the bur's efficacy in the particular clinical situation. They may be employed in restorative operations, the preparation of cavities, the preparation of crowns, etc. Dental burs are a necessary part of every dental procedure, so demand for these goods and technological advancements in bur designs and materials will drive market expansion.
The market is anticipated to rebound, though, as 39.0% of dental offices in the United States are currently operating at maximum capacity with the number of patients they had before the pandemic. A significant participant in the dental market, Dentsply Sirona, stated that its technologies and equipment segment, which includes dental burs, grew by 6.8% in the fourth quarter of 2021 compared to the same period in 2020. This suggests that the dentistry industry is making up for the losses brought on by the pandemic.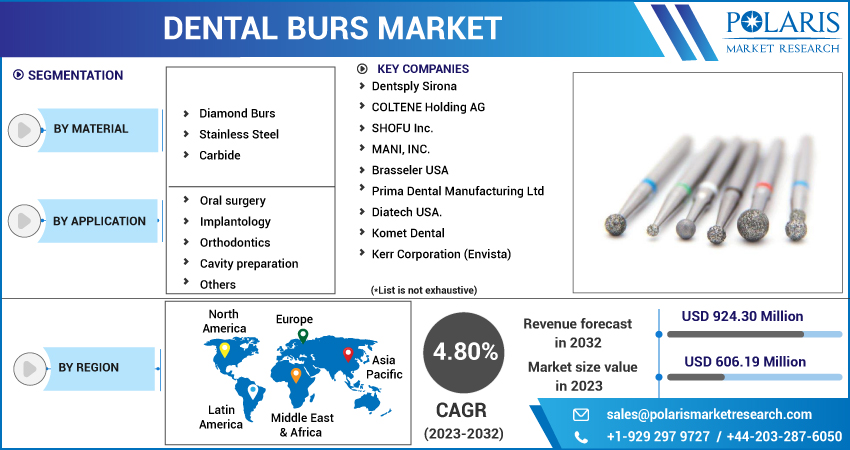 For Specific Research Requirements, Request For Customized Report
Industry Dynamics
Growth Drivers
Due to its high accuracy in dental restoration and digital dental orthopedics, the dental industry is increasingly using computer-aided design (CAD)/production (CAM). Using these technologies, dental restoration procedures can produce processed crowns, dentures, bridges, and fictitious abutments. For odontology treatments, they will also provide removable braces and custom brackets. The growing use of CAD/CAM has allowed shorter treatment procedures, fewer lengthy procedures, and fewer doctor appointments. It has also reduced the need for temporary bridges and crowns to be worn during dental restoration treatments. Precision tools used in dental procedures include dental diamond burs.
Report Segmentation
The market is primarily segmented based on material, application and region.
By Material

By Application

By Region

Diamond Burs

Stainless Steel

Carbide

Oral surgery

Implantology

Orthodontics

Cavity preparation

Others

North America (U.S., Canada)

Europe (France, Germany, UK, Italy, Netherlands, Spain, Russia)

Asia Pacific (Japan, China, India, Malaysia, Indonesia. South Korea)

Latin America (Brazil, Mexico, Argentina)

Middle East & Africa (Saudi Arabia, UAE, Israel, South Africa)
To Understand More About this Research: Request a Free Sample Report
The diamond burs segment is expected to dominate the market in projected timeframe
During the forecast period, the segment is anticipated to expand at the fastest rate. The substance market is divided into three categories: carbide, stainless steel, and diamond burs. Due to its success in precisely shaping and polishing enamel, the diamond burs sector commanded the largest market share of these. When preparing and placing veneers and crowns, these materials are also used to carve through zirconia or grind porcelain.
The cavity preparation segment is witnessed to account for a significant market share during projected timeframe
The cavity preparation application category has the largest market share. Demineralized enamel and infected dentin are removed during the cavity preparation process. The demand for this treatment has significantly increased as dental caries has become more commonplace around the world. The development of dental caries is being accelerated by a change in lifestyle, a high consumption of sugar-based diets, and behavioural patterns like smoking. In the event that a tooth has a fracture, abrasion, or erosion on the tooth surface, cavity preparation procedures may also be necessary.
The North America is expected to witness significant growth during forecast period
The dental burs market was led by North America. The segment is anticipated to expand significantly. According to the American CDC, 46% of adults over 30 have gum disease, and 13% of adults have tooth caries. One in four adults also have untreated dental problems. The high market share in the area can be ascribed to the rising population, expanding R&D efforts, expanding dental staff and clinics, rising demand for root canal treatments, and rising significance of oral health.
Competitive Insight
Some of the major players operating in the global dental burs market include Dentsply Sirona; COLTENE Holding AG; SHOFU Inc.; MANI, INC.; Brasseler USA; Prima Dental Manufacturing Ltd; Diatech USA.; Komet Dental; Kerr Corporation (Envista).
Recent Developments
To improve the company and capital tie-up, Mitsui Chemicals, Inc. and Sun Medical Co., Ltd. and Shofu Inc. entered into an agreement in July 2020. The three partners determined that they would streamline their dental material businesses.
Dental Burs Market Report Scope
| | |
| --- | --- |
| Report Attributes | Details |
| Market size value in 2023 | USD 606.19 million |
| Revenue forecast in 2032 | USD 924.30 million |
| CAGR | 4.80% from 2023 - 2032 |
| Base year | 2022 |
| Historical data | 2019 - 2021 |
| Forecast period | 2023 - 2032 |
| Quantitative units | Revenue in USD million and CAGR from 2023 to 2032 |
| Segments covered | By Material, By Application, By Region |
| Regional scope | North America, Europe, Asia Pacific, Latin America; Middle East & Africa |
| Key companies | Dentsply Sirona; COLTENE Holding AG; SHOFU Inc.; MANI, INC.; Brasseler USA; Prima Dental Manufacturing Ltd; Diatech USA.; Komet Dental; Kerr Corporation (Envista) |