The dietary fibers market was valued at USD 6.62 billion in 2021 and is expected to grow at a CAGR of 9.1% during the forecast period. The growing demand for dietary fibers as food additives in the food & beverages sector is one of the crucial factors attributed to the growth of the dietary fibers market. Furthermore, the pharmaceutical industry and increasing healthcare spending influence the market's growth overall.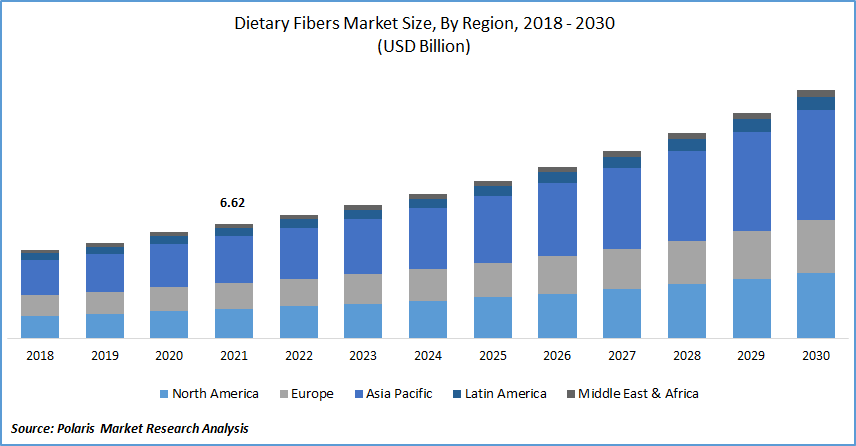 Know more about this report: Request for sample pages
Dietary fibers are carbohydrates found in plants like fruits, nuts, and vegetables, which the human body cannot digest. Instead, it passes through the stomach, colon, and small intestine and out of the body. Various diagnosis techniques emit different results on the structure of dietary fibers. Improvements in the production process and the enormous potential for dietary fibers used in food products are expected to drive the market.
Increasing awareness of the health benefits of dietary fiber coupled with a growing urban population is expected to create opportunities in the market. In addition, rising consumption of protein supplements, including whey protein, and increasing availability of plant proteins such as pumpkin seeds, spirulina, soybeans, hemp, rice, and peas are also expected to boost the market's growth during the forecast period.
The Covid-19 pandemic positively impacted the dietary fibers market due to its applications recognized in nutritional supplements, pharmaceuticals, and animal feed. The demand for the products during the pandemic was high due to their efficiency in improving muscle mass and immunity. Additionally, the consumption of fruits & leafy vegetables, cereals & grains, and nuts increased due to growing awareness of health benefits, which was also the factor emerging for the market's growth during the pandemic.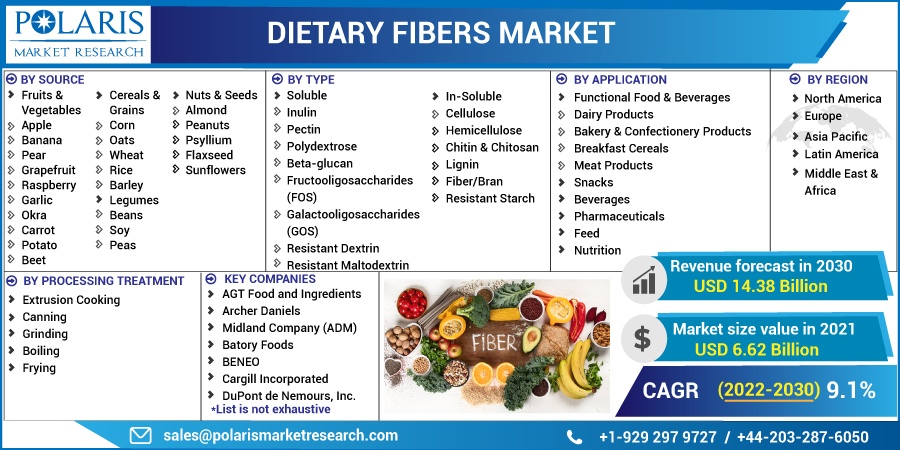 Know more about this report: Request for sample pages
Industry Dynamics
Growth Drivers
Growing awareness of nutrition beyond the usual diet and a trend toward a healthy lifestyle is expected to drive the global dietary fibers market. Dietary fibers regulate health functions such as gastrointestinal health, metabolic disorders including obesity, diabetes, blood sugar level, and others.
Sugar-based and high-calorie products are considered significant factors for a growing number of obese children. Food products, including sugary beverages, cookies, pastries, sugar-based confectionaries, and others, are the culprit. For instance, in 2019, approximately 38 million children under five years were classified as obese/overweight. Dietary fibers replace fats or sugar by limiting the volume of sugars or fats added to the products and offering additional nutritional value, increasing the demand for dietary fibers and influencing the market's growth.
Furthermore, dietary fibers are used as hydrocolloid & bulking agents, sugar & low-fat alternative, and prebiotic agent. The health benefits associated with consuming fiber favor market vendors. Grains, vegetables, fruits, legumes, and grains are in high demand among health-conscious people.
Food companies have manufactured canned beans and nuts to meet the increasing fiber demand. The availability of fiber-rich muesli and oats has opened up new growth opportunities for market vendors. Furthermore, citrus retail sales have also increased over the past decade. The sales index of the global dietary fiber market is expected to improve in the coming years.
Report Segmentation
The market is primarily segmented based on source, type, application, processing treatment, and region.
By Source

By Type

By Application

By Processing Treatment

By Region

Fruits & Vegetables

Apple
Banana
Pear
Grapefruit
Raspberry
Garlic
Okra
Carrot
Potato
Beet

Cereals & Grains

Corn
Oats
Wheat
Rice
Barley

Legumes
Nuts & Seeds

Almond
Peanuts
Psyllium
Flaxseed
Sunflowers

Soluble

Inulin
Pectin
Polydextrose
Beta-glucan
Fructooligosaccharides (FOS)
Galactooligosaccharides (GOS)
Resistant Dextrin
Resistant Maltodextrin
Others

In-Soluble

Cellulose
Hemicellulose
Chitin & Chitosan
Lignin
Fiber/Bran
Resistant Starch

Functional Food & Beverages

Dairy Products
Bakery & Confectionery Products
Breakfast Cereals
Meat Products
Snacks
Beverages

Pharmaceuticals
Feed
Nutrition
Others

Extrusion Cooking
Canning
Grinding
Boiling
Frying

North America (U.S., Canada)
Europe (France, Germany, UK, Italy, Netherlands, Spain, Russia)
Asia Pacific (Japan, China, India, Malaysia, Indonesia. South Korea)
Latin America (Brazil, Mexico, Argentina)
Middle East & Africa (Saudi Arabia, UAE, Israel, South Africa)
Know more about this report: Request for sample pages
The cereals & grains segment is expected to account for the largest market share
The cereals & grains segment is projected to account largest market share during the forecast period. Consuming cereals and grains reduces the risk of cardiovascular diseases such as stroke and coronary heart disease. Dietary fibers in flaxseed, oats, beans, and oat bran help reduce low-density lipoproteins and lower total blood cholesterol levels.
Wheat is expected to grow fastest over the forecast period. The total dietary fiber wheat content ranges from 9 to about 20% (dry weight basis) and is composed of soluble and insoluble fractions. Wheat is the world's most commonly consumed cereal grain.
Various wheat species include durum, spelt, emmer, einkorn, and Khorasan wheat. Bread wheat, or common wheat, is the main species. Wheat is a rich source of various antioxidants, vitamins, minerals, and fiber. It is controversial as it contains a gluten protein that can trigger a harmful immune response in predisposed individuals.
Soluble fibers accounted for the largest market revenue
Soluble dietary fibers account for the largest market share during 2021 as these fibers are widely used in bakeries and confectionery. Soluble fiber may reduce blood cholesterol and sugar. It helps improve blood glucose control, reducing the risk of diabetes.
Soluble fibers include beta-glucan, pentose, and arabinoxylan. Insoluble fibers such as lignin, cellulose, and hemicellulose originate from rice, corn, and bran grains. The growing importance of beta-glucan as an immune booster in the dietary supplement and pharmaceutical industry is anticipated to drive the dietary fiber market.
Soluble fibers attract water and turn it into a gel during digestion. Fruits, vegetables, cereals, nuts, whole grains, and seeds are the source of soluble fibers. Soluble fiber is widely used as a flavor-enhancing ingredient in various foods and beverages and as a replacement for sugar and fat in many food applications, such as baked goods, frozen dairy desserts, and confectionery.
Soluble fiber also helps prevent diarrhea, constipation, and inflammatory bowel conditions. It helps control caloric intake by increasing the release of satiety hormones. Furthermore, the satiety effects of soluble fibers, resistant insulin, Maltodextrin, and oligofructose can help reduce food's overall caloric content. Growing research and development of inulin and other soluble fibers is expected to fuel the segment's growth.
Functional food & beverages hold a significant revenue share
The functional food & beverage sector witnesses considerable market shares due to growing awareness among consumers regarding the significance of dietary fibers in daily meals. Rising traction of the consumption of nutrients among the young population has driven the growth of nutraceuticals offering products related to dietary fibers.
Additionally, breakfast cereals are gaining a steep growth due to their enhanced nutritional profile. The segment's dominance is attributed to growing health-conscious consumers and awareness regarding the adverse reaction of fast foods and over-consumption of calories that lead to several lifestyle disorders.
The extrusion cooking process is expected to hold a considerable market share
Extrusion cooking processing treatment is expected to account for the largest market share. Extrusion is a physical method used to change the physicochemical property of dietary fibers. It is primarily used and considered environmentally friendly due to less residue generation.
Extrusion of cereals has several advantages over other processing methods due to low cost, speed, versatility, high productivity, unique product shapes, and energy savings. The process results in many chemical changes, such as gelatinization of starch molecules, cross-linking of proteins, and the generation of flavors. Extrusion cooking, as a multi-step, multi-functional and mechanical process, has permitted many food applications.
Asia Pacific acquired the major market share in 2021
Increasing consumers' interest in healthy and functional food & beverages is a factor anticipated for the market growth in this region. A fast-paced lifestyle has increased the demand for ready-to-eat products, which helped manufacturers introduce fiber-rich snacking products specifically for health-conscious consumers.
The growing vegan population across the region has increased the demand for fruits, leafy vegetables, cereals, legumes, and nuts which have driven the market growth in this region. In addition, fair trends in the food & beverage industry in the Asia Pacific are estimated to spur demand for dietary fibers during the forecast years.
North America is expected to grow fastest during the forecast due to the ease in availability of cereals & grains, including corn, oats, brown rice, barley, buckwheat, bulgur, and millet in the U.S region. Further, various health issues, such as high cholesterol levels and obesity, have increased the demand for fruits and vegetables, propelling the market's growth in this region.
Competitive Insight
Some of the major players operating in the global market AGT Food and Ingredients, Archer Daniels Midland (ADM) Company, Batory Foods, BENEO, Cargill, Incorporated, DuPont de Nemours, Inc., Emsland Group, Farbest Brands, Ingredion Incorporated, J. RETTENMAIER & SOHNE GmbH + Co KG, Kerry Inc., Lonza, Nexira, PURIS, Roquette Freres, Taiyo International, Tate & Lyle, and The Green Labs LLC.
Recent Developments
In June 2020, BENEO expanded its rice starch and chicory root fiber ingredient portfolio with two new organic solutions.
In September 2020, Batory Foods agreed with BioHarvest Sciences Inc., a patent-protected and proprietary Bio farming technology developer. The agreement was signed exclusively to enter the US Edible CBD Market and US Nutraceuticals Market to strategically diversify Batory Foods' product portfolio strategically.
Dietary Fibers Market Report Scope
| | |
| --- | --- |
| Report Attributes | Details |
| Market size value in 2021 | USD 6.62 billion |
| Revenue forecast in 2030 | USD 14.38 billion |
| CAGR | 9.1% from 2022 - 2030 |
| Base year | 2021 |
| Historical data | 2018 - 2020 |
| Forecast period | 2022 - 2030 |
| Quantitative units | Revenue in USD billion and CAGR from 2022 to 2030 |
| Segments covered | By Source, By Type, By Application, By Processing Treatment, By Region |
| Regional scope | North America, Europe, Asia Pacific, Latin America; Middle East & Africa |
| Key companies | AGT Food and Ingredients, Archer Daniels Midland Company (ADM), Batory Foods, BENEO, Cargill, Incorporated, DuPont de Nemours, Inc., Emsland Group, Farbest Brands, Ingredion Incorporated, J. RETTENMAIER & SOHNE GmbH + Co KG, Kerry Inc., Lonza, Nexira, PURIS, Roquette Freres, Taiyo International, Tate & Lyle, and The Green Labs LLC. |