The global dispersing agents market was valued at USD 6.9 billion in 2021 and is expected to grow at a CAGR of 5.3% during the forecast period.
Chemical additives known as dispersing agents or dispersants are employed to lessen the viscosity of an aqueous medium and enable the suspension of solid materials within it. Dispersants' main job is to make it easier for particles in a mixture to separate from one another and keep bulk from clumping or settling. Chemicals with a high degree of adaptation to pigments and liquid surfaces, such as poly-carboxylate, acrylic acid, ligno-sulfonates, & naphthalene sulfonate, are combined to form the dispersants. They are used widely on v surfaces.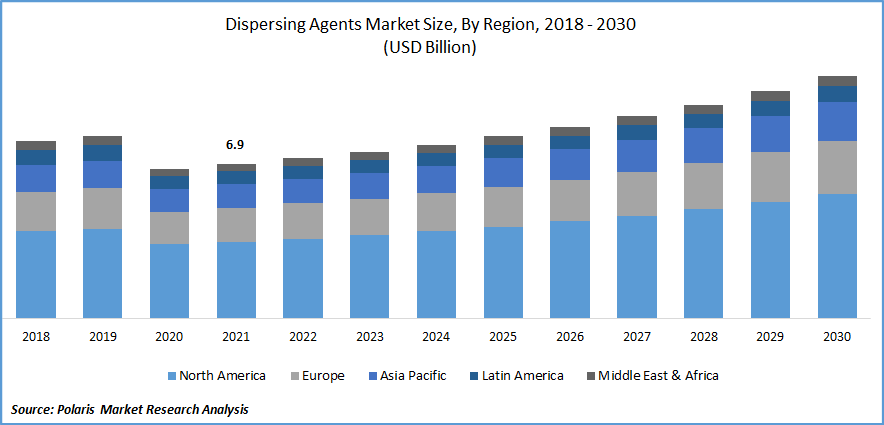 Know more about this report: Request for sample pages
The rising oil drilling and exploration activities are the major factors boosting the market growth over the forecast period. Operations in the oil and gas sector are carried out effectively and efficiently using high-quality dispersion agents. Also, the industry needs a considerable amount to meet the rising demand in the energy sector. They are employed in drilling fluids to prevent fluid formation from entering the excellent bore. Chemicals called dispersion agents break down petroleum oil into tiny droplets by acting as surfactants and solvent components. These droplets spread out into the ocean during oil drilling and are broken down more by natural forces like waves and currents.
Moreover, dispersing agents also allow smooth flow and improve the dispersion's characteristics while reducing the viscosity of the dispersion or paste. Most dispersion agents, such as polyacrylates and polyethers, polysorbates, are based on these substances. Dispersing agents are formulated using a variety of compounds since different applications call for different formulations. Dispersants are prepared differently for optimum operation and use in water- and solvent-based systems. Widespread usage in numerous end-use industries, including paints & coatings, construction, pharmaceuticals, etc., drives the dispersing agent market.
Because dispersing agents are crucial to dispersion formulations, their use is widespread in a variety of dispersion formulations. The rising use of low-foam dispersing agents in the paint and coating industry to create stable formulas while creating pigment concentrates drives the dispersing agent market. Dispersants are employed in oil spills to break up giant oil molecules into smaller ones, protecting the marine environment. Utilizing specialized boats and aircraft, these dispersants are sprayed.
The COVID-19 pandemic has had significant effects on manufacturing businesses. Unexpected difficulties are causing supply chains to become unstable and making it difficult for manufacturers to deliver high-quality goods at competitive prices and make a profit. These difficulties range from rising energy costs to unexpected swings in raw material price levels. It is up to manufacturers to either absorb higher costs as raw material prices change, develop new ways to reduce the charges or pass price hikes to customers who are already reluctant to spend. When budgeting for a project, price swings leave no room for error, and many manufacturers must choose between making a profit and going out of business.
Know more about this report: Request for sample pages
Industry Dynamics
Growth Drivers
The main drivers boosting the market's expansion are rapid industrialization and rising demand for dispersants in automotive and industrial coatings. For instance, in September 2019, For the automotive and industrial coatings market, BASF introduced a range of novel, reactive, and elevated dispersing agents called Efka PX 4780, PX 4785, and PX 4787 based on cutting-edge processing technologies. A vital component of the formulation of a colored coating is dispersing agents. Their use would increase grinding effectiveness, color development, visibility, and shine. Dispersants are becoming increasingly in demand from the booming construction sector since they slow down the coagulation process, assist each cement particle in remaining unattached, and offer improved dispersibility.
Furthermore, the rising cement production is also increasing the demand for dispersing agents, boosting market growth. For instance, as per the IBEF, the need for rural housing and the government's intense focus on building infrastructure are likely to fuel a 12% YoY growth in cement production in India in FY22. Between April 2000 & March 2022, FDI inflows in the sector connected to the production of cement & gypsum products totaled USD 5.5 Bn.
Report Segmentation
The market is primarily segmented based on formation type, structure, end-use, and region.
By Formation Type

By Structure

By End-Use

By Region

Waterborne
Oil-Borne
Solvent-Borne
Others

Anionic
Non-ionic
Hydrophobic
Hydrophilic
Cationic
Amphoteric

Construction
Paints&Coatings
Pulp & Paper
Detergents
Oil &Gas
Agriculture
Pharmaceuticals
Others

North America (U.S., Canada)
Europe (France, Germany, UK, Italy, Netherlands, Spain, Russia)
Asia Pacific (Japan, China, India, Malaysia, Indonesia, South Korea)
Latin America (Brazil, Mexico, Argentina)
Middle East & Africa (Saudi Arabia, UAE, Israel, South Africa)
Know more about this report: Request for sample pages
The Pharmaceutical segment is expected to witness the fastest growth
The use of dispersing agents is widespread in the medical sector. A drug must have a homogeneous concentration in a solution to function as intended; otherwise, it may not. Disseminating agents are added to the medication solution to create a finely dispersed solution. Dispersing agents are also added in varying amounts to tablets. The tablet works well since it dissolves uniformly inside the patient's body owing to dispersion agents. Dispersing agents are also needed for uniform distribution of the pigment or color in the tablet.
The Non-Iconic segment industry accounted for the highest market share in 2021
For a consistently prepared surface for dying, nonionic structured agents are mainly utilized on the cotton, wool, most synthetics, & their mixtures. Non-ionic dispersing agents offer additional operational flexibility in the formulation by inhibiting the coalescence of the emulsified droplets under varied environmental conditions. Other reasons influencing market growth include their use in various applications, their compatibility with other charged molecules, and some of them having a low toxicity.
The demand in North America is expected to witness significant growth
The North American market is anticipated to expand modestly during the projected period because of the pharmaceutical, paints, and coatings industries. In North America, particularly the USA, a significant demand for pigment dispersants is anticipated to result from this expansion in the housing and real estate sectors. Latin America is anticipated to increase slowly over the projection period as a result of the industry's sluggish growth.
Regionally, European countries have a robust paints and coatings industry due to a larger demand for water-based systems that effectively use pigment dispersants. Regionally, European countries have a strong paints and coatings industry due to a larger market for water-based systems that effectively use pigment dispersants. The strict government regulations concerning VOC content and increased customer awareness of the issue are responsible for the growing demand for pigment dispersants that are VOC-compliant.
Further, the Asia-Pacific region is developing quickly due to growing economic conditions and rising population. The major international automakers are located in the developed Asia-Pacific nations, which significantly drives the market. Critical R&D facilities may be found in this area, which also functions as a manufacturing hub. Because of the improved economic climate and the expanding manufacturing sector, the construction industry in the developing nations of the Asia-Pacific region is anticipated to expand. The world economy will be driven by India, which is predicted to grow faster than China.
Competitive Insight
Key players include Air Products and Chemicals, Arkema Group, Altana Corp., BASF SE, Clariant AG, CHRYSO SAS, Cera-Chem, Croda International, Emerald Performance Materials, ELEMENTS, Evonik Industries, Fine Organics, Gruppo Chimico Dalton, Harmony Additive, King Industries, MeadWestvaco Corp., Shah Patil, Dow Chemical, and Lubrizol Corporation.
Recent Developments
In July 2022, TEGO Dispers was introduced, a new dispersing additive, by Evonik. In addition, to improve the sustainability of the pigment & color coating, the new agent in the product portfolio also provides the formulators with an excellent performance profile, which is equivalent to the other products.
In May 2021, Hostatint was a new dispersing agent product line that Clariant had just introduced. It is an aqueous pigment-dispersing agent that broadens the range of colors available for architectural paints on the inside and outside buildings. It enables producers in North America and South America to provide the broadest range of colors.
In October 2019, Dispex Ultra PX 4290, a new high molecular weight dispersing agent from BASF, was released and boasts remarkable viscosity reduction, exceptional performance in pigment stabilization, and a wide range of other benefits.
Dispersing Agents Market Report Scope
| | |
| --- | --- |
| Report Attributes | Details |
| Market size value in 2022 | USD 7.1 billion |
| Revenue forecast in 2030 | USD 10.8 billion |
| CAGR | 5.3% from 2022 - 2030 |
| Base year | 2021 |
| Historical data | 2018 - 2020 |
| Forecast period | 2022 - 2030 |
| Quantitative units | Revenue in USD billion and CAGR from 2022 to 2030 |
| Segments Covered | By Formation Type, By Structure, By End-Use, By Region |
| Regional scope | North America, Europe, Asia Pacific, Latin America; Middle East & Africa |
| Key Companies | Air Products and Chemicals Inc., Arkema Group, Altana Corp., BASF SE, Clariant AG, CHRYSO SAS, Cera-Chem Pvt. Ltd., Croda International Plc, Emerald Performance Materials, ELEMENTS PLC, Evonik Industries AG, Fine Organics, Gruppo Chimico Dalton Spa, Harmony Additive Pvt. Ltd., King Industries Inc., MeadWestvaco Corporation, Shah Patil & Company, The Dow Chemical Company, and The Lubrizol Corporation. |