The global DNA methylation market was valued at USD 1,140.77 million in 2021 and is expected to grow at a CAGR of 14.5% during the forecast period.
DNA methylation is still a viable method for developing research in key areas of treating chronic genetic disorders. Key factors responsible for the market growth include the use of DNA methylation in finding cancer biomarkers & genetic mutations, ongoing research, & innovations in deducing molecular mechanisms for treating rare and un-diagnosed diseases, and huge unmet medical needs. The declining cost of treatment, and robust drug pipeline is also favoring the market growth.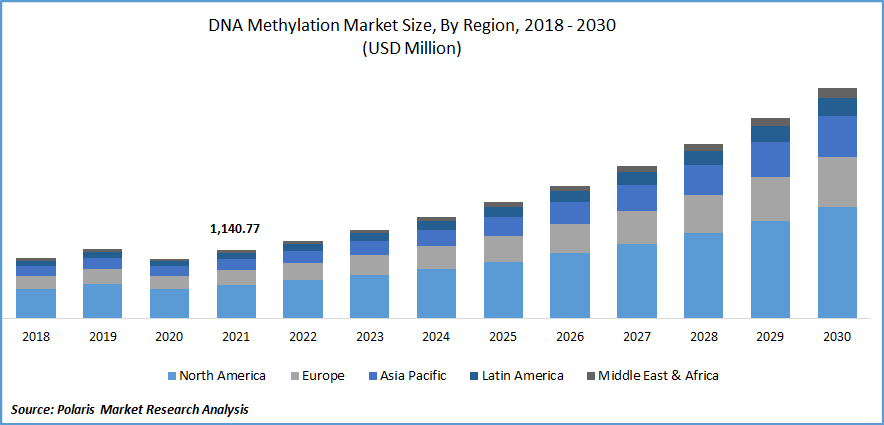 Know more about this report: Request for sample pages
DNA methylation is a process that occurs in the mammalian genome and involves adding a methyl group to the cytosine's C5 position to form 5-methylcytosine. This process controls gene expression by attracting proteins that are involved in gene repression or by preventing transcription factors from binding to DNA. A process including both demethylation and de novo DNA methylation is responsible for the pattern of DNA methylation in the genome to modify through growth. As a result, differentiated cells produce a constant and distinctive DNA methylation pattern that controls the transcription of genes specific to various tissues.
Mostly the process of DNA methylation plays a crucial part in several vital processes, such as genomic imprinting, & repression of repetitive element transcription & transposition. When dysregulated, DNA methylation also leads to illnesses like cancer. The outbreak of the COVID-19 pandemic has significantly impacted the growth of the DNA methylation market. Movement limitations brought on by the COVID-19 outbreak had a negative market impact since they hampered the testing and research conducted by laboratories and research institutions. However, after the pandemic, the reopening of research facilities led to a rise in the use of DNA methylation.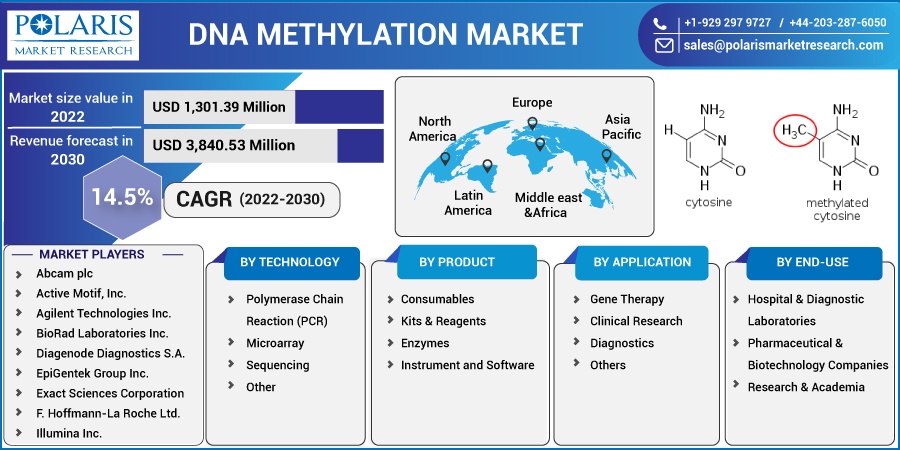 Know more about this report: Request for sample pages
Industry Dynamics
Growth Drivers
The increasing use of DNA methylation in cancer diagnosis is expected to drive market growth. DNA methylation is considered a vital biomarker in the diagnosis of cancer as Cancer cells significantly alter DNA methylation patterns, so, it is used to identify cancer cells from healthy tissues. An increasing number of cancer cells across the globe is driving market growth. In September 2022 University of California researchers possible use of cell-free DNA methylation as a biomarker for cancer detection in its early stages. Furthermore, along with cancer DNA methylation is also used in the diagnosis of various diseases, including cardiovascular diseases, autoimmune diseases, imprinting disorders, and neurological disorders which is increasing its demand in the market.
Report Segmentation
The market is primarily segmented based on form, product, application, and region.
By Technology

By Product

By Application

By End-use

By Region

Polymerase Chain Reaction (PCR)
Microarray
Sequencing
Other

Consumables
Kits & Reagents
Enzymes
Instrument and Software

Gene Therapy
Clinical Research
Diagnostics
Others

Hospital & Diagnostic Laboratories
Pharmaceutical & Biotechnology Companies
Research & Academia

North America (U.S., Canada)
Europe (France, Germany, UK, Italy, Netherlands, Spain, Russia)
Asia Pacific (Japan, China, India, Malaysia, Indonesia, South Korea)
Latin America (Brazil, Mexico, Argentina)
Middle East & Africa (Saudi Arabia, UAE, Israel, South Africa)
Know more about this report: Request for sample pages
The sequencing segment is expected to witness the fastest growth
The rapid development of technologies that provides quick, accurate, and affordable outcomes is driving the sequencing segment's growth over the study period. Genomic sequencing is increasingly used by researchers in studies to understand the disease morphology and its spread is also supporting segment growth. Polymerase Chain Reaction (PCR) is likely to hold the second largest market share over the forecast period, followed by sequencing due to its increasing use of DNA sequencing and diagnostic procedures. The relevance of PCR technology as a diagnostic technique greatly expanded during Covid-19. Gene-by-gene DNA methylation analysis is a major application of PCR-based techniques.
In the Microarray technique, methylation arrays provide high-throughput capabilities that reduce the cost per sample while enabling quantitative probing of specific methylation sites across the genome, driving market growth. Studies on the methylation of DNA using an array can reveal important information about how genes are regulated.
Consumables accounted for the largest market share in 2021
Consumables are primarily utilized in the diagnosis and DNA sequencing processes. Fast turnaround times and high throughput output are two other major drivers of the increase. The research sector uses a wide variety of consumables, including tubes, vials, microarray panels, dispensers, and pipette tips. The market's overall demand is continuing to increase due to the high volume of needs for these consumables.
The growing need for protein-modifying and enzymes in the DNA methylation procedure is expected to fuel the lucrative growth of the enzyme market in the upcoming years. These are commonly utilized in genome-wide analyses, agri-genomic research, and genomic studies. Enzymes continue to play a significant role in DNA methylation reactions throughout sequencing analyses, including pyrosequencing and Illumina sequencing.
The clinical research sector is expected to hold the significant revenue share
The clinical research segment is expected to hold significant revenue in the global market. The rising numbers of clinical studies worldwide for various ailments. Additionally, increasing demand for possible biomarkers and rising R&D spending present significant growth opportunities. The diagnostic segment is expected to account for the largest market share over the forecast period. The use of DNA methylation in the diagnosis of various diseases is considered an emerging, proficient, and reliable tool for the pathological diagnosis of many chronic diseases and is driving segment growth.
Gene therapy uses the DNA methylation process to treat or cure diseases. Gene therapy can be used to treat various diseases, including cancer, AIDS, heart diseases, hemophilia, cystic fibrosis, sickle cell anemia, and other such diseases. The rising prevalence of these diseases across the globe is driving the market demand.
The pharmaceutical & biotechnology companies segment is expected to witness the fastest growth
The end-use sector for pharmaceutical and biotechnology held the largest market share, in 2021. The key factor driving the expansion is expanding use of DNA methylation in the fields of molecular biology and genomics. Furthermore, prominent market participants' growing adoption of high throughput technologies like NGS also keeps new growth prospects open.
The enhanced R&D in the epigenetics field is expected to lead to significant growth in research and academia over the next few years. This continues to be a promising engine of growth, coupled with rising government financing assistance to promote research & development activities in the academic sector. DNA methylation is used in the diagnostics of diseases including cancer in the pathological laboratories and it is also used in the hospital for the treatment of the disease along with a combination of other treatments is driving the hospital & diagnostic laboratories segment.
The demand in North America is expected to witness significant growth
North America has an extensive network of R&D and manufacturing facilities, as well as a rise in product launches and approvals. The rising need for protein expression systems is also considered a major factor fueling the DNA methylation market expansion in the region. Moreover, increasing consumer awareness regarding diseases such as cancer and other cardiovascular disorders coupled with the extensive research & development on DNA methylation in the region is expected to drive the market over the forecast period.
Asia Pacific is expected to be the fastest-growing global market over the forecast period. Rising government funding for many research initiatives. Additionally, the entry of global key players in the untapped market of Asia Pacific is also driving growth.
Competitive Insight
Key players include Abcam, Active Motif, Agilent Technologies, BioRad Laboratories, Diagenode Diagnostics., EpiGentek Group, Exact Sciences Corp., Roche Ltd., Illumina., Merck KGaA, New England Biolabs, Pacific Biosciences, QIAGEN, Sysmex Corporation, and Zymo Research Corporation
Recent Developments
In September 2020, AnchorDxentered publicized the development of a liquid biopsy diagnostic model for early breast cancer diagnosis. This diagnostic paradigm focuses on circulating DNA-based methylation patterns that are independent of cells.
In August 2022, Oncgnostics GmbH was granted permission by the Chinese government to offer its GynTect test to medical professionals and patients. In China, this one is the first methylation test to be approved for the triage of cervical cancer cases.
In May 2022, Twist Bioscience revealed a human methylome panel to make it possible to detect methylation fractions in a range of applications. This promotes the identification of epigenetic targets for research on cancer metastasis and human development as well as the detection of differentially methylated regions.
DNA Methylation Market Report Scope
| | |
| --- | --- |
| Report Attributes | Details |
| Market size value in 2022 | USD 1,301.39 million |
| Revenue forecast in 2030 | USD 3,840.53 million |
| CAGR | 14.5% from 2022 - 2030 |
| Base year | 2021 |
| Historical data | 2018 - 2020 |
| Forecast period | 2022 - 2030 |
| Quantitative units | Revenue in USD million and CAGR from 2022 to 2030 |
| Segments covered | By Technology, By Product, By Application, By End-use, By Region |
| Regional scope | North America, Europe, Asia Pacific, Latin America; Middle East & Africa |
| Key companies | Abcam plc, Active Motif, Inc., Agilent Technologies Inc., BioRad Laboratories Inc., Diagenode Diagnostics S.A., EpiGentek Group Inc., Exact Sciences Corporation, F. Hoffmann-La Roche Ltd., Illumina Inc., Merck KGaA, New England Biolabs, Pacific Biosciences Inc., PerkinElmer Inc., QIAGEN N.V., Sysmex Corporation, Thermo-Fisher Scientific Inc., Zymo Research Corporation |