The global DNases, ligases, and RNA polymerases market was valued at USD 608.8 million in 2021 and is expected to grow at a CAGR of 8.55% during the forecast period. DNase is utilized to produce innovative biocatalysts at low cost and sustainably, as well as cost-effective product recovery procedures. DNase is advantageous for inflammatory disorders.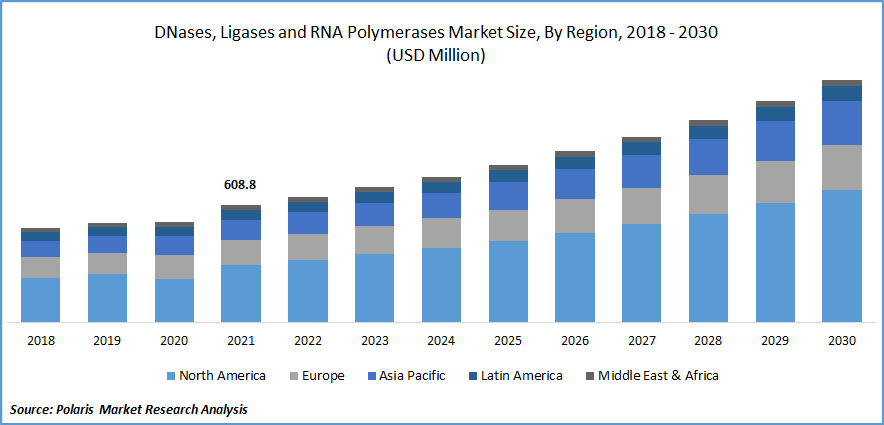 Know more about this report: Request for sample pages
Inhibitors of ribonucleic acid polymerase (RNA polymerase) operate to stop the cell's RNA polymerase enzyme. Due to its functional value, inhibiting RNA polymerase is a desirable target for therapeutic research since it aids in the repair of malignant cells' altered DNA.
Hospitals, molecular diagnostics firms, pharmaceutical companies, diagnostic laboratories, and academic & research organizations are just a few of the end consumers of DNA polymerase. Companies specializing in molecular diagnostics will make up a disproportionately bigger market share.
Demand is primarily being driven by the expanding use of PCR-based technologies and investments in distribution agreements, particularly since the start of the pandemic. Due to potential uses beyond healthcare, academic and research institutions have experienced rapid expansion, which has led to profitable prospects.
With the widespread use of novel applications, RNA analysis research is now utilized for everything from toxicology, the identification of surrogate markers of activity in clinical research, and the capacity to provide specifics on the mechanisms of drug action, to the identification of new drugs, vaccines, and diagnostic targets. In other domains, it is also utilized to find substitute markers of activity. By necessitating several platforms, gadgets, and laboratory documentation systems, this raises the price of analytics even further.
The outbreak of the COVID-19 pandemic has significantly impacted the growth of the DNases, ligases, and RNA polymerases Market. The market responded well to the spread of COVID-19. The need for ligases enzyme increased due to the unexpected pandemic catastrophe. The need for ligases enzyme has increased due to the biotechnology and pharmaceutical industries. The ligase enzyme and its function in diagnostic tests are also studied by U.S. government-funded research facilities. This choice has a positive impact on market expansion.
During COVID 19 pandemic, there is an increase in the need for testing and diagnosis due to Next-Generation Sequencing (NGS) and Polymerase Chain Reaction (PCR), which is expected to spur market growth. Being an infectious illness, COVID-19 is expected to become more common during the anticipated time. RNAs are extracted from the COVID patient's BAL-Bronchoalveolar Lavage Fluid in order to study and examine the infection.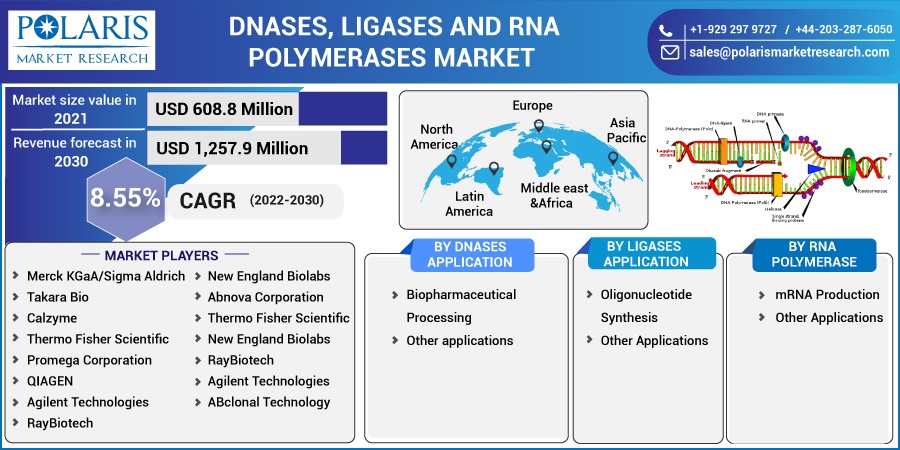 Know more about this report: Request for sample pages
Industry Dynamics
Growth Drivers
The adoption of DNA polymerases is anticipated to be influenced by the rapidly expanding usage of DNA polymerases in molecular diagnostics and point-of-care kits. Along with rising investments in the life sciences, more applications of DNA polymerases in the study of epigenetics are anticipated to support revenue development in the worldwide market.
In addition, among the various sorts of DNA modification operations, new protein engineering techniques are employed to produce artificial or mutant DNA polymerases, many of which are suited for industry-specific objectives. Through the assessment period, this will continue to be a major driving force in the DNA polymerase market.
The desire for and interest in novel treatment methods that would enhance patient care is being fueled by the rising prevalence of chronic diseases like cancer among people. Hereditary types of colons and breast cancer are caused by DNA repair defects in inherited human illnesses that tend to malignancy.
Poly (ADP-ribose) polymerase inhibitors serve as a treatment that specifically addresses the lack of DNA repair in cases of hereditary breast cancer. These DNA repair protein inhibitors may have anti-cancer potential.
In order To treat a variety of contaminations, researchers and diagnosticians have resorted to the ligases enzyme due to the rising incidence of hereditary disorders and infectious diseases. In the absence of DNA ligase activity, no trailing strands would be consolidated, which would have a significant impact on the leading strand amalgamation.
Report Segmentation
The market is primarily segmented based on By DNases application, By Ligases application, By RNA polymerase and By Region.
By DNases Application

By Ligases Application

By RNA Polymerase

By Region

Biopharmaceutical Processing
Other applications

Oligonucleotide Synthesis
Other Applications

mRNA Production
Other Applications

North America (U.S., Canada)
Europe (France, Germany, UK, Italy, Netherlands, Spain, Russia)
Asia Pacific (Japan, China, India, Malaysia, Indonesia, South Korea)
Latin America (Brazil, Mexico, Argentina)
Middle East & Africa (Saudi Arabia, UAE, Israel, South Africa)
Know more about this report: Request for sample pages
The biopharmaceutical processing segment is expected to expand
Over the projection period, the biopharmaceutical processing segment is anticipated to grow at a high CAGR. This is ascribed to elements like a rise in the use of pharmaceutical DNA enzymes, which are crucial for the treatment of a variety of chronic illnesses and digestive problems.
Additionally, advancements in the biotechnology and pharmaceutical industries, such as the introduction of genetic and protein engineering, have aided in the expansion of enzyme applications, which is anticipated to present profitable growth prospects throughout the projected period.
The oligonucleotide segment is expected to witness significant growth
In the upcoming years, it is anticipated that the oligonucleotide market will expand significantly. In molecular biology, oligonucleotide synthesis—the biological synthesis of nucleic acids—has become a crucial technique. Applications for synthetic oligonucleotides include the diagnosis of infectious and genetic illnesses, the treatment of disease, and the development of novel drugs.
The most recent stage in the creation of a product in oligonucleotide manufacturing offers a cost liability for manufacturers with 12 oligonucleotide pharmaceuticals going to the ligases market in 2021 and more than hundreds in preclinical research and clinical trials.
The mRNA production segment dominated the market
The mRNA production sector led the RNA polymerase industry. With the release and widespread use of mRNA vaccines for coronavirus, 2020 was a breakthrough year for mRNA technology platforms. Since advances in molecular biology have significantly increased the in vitro dependability of such molecules, the uses of RNA in clinical R&D and fundamental research have increased.
Currently, there are approximately 150 vaccines and treatments being evaluated for the treatment of a wide range of indications that either employs mRNA in their manufacturing processes or are based on mRNA molecules. Numerous mRNA vaccines for COVID-19 have received approval for use in emergency situations in numerous nations throughout the world, and funding for the production of mRNA vaccines is rising. For instance, Sanofi plans to invest around USD 452.12 yearly in its center to develop mRNA vaccines as of June 2021.
North America is anticipated to grow lucratively over the forecast period
North America held the market's top spot and is expected to enjoy profitable growth over the projected period. The aspects like the rise in DNA enzyme adoption, which may be employed for medication development and is crucial for many treatment regimens to treat digestive ailments and chronic disorders.
Additionally, the desire for mRNA vaccines during the COVID-19 pandemic in the U.S. has resulted in a strong demand for RNA polymerases. RNA polymerases are frequently employed in medication development procedures to treat infections brought on by leprosy and TB.
Furthermore, other innovative mRNA-based vaccines targeting a wide range of malignancies are in various phases of research. Infectious illness outbreaks will fuel market expansion throughout the forecasted timeframe.
Competitive Insight
Some of the major players operating in the global market include Merck KGaA/Sigma Aldrich, Takara Bio, Calzyme, Thermo Fisher Scientific, Promega Corporation, QIAGEN, Agilent Technologies, RayBiotech, New England Biolabs, and Abnova Corporation.
Recent Developments
In April 2021, BTIG teamed up with SVB Leerink to launch coverage for Olink specifically centered on DNA polymerase research in protein research and proteomics.
In March 2021, Stanford Synchrotron Radiation Lightsource and Linac Coherent Light Source will work together to undertake structural biology experiments using novel x-ray techniques emphasizing biologics research.
In May 2022, A manufacturer of recombinant enzymes for the life sciences sector, BLIRT S.A., was purchased by QIAGEN N.V. for a 96% majority interest in order to give the company new growth opportunities for its enzymes and reagents division.
In August 2021, BLIRT S.A. upgraded its laboratory space in Gdansk Science and Technology Park. The new lab is working to scale up the production of important enzymes and improve manufacturing methods.
In May 2022: Illumina collaborated with Deerfield Management. The firms worked together to choose initiatives with a better possibility of success using genetic techniques and innate knowledge in order to save research and development costs and promote the approval of cutting-edge therapies.
DNases, Ligases, and RNA Polymerases Market Report Scope
| | |
| --- | --- |
| Report Attributes | Details |
| Market size value in 2022 | USD 652.7 million |
| Revenue forecast in 2030 | USD 1,257.9 million |
| CAGR | 8.55% from 2022 - 2030 |
| Base year | 2021 |
| Historical data | 2019 - 2021 |
| Forecast period | 2022 - 2030 |
| Quantitative units | Revenue in USD million and CAGR from 2022 to 2030 |
| Segments Covered | By DNases Application, By Ligases Application, By RNA Polymerase, By Region |
| Regional scope | North America, Europe, Asia Pacific, Latin America; Middle East & Africa |
| Key Companies | Merck KGaA/Sigma Aldrich, Takara Bio, Calzyme, Thermo Fisher Scientific, Promega Corporation, QIAGEN, Agilent Technologies, RayBiotech, New England Biolabs, and Abnova Corporation, Thermo Fisher Scientific, New England Biolabs, RayBiotech, Agilent Technologies, ABclonal Technology, BioVision, Promega Corporation, MBL International, Blirt, and MyBioSource, Merck BPS Bioscience, Inc., Novus Biologicals, Sino Biological, Inc., MyBioSource, RayBiotech, New England Biolabs, Thermo Fisher Scientific, Biorbyt, Agilent Technologies, and Promega Corporation. |