The global drone batteries market was valued at USD 4.60 billion in 2022 and is expected to grow at a CAGR of 16.40% during the forecast period. The rising popularity of drones across the world due to their abilities to perform several complex tasks like mapping, data collection, surveying, and others even in the extreme weather conditions, where manual ways of surveying are extremely risk and almost impossible, are the key factors driving the market growth. In addition, various government bodies across the globe are highly focused on safeguarding their country borders, thus they are increasing their cash flow towards the advancement of military and defense sector coupled with the growing developments on new drones with advanced capabilities and features in order to meet the consumer demand and requirements, has also been contributing towards the market growth.

To Understand More About this Research: Request a Free Sample Report
For instance, in February 2023, Garuda Aerospace, an Indian drone startup, introduced its new solar-powered drone called the "SURAJ", that is specially designed for the surveillance operations offering real-time processing to the high command. The new drone equipped with the solar cells and an auxiliary battery has been provided which offers additional propulsion.
Moreover, with the growing availability of cheap micro-processors, manufacturers across the globe have started focusing on offering Li ion or the polymer batteries with the integrated battery systems, as these systems are highly capable of performing charge & discharge management, temperature management, data logging, short circuit management, and many other functionalities that helps to boost battery life and improve real-time monitoring of the system.
The outbreak of the COVID-19 pandemic has significantly impacted the growth of the drone batteries market. The rapid spread of the deadly coronavirus has enforced countries to take necessary actions like lockdowns and other restrictions on trade activities and mass movement, that resulted in reduced consumer spending in industries like photography and film industry and have also contributed to huge disruptions in the global supply chain.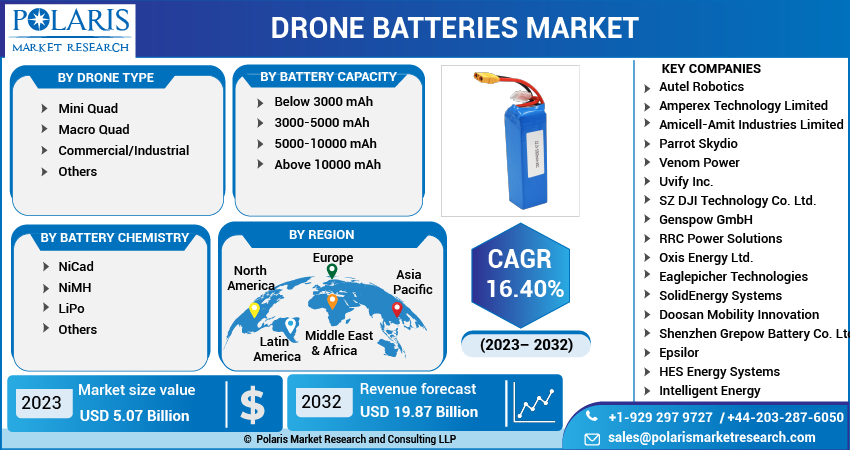 For Specific Research Requirements, Request for a Customized Report
Industry Dynamics
Growth Drivers
The constant rise in the demand for drones across large number of applications for several purposes such as defense, inspection, surveillance, cinematography, and agricultural applications coupled with the surge in penetration for drones as a safer, quicker, and cost-effective means of surveillance to the law enforcement agencies and many others, are among the primary factors expected to boost the demand and growth of the global drone batteries market. Furthermore, the significant growth in the standardization of various procedures, allowing for safe operations of the Unmanned Aircraft Systems along with the rising number of projects mainly focused on identification of services such as tracking, flight planning, conflict detection, and resolution and developments in data-driven learning method for accurate online prediction of drone battery discharge, has been creating lucrative growth opportunities for the global market.
Report Segmentation
The market is primarily segmented based on drone type, battery chemistry, battery capacity, and region.
By Drone Type

By Battery Chemistry

By Battery Capacity

By Region

Mini Quad

Macro Quad

Commercial/Industrial

Others

Below 3000 mAh

3000-5000 mAh

5000-10000 mAh

Above 10000 mAh

North America (U.S., Canada)

Europe (France, Germany, UK, Italy, Netherlands, Spain, Russia)

Asia Pacific (Japan, China, India, Malaysia, Indonesia. South Korea)

Latin America (Brazil, Mexico, Argentina)

Middle East & Africa (Saudi Arabia, UAE, Israel, South Africa)
To Understand the Scope of this Report: Speak to Analyst
Mini quad segment accounted for the largest market share in 2022
The mini quad segment accounted for major market revenue share in 2022, and is anticipated to retain its market position over the course of study period. These types of drones have become increasingly popular and gained traction in the recent years, especially among hobbyists and drone enthusiasts, which has fueled the demand and growth of the segment market. Moreover, the significant advancements in battery technology, that allow s for longer flight-times and enhanced performance and rising affordability of mini quad drones, which makes them more accessible in wide range of industries including delivery, agriculture, and construction.
The macro quad segment is likely to grow at significant growth rate over the coming years, which is mainly driven by rising popularity of drone racing as a sport, that has led to an increased demand for high-performance batteries that can power racing drones for longer periods as well as provide the necessary power for high-speed maneuvers. Moreover, its versatility that allow them to be used for used for a wide range of applications. Beside this, they are also used in industries such as agriculture, construction, and mining for monitoring and inspection tasks, which in turn, has been propelling the market growth.
LiPo segment held the significant market revenue share in 2022
The LiPo segment held the maximum market share in terms of revenue in 2022, that is highly attributable to its ability to provide high conductivity and also provides greater energy compared to other types of batteries available in the market along with this, they are being largely used in numerous applications due to its lighter weight and greater power output in terms of quantity and quality.
Beside this, these types of batteries also offer high flexibility for manufacturers to easily manufacture and develop the batteries in customized size and shape, that has boosted the adoption of the product in wide range of end users globally. Advancements in materials and manufacturing processes have enabled the development of LiPo batteries with higher energy densities, allowing drones to fly longer distances and carry heavier payloads, thereby influencing the market growth.
3000-5000 mAh segment is anticipated to witness highest growth during forecast period
The 3000-5000 mAh segment is expected to grow at a healthy CAGR during the anticipated period, which is highly attributed to increased demand for longer flight times, higher payload capacity, and continuous advancements in drone battery technology along with the rising prevalence regarding its capabilities to offer good balance between flight time, weight, and cost.
The below 3000 mAh segment led the industry market with substantial market share in 2022, on account of rising demand and popularity of drones that are designed to be lightweight and compact, as these batteries are ideal for meeting these requirements, while allowing for longer flight times and better maneuverability.
North America region dominated the global market in 2022
The North America region dominated the global market for drone batteries in 2022, and is projected to maintain its dominance throughout the forecast period. The regional market growth can be largely accelerated to growing focus and incorporation of drone batteries that are energy-efficient, cost-effective, and higher payload capacity, that are ideal for various commercial applications like last mile delivery. Additionally, there are numerous government regulations are being implemented by countries across the region are also pushing the growth forward. For example, The Federal Aviation Administration (FAA) in the United States has established clear regulations for drone operations including battery safety requirements, as these regulations have created a supportive environment for the market.
The Asia Pacific region is anticipated to be the fastest growing region with a healthy CAGR during the study period, owing to increased number of governments and private companies investing heavily in Unmanned Aerial Vehicle (UAV) technology, which led to the development of advanced drone batteries and also creating new opportunities for drone manufacturers and battery suppliers in the region.
Competitive Insight
Some of the major players operating in the global market include Autel Robotics, Amperex Technology, Amicell-Amit Industries, Parrot Skydio, Venom Power, Uvify Inc., SZ DJI Technology, Genspow, RRC Power Solutions, Oxis Energy, Eaglepicher Technologies, SolidEnergy Systems, Doosan Mobility Innovation, Shenzhen Grepow Battery, Epsilor, HES Energy Systems, and Intelligent Energy.
Recent Developments
In February 2023, HevenDrones, introduced 1st hydrogen-based drone named 'H2D55', that is specially designed for commercial use and has 5 times more efficient compared to traditional Li powered drones. These drone addresses the challenges of pay-load capacity and flight endurance associated with the lithium battery-powered drones.
In April 2021, KULR, unveiled its new product line of high-capacity Li battery packs for the in developing commercial drones. The company's new energy pack platform incorporates a lighter and safe battery with highly advanced chemistry and thermal management technology.
Drone Batteries Market Report Scope
| | |
| --- | --- |
| Report Attributes | Details |
| Market size value in 2023 | USD 5.07 billion |
| Revenue forecast in 2032 | USD 19.87 billion |
| CAGR | 16.40% from 2023 – 2032 |
| Base year | 2022 |
| Historical data | 2019 – 2021 |
| Forecast period | 2023 – 2032 |
| Quantitative units | Revenue in USD billion and CAGR from 2023 to 2032 |
| Segments covered | By Drone Type, By Battery Chemistry, By Battery Capacity, By Region |
| Regional scope | North America, Europe, Asia Pacific, Latin America; Middle East & Africa |
| Key companies | Autel Robotics, Amperex Technology Limited, Amicell-Amit Industries Limited, Parrot Skydio, Venom Power, Uvify Inc., SZ DJI Technology Co. Ltd., Genspow GmbH, RRC Power Solutions, Oxis Energy Ltd., Eaglepicher Technologies, SolidEnergy Systems, Doosan Mobility Innovation, Shenzhen Grepow Battery Co. Ltd., Epsilor, HES Energy Systems, and Intelligent Energy. |