The global drug discovery informatics market was valued at USD 2.42 billion in 2020 and is expected to grow at a CAGR of 11.4% during the forecast period. Key factors responsible for the market growth include advances in computing capabilities with rising adoption of AI and machine learning, increase in adoption of in-silico tools modeling tools, a huge volume of drug discovery data, and burgeoning demand for the new medicine or drugs.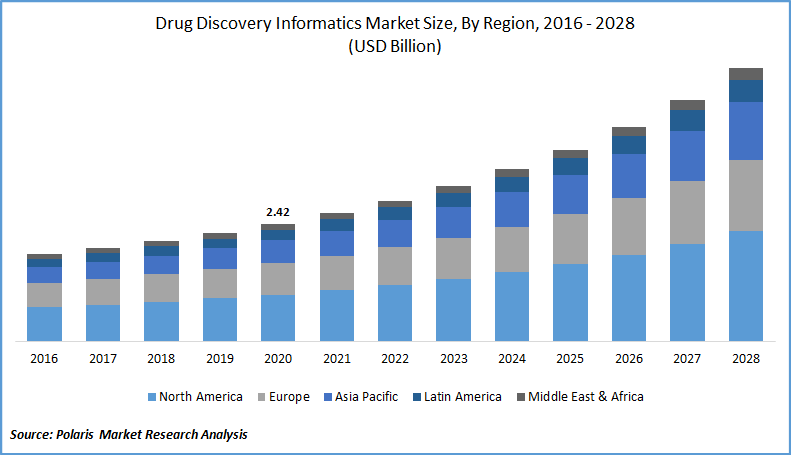 Know more about this report: request for sample pages
Moreover, the introduction of new data discovery platforms set to intensify competition in the marketplace. In this line, in January 2021, Certara introduced a new version of Simcyp Physiologically based Pharmacokinetic (PBPK) Simulator platform to assess and analyze drug actions during lactation, pregnancy, and other medical condition.
Furthermore, it helps users in deciding critical decisions with regard to drug safety and efficacy profile. Companies in the marketplace are continuously adopting computing capabilities dedicated to informatics to shorten long drug discovery process time.
In December 2020, Curve Therapeutics implemented the CDD Vault platform to manage its genetically coded Microcycle platform. The platform is suitable for seamless applications across biotechnology, drug discovery stakeholders, pharma, and academic institutions to share real-time data for collaborative discoveries.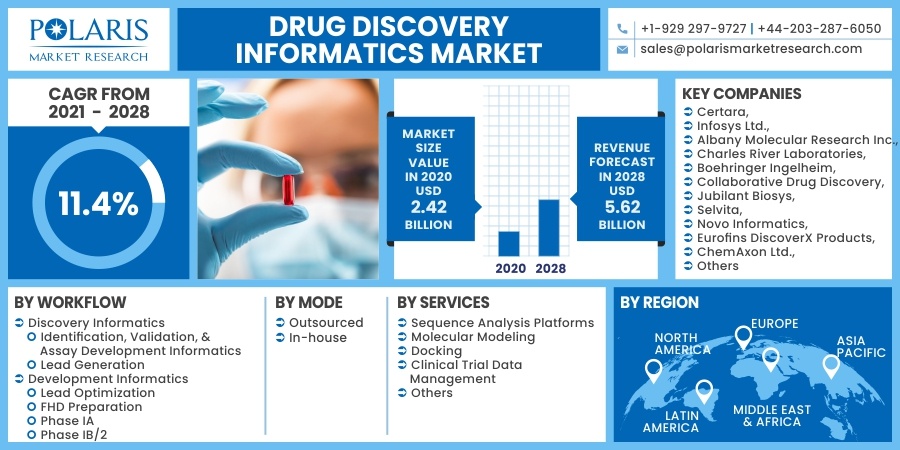 Know more about this report: request for sample pages
Drug Discovery Informatics Market Report Scope
The market is primarily segmented on the basis of workflow, mode, services, and region.
By Workflow

By Mode

By Services

By Region

Discovery Informatics

Identification, Validation, & Assay Development Informatics
Lead Generation

Development Informatics

Lead Optimization
FHD Preparation
Phase IA
Phase IB/2

Sequence Analysis Platforms
Molecular Modeling
Docking
Clinical Trial Data Management
Others

North America (U.S., Canada)
Europe (France, Germany, UK, Italy, Spain, Netherlands, Austria)
Asia Pacific (Japan, China, India, Malaysia, Indonesia, South Korea)
Latin America (Brazil, Mexico, Argentina)
MEA (Saudi Arabia, UAE, Israel, South Africa)
Know more about this report: request for sample pages
Insight by Workflow
The discovery informatics market segment accounted for the largest revenue share, in 2020. This high share is majorly due to a strong focus on the development of precision medicines. It involves specific patient care based on its genetic and molecular profiles. Companies like PerkinElmer, Inc. is a vital provider of such drug discovery informatics solutions by leveraging analytics for rapid drug discovery informatics solutions in the market.
Moreover, several governments across the globe are rapidly adopting bioinformatics for the rapid discovery of drug molecules. In this line, in July 2020, the Indian government introduced Drug Discovery Hackathon (DDH). This is the training module to promote the discovery of effective molecules against COVID-19 with enormous applications in drug discovery tools for identification, designing, and validation of the potential lead compound.
The drug development market segment is projected to witness a lucrative growth rate over the study period. This is primarily due to the rise in the number of drug candidates in the pipeline for pharmaceutical firms. The tools are extensively used to perform tasks required for the clinical trial designing for the improvement in the trail performance and speedier analysis.
Insight by Mode
In 2020, the outsourced informatics market segment accounted for the largest share and is likely to register a steady market growth rate over the study period. This high share is attributed to rising partnerships between pharma companies and the contract research organizations involved in the development of new drug entities which are subsequently used by drug manufacturers for applying to the US. regulatory agency.
There are several benefits associated with pharma and biotech companies in partnering with CROs which have significant expertise in drug informatics. A shared informatics platform used between host companies and CRO helps in monitoring the progress of the study. This also helps the company in cost-saving and to enhance productivity gains, which thereby projected to offer a plethora of profitable market opportunities.
The in-house market segment is projected to register a lucrative growth rate over the study period. This is due to the rising adoption of informatics solutions by large established pharmaceutical players across the globe. It offers, numerous advantages, such as direct access to information, lengthy data compilation.
Geographic Overview
Geographically, the global drug discovery informatics market is bifurcated into North America, Europe, Asia Pacific, Latin America, and Middle East & Africa (MEA). North America market is the largest revenue contributor followed by Europe and the Asia Pacific market.
In 2020, the North America drug discovery informatics market accounted for over 35.0% of the global market. This high share is attributed to few notable factors such as an increase in the incidence of infectious diseases, the presence of major market players, and the increasing need for advanced drug discovery tools to expedite the drug approval timeline.
Moreover, companies in the region are focusing on collaborations, and joint ventures to boost the region's market growth. In this direction, in December 2020, Atomwise collaborated with vAirus, OrganAi, and A2i Therapeutics with several programs falling in the category of oncology, neuroscience, immunology, and clotting disorders.
Competitive Insight
The prominent players operating in the market are Certara, Infosys Ltd., Albany Molecular Research Inc., Charles River Laboratories, Boehringer Ingelheim, Collaborative Drug Discovery, Jubilant Biosys, Selvita, Novo Informatics, Eurofins DiscoverX Products, ChemAxon Ltd., Oracle, Accenture, Agilent Technologies, Inc., and Illumina, Inc.