The global dumping hopper market was valued at USD 2.15 billion in 2022 and is expected to grow at a CAGR of 6.5% during the forecast period. With an emphasis on waste management and industrial manufacturing, dumping hoppers enable dynamic industrial storage and dumping operations. They can be seen as an improvement over conventional trash disposal techniques, paving the way for standard hoppers. A dumping hopper is a mobile waste management tool that can be tailored to meet unique corporate needs. The materials utilized for these hoppers and the sort of dumping necessary vary since various industries deal with a variety of materials.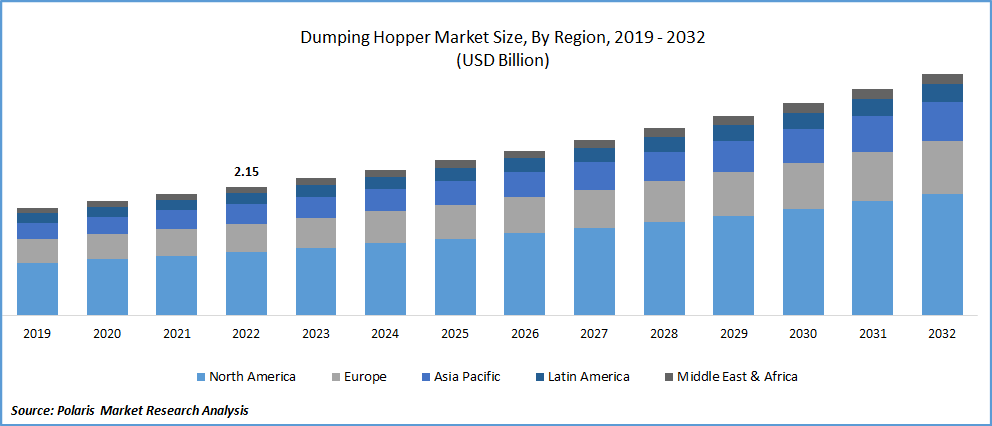 Know more about this report: Request for sample pages
The amount of waste and goods that need to be disposed of that has significantly expanded as a result of the enormous growth of the industrial, building, and agricultural industries. This garbage needs to be disposed of because waste management is now a crucial aspect of all industrial processes. As a result, it has become important to use dumping hoppers to make it simpler to handle this garbage.
Growth in the manufacturing and construction industries will favorably affect the dumping hopper market. The need for environmentally friendly building materials and growing public knowledge of the benefits of recycling the trash from industrial operations are the main drivers of the rise.
Dumping hoppers are gradually getting new features to increase their usefulness for the intended industry. Dumping hopper use is increasing globally as a result of features including simple machine integration, forklift dump hoppers, and durable operational efficiency even in challenging environments.
A variety of plastic-made personal protective equipment (PPE) has been crucial in keeping people safe during the COVID-19 outbreak. A worrying fallout of the pandemic, which has destroyed the world's healthcare systems & upended national economies, is the management of wastes resulting from SUPs. While there is an unprecedented increase in the volume of medical and domestic wastes created, vital municipal services like waste collection and treatment are in danger.
Uncontrollable amounts of biomedical plastic waste have developed as a result of the unplanned emergence of a pandemic of this magnitude. By decreasing environmental pollution caused by plastics produced during the COVID-19 epidemic, this expert insight aims to increase awareness for the implementation of dynamic waste management techniques which is boosting the demand for dumping hoppers that are driving the dumping hopper market growth over the forecast period.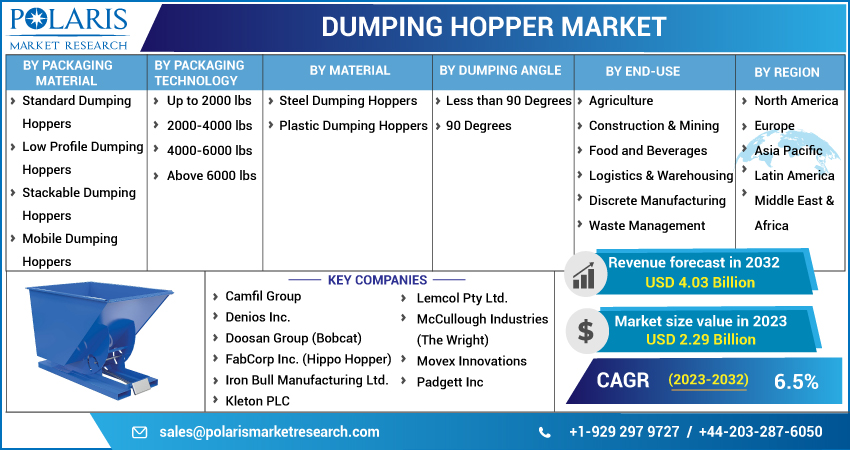 Know more about this report: Request for sample pages
Industry Dynamics
Growth Drivers
The availability of customization in dumping hoppers is boosting the demand for it across various verticals due to its benefits. Businesses with unique requirements can choose a custom design from dumping hopper manufacturers. The need for hoppers varies depending on the application in the end-use industry because one size does not fit all. Based on the load capacity, dimensions, and material strength, these goods must be customized. A modified version of the original product or even something entirely new may be included in these adaptations. Since diverse industries deal with materials that standard hoppers find challenging to manage, certain modifications have been made.
Additionally, for use with forklifts or by hand, dumping hoppers can be customized in a variety of ways by adding or removing casters. Its contents may also be protected by the addition of lids. They are advantageous for use in practically every industry, including logistics and warehouses, chemical plants, lumberyards, and many others owing to their customization choices. Sales of dumping hoppers are increasing due to the simplicity of hopper customization, which will cause the dumping hopper market to expand during the projected period.
Report Segmentation
The market is primarily segmented based on packaging material, packaging technology, material, dumping angle, end-use, and region.
By Packaging Material

By Packaging Technology

By Material

By Dumping Angle

By End-Use

By Region

Standard Dumping Hoppers

Low Profile Dumping Hoppers

Stackable Dumping Hoppers

Mobile Dumping Hoppers

Up to 2000 lbs

2000-4000 lbs

4000-6000 lbs

Above 6000 lbs

Steel Dumping Hoppers

Plastic Dumping Hoppers

Less than 90 Degrees

90 Degrees

Agriculture

Construction & Mining

Food and Beverages

Logistics & Warehousing

Discrete Manufacturing

Waste Management

Others

North America (U.S., Canada)

Europe (France, Germany, UK, Italy, Netherlands, Spain, Russia)

Asia Pacific (Japan, China, India, Malaysia, Indonesia. South Korea)

Latin America (Brazil, Mexico, Argentina)

Middle East & Africa (Saudi Arabia, UAE, Israel, South Africa)
Know more about this report: Request for sample pages
The Steel Dumping Hopper segment is expected to witness the fastest growth
Dumping hopper usage has grown proportionally with the expansion of the manufacturing sector. Dumping hoppers help lift objects from one area to another, which increases production rates for manufacturing organizations. They have a considerable load capacity, which varies between models, and can also be utilized as storage devices. The things kept inside them are the kinds of things that, while not currently useful to businesses, will be useful to them soon. End users favor steel dumping hoppers because of their superior reliability, longevity, and optimal operational efficiency.
The construction and Mining segment industry accounted for the highest market share in 2022
Over the past five years, the utilization of dumping hoppers has increased for such a significant business. The burden on laborers is reduced owing to several advantageous characteristics, which also offer maximum operational effectiveness. Due to the absence of garbage and rubbish that has been discarded, the area around the site is maintained clean. Employee moving space expands significantly.
The construction sector is anticipated to use dumping hoppers, which are suitable for carrying a variety of materials at construction sites, to create a market. Hopper use can boost efficiency in several ways at construction sites. They provide storage and dumping facilities for building waste as well as assistance with the delivery of ingredients needed for mixing mortar.
The 2000-4000lbs packaging technology segment accounted for the largest market share in 2022
Dumping hoppers are adaptable and available in a range of sizes; small (lightweight) models have a capacity ranging from 2000 to 4000 lbs, while large (heavy-duty) models have a capacity ranging from 6500 to 10000 lbs. These models are suitable for a variety of business needs, including loading, transporting, storing waste products, etc. Among these, the range of 2000 to 4000 lbs is hold the highest share due to its benefits across various verticals.
Further, these hoppers can handle a range of materials and are well-designed with several safety features. Additionally, they have unique parts that provide safety when handling and processing toxic and dangerous wet and dry materials. Paper and pulp, construction debris, metallic and plastic scraps, tunings, wood, aluminum cans, fluid substances, and recycling material are just a few of the different types of loads that these machines can manage.
The demand in North America is expected to witness significant growth
Following the COVID-19 outbreak, businesses are less likely to rely on China for their manufacturing requirements. As a result, the U.S. has an opportunity to seize this opportunity and benefit from the situation by enhancing its manufacturing capabilities. The use of dumping hoppers in logistics and storage has perhaps increased due to enhanced supply chains in the wake of the epidemic.
Further, due to the presence of numerous US-based dumping hopper manufacturers, the American market for these products can be independent of Chinese producers. Food, cars, chemicals, aircraft, military equipment, and other high-volume products produced in the US all require dumping hoppers to function properly. The market for dumping hoppers in the United States will expand over the forecast period as a result of the factors discussed above.
Competitive Insight
Some of the major players operating in the global dumping hopper market include Camfil Group, Denios, Doosan Group, FabCorp, Hero Equipment, Iron Bull Manufacturing, Lemcol Pty, McCullough Industries, Movex Innovations, Padgett, Roura Material Handling, Sacon Machines, Unitran Manufacturers, Vestil Manufacturing Corp., & Wastequip.
Recent Developments
In February 2021, ContainerPros has been bought by Wastequip. The Toter brand, which is owned by Wastequip, has extensive experience in supplying garbage haulers and municipalities with cart assembly, delivery, and maintenance services. This strategic acquisition strengthens the company's current service offering for cart assembly and delivery. The acquisition also paves the way for Wastequip to expand its service portfolio to include the renovation and repair of steel containers.

In January 2019, the acquisition of McCullough Industries, by Olympic Steel Inc. Self-dumping hoppers with branded McCullough Industries are produced and offered for sale in a range of industrial applications. Products from McCullough are mostly marketed through catalogs and industrial distributors. The acquisition assists the company's self-dumping hoppers product sale.
Dumping Hopper Market Report Scope
| | |
| --- | --- |
| Report Attributes | Details |
| Market size value in 2023 | USD 2.29 billion |
| Revenue forecast in 2032 | USD 4.03 billion |
| CAGR | 6.5% from 2023 - 2032 |
| Base year | 2021 |
| Historical data | 2019 – 2021 |
| Forecast period | 2023 – 2032 |
| Quantitative units | Revenue in USD billion and CAGR from 2023 to 2032 |
| Segments Covered | By Packaging Material, BY Packaging Technology, By Material, By Dumping Angle, By End-Use, By Region |
| Regional scope | North America, Europe, Asia Pacific, Latin America; Middle East & Africa |
| Key Companies | Camfil Group, Denios Inc., Doosan Group (Bobcat), FabCorp Inc. (Hippo Hopper), Hero Equipment (Yangzhou) Co., LTD, Iron Bull Manufacturing Ltd., Kleton PLC, Lemcol Pty Ltd., McCullough Industries (The Wright), Movex Innovations, Padgett Inc, Roura Material Handling, Inc., Rubbermaid Commercial Products, Sacon Machines, Suihe Ltd., Synergy, Unitran Manufacturers Ltd, Vestil Manufacturing Corporation, and Wastequip LLC |