The global electric kick scooters market was valued at USD 2.57 billion in 2020 and is expected to grow at a CAGR of 10.5% during the forecast period. The growth of this market is attributed to the presence of favorable government norms promoting the use of electric vehicles, including electric scooters, the rising popularity of electric vehicles, and growing awareness regarding the environmental advantages of increasing carbon footprint.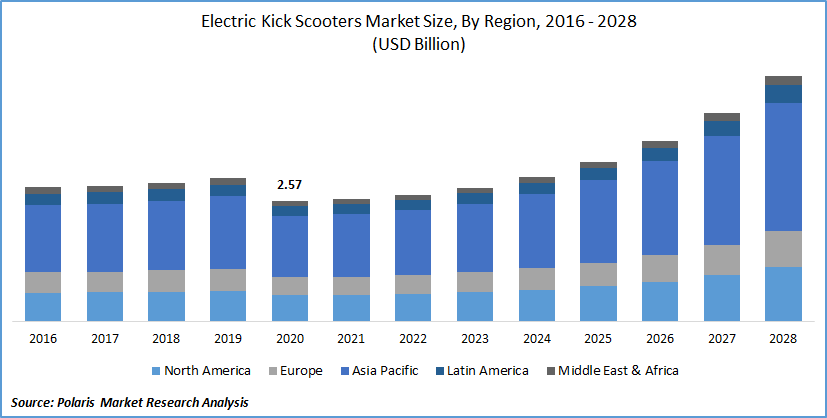 Know more about this report: request for sample pages
An electric kick scooters is compact in size, significantly helps in reducing traffic congestion. It is environment friendly, portable, and efficiently achieves higher speed with less effort. Also, electric kick scooters are cost-friendly they have zero maintenance cost. Due to such inherent properties, market electric kick scooters are expected to have a potential growth opportunity in developed and developing economies for the electric kick scooters market.
COVID-19 has a negative impact on the global market of electric kick scooters, as the unexpected outbreak has impacted various industries. The worldwide notification of lockdown had a detrimental effect on various businesses, including industrial manufacturing, semiconductors, and other markets as well. As a result of this, many manufacturing markets have closed, resulting in a drop in kick scooters market production. Furthermore, trade obstacles between countries have disrupted raw material supply, resulting in a negative market demand-supply gap. However, the electric kick scooters market is projected to gain potential growth in the forthcoming period, from 2021.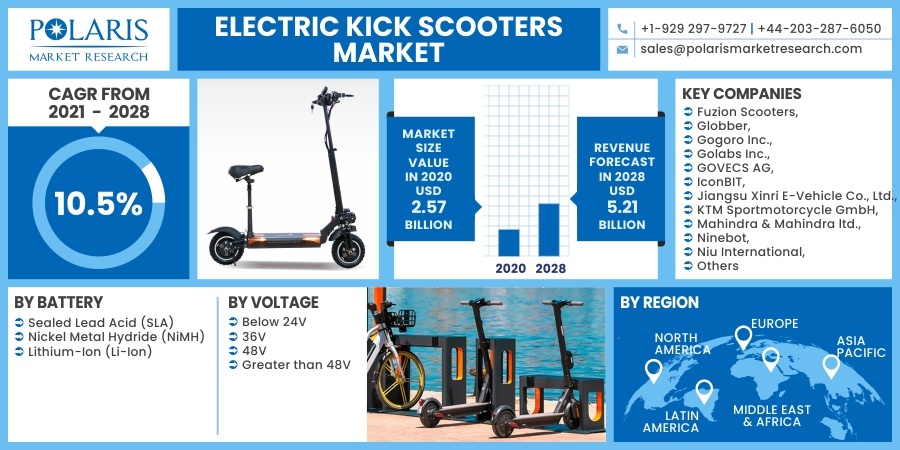 Know more about this report: request for sample pages
Industry Dynamics
Growth Drivers
Overcrowding is becoming more of a problem in cities worldwide, owing to continuous urbanization and population expansion. Traffic incidents, bad weather, work zones, and other factors all contribute to traffic congestion. According to the INRIX, Americans lose 99 hours per year due to traffic congestion, equating to a loss of USD 1,377 per motorist. As economic and urban expansion continues across the country, the average time lost by American drivers has climbed by two hours from 2017 to 2019. Electric kick scooters are in high market demand worldwide due to their small size and ease of transportation. Therefore, growing traffic congestion across the world is stimulating the market demand for electric kick scooters.
Furthermore, as people become more aware of the dangers of driving cars that operate on fossil fuels, governments worldwide are taking steps to minimize carbon emissions by encouraging the use of electric vehicles such as electric kick bikes, electric kick scooters, and electric bicycles. Furthermore, governments are permitting electric kick scooters to be used on public or designated streets, encouraging people to use them as a primary form of transportation which in turn fuels the electronic kick scooters market demand.
For example, Irish Minister for Transport Eamon Ryan approved the use of electric kick scooters on public highways in Ireland without requiring a tax, insurance, or a driver's license, as of February 2021. Furthermore, governments worldwide are providing tax credits and incentives to encourage the adoption of electric kick scooters environmentally friendly automobiles. For example, in June 2019, the Indian government announced a plan to reduce the goods and service tax (GST) on electric vehicles from 12 to 5% to encourage speedier adoption.
Report Segmentation
The market is primarily segmented on the basis of battery, voltage, and region.
By Battery

By Voltage

By Region

Sealed Lead Acid (SLA)
Nickel Metal Hydride (NiMH)
Lithium-Ion (Li-Ion)

Below 24V
36V
48V
Greater than 48V

North America (U.S., Canada)
Europe (France, Germany, UK, Italy, Netherlands, Spain, Austria)
Asia Pacific (Japan, China, India, Malaysia, Indonesia. South Korea)
Latin America (Brazil, Mexico, Argentina)
Middle East & Africa (Saudi Arabia, UAE, Israel, South Africa)
Know more about this report: request for sample pages
Insight by Battery Type
Due to the expanding performance and environmental advantages of Li-Ion batteries over sealed lead-acid batteries, the lithium-ion (Li-Ion) battery retained the greatest market share in the global kick scooters market in 2020. Lithium-ion battery prices are falling, and manufacturers are launching more R&D projects to improve the technology.
Li-Ion batteries are rechargeable batteries that have fundamental applications in portable electronics. Due to its high energy density, it is gaining substantial popularity in the electric vehicles market. Also, it has a lesser environmental impact and lowers maintenance costs, which makes it a suitable option for integration in electric kick vehicles. Therefore, the inherent properties of Li-Ion batteries over other alternative batteries are stimulating the electronic kick scooters market's growth over the forecast years.
Insight by Voltage
The 48V market segment is expected to witness the highest CAGR during the forecast period. Since electronic kick scooters with a voltage greater than 48V have a more extended range, which makes them more popular. These kick scooters produce carbon dioxide at a reasonable cost. In addition, 48V scooters have amenities like air conditioning compressors and turbochargers that are difficult to incorporate into 12V or 24V scooters. Over the projected period, market demand for high voltage electric kick scooters is expected to be driven by minimizing carbon footprints.
Geographic Overview
Geographically, Asia Pacific dominated the kick bike market during 2020. China, India, and other South Asian countries have developed robust legislation for the vehicle charging infrastructure, which is projected to boost regional growth. For instance, according to the National Research Development Corporation (NRDC), India has less than 0.1 percent of the world's one million public charging sites for electric vehicles (EVs), or roughly 700.
Charging infrastructure must accelerate dramatically for a country expecting to boost EV use to 30% by 2030. However, mobilizing funds is critical for reaching the required size. The Indian government has taken preliminary steps in response to this worry, including creating a national EV program, the FAME II scheme, which involves a subsidy to establish 2,636 charging stations for electric vehicles around the country.
Furthermore, the presence of strict government norms regarding pollution control and significant investment & initiatives to establish charging infrastructure in the North American region is creating a lucrative opportunity for the kick bike market growth. For instance, in the United States, it is assumed that state-level financial investment & incentives amounting to USD 1.1 billion are expected to be initiated by 2025.
In the current scenario, states are offering granting, tax credits, and refunds to encourage the development of charging infrastructure. Installers can save money on public Level 2 and DC fast chargers in seventeen states because of a financial incentive. These incentives range from a tax exemption for charging station development in Washington State to a USD 250 million investment in charging infrastructure in New York State through 2025. For instance, the presence of the National Emission Standard for Hazardous Air Pollution (NESHAP), a US Environmental Protection Agency (EPA) emission standard that establishes strict norms and guidelines to be followed in order to control pollution and contribute effectively to the global goal of reducing carbon emissions.
Competitive Insight
Some of the major market players operating in the global kick bike market include Fuzion Scooters, Globber, Gogoro Inc., Golabs Inc., GOVECS AG, IconBIT, Jiangsu Xinri E-Vehicle Co., Ltd., KTM Sportmotorcycle GmbH, Mahindra & Mahindra ltd., Ninebot, Ningbo MYWAY Intelligent Technology Co., Ltd, Niu International, Razor USA LLC, Swagtron India, Terra Motors India, Vmoto Limited, Xiaomi, Xootr LLC, YADEA Technology Group Co., Ltd., Yamaha Motor Co., Ltd. and, Okai.
Electric Kick Scooters Market Report Scope
| | |
| --- | --- |
| Report Attributes | Details |
| Market size value in 2020 | USD 2.57 billion |
| Revenue forecast in 2028 | USD 5.21 billion |
| CAGR | 10.5% from 2021 - 2028 |
| Base year | 2020 |
| Historical data | 2016 - 2019 |
| Forecast period | 2021 - 2028 |
| Quantitative units | Revenue in USD million/billion and CAGR from 2021 to 2028 |
| Segments covered | By Battery, By Voltage, By Region |
| Regional scope | North America, Europe, Asia Pacific, Latin America, Middle East & Africa |
| Key Companies | Fuzion Scooters, Globber, Gogoro Inc., Golabs Inc., GOVECS AG, IconBIT, Jiangsu Xinri E-Vehicle Co., Ltd., KTM Sportmotorcycle GmbH, Mahindra & Mahindra ltd., Ninebot, Ningbo MYWAY Intelligent Technology Co., Ltd, Niu International, Razor USA LLC, Swagtron India, Terra Motors India, Vmoto Limited, Xiaomi, Xootr LLC, YADEA Technology Group Co., Ltd., Yamaha Motor Co., Ltd. and, Okai |