The global electric vertical take-off and landing vehicles (eVTOLs) aircraft market was valued at USD 11.43 Billion in 2022 and is expected to grow at a CAGR of 13.86 % in the forecast period. The growing traffic congestion, the necessity for an alternate mode of transport, and the surging use of eVTOL aircraft for various applications are the primary factors projected to drive the next generation of traveling solutions in the forecast period. Several other factors are likely to support the novel technology, including advancements in electric propulsion technology, reduced operating costs for eVTOL aircraft, increased investment in the industry, and favorable regulatory support from the government.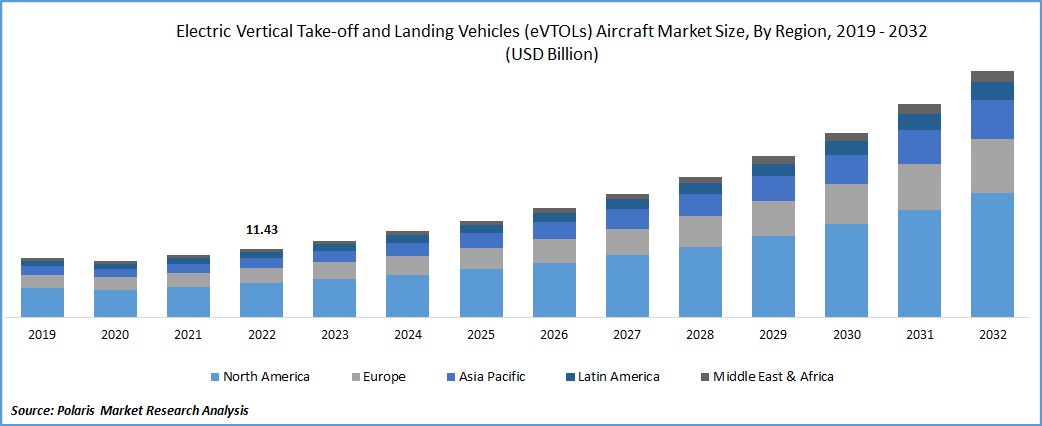 Know more about this report: Request for sample pages
eVTOL (electric vertical takeoff and landing) aircraft use electric motors and batteries to power rotors or fans that enable vertical takeoff and landing, as well as forward flight. They are designed to be more efficient, environmentally friendly, and quieter than conventional aircraft. The aircraft come in various designs, including multi-copter, tiltroter, lift+cruisine, winged multi-copter, and others. eVTOL aircraft is being developed for multiple applications, including urban air mobility, air taxi services, cargo delivery, and military applications.
In the past few years, various companies have been investing in novel aerial ridesharing technology to tap the future potentiality of the market. Companies such as Uber, Boeing, Airbus, Joby Aviation, Lilium, Volocopter, and others are in the run to get a share of the next-generation technology. For instance, Uber Technologies Inc. has been investing in distributed electric propulsion (DEP) to unlock the electric urban air mobility that enables the eVTOL aircraft to be fault-tolerant, increasing safety, reducing maintenance costs, and allowing the operations up to a hundred times quieter than conventional helicopters.
Another major aircraft manufacturer Airbus is developing its eVTOL aircraft called the CityAirbus. The company has also invested in startups in the eVTOL space, including Airspace Experience Technologies and Voom.
The aircraft offers several benefits over conventionally produced aircraft, including faster and more efficient transportation, reduced environmental impact, quieter operations, increased safety, greater flexibility, and lower operating costs. The aircraft is powered by electricity, which means they produce fewer emissions than conventional aircraft. It can help to reduce air pollution and mitigate the impact of aviation on climate change. Further, it requires lower operating costs than conventional aircraft because they require less maintenance, fewer moving parts, and less fuel. It can help reduce transportation costs and make it more accessible to a wider range of people. As it is powered by electricity, they produce fewer emissions than conventional aircraft and can help reduce air pollution and mitigate the impact of aviation on climate change.
The COVID-19 pandemic had an overall negative impact on the eVTOL aircraft market. The pandemic has caused delays in developing and testing eVTOL aircraft, as travel restrictions and social distancing measures have made it more difficult to conduct tests and collaborate on projects. In addition, the economic slowdown caused by the pandemic has reduced funding for some eVTOL projects and caused delays in deploying commercial eVTOL services. On the other hand, the period has also highlighted the limitations of ground-based transportation infrastructure, particularly in dense urban areas where traffic congestion can cause delays and increase the risk of disease transmission.
Various factors projected to limit the novel technology eVTOL aircraft market can be attributed to challenges due to early-stage technology, high cost, stringent regulations, and lack of proper infrastructure.
For example, lack of infrastructure and stringent certifications are two key limiting factors for the eVTOL aircraft market. The development of eVTOL aircraft will require a significant investment in infrastructure to support the manufacturing, maintenance, and operation of these aircraft. It includes developing charging stations, landing pads, maintenance facilities, and improvements to air traffic control systems and other infrastructure.
The certification process for eVTOL aircraft is likely to be more stringent than traditional aircraft due to the new and innovative technologies involved. It could slow down the development and commercialization of eVTOL airplanes as manufacturers navigate the complex certification process.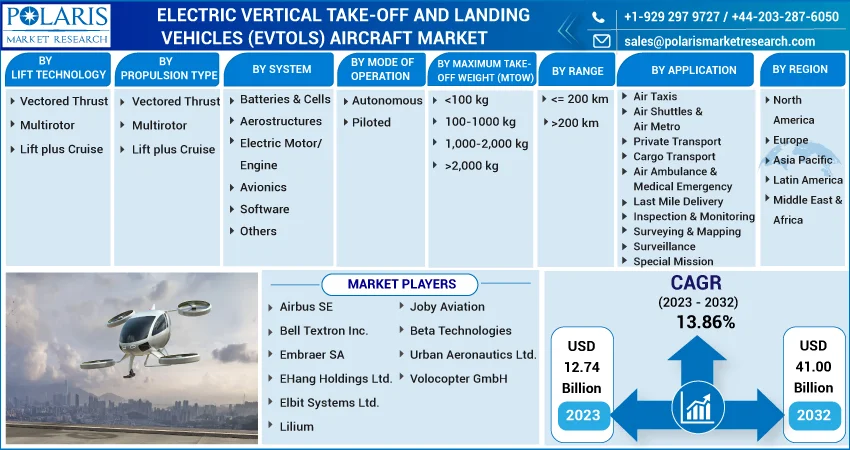 Know more about this report: Request for sample pages
Industry Dynamics
Growth Drivers
The growing traffic congestion and the need for an alternate mode of transport are the key driving factors for the electric vertical take-off and landing vehicles (eVTOLs) aircraft market. The increasing urbanization and population growth in many parts of the world have led to significant traffic congestion in many cities. eVTOL aircraft have the potential to provide a faster, more efficient, and environmentally-friendly mode of transport in urban areas. By taking advantage of vertical takeoff and landing capabilities, eVTOL aircraft can avoid many challenges associated with ground-based transportation, such as traffic congestion and limited road infrastructure. It could significantly reduce travel times and increase mobility for urban residents.
Furthermore, using electric-powered engines in eVTOL aircraft could significantly reduce greenhouse gas emissions compared to conventional fossil fuel-powered aircraft. It could make eVTOL aircraft an important tool in the fight against climate change and air pollution.
Increasing investments in R&D of the eVTOL aircraft technology have unlocked its various new applications in the last few years. Some potential applications for eVTOL aircraft include urban air mobility, cargo delivery, emergency response, military applications, and tourism. Besides its primary use as a fast and efficient mode of transport for urban residents, it can also be used for emergency medical transport, search and rescue missions, and firefighting, providing a fast and efficient way to reach remote or inaccessible locations. Moreover, it can deliver goods and packages in urban areas, reducing the need for ground-based delivery vehicles and reducing traffic congestion.
Report Segmentation
The market is primarily segmented based on lift technology, propulsion type, system, mode of operation, maximum take-off weight, range, application, and region
By

Lift Technology

By Propulsion Type

By System

By Mode of operation

By Maximum Take-off Weight (MTOW)

By Range

By Application

By Region

Vectored Thrust

Multirotor

Lift plus Cruise

Fully Electric

Hybrid Electric

Hydrogen Electric

Batteries & Cells

Aerostructures

Electric Motor/Engine

Avionics

Software

Others

<

100 kg

100-1000 kg

1,000-2,000 kg

>2,000 kg

Air Taxis

Air Shuttles & Air Metro

Private Transport

Cargo Transport

Air Ambulance & Medical Emergency

Last Mile Delivery

Inspection & Monitoring

Surveying & Mapping

Surveillance

Special Mission

Others

North America (U.S, Canada, Mexico)

Asia-pacific (China, Japan, India, Australia, Rest of Asia- pacific)

Europe (Germany, UK, France, Spain, Italy, Rest of Europe)

LAMEA (Latin America, Middle East & Africa)
Know more about this report: Request for sample pages
The Multirotor segment is anticipated to dominate the market in the forecast period.
The multirotor segment of the eVTOL aircraft market is expected to grow in the coming years, driven by increasing demand for urban air mobility and other applications. Several benefits of the dominance of the segment include its capability of taking off and landing vertically, eliminating the need for runways or airports, and can be designed to be relatively small and agile, making them well-suited for applications such as emergency response, inspection, and surveillance.
The Hydrogen Electric segment is anticipated to witness the highest CAGR in the forecast period.
The growth of the hydrogen-electric propulsion type segment in the eVTOL aircraft market is being driven by several factors, including increasing demand for sustainable aviation solutions, advances in fuel cell technology, and regulatory support for hydrogen fuel cell development. Hydrogen fuel cells offer several advantages over traditional lithium-ion batteries, including longer range, faster refueling times, and potentially lower weight.
The 100 – 1000 kg MTOW segment will witness a significant CAGR in the forecast period.
A major factor for the segment's growth is its weight class, which is well-suited for short-range trips, such as urban air mobility and air taxi services. They are also more affordable and easier to operate than larger aircraft, making them an attractive option for new entrants to the aviation industry. Additionally, advances in battery technology and electric propulsion systems have enabled eVTOL aircraft in this weight class to achieve longer flight times and higher speeds. It has increased the potential applications for these aircraft, including package delivery, aerial surveys, and emergency response services.
The Last Mile Delivery segment is anticipated to witness the highest CAGR in the forecast period.
Last Mile Delivery refers to the transportation of goods from a local distribution center to the final destination, typically within a range of a few miles. One of the main advantages of eVTOL aircraft for Last Mile Delivery is their ability to bypass ground traffic and reach destinations difficult to access by road. It can significantly reduce delivery times and improve the overall efficiency of the delivery process.
North America region is leading the market in terms of revenue share for the year 2022
Several factors are driving the growth in the region, including the increasing demand for urban air mobility, advancements in battery technology and electric propulsion systems, and the need for more sustainable modes of transportation. Further, several significant manufacturers such as Joby Aviation, Archer Aviation, Beta Technologies, and Lilium also support the supply side of the market. The companies have received significant investments from venture capitalists and established players in the aerospace industry, indicating the market's potential growth in the region.
Competitive Insight
Some of the prominent key players operating in the Marketspace includes Airbus SE, Bell Textron Inc., Embraer SA, EHang Holdings Ltd., Elbit Systems Ltd., Lilium, Joby Aviation, Beta Technologies, Urban Aeronautics Ltd., Volocopter GmbH
Recent Developments
November 2022: Volocopter GmbH has raised USD 182 million in the series E financing round to move the VoloCity Air Taxi, the company's electric passenger aircraft, beyond the certification stage.

January 2020: Toyota Motor Corporation has collaborated with Joby Aviation, a company engaging in developing and commercializing electric vertical take-off and landing (eVTOL) aircraft to meet the long-term potential and meet the evolving needs of society.
Electric Vertical Take-off and Landing Vehicles (eVTOLs) Aircraft Market Report Scope
| | |
| --- | --- |
| Report Attributes | Details |
| Market size value in 2023 | USD 12.74 Billion |
| Revenue forecast in 2032 | USD 41.00 Billion |
| CAGR | 13.86 % from 2023 - 2032 |
| Base year | 2022 |
| Historical data | 2018 - 2021 |
| Forecast period | 2023 - 2032 |
| Quantitative units | Revenue in USD Billion and CAGR from 2023 to 2032 |
| Segments covered | By Lift Technology, By Propulsion Type, By System, By Mode of operation, By Maximum Take-off Weight (MTOW), By Range, By Application, By Region |
| Regional scope | North America, Europe, Asia Pacific, Latin America, Middle East & Africa |
| Key companies | Airbus SE, Bell Textron Inc., Embraer SA, EHang Holdings Ltd., Elbit Systems Ltd., Lilium, Joby Aviation, Beta Technologies, Urban Aeronautics Ltd., Volocopter GmbH |