The global electrophysiology devices market was valued at USD 5.54 billion in 2021 and is expected to grow at a CAGR of 10.8% during the forecast period. The growing demand for the electrophysiological device market is expected to be driven by the increasing number of cardiovascular patients, the increase in the elderly population, and rising disease awareness programs in many developing countries.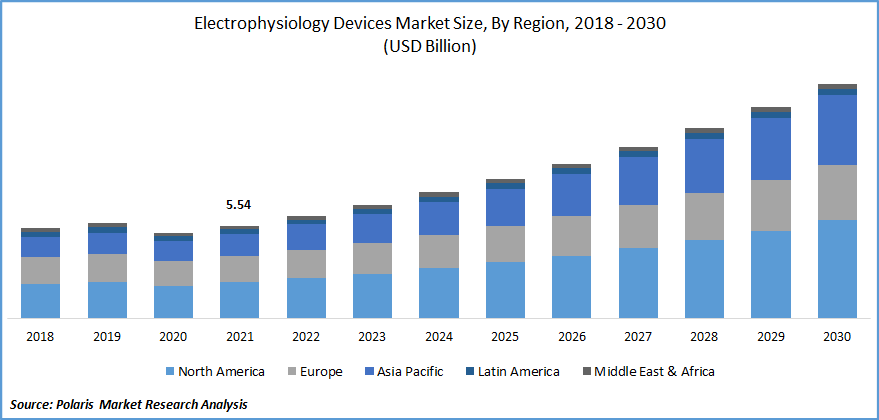 Know more about this report: Request for sample pages
Electrophysiology devices are enhancing the diagnosis and treatment capabilities of healthcare practitioners around the world. Ablation catheters, a 3D mapping system, a radiofrequency generator, and access electrophysiology devices are examples of electrophysiology equipment that is available at hospitals, cardiac centers, and labs. One of the most often utilized methods for treating atrial fibrillation is cardiac ablation.
The COVID-19 pandemic had a negative impact on the electrophysiology devices market growth. Due to the cancellation and delay of non-urgent EP procedures, sales significantly decreased. Manufacturers experienced significant revenue losses as a result of the fall in demand.
Developing nations are strengthening their healthcare systems, including Brazil, Russia, India, China, and South Africa. Due to the prevalence of cardiovascular disorders in these regions, electrophysiology devices can be sold in significant quantities. Increased medical demands and rising health awareness in Latin American nations like Mexico and others are also anticipated to boost the adoption of this electrophysiology technology over the forecast period.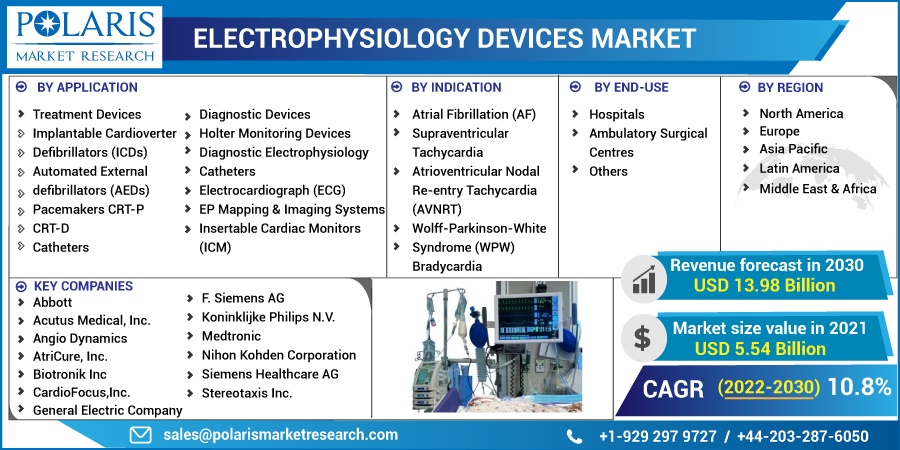 Know more about this report: Request for sample pages
Industry Dynamics
Growth Drivers
The electrophysiology devices market is expanding owing to increasing arrhythmia incidences, increasing catheter ablation procedure demand, and widespread use of cardiovascular surgery in developing nations. Additionally, the main drivers of the electrophysiology devices market growth are the increased prevalence of heart failure and cardiac failure cases among youth due to lifestyle factors, including smoking and alcohol use.
Technological advancements like implantable cardioverter defibrillators, single- and multiunit extracellular recording, lipid bilayer recording, trans epithelial recording, current-clamp recording, voltage-clamp recording, and calculating impedance measurements are expected to have a significant positive impact on the electrophysiology devices market.
Major government bodies from all around the world are increasing their investments in health care facilities. Furthermore, there has been increasing awareness of cardiovascular disorders. These factors fuel the industry's growth.
Additionally, the aging population, who are more sensitive to certain medical conditions, is boosting market expansion. A positive outlook for the market has been formed by the growing knowledge of the advantages of electrophysiology devices, which have fewer risks and higher success rates than conventionally used technology.
Report Segmentation
The market is primarily segmented based on application, indication, end-use and region:
By Application

By Indication

By End-Use

By Region

Treatment Devices

Implantable Cardioverter Defibrillators (ICDs)
Automated External defibrillators (AEDs)
Pacemakers CRT-P
CRT-D
Catheters
Others

Diagnostic Devices

Holter Monitoring Devices
Diagnostic Electrophysiology Catheters
Electrocardiograph (ECG)
EP Mapping & Imaging Systems
Insertable Cardiac Monitors (ICM)

Atrial Fibrillation (AF)
Supraventricular Tachycardia
Atrioventricular Nodal Re-entry Tachycardia (AVNRT)
Wolff-Parkinson-White Syndrome (WPW)
Bradycardia
Other

Hospitals
Ambulatory Surgical Centres
Others

North America (U.S., Canada)
Europe (France, Germany, UK, Italy, Netherlands, Spain, Russia)
Asia Pacific (Japan, China, India, Malaysia, Indonesia, South Korea)
Latin America (Brazil, Mexico, Argentina)
Middle East & Africa (Saudi Arabia, UAE, Israel, South Africa)
Know more about this report: Request for sample pages
The diagnostic devices segment accounted for the biggest share
The diagnostic device segment is driven by the growing use of cardiac monitors for arrhythmia monitoring, rapid technological development, and the growing need for portable digital systems and catheters for the diagnosis of cardiac problems.
The high adoption rates of ambulatory monitoring equipment and the widespread use of cardiac monitors as standard diagnostic and monitoring tools for arrhythmias are responsible for segment dominance.
In addition, Holter monitors, ECGs, diagnostic catheters, mapping & imaging systems, and implantable cardiac monitors are a few examples of EP diagnostic technology. The growing use of electrophysiology technology in interventional medical procedures, such as catheter placement, and the introduction of portable & digital systems are anticipated to fuel segment expansion.
The atrial fibrillation segment dominated the market in 2021
The atrial fibrillation segment dominated the electrophysiology devices, and it accounted for the largest revenue share. The most frequent arrhythmia that raises the risk of blood clotting and stroke is atrial fibrillation.
Due to the limitations of conventional monitoring systems, atrial fibrillation is frequently undiagnosed in clinical practices, and as a result, the majority of people with critical conditions do not receive treatment. The increasing use of advanced electrophysiology equipment for atrial fibrillation diagnosis and treatment has fuelled this industry's expansion.
Additionally, increasing healthcare costs and more research being done to find a therapy for SVT (Supraventricular Tachycardia) are all anticipated to support segment growth.
The hospital segment accounted for the largest share in 2021
The hospitals segment dominated the global market due to the increased use of technologically advanced cardiac rhythm management and electrophysiological procedure. The number of hospital procedures for heart failure, cardiac arrhythmias, and stroke has increased, which has led to an increase in the sales of EP devices. The aim of using EP is to monitor irregular heartbeats and to make it easier to treat such irregular heartbeats.
The increasing incidence rate of arrhythmia and cardiovascular disease (CVD) cases are fuelling the expansion of several fragments in the EP devices market, such as ECG technology, pacemakers, CRT, and ablation catheters.
Additionally, the multi-specialty hospitals increasing global presence and the growing government investments in the development of advanced healthcare infrastructure have fuelled the expansion of the hospital's segment.
North America held the largest market share in 2021
North America has emerged as a market leader with the highest revenue share. Growing rates of heart failure (HF) and cardiac arrhythmia as a result of smoking, an unhealthy lifestyle, and alcohol usage are the main causes of the region's expansion.
During the forecast period, the market in the Asia Pacific is expected to grow at the fastest rate. The region's expansion is mostly fuelled by the high elderly population, increasing risk of cardiac diseases, and unmet clinical needs.
The demand for electrophysiology devices is anticipated to grow because of the rapid development of the healthcare infrastructure and a growing disposable income in developing nations such as India and China. Additionally, it is expected that leading industry players in the region will increase their investment due to the region's rapidly developing healthcare infrastructure and growing healthcare spending.
Competitive Insight
Some of the major players operating in the global market include Abbott, Acutus Medical, Inc., Angio Dynamics, AtriCure, Inc. Biosense Webster (Johnson & Johnson Services, Inc.), Biotronik Inc, CardioFocus, Inc.General Electric Company, F. Siemens AG, Koninklijke Philips N.V., MicroPortScientific Corporation, Medtronic, Nihon Kohden Corporation, Siemens Healthcare AG,Stereotaxis Inc.
Recent Developments
In January 2022, Pharmaceutical company Abbott Laboratories announced that the EnSite X Electrophysiology system with EnSite omnipolar technology had received US Food and Drug Administration (USFDA) clearance for the treatment of individuals with atrial fibrillation.
In April 2021, The FDA approved the AcQCrossTM series of universal trans septal crossing devices, according to Acutus Medical, Inc., an organization focused on improving the diagnosis and treatment of cardiac arrhythmias.
In November 2020Abbott's EnSite X EP System received the CE mark and approval from the Australian Regulatory Authority. The EnSite X EP System is designed to improve how doctors perform ablation therapy to treat irregular cardiac rhythms. It expands upon the company's electrophysiology portfolio.
Electrophysiology Devices Market Report Scope
| | |
| --- | --- |
| Report Attributes | Details |
| Market size value in 2021 | USD 5.54 billion |
| Revenue forecast in 2030 | USD 13.98 billion |
| CAGR | 10.8% from 2022 - 2030 |
| Base year | 2021 |
| Historical data | 2018 - 2020 |
| Forecast period | 2022 - 2030 |
| Quantitative units | Revenue in USD billion and CAGR from 2022 to 2030 |
| Segments covered | By Application, By Indication, By End-Use, By Region |
| Regional scope | North America, Europe, Asia Pacific, Latin America; Middle East & Africa |
| Key companies | Abbott, Acutus Medical, Inc., Angio Dynamics, AtriCure, Inc. Biosense Webster (Johnson & Johnson Services, Inc.), Biotronik Inc, CardioFocus, Inc.General Electric Company, F. Siemens AG, Koninklijke Philips N.V., MicroPortScientific Corporation, Medtronic, Nihon Kohden Corporation, Siemens Healthcare AG,Stereotaxis Inc. |