The global encryption software market was valued at USD 5.80 billion in 2022 and is expected to grow at a CAGR of 16.4% during the forecast period. The increasing need for data privacy and rising concerns regarding vital data loss drive the market's growth. The growing trend of Bring Your Own Device (BYOD) and the Internet of Things (IoT) further support market growth. The growing adoption of cloud, big data, and virtualization further increase the need for encryption to ensure critical data safety. Furthermore, driving regulations in place that provide the necessary adoption of this software and increasing mobility are factors expected to support market growth during the forecast period.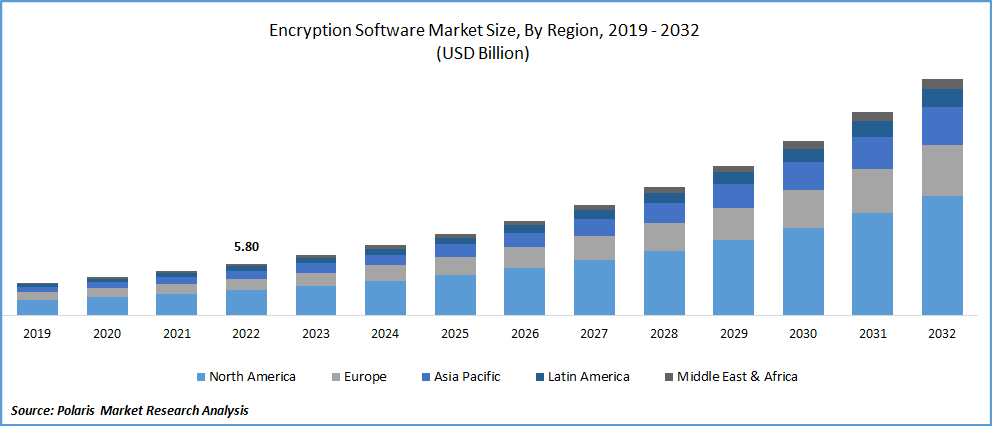 Know more about this report: Request for sample pages
The encryption software enables this function by encrypting the content of a data object, file, network packet, or application to protect it from unauthorized users. The software accomplishes it by encrypting each data packet or file with a key later decrypted into the original form at the end of the transit. The key is shared with the sender and receiver. The purpose of this software is to preserve data integrity without any loss, even if data is compromised, as it cannot be retrieved without the encryption key. The different types of software used for data protection include file, email, disk, and network.
The increasing number of cyberattacks, data breaches, and privacy concerns have led to a growing demand for encryption software across various industries, including healthcare, banking and finance, government, and defense. Other factors that drive the market include technological advancements, a growing number of data lapses, and an increasing need to protect Intellectual Property. However high cost and complexities associated with the product and an awareness shortage among small and medium enterprises hinder the market growth.
The COVID-19 pandemic had a harmful impact on the global economy and health, creating an unprecedented crisis. Many industries and production units had to shut down indefinitely during the lockdown, disrupting the supply chain and causing financial losses. However, the encryption software market was able to sustain stable growth during these challenging times.
As companies implemented work-from-home policies, data consumption surged, and many enterprises experienced a significant rise in data traffic. This increase in data consumption led to a surge in demand for encryption software to protect against unauthorized access and prevent confidential information from being compromised. Additionally, the pandemic saw a significant increase in cyberattacks, further fueling the demand for encryption software to provide data protection. As a result, the market revenue increased significantly during the pandemic.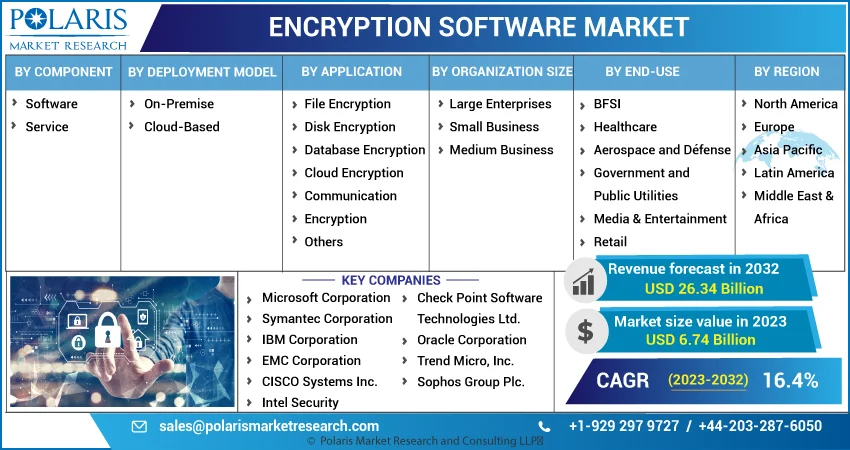 Know more about this report: Request for sample pages
Industry Dynamics
Growth Drivers
With the growing amount of sensitive data being generated and stored by individuals and businesses, there is a heightened need for secure data protection. Encryption software provides a reliable and efficient solution for protecting data from unauthorized access. And also, as the number and severity of cyber threats and data breaches continue to increase, businesses and individuals are turning to encryption software to enhance their data security and mitigate potential risks, this factor propels the encryption software market demand.
The adoption of cloud computing is on the rise, and with it comes the need for secure data protection solutions. Encryption software is essential in ensuring the security and privacy of data stored in the cloud. As well as encryption software technology continues to advance, new and innovative solutions are being developed to meet the evolving needs of businesses and individuals. These advancements are driving growth in the market.
In addition, the trend of BYOD in the workplace is increasing, which poses significant security risks for businesses. Encryption software is necessary to protect data on personal devices used for work purposes. Furthermore, many industries are subject to strict compliance regulations that require encryption to protect sensitive data. Compliance regulations such as HIPAA, PCI DSS, and GDPR have mandated the use of encryption to safeguard confidential data; the demand for encryption software in this sector hike the growth of the market.
Moreover, governments and regulatory bodies worldwide have made it mandatory to use encryption software for specific types of data, such as personal information or financial data. This has further contributed to the growing demand for encryption software.
Report Segmentation
The market is primarily segmented based on component, deployment model, application, organization size, end-use, and region.
By Component

By Deployment Model

By Application

By Organization Size

By End-Use

By Region

File Encryption

Disk Encryption

Database Encryption

Cloud Encryption

Communication Encryption

Others

Large Enterprises

Small Business

Medium Business

BFSI

Healthcare

Aerospace and

Défense

Government and Public Utilities

Media & Entertainment

Retail

Others

North America (U.S., Canada)

Europe (France, Germany, UK, Italy, Netherlands, Spain, Russia)

Asia Pacific (Japan, China, India, Malaysia, Indonesia, South Korea)

Latin America (Brazil, Mexico, Argentina)

Middle East & Africa (Saudi Arabia, UAE, Israel, South Africa)
Know more about this report: Request for sample pages
Software segment accounted for the largest market share in 2022
The software segment made the biggest revenue share in the market in 2022. Increased adoption of software in businesses due to increased data breaches and sensitive information can be taken or compromised due to data breaches, which can have detrimental effects on companies and people.
For instance, in February 2022, a cyber-attack targeted Marquard & Bahls, a German energy company, resulting in the closure of over 200 gas stations in Germany. This supply chain attack affected other companies, such as Shell, who struggled to meet customer demand.
Encryption software plays a crucial role in protecting against data breaches by encrypting sensitive information, which renders it unreadable to unauthorized parties. With increased data breaches, businesses and organizations have become more aware of the need for data security and the importance of encryption in safeguarding sensitive information. This heightened awareness has increased the demand for encryption software as companies seek to protect their sensitive data from breaches and cyber threats.
The cloud-based segment is anticipated to have the highest revenue CAGR over the forecast period.
The cloud-based segment is expected to experience the highest revenue CAGR during the forecast period. This can be attributed to business's and organizations' growing cloud system adoption. As more data and applications are migrated to the cloud, the need for encryption to safeguard sensitive information becomes increasingly vital. Cloud-based encryption software enables businesses and organizations to encrypt their sensitive data while it is stored in the cloud, rendering it indecipherable to unauthorized parties. This helps to protect against data breaches, unauthorized access, and other cyber threats.
The escalating demand for cloud-based encryption software can also be attributed to increasing regulatory and compliance requirements concerning data protection, such as the General Data Protection Regulation (GDPR) and the Health Insurance Portability and Accountability Act (HIPAA). Many businesses and organizations must encrypt their sensitive data to comply with these regulations, and cloud-based encryption software offers a convenient and effective way to meet these requirements.
Disk encryption segment accounted for the largest market share in 2022.
The disk encryption segment accounted for the largest share in 2022. The growing threat of cyber-attacks and data breaches fuels the increasing adoption of disk encryption. As cyber threats become more sophisticated, businesses and organizations realize the importance of encrypting their sensitive data to prevent unauthorized access and theft.
Disk encryption software provides an added layer of security by encrypting the entire hard drive or storage device, making it unreadable to unauthorized users. This helps to safeguard sensitive data even if the device is lost or stolen.
Moreover, the growing demand for disk encryption can also be attributed to increasing regulatory compliance requirements around data protection, such as GDPR and HIPAA. Many organizations are required by law to encrypt sensitive data, and disk encryption software provides an effective and efficient way to meet these requirements and also expected to drive the growth of disk encryption segment during the forecast period.
BFSI segment is accounted highest share market in 2022.
The BFSI segment accounted for the highest share of the market in 2022. Data is the most important entity in banking and financial institutions and must be safeguarded at all costs. Hence the product software from this segment is in great demand.
The increasing use of digital technologies in the BFSI sector has resulted in a significant rise in the volume of sensitive financial data being stored and transmitted, making it more vulnerable to cyber-attacks and data breaches. To prevent such incidents and safeguard their customers' financial data, BFSI organizations are increasingly investing in encryption software. Encryption helps to protect sensitive data by converting it into an unreadable format that can only be deciphered with the correct decryption key.
The growing need for data security and regulatory compliance in the BFSI sector, coupled with the increasing use of digital technologies, is expected to drive the growth of the BFSI sector in the coming years.
North America dominated the global market in 2022.
North America dominated the global industry in 2022 and is likely to maintain its dominance over the anticipated period. The North American region, particularly the U.S. and Canada, has witnessed a significant surge in internet and mobile wireless network adoption. However, this increased connectivity also increases the risk of data breaches and cyber-attacks.
For instance, in April 2021, A major data breach occurred where Meta Platforms, Inc. (formerly known as Facebook) was hacked. The personal information of more than 530 billion users, including passwords, phone numbers, names, and account names, was exposed to the public. Data breaches and cyber-attacks have become increasingly common in the region, creating a high demand for encryption software to protect sensitive data.
This trend of rising demand for encryption software is expected to continue, driving the revenue growth of the market in North America.
Competitive Insight
The leading market players include Microsoft Corporation, Symantec Corporation, IBM Corporation, EMC Corporation, CISCO Systems Inc., Intel Security, Check Point Software Technologies Ltd., Oracle Corporation, Trend Micro, Inc., and Sophos Group Plc.
Recent Developments
In April 2022, Thales partnered with TheGreenBow. TheGreenBow's Windows Business VPN apps and Thales Gateway's IPsec Mistral encryption technology are combined in the key. The main goal of this new approach is to prevent unauthorized entry to key national infrastructure providers, municipal governments, and healthcare facilities like hospitals and clinics. Additionally, it guarantees complete data protection for all kinds of networks, including satellite connections and 10 Gigabit real-time data center traffic.

In July 2021, Sophos acquired Braintrace, to enhance Braintrace's cutting-edge NDR technology, which provides in-depth insight into network traffic trends, including protected traffic, without the need for Man-in-the-Middle (MitM) decoding, into Sophos' Adaptive Cybersecurity Ecosystem.
Encryption Software Market Report Scope
| | |
| --- | --- |
| Report Attributes | Details |
| Market size value in 2023 | USD 6.74 billion |
| Revenue forecast in 2032 | USD 26.34 billion |
| CAGR | 16.4% from 2023 – 2032 |
| Base year | 2022 |
| Historical data | 2019 – 2021 |
| Forecast period | 2023 – 2032 |
| Quantitative units | Revenue in USD billion and CAGR from 2023 to 2032 |
| Segments Covered | By Component, By Development Model, By Application, By Organization Size, By End-Use, By Region |
| Regional scope | North America, Europe, Asia Pacific, Latin America; Middle East & Africa |
| Key Companies | Microsoft Corporation, Symantec Corporation, IBM Corporation, EMC Corporation, CISCO Systems Inc., Intel Security, Check Point Software Technologies Ltd., Oracle Corporation, Trend Micro, Inc., and Sophos Group Plc. |