The global endoluminal suturing devices market was valued at USD 70.77 million in 2021 and is expected to grow at a CAGR of 11.87% during the forecast period.
The rising demand for weight loss procedures due to increasing awareness of living a healthy lifestyle coupled with higher adoption of endoluminal practices as a well-known technique to expedite the weight reduction process is estimated to drive the market's growth.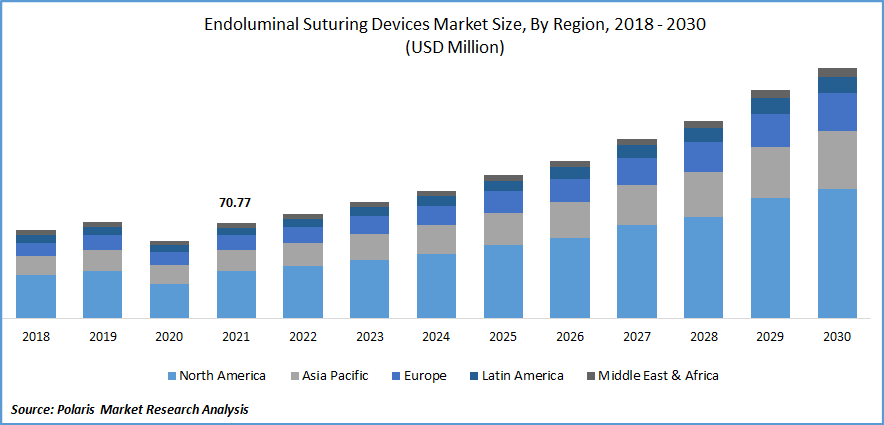 Know more about this report: Request for sample pages
Endoluminal suturing devices have associative utility with surgical procedures conducted through the GI tract. These surgeries are minimally invasive in nature, aiding the surgeon in bariatric and gastrointestinal procedures requiring endoluminal suturing. This, along with a lower risk of surgical infections through endoluminal suturing and no visible scaring, are some key factors augmenting the adoption of these devices and the market's growth.
For instance, according to an article published by BMJ infectious diseases, in 2022, the incidence of soft tissue infections through non-invasive surgical methods was 5.2/10,000 as compared to 19.7/100,000 through invasive surgeries inpatient population.
Due to this, there is a widespread preferential shift of surgical experts to switch from invasive procedures to minimally invasive surgeries to manage post-operative care effectively. Therefore, the shift in preference among key surgical practitioners to minimally invasive surgeries promotes endoluminal suturing and is expected to bolster the growth of these devices in the market.
The outbreak of the COVID-19 pandemic has significantly impacted the market's growth. The amendments in health regulation and travel restrictions affected the market adversely during the pandemic owing to the market's dependence on medical tourism and uncertainty in causing a health hazard through the risk of hospital-acquired infections. Moreover, supply chain disruption and price fluctuations caused key healthcare providers to refrain from investments in these technologies and redirect their resources as guided by emergency health protocols during this period.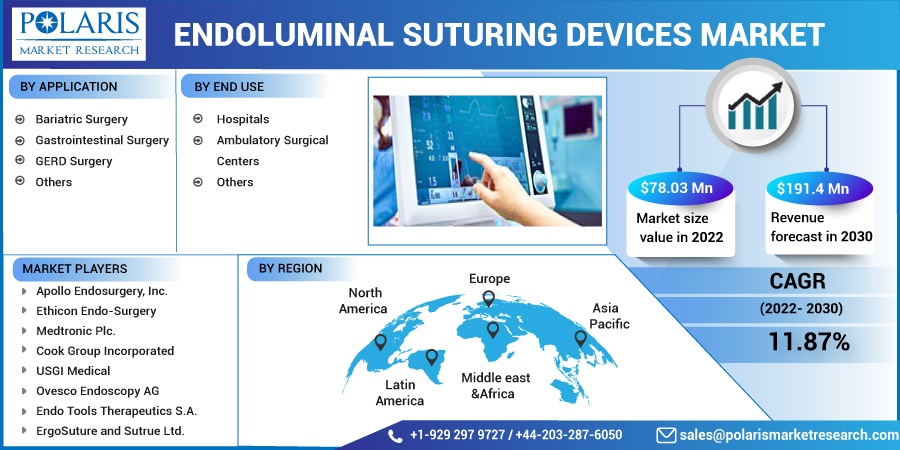 Know more about this report: Request for sample pages
Industry Dynamics
Growth Drivers
The rising number of bariatric surgeries to treat chronic obesity and associated food disorders, along with the increasing incidence of obesity among the population of significant countries, is anticipated to boost the demand for endoluminal suturing. Healthcare organizations and key opinion leaders conducting research activities and evaluating success rates of novel endoluminal suturing methods are expected to promote the market's growth.
For instance, according to a research article published by the American Gastroenterology Association, in 2022, in the scope of evaluating a novel surgical procedure to treat nonalcoholic fatty liver disease (NAFLD), a multicenter prospective trial was conducted with the endoscopic POSE 2.0. The process has proven its efficiency in achieving weight loss among obese patients, which must be supplemented by lifestyle modifications such as food habits to sustain its effect.
The procedure is a minimally invasive anti-obesity surgery that claims to reverse nonalcoholic fatty liver disease, according to the controlled trial. The increasing number of research activities, such as the trial mentioned earlier, along with the rising demand for these procedures to cater existing patient population suffering from fat-associated disorders, is anticipated to promote the uptake of endoluminal suturing devices.
The increasing prevalence of wound infections from open-body surgeries is life-threatening and increases the mortality rate of patients undergoing surgery. This has promoted a need for suturing methods that can be conducted by avoiding contact with the skin, such as traditional suturing methods. The increasing trend of contactless suturing, along with novel technologies such as robotic assistance inbuilt into the suturing devices for avoiding errors, is expected to drive growth.
Report Segmentation
The market is primarily segmented based on application, end use, and region.
By Application

By End Use

By Region

Bariatric Surgery
Gastrointestinal Surgery
GERD Surgery
Others

Hospitals
Ambulatory Surgical Centers
Others

North America (U.S., Canada)
Europe (France, Germany, UK, Italy, Netherlands, Spain, Russia)
Asia Pacific (Japan, China, India, Malaysia, Indonesia. South Korea)
Latin America (Brazil, Mexico, Argentina)
Middle East & Africa (Saudi Arabia, UAE, Israel, South Africa)
Know more about this report: Request for sample pages
The GERD Surgery segment is expected to witness the fastest growth.
The increasing incidence of acid reflux disease among the patient pool, along with acceptance of endoluminal suturing as an efficient method of Gastro Esophageal Reflux Disease (GERD) management, is one of the key driving factors for the segment. This segment is also considered one of the fastest growing due to the increasing number of hospital admissions, with primary complaints of GERD driving the available patient pool for endoluminal suturing.
For instance, according to a research article published by Frontiers in 2022, the prevalence of GERD globally is estimated to be 33% of the total population, with the U.S. holding the most significant patient pool with a prevalence of 40% of the American population. GERD is traditionally managed by oral medication and is generally a lifelong disorder once diagnosed. Although GERD has been addressed through oral drugs historically, novel technologies such as endoscopic suturing and other minimally invasive devices to treat these disorders with the aim of long-term relief are some of the growing trends in the market.
Hospitals segment accounted for the largest market share in 2021
Hospital segment dominated the end-use segment in 2021. The growth in this segment can be attributed to prevalence of chronic diseases and increasing number of bariatric surgeries. In addition, growth in healthcare infrastructure along with growing patient pool is further projected to drive the segment growth over the forecast period.
Ambulatory surgical centers accounted for the second-largest market share in 2021. The segment is projected to grow through the study period owing to cost-effective surgical settings improving patient affordability and a rising trend among surgeons, setting up a private surgical center to enhance their freedom of practice.
This further creates opportunities for improving patient care post-operations and helps with patient rehabilitation in essential procedures such as endoluminal suturing through these settings. The surgical setting is also estimated to augment the market's growth owing to the increasing adoption of these novel devices and provide technologically advanced procedures to patients ensuring a competitive advantage in the market.
The demand in North America is expected to witness significant growth.
The increasing number of healthcare institutions providing endoluminal procedures, the rising number of surgeries, the presence of a large patient population, and satisfactory reimbursement policies are some key reasons responsible for the growth of the market. An increasing number of hospitals providing essential endoluminal procedures to treat chronic gastrological disorders, along with a large patient pool suffering from obesity in the American demographics, are estimated to increase the demand for these procedures and drive the growth of the regional market.
For instance, the Cleveland Clinic provides a Bariatric Endoscopy Program through which they offer a minimally invasive endoscopic procedure for fat reduction by various primary and secondary therapies, such as endoscopic sleeve gastroplasty (ESG). The program is aimed at helping patients lose weight effectively with minimal to no scarring through advancements such as endoluminal suturing devices. The procedure also improves these patients' cardiovascular health and overall quality of life.
Asia Pacific is expected to be the fastest-growing global endoluminal suturing devices market over the forecast period. Growing awareness among healthcare communities in the region of effective suturing methods, the rising number of clinical trials to assess the safety of these procedures along with the development of adaptive technologies to the shifting needs of modern surgical procedures is anticipated to increase product availability and adoption of these devices in the region.
For instance, Hong Kong University has undertaken a collaborative research program with ETH Zürich, Imperial College & Johns Hopkins University to develop and test Multiscale Robotic Platforms through its Medical Robotics Center (MRC). This initiative is based on the rising need for diagnostic and therapeutic tools in endoscopic surgeries and associative processes such as minimally invasive suturing. As a result, the program has developed Natural Orifices Transluminal Endoscopic Surgery (NOTES) with Eagle Claw to cater to the need for a flexible endoscopy-guided suturing tool.
Competitive Insight
Some of the major players operating in the global market include Apollo Endosurgery, Ethicon Endo-Surgery, Medtronic, Cook Group, USGI Medical, Ovesco Endoscopy, Endo Tools Therapeutics, ErgoSuture, and Suture.
Recent Developments
In September 2022, ENDOQUEST Robotics announced development of the Endoluminal Surgical (ELS) System, a flexible endoluminal robotic system enabling scar-free and minimally invasive surgical procedures. The system is an innovative device combining the convenience of endoscopic surgery enhanced with robotic assistance to guide the surgeon for an effective procedure.
Furthermore, according to an article published by the UAMS, in December 2021, a novel robotic procedure developed for lung biopsy detected an imperceptible cancerous nodule at far extremes of the lungs.
Ion Endoluminal Robotic Bronchoscopy System is an endoscope with a built in with a miniature camera beside throat, reaching to the inner regions of the lungs. The procedure is a novelty in the endoluminal suturing technology and is expected to expand its own field of technology owing to the rising demand of endoluminal procedures.
Endoluminal Suturing Devices Market Report Scope
| | |
| --- | --- |
| Report Attributes | Details |
| Market size value in 2022 | USD 78.03 million |
| Revenue forecast in 2030 | USD 191.4 million |
| CAGR | 11.87% from 2022 - 2030 |
| Base year | 2021 |
| Historical data | 2018 - 2020 |
| Forecast period | 2022 - 2030 |
| Quantitative units | Revenue in USD million and CAGR from 2022 to 2030 |
| Segments covered | By Application, By End Use, By Region |
| Regional scope | North America, Europe, Asia Pacific, Latin America; Middle East & Africa |
| Key companies | Apollo Endosurgery, Inc., Ethicon Endo-Surgery, Medtronic Plc., Cook Group Incorporated, USGI Medical, Ovesco Endoscopy AG, Endo Tools Therapeutics S.A., ErgoSuture and Sutrue Ltd. |