The global Energy Harvesting Equipment market was valued at USD 449.62 million in 2022 and is expected to grow at a CAGR of 11.5% during the forecast period.
Energy harvesting equipment refers to devices and systems that capture and convert ambient energy from the environment into usable electrical power. The concept of energy harvesting has gained significant attention in recent years due to the growing demand for sustainable and renewable energy sources. This technology offers a promising solution to power various applications, especially in remote and off-grid areas where traditional power sources may not be readily available or practical.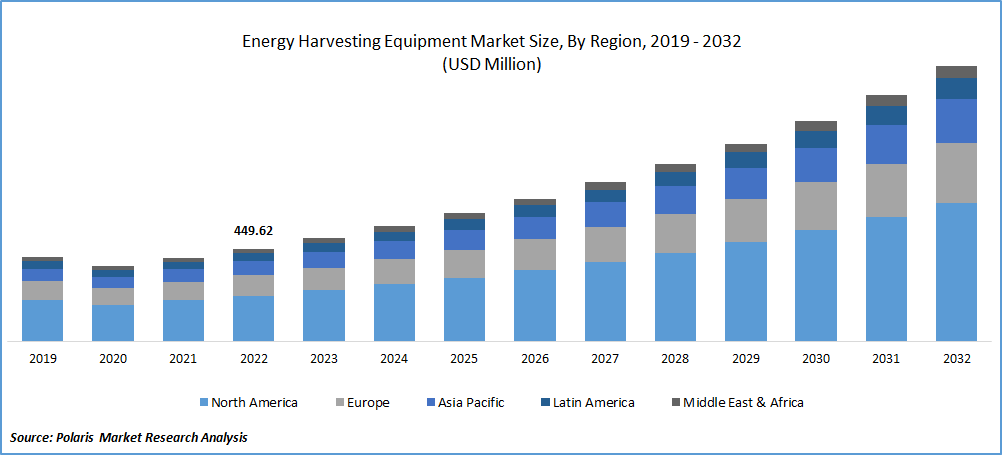 To Understand More About this Research: Request a Free Sample Report
Energy harvesting equipment encompasses a wide range of technologies that tap into different sources of ambient energy. Some of the most common types include solar panels, piezoelectric generators, thermoelectric generators, kinetic energy harvesters, and electromagnetic generators. These devices are designed to capture energy from sunlight, vibrations, temperature gradients, motion, and electromagnetic radiation, respectively.
Solar panels are perhaps the most well-known energy harvesting equipment. They convert sunlight into electricity through photovoltaic cells. Piezoelectric generators, on the other hand, convert mechanical vibrations or pressure changes into electrical energy using piezoelectric materials. Thermoelectric generators operate based on the Seebeck effect, generating electricity from temperature differences between two surfaces. Kinetic energy harvesters utilize the motion or movement of objects to produce electrical power, while electromagnetic generators extract energy from radiofrequency and electromagnetic signals.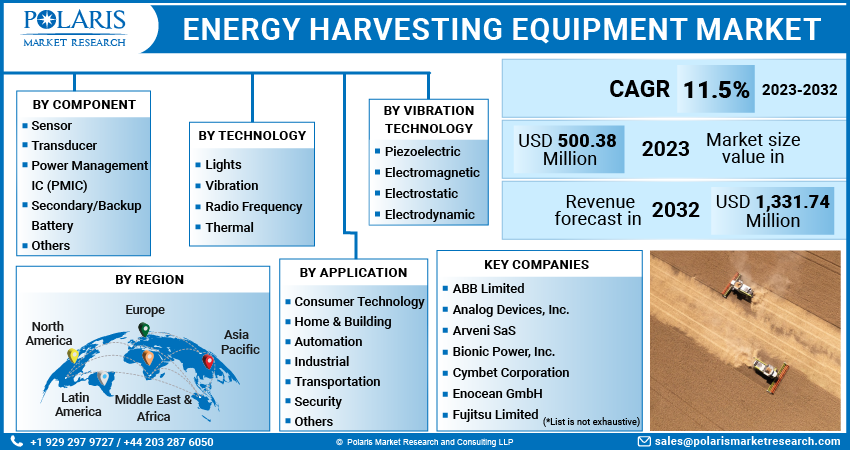 For Specific Research Requirements, Request for a Customized Report
Growth Drivers
Sustainability and Environmental Concerns
With growing concerns about climate change and environmental sustainability, there is a pressing need to transition from fossil fuel-based energy sources to cleaner and renewable alternatives. Energy harvesting offers a green and sustainable solution by utilizing the energy readily available in the environment.
Energy harvesting is particularly advantageous in remote and off-grid areas where connecting to conventional power grids can be challenging and costly. Deploying energy harvesting equipment allows for self-sustaining systems that reduce dependence on traditional energy sources.
Energy harvesting equipment represents a promising avenue for generating clean and sustainable energy. With various technologies harnessing different ambient energy sources, the applications are diverse and ever-expanding. The driving factors, such as environmental concerns, remote applications, technological advancements, and energy efficiency, continue to propel the growth of energy harvesting equipment across industries. As research and development in this field continue, we can expect to witness further improvements in efficiency, cost-effectiveness, and scalability, ultimately contributing to a greener and more sustainable future.
Report Segmentation
The market is primarily segmented based on technology, vibration technology, component, application, and region.
By Technology

By Vibration Technology

By Component

By Application

By Region

Lights

Vibration

Radio Frequency

Thermal

Piezoelectric

Electromagnetic

Electrostatic

Electrodynamic

Sensor

Transducer

Power Management IC (PMIC)

Secondary/Backup Battery

Others

Consumer Technology

Home & Building Automation

Industrial

Transportation

Security

Others

North America (U.S., Canada)

Europe (France, Germany, UK, Italy, Netherlands, Spain, Russia)

Asia Pacific (Japan, China, India, Malaysia, Indonesia. South Korea)

Latin America (Brazil, Mexico, Argentina)

Middle East & Africa (Saudi Arabia, UAE, Israel, South Africa)
To Understand the Scope of this Report: Speak to Analyst
By Technology
Vibration is expected to grow significantly during the forecast period
The vibrational segment has experienced substantial growth due to several key factors. First and foremost, the rising focus on environmental sustainability and the need for clean energy solutions have accelerated the adoption of vibrational energy harvesting technologies. As industries and consumers prioritize eco-friendly alternatives, energy harvesting from ambient vibrations becomes an attractive choice.
Moreover, the ever-increasing demand for autonomous and wireless sensor devices has propelled the growth of the vibrational energy harvesting market. These sensors are deployed in various industries, including industrial automation, healthcare, and smart infrastructure, where the ability to power sensors without relying on traditional batteries or external power sources is highly advantageous.
By Vibration Technology
Piezoelectric vibration segment dominated the market in 2022
Piezoelectric vibration dominated the market in 2022 due to several inherent advantages of piezoelectric materials. Piezoelectric crystals can generate electrical charges in response to mechanical stress, such as vibrations. This characteristic enables them to act as highly efficient transducers, effectively converting mechanical energy into electrical power. Additionally, piezoelectric vibration harvesters are compact and lightweight, making them ideal for integrating various devices and systems.
The versatility of piezoelectric vibration energy harvesting equipment has led to its widespread adoption in numerous industries. These harvesters are commonly installed in machinery and structures subjected to vibrations during operation in industrial settings. By capturing and converting these vibrations into electrical power, piezoelectric energy harvesters can reduce the overall power consumption of industrial facilities, thus enhancing energy efficiency.
Regional Insights
Asia Pacific is expected to grow significantly in the study period
The Asia Pacific region has emerged as a focal point for energy harvesting equipment market growth due to several factors. Firstly, the region is experiencing robust industrialization and urbanization, resulting in a surge in energy demand. As a result, there is a mounting need to explore alternative and environmentally friendly power sources to address the region's energy challenges.
Moreover, governments and policymakers across various countries in the Asia Pacific region have been actively promoting renewable energy adoption and investing in research and development initiatives. Supportive policies, incentives, and favorable regulatory frameworks for energy harvesting technologies have attracted domestic and international players to invest in the market.
Furthermore, several technology giants and manufacturing hubs in the region have led to increased innovation and cost reduction in energy harvesting equipment, making it more accessible and affordable for a broader range of applications.
In the Middle East and Africa, prominent nations like Saudi Arabia, UAE, South Africa, and Egypt have unveiled ambitious plans to develop smart cities in the coming years. These countries' governments are actively taking substantial measures to secure funding and attract private sector companies to implement their cutting-edge smart solutions in the ongoing development of these cities. By fostering collaborations with the private sector, these countries aim to accelerate the deployment of innovative technologies and infrastructure, ultimately transforming their urban landscapes into modern, efficient, and sustainable smart cities.
Key Market Players & Competitive Insights
The Energy Harvesting Equipment market is fragmented and is anticipated to witness competition due to several players' presence. Major service providers in the market are constantly upgrading their technologies to stay ahead of the competition and to ensure efficiency, integrity, and safety. These players focus on partnership, product upgrades, and collaboration to gain a competitive edge over their peers and capture a significant market share.
Some of the major players operating in the global market include:
ABB Limited

Analog Devices, Inc.

Arveni SaS

Bionic Power, Inc.

Cymbet Corporation

Enocean GmbH

Fujitsu Limited

GreenPeak Technologies

Honeywell International Inc.

Mahle GmbH

Microchip Technology Inc.

Powercast Corp.

Schneider Electric

Siemens AG

STMicroelectronics

Texas Instruments Incorporated
Recent Developments
In March 2023, STMicroelectronics, based in Switzerland, introduced the L9961 battery management system (BMS) device, designed to enhance the efficiency, durability, and safety of energy harvesting from Li-ion and Li-polymer batteries. With its precise and adaptable performance, the L9961 is well-suited for various applications, including power tools, energy storage solutions, and medical devices.

In March 2023, Infineon Technologies AG from Germany released the NGC1081, an innovative NFC tag side controller boasting integrated sensing and energy harvesting capabilities. This advanced controller opens up new possibilities for NFC tag applications, as it efficiently harnesses energy while offering sensor functionalities.
Energy Harvesting Equipment Market Report Scope
| | |
| --- | --- |
| Report Attributes | Details |
| Market size value in 2023 | USD 500.38 million |
| Revenue Forecast in 2032 | USD 1,331.74 million |
| CAGR | 11.5% from 2023 – 2032 |
| Base year | 2022 |
| Historical data | 2019 – 2021 |
| Forecast period | 2023 – 2032 |
| Quantitative units | Revenue in USD million and CAGR from 2023 to 2032 |
| Segments Covered | By Technology, By Vibration Technology, By Component, By Application, By Region |
| Regional scope | North America, Europe, Asia Pacific, Latin America; Middle East & Africa |
| Customization | Report customization as per your requirements with respect to countries, regions, and segmentation. |