The global engineering plastics market was valued at USD 121.69 billion in 2021 and is expected to grow at a CAGR of 5.5% during the forecast period.
Manufacturing mechanical components, containers, and packaging materials typically use engineering plastics. Because of their small weight, they are widely used as preferred alternatives to metal and ceramic. Along with enabling design flexibility, they also offer superior load capacity, mechanical properties, heat stability, and longevity. A few of the varieties of engineering plastics that are frequently utilized are polyamides (PA), polycarbonates (PC), nylon 6, and polysulphone (PSU). In various industries, they are extensively used in producing optical discs, skiing boots, dashboards trim, and automotive bumpers.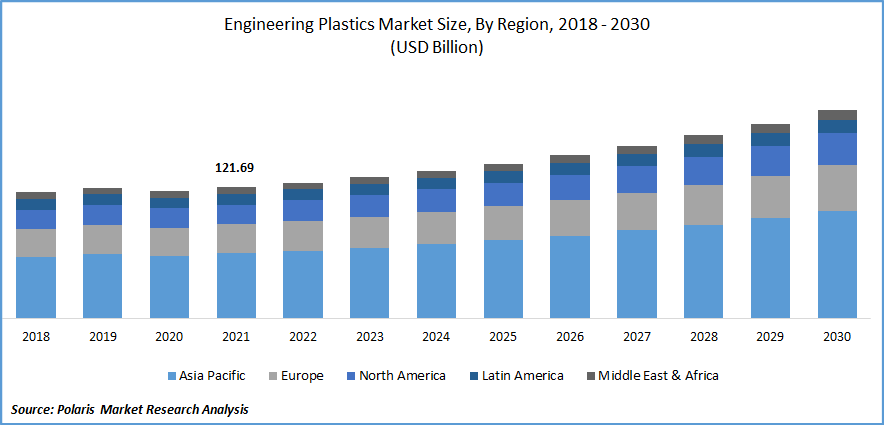 Know more about this report: Request for sample pages
The market is anticipated to increase due to the increased demand for engineering plastic used in the manufacture of medical devices. Due to their exceptional physical and chemical qualities, such as their light weight, flexibility, production ease, non-ferrous characteristics, and great biomedical applications, engineering plastic is frequently utilized to make medical equipment. April 2021, A new portfolio of engineering materials is being introduced by Royal DSM to assist international medical device makers in raising the standard of care provided to patients worldwide.
To meet rising customer demand for novel material solutions, DSM's most significant manufacturing industry business created a new range of medical grades. They make many medical products, including orthopedic implants, surgical equipment, diagnostic and drug delivery systems, and medical gadgets.
During the forecast period, there is likely to be an increase in demand for engineering plastics due to changes in policy affecting the electrical and electronics industries and government initiatives to assist the revival of the nation's electronics industry. In addition, it is projected that India's engineering plastics industry will flourish due to a strengthening consumer goods sector, buoyed by increasing disposable income and a shift in the global automotive production base to Asian nations, including India.
Researchers worldwide are working to create cutting-edge technologies that would simplify the way engineering plastic works, which will help the market growth throughout the forecast period. For instance, BASF unveiled high-performance technologies for three crucial steps in the mechanical recycling of plastics in May 2022. It will help classify plastic, enhance recycling cleaning procedures, and raise the caliber of recycled polymeric materials.
Additionally, it is anticipated that rising research expenditures to create materials substitutes for plastics will restrain market expansion. Engineering Plastic market growth is anticipated to be hampered by various firms' investments in research initiatives to produce substitutes for engineering plastics, such as carbon or natural fibers, to lower the overall cost of manufacturing.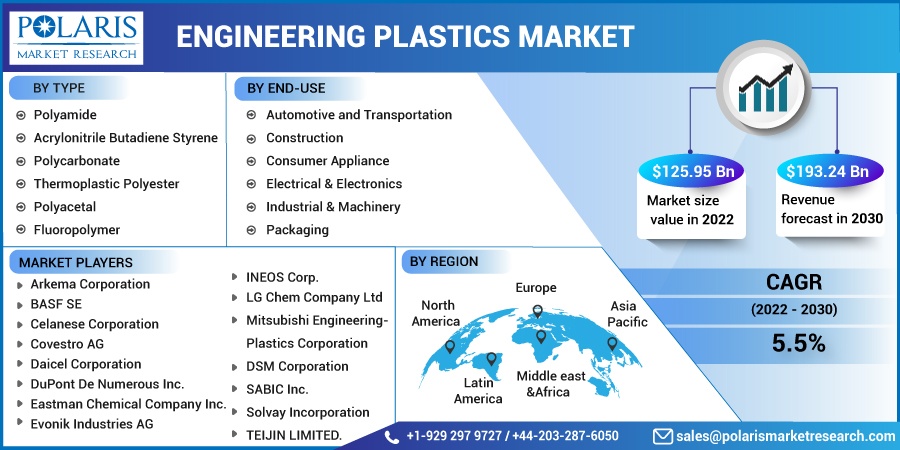 Know more about this report: Request for sample pages
Industry Dynamics
Growth Drivers
The rapid adoption of engineering plastics across various verticals and the major player's product launches for these verticals are the major factors boosting the market growth over the forecast period. Engineering plastics are extensively utilized in a variety of manufacturing sectors where excellent performance in terms of chemical stability, impact resistance, longevity, and thermal and structural stability is required.
Due to their high structural rigidity, engineering plastics quickly replace metals and wood in the automotive and construction industries. These components lighten the car as a whole and improve fuel economy. They manufacture vehicle exterior and interior features and elements for the drivetrain. For instance, in August 2022, 2 new glass fiber-reinforced polypropylene compositions, SABIC PP compound G3430X & SABIC PP compound G3440X grades, were introduced. They offer improved performance and manufacturing for demanding automobile under-hood, appearance, and interior requirements.
Further, engineering plastic is also utilized throughout the electronic sector due to its excellent resilience to various environmental conditions like chemicals, high temperatures, and abrasion. It is hence the perfect material for producing consumer electronics. For instance, in February 2022, As part of its acquisition of Solvay's PA66 business, BASF will begin marketing several polyamides & poly-phthalimide (PPA) grades in Europe. At BASF, the engineering plastics formerly marketed under the trade name Technyl will continue to be offered under the trusted brand name Ultramid. A wide range of plastics will be available to customers worldwide, including PA66 grades & Ultramid One J, a PPA based on PA66/6T. As a result, BASF will assist its clients in creating cutting-edge plastics solutions for use in various sectors, including consumer and home electronics, autonomous vehicles, and e-mobility.
Report Segmentation
The market is primarily segmented based on type, end-use industries, and region.
By Type

By End-Use Industries

By Region

Polyamide
Acrylonitrile Butadiene Styrene
Polycarbonate
Thermoplastic Polyester
Polyacetal
Fluoropolymer
Others

Automotive and Transportation
Construction
Consumer Appliance
Electrical & Electronics
Industrial & Machinery
Packaging
Others

North America (U.S., Canada)
Europe (France, Germany, UK, Italy, Netherlands, Spain, Russia)
Asia Pacific (Japan, China, India, Malaysia, Indonesia, South Korea)
Latin America (Brazil, Mexico, Argentina)
Middle East & Africa (Saudi Arabia, UAE, Israel, South Africa)
Know more about this report: Request for sample pages
A thermoplastic polyester segment is expected to witness the fastest growth
Thermoplastic polyester exhibits superior mechanical, thermally, chemical, and electrical properties and is resistant to extreme temperatures, chemicals, and erosion. It is perfect for electrical applications since it is resistant to various solvents and has good electrical properties. Also, the rising manufacturing capacities of the major players are the factor boosting the market growth over the forecast period. For instance, in September 2021, Solvay declared the installation of its newest thermoplastic composites (TPC) production plant At its location in Greenville, South Carolina.
Further, in February 2020, In Evansville, Indiana, the United States, Royal DSM announced that it is upgrading and boosting the capacity of its high-performance materials combining factory. With the initiative, DSM will upgrade the facility to produce the newest generation of cutting-edge materials, such as bio-based thermoplastics. These initiatives are the major factors propelling the market growth over the forecast period.
The automotive and transportation segment industry accounted for the highest market share in 2021
Automotive engineering plastics are used in powertrains, suspensions, electrical components, exterior and interior décor, and under-the-hood elements. It is used in the seating, dashboard, liquids reservoirs, bumper, seats, side panels, diesel engines, interior trim, and under-bonnet parts. Based on the current environmental and financial concerns, there is likely to be an increase in demand for lightweight engineering plastic, which would help the market under study grow. Automakers are using modern plastic materials to lighten and increase the fuel efficiency of their automobiles.
Further, the market is expanding as a result of the rising demand for electric automobiles. In 2020, there were more than 10 million electric vehicles worldwide, with battery-electric vehicles leading the growth. China has the largest fleet, with 4.5 million electric vehicles, but in 2020, Europe saw the largest annual rise to 3.2 million. Engineering plastics are increasingly used in automobiles due to the demand for lightweight materials to increase energy efficiency. As a result, during the forecast period, it is anticipated that all of these variables will have a substantial impact on the market.
The demand in Asia-Pacific is expected to witness significant growth
Asia-Pacific held the most significant share of the global market due to the increased use of engineering plastics in various industries, such as automotive, packaging, building, and construction, in fast-developing nations. Engineering plastics are mainly produced and used in China. Growth is attributable to rising vehicle sales and increased demand for electronic goods, including computers, communication devices, storage batteries, and other items. The operating income of the Chinese electronics sector was estimated by the Ministry of Industry and Information Technology to be over US$ 2.2 trillion in 2021. Due to several causes, including increased consumer disposable income and expanded vehicle production facilities by companies.
Further, with a target of 64% urbanization by 2021, China is actively supporting and enduring this process. Urbanization's increased need for living space and middle-class urban dwellers' desire to better their living conditions could significantly impact the housing market, leading to more residential construction across the nation. During the forecast period, each of the factors above is expected to impact the market significantly.
Competitive Insight
Key players include Arkema Corporation, BASF SE, Celanese Corp., Covestro, Daicel Corporation, DuPont De Numerous, Eastman Chemical Company, Evonik Industries, INEOS Corp., LG Chem Company, Mitsubishi Engineering-Plastics, DSM Corporation, SABIC Inc., Solvay Incorporation, and TEIJIN LIMITED.
Recent Developments
In March 2022, Korea Engineering Plastics Co.'s reorganization was finished by Celanese Corporation, a prominent worldwide chemical and specialty materials firm. Access to global POM polymerization facilities will help Celanese polyoxymethylene (POM) products flourish globally.
Engineering Plastics Market Report Scope
| | |
| --- | --- |
| Report Attributes | Details |
| Market size value in 2022 | USD 125.95 billion |
| Revenue forecast in 2030 | USD 193.24 billion |
| CAGR | 5.5% from 2022 - 2030 |
| Base year | 2021 |
| Historical data | 2018 - 2020 |
| Forecast period | 2022 - 2030 |
| Quantitative units | Revenue in USD billion and CAGR from 2022 to 2030 |
| Segments Covered | By Type, By End-Use Industries, By Region |
| Regional scope | North America, Europe, Asia Pacific, Latin America; Middle East & Africa |
| Key Companies | Arkema Corporation, BASF SE, Celanese Corporation, Covestro AG, Daicel Corporation, DuPont De Numerous Inc., Eastman Chemical Company Inc., Evonik Industries AG, INEOS Corp., LG Chem Company Limited, Mitsubishi Engineering-Plastics Corporation, DSM Corporation, SABIC Inc., Solvay Incorporation, and TEIJIN LIMITED. |